Fighting Cancer with Positivity and Generosity
Fighting Cancer with Positivity and Generosity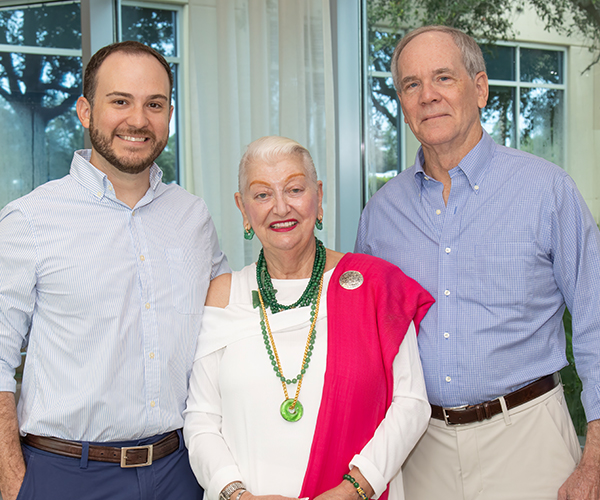 Positivity. It is the best way to describe Angela Howett and her approach to life. It is a positive mindset that helped the Vero Beach, Florida resident when faced with a breast cancer diagnosis in 2012.
Nearly 11 years cancer-free, Angela says she feels very blessed. That is why she is now offering her support to Cleveland Clinic Martin Health and the Robert and Carol Weissman Cancer Center.
"I was given a second chance to live a full life," says Angela. "I want to give back to the cancer team that helped me so others can benefit too."
Comprehensive Cancer Care
As with many women, Angela's cancer journey began with a suspicious lesion discovered during her annual screening mammogram. After a biopsy confirmed invasive ductal carcinoma, she was referred to breast surgeon W. Edward Wengler, MD.
"Dr. Wengler was absolutely marvelous," recalls Angela. "He had a wonderful bedside manner and was so professional. He also had a great team in his nurse, Janine, and Jill, an organizational wonder."
Dr. Wengler performed a lumpectomy to remove the small mass from Angela's right breast and a sentinel lymph node biopsy, which confirmed a stage 1 cancer diagnosis. Her surgery was followed by a five-day course of radiation therapy and four months of chemotherapy.
Until his retirement earlier this year, Dr. Wengler also managed Angela's follow-up care, which in recent years consisted of annual check-ups. "Because of the ongoing risk of cancer recurrence, which increases with age, Angela and others like her require lifelong follow-up," he explains.
Secret to Her Success
Angela credits her good health to the care she receives at Cleveland Clinic as well as her commitment to healthy living.
"I follow a Mediterranean diet and exercise regularly, including yoga and stretching," she says. "When I was on chemo, I was juicing every day."
"My best advice is to stay active and keep a positive mindset," adds Angela.
The former flight attendant and realtor – a true people-person – continues to work part-time for a local nursing and rehabilitation center, where her vibrant personality welcomes guests. She also took up drawing and oil painting a few years ago, which brings her great joy.
"Angela has a big heart and is always upbeat with a smile to share," says Dr. Wengler. "She was just a pleasure to take care of. Everyone enjoys her company."
From Father to Son
Angela says she was devastated when she first learned that Dr. Wengler was retiring. "But he's worked hard and deserves to enjoy this time. I want to thank him and his team for taking such good care of me, and I wish him the very best in his golden years of retirement," she shares.
Angela is also very pleased that Dr. Wengler's son will be taking over her care. The father and son team worked together for eight years prior to Dr. Wengler's retirement.
"It's been a very smooth transition for our team and patients," says Craig Wengler, MD, who serves as Regional Chair of Breast Surgical Oncology for Cleveland Clinic in Florida and Director of the Cleveland Clinic Martin Health Breast Center.
Dr. Craig Wengler says watching surgical videos as a young boy with his father and a strong family history of breast cancer ultimately led him to specialize in breast oncology. "From a young age I knew I wanted to be a surgeon, and I appreciate being able to build long-term relationships with patients, like the one my dad and Angela formed," he adds.
Generous Support
While Angela faced cancer with positivity, she wants to help others beat cancer through her generosity. She has joined the ranks of generous supporters who have included Cleveland Clinic in their estate planning.
"Breast cancer care is continually evolving and improving thanks to philanthropic support," says Dr. Craig Wengler. He points to Martin Health's Breast Health Navigator Program as just one area where donors have had a direct impact on patient care.
"Our navigators play a vital role in patient care," he says. "They help patients cope with the anxiety of a cancer diagnosis, provide valuable information and resources, and streamline access to care."
How You Can Help
"Angela's gift is a very kind gesture and will help Cleveland Clinic continue to provide access to comprehensive cancer services and innovative treatment options for other Treasure Coast patients," adds Dr. Wengler.
You too can support cancer care at Cleveland Clinic Martin Health. Please make a gift today.
Hillcrest Hospital Gift Benefits Nursing Units
Hillcrest Hospital Gift Benefits Nursing Units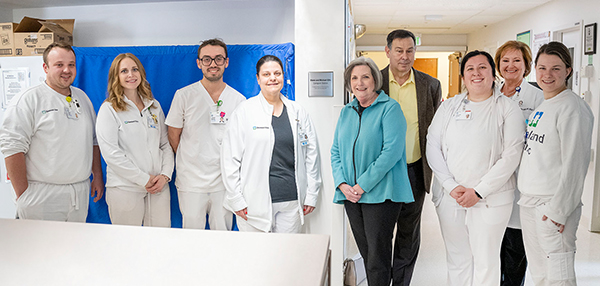 Perhaps it's fitting that the immeasurably important role that nurses play in the running of a hospital and patient care lends itself so well to anatomical metaphors:
Nurses are the backbone of our country's healthcare system.
Doctors and surgeons are a hospital's vital organs, but nurses are the bloodstream.
Snappy and accurate enough, but words can't really describe the value of nurses. They are among the most trusted and respected professionals in the United States. Yet when it comes to charitable support for healthcare, understandably, the great majority of funding goes toward causes such as cancer, heart disease and Alzheimer's disease.
So when a generous donation is made to fund training and certifications for two hospital nursing units, it's a rare and newsworthy event. That's what has happened at Cleveland Clinic Hillcrest Hospital, and the nursing staff is deeply grateful to donors Michael and Diane Ellis for their $100,000 gift.
Over the years both Ellises have had cardiac and other health issues that were treated at Hillcrest Hospital. Diane's were particularly serious and required numerous hospital stays. Over the course of those many visits the couple were deeply impressed by the care and professionalism of the cardiac care nursing staff, and they developed close bonds with the nurses and with general surgery specialist James Malgieri, MD.
"We requested that the gift benefit nursing at Hillcrest, and that it not be used for anything that was already in the 2023 Hillcrest Hospital budget," Mr. Ellis says. "Diane and I are not bricks and mortar type of people – we wanted to do something that was impactful, and we've always believed that the best ideas come from the front-line troops."
It was decided that $75,000 of the gift would go toward the education and training of the Cardiac Care Unit nursing staff that has taken such exceptional care of the Ellises.
Stephanie Williams, Nurse Manager of the Coronary Care and Cardiac Surgery Intensive Care units at Hillcrest Hospital, is excited about the ways that the Ellis' gift will benefit her team and their patients. "This is going to enable our nurses to travel to nursing conferences as well as to get certifications, which will enhance their skills and expertise in their areas of practice," she says. "COVID did a number on us – our nursing staff was stretched thin and as a system we took a financial hit. This donation is really going to help, not only for the many training benefits it will fund, but it's also a source of pride that the important and hard work our nurses do every single day is acknowledged and appreciated."
$25,000 was left to the discretion of Dr. Malgieri, which he chose to use for the benefit of Hillcrest's Ambulatory Surgery/PACU (Post Anesthesia Care Unit) nurses, to fund education manuals to assist in formal certification, and for certified nurses to attend educational meetings.
"I've come to know Diane and Michael by operating on both of them," Dr. Malgieri says. "For this gift to suddenly become available, what a great thing for them to do. I think it just tells you what kind of people they are, and how much they appreciate this hospital and the care they've received over the years. It was such an honor for me to have them recognize that and to be able to disperse these funds."
The general public may not fully understand how important it is for nurses to gain specialized expertise, which enhances patient outcomes and contributes to the overall effectiveness of the nursing unit. Consequently, there is a lack of widespread awareness about the need for financial support for nursing programs.
"Beyond helping Hillcrest Hospital, we hope our gift might help others see that making a donation to nursing is an important and effective gift," Mr. Ellis says. "The more knowledge and expertise a nursing staff has, the better their patients' outcomes are going to be."
Cleveland Clinic Florida President's Update
Cleveland Clinic Florida President's Update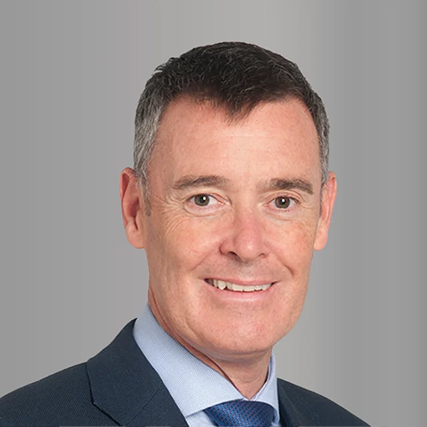 Dear Friends of Cleveland Clinic Florida,
Workforce development is among our most pressing needs.
Over the past 20 years, participation in the U.S. labor workforce has steadily decreased, leading to a more competitive labor market and a dearth of skilled, experienced employees. Healthcare systems throughout the country are finding there are simply not enough caregivers with advanced training in the pipeline to fill our many essential roles.
As a future-focused healthcare innovator, Cleveland Clinic Florida is committed to solving this problem. We want to be able to continue to recruit and retain the best talent and offer a work environment where caregivers feel appreciated and fulfilled.
Our generous donors also can help support workforce development at Cleveland Clinic Florida. This year's proceeds from the Chrysanthemum Ball, to be held on November 11 in Stuart, Florida, will be used to address the labor shortage by investing in our caregivers and the community. This strategic imperative is designed to:
Accelerate talent pipeline development for critical and high demand roles.
Partner with Indian River, Palm Beach, and Broward State Colleges to provide instructors, curriculum development, space, and supplies to educate students and offer scholarships for technical education and nursing programs.
Identify and develop talent based on their ability to be successful, rather than their current experience and educational attainment.
Promote a skills-based culture that helps recruit and retain exceptional caregivers.
Cleveland Clinic is a dynamic and technologically advanced environment where caregivers learn, grow and remain professionally challenged as they shape their healthcare careers. Your support of our workforce development strategies will make a lasting impact on our patients, caregivers and the greater community.
This impact will be apparent in a variety of ways:
Patients will experience improved access to care.
Our caregivers will gain greater access to meaningful career growth opportunities that pay family sustaining wages.
The community's wealth will be enhanced through access to family sustaining wages.
Our teams will be fully staffed to reduce burnout.
Our academic partners will have increased capacity to train students.
We will be able to recruit new healthcare professionals from the communities we serve.
Cleveland Clinic Florida is extremely grateful to all our philanthropic partners who choose to invest in our lifesaving work. As a new initiative, workforce development is one more area in which our donors can make a meaningful difference in our communities.
Thank you for your ongoing interest and support of our initiatives. And I hope to see you at the Mum Ball!
Sincerely,
Conor P. Delaney, MD, PhD
CEO and President, Cleveland Clinic Florida