Inspiring the Next Generation of Healthcare Providers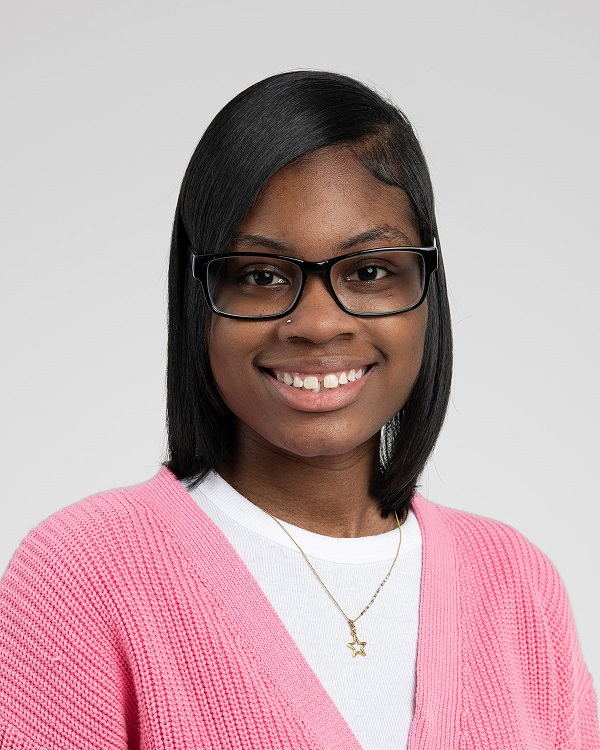 During her sophomore year at Cleveland's John Hay High School, a serendipitous and potentially life-changing opportunity with Cleveland Clinic was presented to Donajah Bragg. The second oldest of nine siblings (her best friends), Bragg hopes to open a cancer center and help eradicate cancer – an ambition that was seeded as she witnessed the suffering of three loved ones with the disease. Her dream flowered during the Louis Stokes Internship, granted to her through Cleveland Clinic's Center for Youth and College Education (CYCE) program.
"I had no idea the program existed until I got an email about it from my guidance counselor," Bragg says, but it seemed the perfect next step. She applied, was accepted into the program, and went on to earn a second internship the following year.
CYCE offers a range of pathways to underserved high school students interested in exploring career possibilities in healthcare in both clinical and nonclinical environments, explains Nicole Fennell, Administrative Director for the Center – and Bragg's current mentor for her CYCE college internship. "At the same time, we're ensuring minority patients are demographically represented among our future caregivers."
"My Louis Stokes mentor knew how passionate and driven I was to find a cure for cancer," Bragg notes. "She made sure I got the best experiences … I observed surgeries … and she made me shadow janitors all the way up to surgeons. It's not just the oncologists and researchers. My mentor explained, 'If you want to have a cancer center, you need to know all the roles.' That humbled me. Not a lot of people give janitors their due … I don't think a clinic could function without them."
Bragg is now attending Notre Dame College and serving as a CYCE collegiate intern. "This program played an instrumental role in putting me on the path to attain the goals that I set out for myself. I'm happy that I took advantage of it."
"Caring for the community is a long-standing priority at Cleveland Clinic," Fennell says. "Our Center for Youth and College Education fits into an institution-wide goal to heal, hire and invest, and it offers a full suite of educational experiences and career exploration opportunities for students from kindergarten to college and beyond." In addition to internships, CYCE partners with schools and community-based organizations to offer in-classroom and onsite education, online programming, community-enrichment experiences, shadowing opportunities, and field trips.
Viral Patel, MD, a new graduate of the cardiothoracic and vascular surgery residency program at Cleveland Clinic and a Science Internship alumnus, is an advocate of the program. "I've been at Cleveland Clinic for more than a decade," Dr. Patel says, "starting as a science intern my junior year of high school" at one of Cleveland Clinic's Cuyahoga County-based community hospitals.
"A respiratory therapy grant supported our quantitative and qualitative study on the effectiveness of the hospital-wide smoking cessation program," he remembers. "I had the opportunity as a high school student to present our outcomes to the chairman of the hospital." Dr. Patel went on to earn a master's degree in health economics at Johns Hopkins University and returned to Cleveland to pursue his medical degree at Case Western Reserve University School of Medicine. "My summer at Cleveland Clinic as a young adult was formative for me because it gave me the opportunity to spend time in a world-renowned institution working with world-class teams. It gave me confidence … and opened doors for me. I also think it's a great way for us to serve our community."
Fennell notes the Center serves many students from communities that often face technological, transportation and other barriers. "Support from donors – including a recent $50,000 grant from the Reinberger Foundation to support our Science Internship and Louis Stokes Internship Programs for the 2024-2025 academic year – helps us remove barriers and allows more students to benefit." Other supporters of the Center include the Martha Holden Jennings Foundation, Nord Family Foundation and PNC.
"We couldn't do what we do without the generous support of our philanthropic partners or without collaboration from Anchor Network and our school partners," adds Fennell. "Our 2023 Summer Internship programs received close to 400 high school student applications, which is inspiring us to double our efforts to expand the program and offer as many real-world career experiences as we possibly can."
Learn more about Cleveland Clinic's Center for Youth and College Education (CYCE) program here.