Get Ready, It's Year 10 for VeloSano!
Get Ready, It's Year 10 for VeloSano!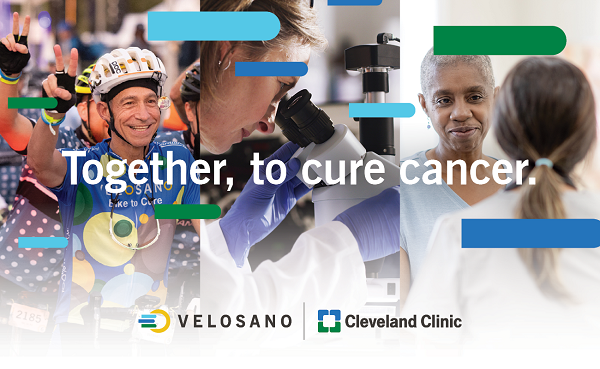 Over the past ten years, the hope and action of a single person has grown into a world-wide movement to seek a future without cancer. In 2013, founder Stewart Kohl was convinced that with enough research funding, Cleveland Clinic would play a key role in finding cures for cancer and saving lives. Determined to save his family and friends from experiencing further pain, suffering and loss, he provided the seed funding to launch VeloSano, Latin for "swift cure."
What began in 2014 as Bike to Cure, a weekend-long bike ride in Cleveland, has evolved to become an important link that connects philanthropy to research, research to patients, and patients to cures. The $37 million raised by the VeloSano community to date is supporting innovative treatments, therapies and—perhaps most importantly—comfort to patients across a wide range of cancer specialties. What we learn through research in one area adds translational knowledge to the overall field of cancer research and ultimately puts us one step closer to a cure.
VeloSano unites the cancer community—patients, family members, scientists, physicians, nurses and more—with Cleveland Clinic's expanding global impacting research, innovation and care. This unique partnership ensures an accelerated path to finding cures by making good on our promise: 100% of every dollar raised for VeloSano initiatives will support transformative, lifesaving cancer research happening at Cleveland Clinic today, in order to impact the lives of millions of people around the world, tomorrow.
"Everyone knows someone affected by cancer and it can be empowering to take action together," says Alex A. Adjei, MD, PhD, Chair of Cleveland Clinic Taussig Cancer Institute. "Cleveland Clinic is a leader in cancer care and research, and the support we receive through VeloSano enables us to expand our work and our impact."
Cancer researchers across the Cleveland Clinic enterprise apply for funds raised for VeloSano, with the money being awarded to research proposals with the greatest promise. To date, VeloSano has supported more than 200 cancer research projects. Those projects often go on to earn research grants from the National Institutes of Health and other entities. The total return from additional, outside funding now surpasses $22 million, making the total impact of VeloSano more than $59 million.
Get Involved Today!
There are opportunities for everyone to get involved in VeloSano 10. Become a donor; register as a rider or volunteer for the annual flagship fundraising event, Bike to Cure, taking place in Cleveland Sept. 8-9; and participate any time, any way and anywhere as a virtual fundraiser. For our youngest supporters ages 3-12, there's Trike & Bike benefiting VeloSano and pediatric cancer research at Cleveland Clinic Children's. Learn more and get involved here.
AutoNation Cancer Research Center Unveiled in Florida
AutoNation Cancer Research Center Unveiled in Florida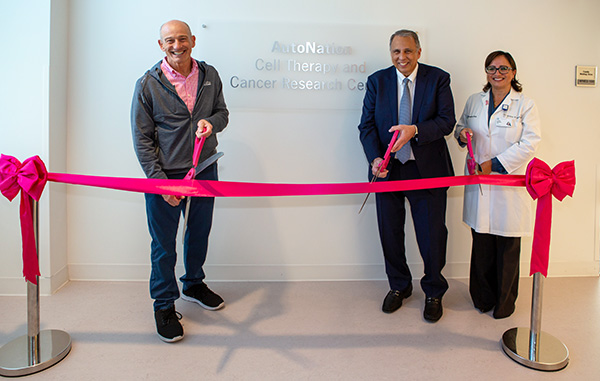 The AutoNation Cell Therapy and Cancer Research Center at Cleveland Clinic Florida brings the promise of saving thousands of lives affected by cancer in Florida and around the world.
The ribbon cutting ceremony for the new center was held on February 7 at Cleveland Clinic Weston Hospital. To celebrate the opening were executives from AutoNation and Cleveland Clinic Florida: Marc Cannon, AutoNation Executive Vice President and Chief Customer Experience Officer; Zeina Nahleh MD, FACP, Regional Institute Chair for Cancer; and Joseph Iannotti, MD, Florida Region Chief of Staff and Chief Academic and Innovation Officer.
As a leading automotive retailer whose mission is to drive out cancer, AutoNation has made a substantial donation to help fund front-line scientific cancer research at the new center.
"I'm glad we're here," says AutoNation's Marc Cannon. "Almost 10 years ago, we started off this mission with Cleveland Clinic, and who knew it would go where it is? It grew into this and so many more things."
The AutoNation Cell Therapy and Cancer Research Center will conduct groundbreaking research of cell-based therapies for cancer and evaluate the outcomes; provide regenerative research education; and support vital scientific regenerative medicine research.
To benefit the community, the new state-of-the-art center will allow patients to gain access to the most innovative treatments in the same community where they live.
"We are grateful to AutoNation for the life-changing gift that is directly impacting the development of innovative services and advancing cancer research to benefit so many patients with cancer in our community," says Dr. Nahleh. "We truly appreciate the ongoing partnership with AutoNation and the generous support that made it possible to launch the new AutoNation Cell Therapy and Cancer Research Center. This gift also comes at a challenging time in healthcare and provides the crucial funding that will push forward research to answer more questions and lead to more discoveries that will translate to better outcomes for patients."
Prior to the ribbon cutting, AutoNation celebrated and honored Cleveland Clinic Florida's hard-working cancer caregivers, cancer patients and survivors by hosting an ice cream social with a DRVPNK-themed ice cream truck, entertainment and music.
Physician-Leader Promotes Learning, Humanity and Humility
Physician-Leader Promotes Learning, Humanity and Humility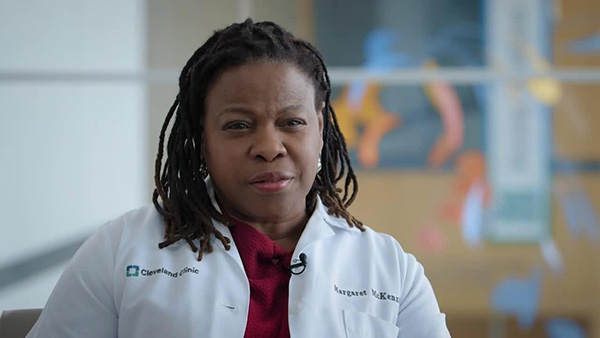 While driving out in the countryside of Honduras, Margaret McKenzie, MD, remembers thinking, "Why am I doing this medical mission work in another country when there are so many opportunities to help people in need, closer to home?" Her meditative moments in Central America ultimately led her to accept leadership roles within Cleveland Clinic.
Reflecting on her arrival in 1995, Dr. McKenzie shared, "What impressed me right away was how good Cleveland Clinic was at encouraging professional development. I really liked that. I always tell people, 'You can reinvent yourself at any time … and that's how I feel about Cleveland Clinic. It's a learning organization … and I'm thirsty for new knowledge, new ways of doing things."
In 2008, Dr. McKenzie was appointed section head of General Obstetrics and Gynecology at the main campus. In 2017, she was named president of Cleveland Clinic South Pointe Hospital. Dr. McKenzie remains a practicing Ob/Gyn, and also serves as an associate professor of surgery at Cleveland Clinic Lerner College of Medicine and is the first holder of the Brentwood Foundation Executive Chair at Cleveland Clinic.
Traditionally, endowed chairs are thought of as support for an elite faculty position or sustained funding for pivotal research. But Brentwood Foundation, whose mission is to provide leadership in the field of osteopathic medicine, training and research in Northeast Ohio, chose to think a little differently and, last year, established a chair for a regional hospital executive, the only such endowment received by Cleveland Clinic in its 100+-year history.
Dr. McKenzie has long embraced the opportunity to lead. "I reinvented myself as an academician," she said. She welcomed the increased responsibility and quickly adjusted to the cultural differences between main campus and the suburban hospital. "What makes South Pointe unique is its affiliated medical school and residency training programs. It's more than a community hospital." The educational pieces, while successful, also posed a few hurdles, Dr. McKenzie admitted.
Medical staff education was an early priority. "I am an educator. And I like to find critical gaps to close," said Dr. McKenzie. "What will make us more efficient? What will increase engagement in the people who work here?" The fact that about 85% of the medical staff at South Pointe are private physicians made it more complicated to align them with the health system and engage them as leaders. "I decided to solicit the entire physician staff to see who wanted to lead. I got 23 bites," Dr. McKenzie said, with a smile of satisfaction.
"I try to trust in my teams. I want them to do better than me. If there's a win, I try to give them the full celebration of that win, and, if there's a loss, it's for me alone to take. I just like to treat my team like I treat my patients, which is how I treat my family."
Dr. McKenzie's advice to young people pursuing a career in healthcare would be, "Number one, be willing to be vulnerable and show humility. Number two, always put yourself in the shoes of whoever you're talking to, whoever you're caring for, whoever you're leading, before you give any feedback or advice. And then the third thing is, one of the common things that happens to humans as we move through life is we get burnout. We fade, we get disinterested. But when life batters us, we can begin again. Reinvention is yours to have. Don't think that because you trained a certain way for a certain thing that's what you're going to do the rest of your life. You have so many other talents. I've told my daughters this (both of whom have followed in their mother's footsteps, caring for people as physicians)."
Dr. McKenzie has some ambitious plans for South Pointe and hopes to play a consequential role in fundraising for the hospital. She also looks forward to extending her reach further out into the community. "We are partnering with our community advisory council to help to bring financial literacy to our community, and address food insecurity by not just giving people food but by teaching them how to cook and introducing them so that they can be responsible to each other … and build pipelines from the schools so that students can work up the street from their homes.
"I would like to continue to develop leaders, not just among the physician staff, but also among nursing staff, pharmacy staff, environmental services, lab…. I think for every area here, I would like to continue to push education and research and also have a culture where we reward people and show them we value them not just for showing up every day, but for the way that they show up."
As difficult as the COVID-19 pandemic was, Dr. McKenzie saw beauty. "COVID allowed us to pause long enough and deep enough to see what a gem this place is. There were some real humanistic, deep connections coming out of this hospital. We tend to just think, 'Oh, it's their job' … we don't recognize people enough and say, 'Hey, you know what? I see you. Ubuntu.'" Ubuntu, Dr. McKenzie explained, is an African greeting that means I see and appreciate you in all your humanity. It comes from the concept of Umuntu Ngumuntu Ngabantu, meaning "I am, because you are."
"It is such a huge privilege to take care of people," Dr. McKenzie said. "As an Ob/Gyn, patients walk into my office as a referral for consult and in five minutes they're undressed and telling me their deepest secret that they haven't even told their best friend. I think as doctors we need to protect and care for that privilege by having as much humility as we can and by making ourselves vulnerable. I think our relationship with patients and caregivers is all about building trust and helping people know they're not in it alone."
Power of Love Gala Raises Funds for Brain Diseases
Power of Love Gala Raises Funds for Brain Diseases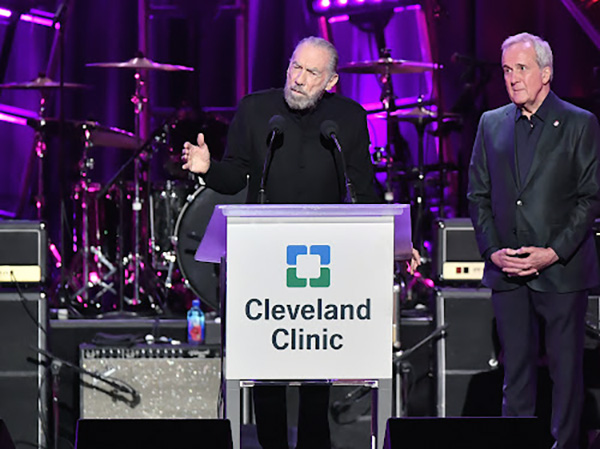 Keep Memory Alive hosted a prestigious lineup of entertainers at the 26th annual Power of Love® gala on Saturday, Feb. 18, 2023 at MGM Grand Garden Arena, including Sammy Hagar, Paula Abdul, Alice Cooper, Kevin Cronin, Nikki Glaser, Chad Kroeger, John Mayer, Michael McDonald, Sam Moore and Rick Springfield.
The evening raised crucial funds for Cleveland Clinic Lou Ruvo Center for Brain Health to provide quality care, resources and many no-cost support and education services to patients and their caregivers as they fight brain diseases, including Alzheimer's, Parkinson's, Huntington's, multiple system atrophy and multiple sclerosis (MS).
Keep Memory Alive Co-founders and Vice Chairs Camille and Larry Ruvo welcomed the nearly 1,500 guests, remarking on the nostalgic evening, as it fell on the anniversary of the death of Larry's father, Lou Ruvo, the namesake of the Lou Ruvo Center for Brain Health, whose battle with Alzheimer's disease serves as the catalyst for the gala.
"Many of you started on this Alzheimer's journey with us. Then we expanded to Parkinson's disease. As we've grown, it's extraordinary that a town that I grew up in, with 2.5 million people, did not have a Board-certified MS doctor and our neighbors and friends were going out of state for care," Larry Ruvo said. "So tonight, we are going to honor the Humm Family and the legacy of David Humm. He not only was a great Las Vegan, but as I have been often told, he was the 'original Las Vegas Raider.'"
Ruvo continued, "Also in attendance tonight is longtime friend Maria Shriver. It was her idea to launch the Women's Alzheimer's Movement Prevention Center. Two-thirds of those diagnosed with Alzheimer's disease are women. Maria asked 'How is it that I as a woman can go to a neurological exam and have the same examination as a man?' I told her I didn't know, and then I went to the Cleveland Clinic. They worked tirelessly to create this definitive Alzheimer's prevention program for women, which started in Las Vegas. This time, what happens in Las Vegas will benefit the rest of the world."
Shriver, founder of The Women's Alzheimer's Movement (WAM) and strategic advisor for Women's Health and Alzheimer's at Cleveland Clinic, listened from the audience. In addition to highlighting the disproportionate impact of Alzheimer's on women, her attendance also coincided with the first anniversary of WAM formally joining Cleveland Clinic.
The Ruvos then presented the Community Leadership Award to entrepreneur and philanthropist John Paul DeJoria, who was at the original memorial dinner for Lou and wrote the first check that inspired Keep Memory Alive and the annual Power of Love gala.
DeJoria thanked the organization for the acknowledgement, saying, "Through all the decades I've been around, what I've found is when you do something for someone else and ask absolutely nothing in return, especially someone you know nothing about, you get the greatest high you will ever get in your life."
Camille Ruvo then surprised the audience by presenting a second Community Leadership Award to Eloise DeJoria for the depth of her philanthropic endeavors as well.
The evening continued with a tribute to David Humm, who passed away from complications of MS in 2018. Raiders owner Mark Davis made a $1 million donation on behalf of the Raiders Foundation to create the David Humm Endowed Chair for MS. The gift matched a donation from the Ruvo family to total $2 million to further MS research and care at the Lou Ruvo Center for Brain Health. The touching moment moved Larry Ruvo to tears as he brought out David's brother and daughter, Tom and Courtney Humm, respectively.
Courtney, who served as her father's primary caregiver, said, "I can't believe that my dad is being honored this way and I'm so excited that he is going to help bring awareness to MS and help fund research."
Throughout the evening, several stars reflected on the impact brain disease has had on their family, with Abdul sharing on the pink carpet, "I am beyond grateful for being able to get my father into the loving and wonderful hands of Larry Ruvo's brain health center. How they took care of my father and how they prepared our family for what's to come and what to expect and to be able to give my dad the dignity he deserved all the way up to his passing." Cronin dedicated his performance of "Keep On Loving You" to his mother, Millie Cronin, who battled Lewy Body dementia.
How You Can Help
100% of your donations to Keep Memory Alive exclusively support Cleveland Clinic Lou Ruvo Center for Brain Health. Your gift helps fund the most effective research and clinical programs for those battling Alzheimer's disease and other cognitive disorders, Huntington's and Parkinson's disease and other movement disorders, and multiple sclerosis. Help us make brain disease a distant memory.