Crossing the State for a Second Opinion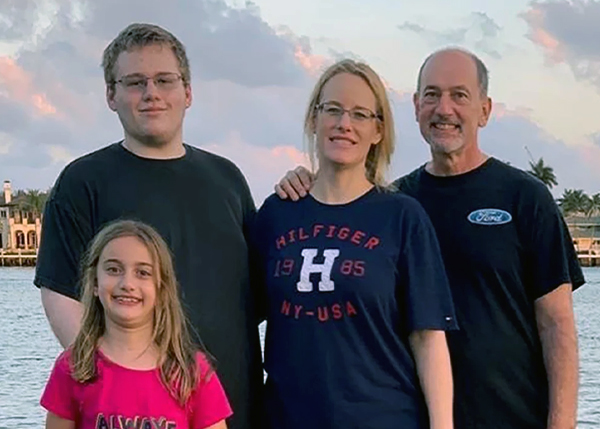 Though she is a busy mom, 50-year-old Stephanie thought she was doing a pretty good job of staying on top of her healthcare needs. She visited her gynecologist when she began experiencing progressively heavier menstrual periods, cramping to the point where something as simple as bending over was too painful, and months of daily bleeding, resulting in anemia.
Stephanie's gynecologist recommended a non-surgical treatment for her symptoms which unfortunately did not stop her symptoms.
"It got to the point where life was miserable," she says. "And I was concerned because of a family history of ovarian cancer, breast cancer and colon cancer." Stephanie's mother passed away from ovarian cancer and one of her sisters from breast cancer.
Finally, a Sense of Urgency
Her sister Elizabeth encouraged Stephanie to get a second opinion and recommended Cleveland Clinic Florida. Stephanie lives near Tampa, Florida, which is about 250 miles from Cleveland Clinic Weston Hospital, so she first met virtually with Joel Cardenas, MD, a specialist in gynecologic oncology, and his team of patient navigators.
"Dr. Cardenas was so personable, even just over a computer screen," Stephanie says. She was impressed by his thoroughness, the time he spent with her, his questions, and the care he expressed for her situation. "The sense of urgency from his staff was nothing like I experienced anywhere else at all. They understood my needs and how important it was for me to get things done quickly because I was suffering."
It was important to address her symptoms quickly, according to Dr. Cardenas, because of her family history and the potential for gynecologic cancer. Thankfully, a biopsy of her endometrial tissue was negative for cancer.
Benefitting from a Robotic Approach
The next step was to help relieve Stephanie from her painful symptoms. While Dr. Cardenas says removing her uterus would have sufficed, he and Stephanie agreed a hysterectomy to treat heavy bleeding and removing her ovaries to eliminate her risk of developing ovarian cancer was the best option. Her patient navigators immediately scheduled Stephanie to come to Weston the next week and have all her testing completed in one day in preparation for surgery.
A few weeks later, Stephanie underwent a full hysterectomy, which Dr. Cardenas performed via a robotic approach. "In minimally invasive robotic assisted surgery the surgeon uses tiny instruments that are highly precise," Dr. Cardenas says. "The benefits are less pain, faster recovery, less bleeding and lower risk of complications."
Cleveland Clinic Florida is a leader in the application of robotic surgery, thanks to generous support from donors. For more than 30 years, philanthropy has paved the way for our surgeons to be pioneers and innovators in the robotics field, advancing research and educating tomorrow's gynecologic surgeons. Today, experienced surgeons perform the full range of advanced, minimally invasive and robotic surgeries for many women's health conditions, including endometriosis, fibroids, heavy periods, ovarian cysts, infertility and other gynecological conditions.
The surgery revealed that Stephanie's uterus was four times the normal size and had severe adenomyosis (a growing of the lining of the uterus into the walls of the uterus) and enlarged benign leiomyomas (fibroids). There were no signs of cancer.
Happy to Travel for the Best Care
Stephanie also met with a genetic counselor at Weston Hospital. She was tested for the BRCA gene over ten years ago because of her family history and needed updated testing along with a more thorough review. Her results now live in a database where if any genetic mutations develop in the future, Stephanie is notified, benefitting herself and her children.
Stephanie said traveling so far from home to Cleveland Clinic Weston Hospital wasn't a problem. "It doesn't matter how far you need to travel as long as you're receiving the care you need."
She continues, "I didn't think I was waiting very long to get the help I needed because I thought I was getting good care. Until I went to Cleveland Clinic. I knew I was getting the best care I needed. It was second to none." She was especially impressed and appreciative of the care she received from Dr. Cardenas.
"He feels like family to me," she says. "He has such a warm and generous personality. It's nothing like I've ever experienced with a doctor before, which is phenomenal and something I will never forget."
She offers advice to other women who may be putting off their care: "Make the time because it is so important. You just don't know if something that you're feeling is something wrong. Listen to your body and be sure to get your general checkups."