Appreciation for Medical Innovation that Saved a Sister's Life
Appreciation for Medical Innovation that Saved a Sister's Life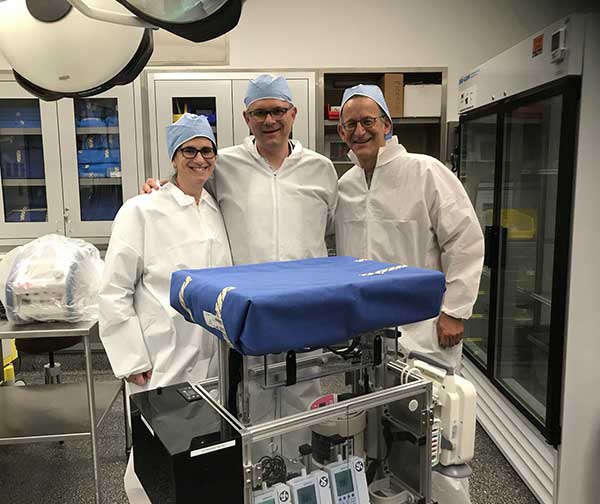 After two failed liver transplants, Debbie was sicker than ever. Since being diagnosed with chronic liver disease in 1990, at age 23, she had endured one health crisis after another.
Debbie's sister Gail was determined to find a way to help her get well after the first transplant failure in 2003. Gail recalled a doctor, Charles Miller, MD, who had helped Debbie when she was first diagnosed. Neither she nor Debbie would ever forget the kind, caring, straight-talking surgeon; she decided to seek his guidance.
Gail traced Dr. Miller to Cleveland Clinic, where today he serves as Enterprise Director of Transplantation at the Transplantation Center. Dr. Miller agreed to consult and guide the team at the New York hospital on the complex strategy needed to get Debbie to the point her re-transplant could take place.
In 2015, when the second transplant failed for unknown reasons, Debbie's New York team felt that they had exhausted their treatment options and wanted to send her home.
A Trip Two Sisters Are Unlikely to Forget
With Debbie's life in the balance again, Gail once more turned to Dr. Miller. "Come to Cleveland," he urged. Those words began a journey that would save Debbie's life. And they would lead Gail and her husband, Jeff, to become financial supporters of Cleveland Clinic.
Gail arranged to have Debbie taken by ambulance to the tarmac of a New Jersey airport, where she was boarded onto a medical transport plane bound for Cleveland. After a month of tests, Debbie was again placed on a transplant list. When the news of an available liver came, in May 2015, Dr. Miller and the transplant team were ready.
Success of Debbie's third transplantation hinged on the experience and skills of Dr. Miller and his team – and, as it would turn out, their agility and innovation. "We took a lot of scans to map out the anatomy so we would have a good plan going in," Dr. Miller said. "But during the procedure, we found that a novel approach was called for. We ended up needing to create a new portal vein coming up from her intestines. The planning allowed for this innovative approach and actually made a complex operation rather straight forward."
Care That Goes Full Circle
While the procedure went smoothly, Debbie faced a challenging, months-long recovery. Cleveland Clinic specialists guided Debbie through physical, occupational and speech therapy. "There were all kinds of medical support services for her to recover properly and to help make it a successful transplant," said Gail, who remembers how weak Debbie was after the operation. Debbie's daughter, Ally, her sister Alyse, and two brothers, Robert and Steven, traveled to Cleveland for months and, with Gail, took turns sitting bedside in the ICU.
"Without the donor, my family and Cleveland Clinic, I wouldn't be alive," Debbie insisted. She credits Dr. Miller and the medical team and nurses, but she also called out her rehab crew. "My music therapist saved me on an emotional level," she said. "She visited me in the ICU. I love Broadway music, and she would play 'I Feel Pretty' from 'West Side Story.' I would move my hands along with it. The power of music is so strong."
Gail had no experience with Cleveland Clinic before Dr. Miller introduced her to it. "But from the moment I arrived, I knew it was a different and special place," she said. "The entire philosophy, mission, team approach and way they handle cases was unique and collaborative. It changed my perception of medicine and patient care."
Debbie's ordeal emphasized the national shortage of donor livers, and motivated Gail and her husband to learn about research taking place at Cleveland Clinic to bring more livers to patients and improve transplant outcomes. A team led by Cristiano Quintini, MD, then Director of Liver Transplantation, developed technology to preserve livers in an incubator-like perfusion device, in which fluids are used to maintain the life of the organ outside the body. Her appreciation only deepened. "In my opinion, there's no better place in the world to seek treatment than Cleveland Clinic," she shared.
Spreading the Joy of Giving
Gail and Jeff made a financial gift to support Dr. Quintini's research. "We wanted to help mitigate a solvable problem," Gail said. "And we thought the critical research the team was working on was groundbreaking. We wanted to help them see it through. We thought this was an opportunity to truly save lives."
"We're all long-term friends," Dr. Miller said. "And Gail, Jeff and Debbie have been very interested in our research for a while. We're very grateful for the family's financial support – which helps with education and research. Philanthropy like theirs is how we develop new and innovative things."
The spirit of giving is a family tradition, Debbie said. She's proud of her daughter, Ally, who – inspired by her mother's experience – recently donated bone marrow, to help save the life of a 3-year-old boy.
Debbie is grateful for so much – her donor, her family's support and the extraordinary care provided by Dr. Miller and the entire professional staff of Cleveland Clinic. Most of all, she's grateful to be alive. "Every day is a gift," she said.
Finding Relief at Weston Hospital
Finding Relief at Weston Hospital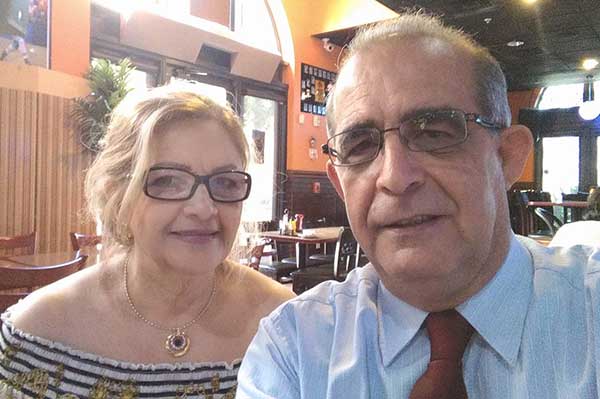 Manuel Valdez is accustomed to taking the two-and-a-half-hour flight from his home in the Dominican Republic to visit family members in Miami. He also travels to see his internal medicine specialist, Juan Nunez Medina, MD at Cleveland Clinic Weston for ongoing medical care.
When Manuel began experiencing increasing pain on the side of his face in September 2022, he contacted Dr. Medina who prescribed pain medication. Unfortunately, the pain didn't subside; instead, it continued to worsen.
Despite trying different medications, the pain became unbearable. Unable to eat solid food, Manuel's wife would prepare his meals using a blender. Sleep was nearly impossible.
Dr. Medina advised Manuel to fly to Miami as soon as possible. Upon his arrival, Manuel immediately went to the Emergency Room at Cleveland Clinic Weston Hospital where he was treated for pain and underwent a number of tests.
Manuel was then referred to board-certified neurologist Anam Baig, DO, who specializes in trigeminal neuralgia.
In most cases trigeminal neuralgia is caused by an artery or vein compressing the trigeminal nerve, close to where it enters the brain stem. Dr. Baig told Manuel the pain from trigeminal neuralgia typically lasts for short periods of time, unlike the constant, intense pain he was experiencing.
After ordering an MRI, Dr. Baig found the cause of Manuel's debilitating pain: a small, benign and uncommon tumor on the left side of his trigeminal nerve.
A Small Incision with Big Results
Dr. Baig consulted with her colleague, Hamid Borghei-Razavi, MD, Director of the Minimally Invasive Cranial and Pituitary Surgery Program at Cleveland Clinic Florida. A board-certified neurosurgeon, Dr. Borghei-Razavi specializes in minimally invasive neurosurgical techniques.
After a comprehensive examination and discussing options with his patient, Dr. Razavi performed a minimally invasive craniotomy for resection of the tumor that was causing Manuel's trigeminal neuralgia.
"This is not an easy surgery, but it can provide a very good outcome for patients, which was the case for Mr. Valdez," Dr. Borghei-Razavi says. "It completely changed his quality of life."
After the surgery, Manuel's face pain was completely gone. He returned home the next day.
"I was impressed by the very small incision Dr. Borghei-Razavi made to remove the tumor," Manuel says. "I felt absolutely no pain after the procedure. I was so glad I didn't need to take prescribed pain medication anymore and very grateful for the team of doctors and nurses who cared for me."
Pushing Boundaries with the Help of Philanthropy
Philanthropy plays a vital role in advancing the field of neurosurgery, particularly in the realm of minimally invasive techniques. By supporting research in this area, philanthropic contributions pave the way for groundbreaking discoveries and innovations that can revolutionize patient care, Dr. Borghei-Razavi noted.
"These generous investments enable neurosurgeons to explore less invasive approaches, leading to faster recoveries, reduced complications, and improved outcomes for individuals facing complex neurological conditions," he explained. "The impact of philanthropy in driving progress in minimally invasive neurosurgery cannot be overstated, as it empowers researchers and clinicians to push the boundaries of what is possible, ultimately transforming lives for the better.
Drs. Baig and Borghei-Razavi collaborate on many patient cases and were extremely pleased to be able to provide such an excellent outcome for Manuel.
"It's always deeply satisfying when you can improve the life of a patient," Dr. Baig says.
"It's a Florida Thing to Do"
"It's a Florida Thing to Do"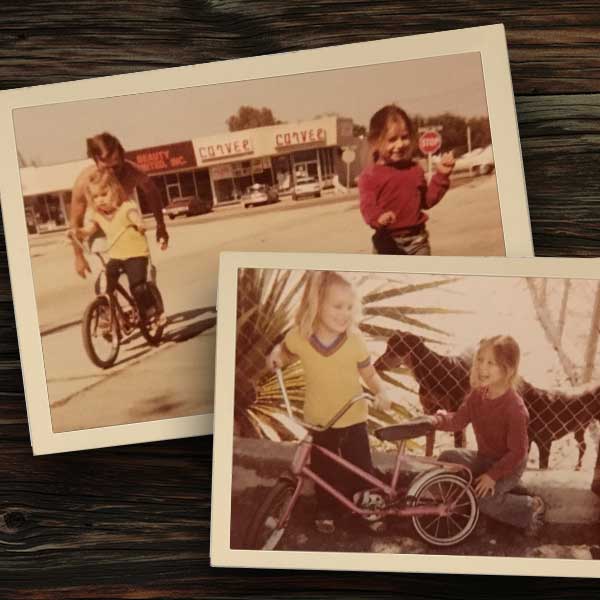 Despite the sunny days and high temperatures in Florida these days, you'll find Erin Miller pedaling her bike for miles.
Erin, a caregiver at Cleveland Clinic Indian River Hospital, is training to participate in VeloSano's annual flagship fundraising event, Bike to Cure, taking place Sept. 8-9 in Cleveland, and raise funds for lifesaving cancer research at Cleveland Clinic.
What's VeloSano?
VeloSano, Latin for "swift cure," is a global year-round fundraising movement created to swiftly enable the treatments of today and the cures of tomorrow through innovative, transformative cancer research happening at Cleveland Clinic locations around the world. Since its inception in 2014, more than $37 million has been raised by VeloSano participants, advancing over 220 cancer research projects at Cleveland Clinic.
Gifts to date have resulted in innovative treatment, therapies and – perhaps most importantly – comfort to patients across a wide range of cancer specialties. What is learned through research in one area adds translational knowledge to the overall field of cancer research and ultimately puts us one step closer to a cure.
"I do like that a hundred percent of the money raised goes to Cleveland Clinic cancer research because not all organizations do that," Erin says.
A Personal Connection, Too
In Florida, skin cancer is very prevalent, Erin notes, and shares that she had skin cancer on her face before she was 30. "My doctors at the time told me not to worry about it because I was young. The spot was white and didn't look like the typical asymmetric brown mole. I waited years to get a second opinion and it turned out to be a basal cell carcinoma. I'm very thankful it wasn't a melanoma."
Erin always loved riding a bike. "There are pictures of me bike riding when I was three and four years old," she says. "Growing up in Florida, bike riding is something that we've always done around here. I was excited to learn that something as simple as a bike ride could help raise money for cancer research, because I feel like that's important."
She's hoping to ride her bike 20 miles in her hometown but says, "You don't have to be a professional or even a cyclist to participate. You can be just the average person who goes out with their kids to ride or even participate virtually. And here in Florida there are so many places and opportunities to get outside and do something. It's nice to be able to say, 'Hey, what I did was for a good cause.'"
Her strategy for the long ride? "My friend and I were talking about riding until we get so hot that we almost can't take it, then parking our bikes at the pool and going in. Because it's totally a Florida thing to do: Ride your bike until you can't take it anymore, then go jump in the pool," she says with a laugh.
Make a gift to support Erin on her ride here. Or learn how you can get involved here. Also, see the Impact Report for comprehensive detail for all cancer research projects funded by dollars raised for VeloSano in 2022.
Mentor Hospital Lobby Artwork Designed to Inspire Joy
Mentor Hospital Lobby Artwork Designed to Inspire Joy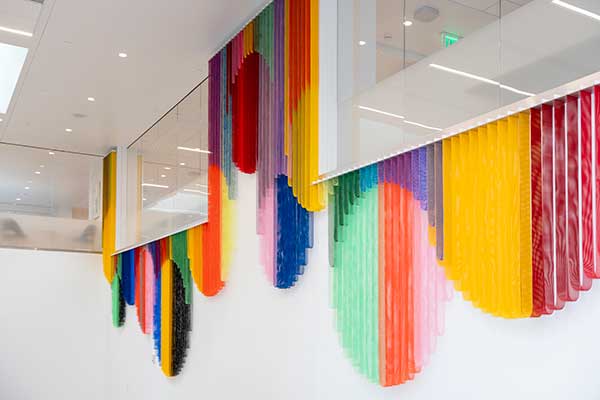 Patients and visitors entering the main lobby atrium at Cleveland Clinic Mentor Hospital, which opened on July 11, are greeted by a large, colorful original artwork that was designed to inspire joy and help relieve the stress felt by many people when they're in a hospital.
The artwork is by Eva LeWitt, a 38-year-old artist known for producing vibrant sculptures using commercial and industrial pliable materials which she casts, dyes, cuts and arranges into hanging geometric forms with a broad color palette. Her large-scale abstract pieces often recall domestic or theatrical décor, such as curtains.
The commission, created specifically for Mentor Hospital, is the biggest LeWitt has created to date. Covering the entire wall directly across from the main entrance, it features loops of brightly colored mesh of varying densities streaming from the ceiling in straight lines that end in circles. The circles allow every point in the space to have a definition, LeWitt says. The differences in the mesh thickness let the colors blend in ways that are dynamic and unique as the viewer moves through the lobby or looks down on the piece from the second story windows that surround and brighten the atrium.
LeWitt, who lives in New York City, says the hospital lobby was an appealing project for her to work on, as it was a blank slate. "I wanted to create something that would be joyful and uplifting for patients and visitors. Hospitals can be a tough place and I would like for this to be a happy distraction for them," she says.
LeWitt and the Cleveland Clinic Art Program worked on the project from concept to drawings to execution for nearly a year.
Ellen Rudolph, senior director of Cleveland Clinic's art program, first saw LeWitt's work in a museum in Boston and thought her style would be a good match for the unique architectural challenges of an atrium, with people viewing it from below or above. It will also help orient people who get turned around in the new facility.
"I'd never seen anything like her work," Rudolph says. "She creates sculptures that look like paintings and drawings at the same time."
The piece was installed in late May by LeWitt and Cleveland Clinic art program staff. They worked together to hang, steam and straighten the mesh. This gave the local team a chance to become well acquainted with the piece so they can handle any needed maintenance over time.
LeWitt is the daughter of Sol LeWitt (1928-2007), an influential 20th century artist who has two wall drawings on view in Cleveland Clinic's Health Education Campus Samson Pavilion.