Bringing Novel Immunotherapy Cancer Treatments to Florida's Treasure Coast
Bringing Novel Immunotherapy Cancer Treatments to Florida's Treasure Coast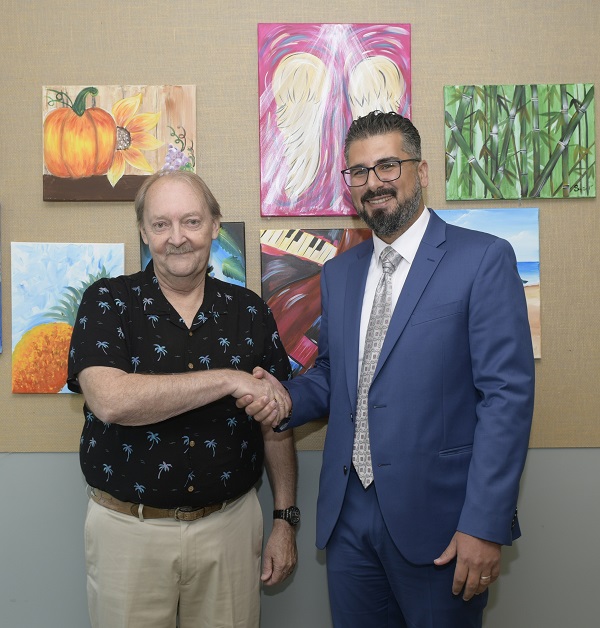 Since joining the Robert and Carol Weissman Cancer Center at Cleveland Clinic Martin Health in 2021, Houssein Abdul Sater, MD, Regional Research Director of the Cleveland Clinic Florida Cancer Institute, has worked tirelessly to assemble the research structure at Cleveland Clinic Florida necessary to offer Treasure Coast residents in Florida access to novel immunotherapies for cancer.
Dr. Sater is an immunotherapy clinical trialist and immune microenvironment expert formerly with the National Institutes of Health (NIH). He established the state-of-the-art Tumor Immune Microenvironment Laboratory in Bethesda, Maryland, which supported numerous immunotherapy clinical trials during his tenure.
"At the NIH my primary work was focused on salvage therapy, which is given when a patient's cancer does not respond to usual treatments," says Dr. Sater. "But I always believed that to eradicate cancer you need to hit it very early. That's why I'm now focused on investigating cancer immunotherapies for early stage disease."
Why Immunotherapy?
Immunotherapy fights cancer by stimulating or harnessing the body's immune system. According to Dr. Sater, it is the only treatment approach that offers the hope of a long lasting cancer cure.
He describes the common path of many advanced cancers in which patients respond to chemotherapy and then fail, then respond to another chemotherapy and fail, until they succumb to their disease. "Immunotherapy can overcome this cycle by helping the body build a memory against cancer and revving up the natural immune response," he says.
Today Dr. Sater is dedicated to advancing cancer care by establishing a cancer immunotherapy program at Cleveland Clinic Florida that will develop new immunotherapy treatments and bring the latest clinical trials to patients in the region.
Targeting Early Stage Disease
Earlier this year Dr. Sater and his research team at the Weissman Cancer Center launched a clinical trial for early stage (II to IIIA) non-small cell lung cancer (NSCLC). The NeoCOAST-2 study is treating patients using novel immunotherapy combinations with demonstrated efficacy in locally advanced disease.
Study participants will receive a combination of two immunotherapy agents, durvalumab with either oleclumab or monalizumab. Recent research shows both drug combinations improve progression-free survival in locally advanced stages of lung cancer better than durvalumab alone.
"Durvalumab counteracts a tumor's ability to evade the body's immune response, and it is the current standard of care for stage III NSCLC that cannot be surgically treated," explains Dr. Sater. "With NeoCOAST-2 we are hoping to achieve the same benefit using the combo therapy for patients with early stage disease and eventually show an improvement over standard care, which is surgery followed by chemotherapy."
Patient Eligibility and Study Design
The NeoCOAST-2 study is a phase II open-label, multicenter randomized study being conducted across 49 trial sites around the world. "In May, our team at Cleveland Clinic Martin Health enrolled the first patient in the world in the trial," says Dr. Sater, noting a total of 140 patients will participate in the two arms of the study.
The trial is meant for patients with early stage NSCLC that can be treated surgically and doesn't harbor certain alterations or mutations. Eligible patients must be newly diagnosed, previously untreated, and able to tolerate chemotherapy and lung surgery. If enrolled, they will receive a combination of chemotherapy and immunotherapy drugs prior to surgery followed by up to a year of continued immunotherapy treatment after surgery.
"Lung cancer is the deadliest of all cancers and has the highest mortality in our community," says Dr. Sater. "Our hope is that patients receiving this novel therapy will have complete eradication of their cancer."
Philanthropy-supported Research
NeoCOAST-2 is just the first of many immunotherapy trials Dr. Sater wants to bring to the Treasure Coast by establishing the NEST (Neoadjuvant Epigenetic Synthetization Trials) Cancer Immunotherapy Program at Cleveland Clinic Martin Health.
"We want to conduct investigator-initiated clinical trials and collaborate with pharmaceutical companies and academic centers to bring promising drugs to the region and improve patient outcomes with earlier intervention," says Dr. Sater. "We've already partnered with NIH and several pharma companies to build our portfolio of drugs for study. Now we're ready to take the next step."
To launch next year, philanthropic funding is needed to grow the research team to the size that will allow the program to conduct several concurrent studies at one time. Clinical research units consist of investigators, research nurses, research coordinators, research managers, and biospecimen technicians plus the equipment they use to perform their functions.
How You Can Help
Each year Cleveland Clinic Martin Health's Chrysanthemum Ball advances critical care initiatives in the Treasure Coast. Funds raised from this year's event on Saturday, November 12, 2022, at the Elliott Museum in Stuart, will support research into novel immunotherapy treatments and expand access to Cleveland Clinic cancer trials through the Weissman Cancer Center. Tickets are still available for purchase or you can make a direct gift in support of the NEST Cancer Immunotherapy Program.
Couple's Gift Supports Enhanced Medical Care in Southwest Florida
Couple's Gift Supports Enhanced Medical Care in Southwest Florida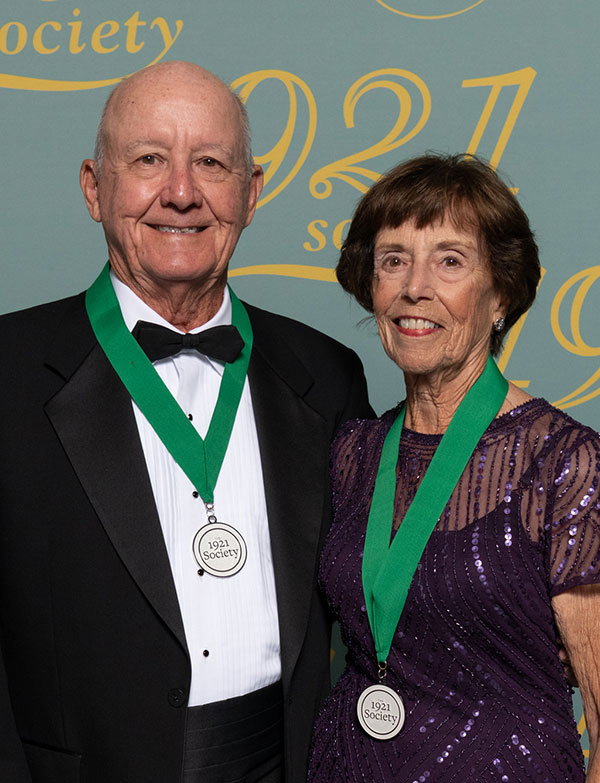 Married for 65 years, John and Angela Toth spent the early years of their marriage in their hometown of Cleveland before moving in 1973 with their son and daughter for new opportunities out of state. Little did they know they would return to Cleveland decades later for life-saving care.
The couple spent three years in Tennessee before settling in Detroit, where John (who goes by Jack) had a highly successful career in manufacturing, building facilities and creating jobs. By 1991, they purchased a second home in Bonita Springs, Florida.
In 1998, a few years after Jack's retirement, the Toths sold their Michigan home and became full-time Florida residents. They were pleased when Cleveland Clinic expanded to Naples the next year. "It was good to have access to Cleveland Clinic care so close to home," recalls Jack.
While the Naples campus was later sold, that did not sever the couple's ties to Cleveland Clinic. Jack experienced a health issue in 2009, for which he sought a second opinion and traveled to the hospital's main campus in Ohio.
"Cleveland Clinic saved Jack's life," says Angie of the care her husband received for bladder cancer, which included surgery in 2013 and subsequent surgery at Cleveland Clinic Weston Hospital in 2022. "We highly praise the urology departments in Weston and Cleveland."
To express their gratitude, the Toths have made annual gifts to Cleveland Clinic for a number of years. This year, the couple joined the Pyramid Legacy Society after making a blended gift that provides for immediate support to Cleveland Clinic and additional funding in the future through a charitable gift annuity.
"We want to support the presence of Cleveland Clinic in southwest Florida so that more people can benefit from their high quality care," Jack says, when describing his goal for the John and Angela Toth Fund for the Medical Future of Southwest Florida.
According to Cleveland Clinic Florida CEO and President Conor Delaney, MD, PhD, Cleveland Clinic shares the couple's desire to enhance and improve care in the region."We are very grateful for the Toths' generosity, which will allow us to broaden the community's access to Cleveland Clinic's patient-centered care."