Addressing Racial Disparities in Clinical Trials
Addressing Racial Disparities in Clinical Trials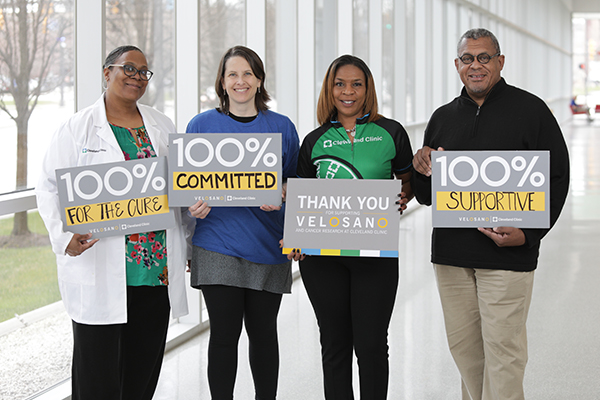 Much of the literature about addressing disparities in clinical trials focuses on logistical steps to breaking down barriers such as providing transportation or childcare to patients. While those approaches are beneficial, Cleveland Clinic's Taussig Cancer Community Outreach team found that addressing inequities also involves taking a step back and understanding how to foster deep relationships between clinicians and the community.
A Faith-Based Model of Community Outreach
Black Americans continue to be vastly underrepresented in cancer clinical trials, making up roughly 8.5% of trial participants. Improving enrollment across diverse populations is crucial to ensure emerging therapies are safe and effective across different populations.
A decade ago, the Outreach team launched Stopping Cancer In Its Tracks, which is a faith-based model of community outreach. The program creates relationships between the Outreach team and members and leaders of churches to support early cancer screenings for medically underserved communities. The team is focused on preventing late-stage detection and providing education and screenings.
Knowing that there are higher incidences of late-stage detection and the need for clinical trial options for medically underserved communities, the team wanted to explore whether they could/should be doing something on this aspect of the cancer journey. As a next step, they sought to better understand the problems of distrust in medical research and work together with the community to potentially develop interventions to address these disparities. To do so, they partnered with area churches to gain an understanding of community members' knowledge and attitudes about clinical research.
Thanks to funding from Cleveland Clinic's philanthropy initiative, VeloSano, the researchers launched a pilot program to conduct focus groups at six different Black and African-American churches.
Study Provides Valuable Insights
Often with studies, researchers are analyzing large subsets of data, but for this purpose, the researchers wanted to drill down and learn about individual experiences among communities who had been underserved. They followed a rigorous qualitative approach to gather stories from individuals in their own words. "I think that's really important to humanize the work we're doing," explains study co-author and Advance Practice Nurse Manger for Community Outreach Pamela Combs, DNP, BC-ANP.
30 people participated in the study, each for 90 to 120-minute conversations spanning a range of topics. The study, which was shared at the 2023 ASCO annual meeting, yielded valuable insights about how to foster relationships within the community. "We found that going outside the walls of the hospital to get the perspectives of the community is critical," says Combs.
The researchers took an open-ended approach to learning about community members' needs and experiences. "We wanted to hear in their own words what would work for them and what they would like to see us doing," says study co-author Heather McKee Hurwitz, PhD, a project staff researcher at Taussig Cancer Institute. "People shared a lot about inequalities, racism and suffering they experienced within medical institutions, and made it clear that addressing disparities will be a long-term process. We immersed ourselves in those experiences with the community. This provided the context for us and for our work going forward.
Pamela Combs concurred. "When people are heard and feel safe in an environment where they can express themselves, it's cathartic in many ways," she says. "When you use this approach of allowing freedom of expression before getting into [focus group] questions, it is very rich in terms of the information you're able to elicit."
Emotional Memories Impact Healthcare Experiences
People who were interviewed shared inequalities that they've experienced in medicine, and wanted explanations of why medicine is like that. "If you're at a doctor's appointment, no matter how mundane, and you receive suboptimal care or rudeness, that's very emotional and there is a really deep memory of those experiences," explains Combs. "The community made it really clear that the reason why addressing disparities is a long-term process is because the experiences of racism and lack of access are deep and long … Some people we spoke with were surprised that we came to their church and that anyone in healthcare cared enough to hear from them."
Nearly every focus group brought up fear of clinical research and the Tuskegee study. This revealed not only a need to educate patients about current research safeguards, but for healthcare providers—and everyone in the healthcare ecosystem—to work on building trusting relationships with patients: Taking the time to ask about their concerns, and listening to emotional as well as physical issues.
A key takeaway from the study is that everyday experiences that a patient has with their primary care provider is an opportunity to address disparities by improving communication and providing information and access. "We tend to think of our efforts beginning at cancer diagnosis, but the people we spoke with shared that it's the everyday appointments that could be a deciding factor for them to join a trial down the road," says Hurwitz.
What came out of the discussions was a desire to have tangible relationships with the healthcare community. Patients shared that relationship building would be very transformative in terms of their acceptance of a clinical trial. Examples include better interactions during day-to-day medical visits, as well as ongoing community involvement, such as sharing in church services and activities and joining together in meals. Having palpable respect for people's opinions is crucial. "People are not their disease," explains Combs. "They are people. And we need to make sure we use language that doesn't dehumanize. We need to be mindful and sensitive in how we communicate."
The resounding message that the Outreach team heard was a desire for caring relationships. "Human beings respond to authenticity and warmth," says Combs. "When we think about addressing disparities in care, we talk a lot about removing barriers but we don't talk about how you care for someone's soul. That is where the work is."
How Philanthropic Funding Is Advancing the Research
Hurwitz admits the project that her team set out to accomplish isn't the typical medical project. They wanted to do something innovative that would have an immediate impact in the community.
"We asked some really tough questions that are sometimes difficult to ask. We wanted to take a leap toward bridging these gaps created by the history of racism in medicine and hear firsthand from the communities that have been affected," said Hurwitz. "These are areas that have not been studied robustly and are therefore more difficult to go to the NIH and ask for funding. Now that we have some preliminary data and we've shared abstracts and we're working on the paper, the footing that was provided from the VeloSano grant enables us to advance this research and to address these cancer disparities."
What's Next?
Now that the team has an understanding of the landscape of community concerns, they are working to develop more quantitative, community-wide research. Several additional projects have come out of the early focus groups.
For example, several focus group participants shared how their lives had been touched by being part of a clinical trial. To that end, the Outreach team is creating a podcast that will both leverage these testimonials from cancer survivors who were willing to share their stories as well as feature clinicians talking about the history of inequity of trials and the importance of trials for equitable representation in healthcare. "I think it will be transformational for people across faith communities to hear these stories and understand that others in their congregation have had this experience," said Hurwitz.
One positive outcome from the focus groups was the desire of participants to continue to work with the Outreach team. Based on this, the team plans to share study results and progress reports with the faith-based organizations involved. They will continue to solicit the community's advice as they implement new interventions.
One novel project they are launching is a multiple myeloma screening through faith-based organizations. This blood disorder is twice as common among Black and African-American people, yet there are no current proactive screening guidelines. The team is working on developing these.
Building on this work, the Outreach team will seek input from other marginalized communities such as Hispanic women. "After we extrapolate these findings, we can begin to inform future generations and work to ensure that research properly represents the population," says Hurwitz.
Generous Gift Names Weston Emergency Department
Generous Gift Names Weston Emergency Department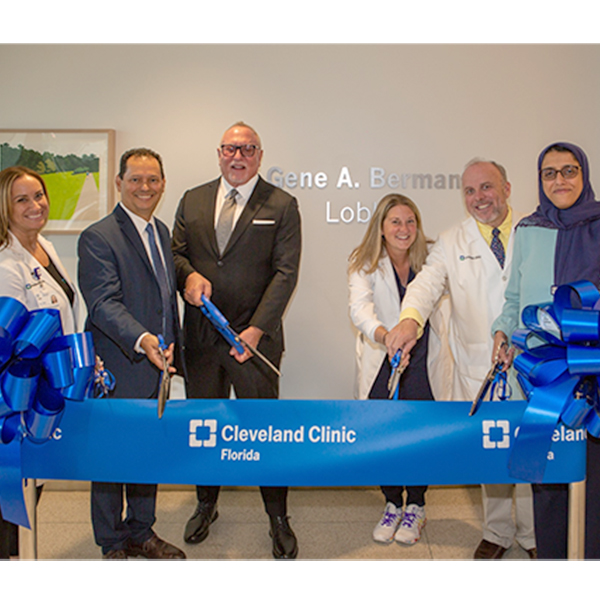 Cleveland Clinic Weston Hospital recently celebrated the dedication of the Gene A. Berman Lobby in its Emergency Department (ED). Mr. Berman made planned gift that will provide funding to support Weston Hospital strategic priorities, including patient care, education and capital needs.
Weston Hospital's ED treats more than 46,000 patients annually and is an integral part of the hospital. One-third of its yearly 14,300 hospital admissions are through the ED. It serves as a primary stroke center and advanced cardiac care center, treating hundreds of strokes, heart attacks and other life-threatening emergencies each year.
"The Emergency Department is the front door to our hospital and provides outstanding care to our community and the admitted patients that enter through these doors," says Rodolfo Blandon, MD, MBA, President of Cleveland Clinic Weston. "I am grateful for Mr. Berman's trust in our vision to provide the best acute medical care for our community."
Mr. Berman, a retired senior corporate real estate executive, lives in Fort Lauderdale. His generous gift to the hospital makes him eligible for membership in Cleveland Clinic's prestigious 1921 Society, which honors donors who have made cumulative gifts of $1 million or more. He joins more than 700 members worldwide who have put their resources and compassion to work. From seeding crucial discoveries to building leading-edge facilities, these gifts have led to some of our most significant accomplishments.
Ways to Give
At Cleveland Clinic, there are myriad ways to donate to the causes that mean the most to you. As a nonprofit healthcare organization, 100% of every gift directly supports our mission to advance healthcare through patient care, research and education. Our unique model means your philanthropic dollars do not pay for operating costs.
Learn how your gift to Cleveland Clinic Florida makes an impact.
Wine, Women & Shoes Benefits Women's Cancer Support Services
Wine, Women & Shoes Benefits Women's Cancer Support Services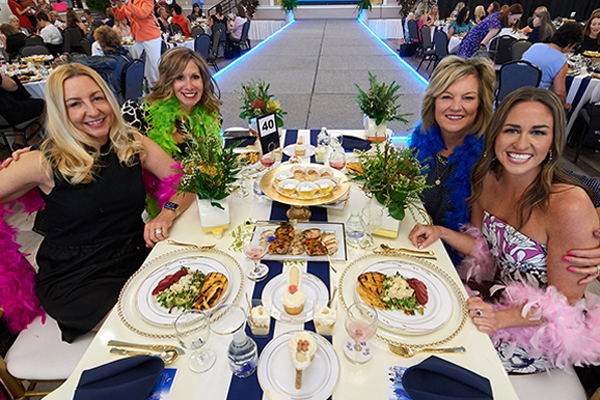 Financial hardship is a devastating side effect of cancer that many people never think of.
An annual event in Canton is helping to address the issue by raising funds to assist all women through their cancer journey at Cleveland Clinic Mercy Hospital. The 2023 Wine, Women & Shoes event, held on May 20, 2023, at the Alex Krassas Event Center, raised more than $350,000.
Led by event co-chairs Barbara Frustaci and Ashley Moore, members of the Mercy Service League were joined by 300 guests for an afternoon of shopping, wine tasting, live and silent auctions, a fashion show and more.
Elizabeth Russ, MD, Chief Radiologist at Mercy Hospital, served as the event's Caregiver for the Cause. "The goal of the event is to empower less fortunate women with vital resources they may not otherwise have. I'm proud to be part of a group that comes together and makes such an impact on people's lives by raising funds and giving directly back to our community."
"The very first month of being diagnosed will impact a household budget," says Dina K. Rooney, MD, who was the official Chairwoman for the Cause at the fundraiser. "Things like groceries, gas, utilities and the cost of additional childcare just push the budget," she says. "The most startling statistic I found recently is that 30% of people undergoing treatment have to change their living situation by downsizing or moving in with family."
Although she's retired from her position as Medical Director of the Breast Center at Mercy Hospital, Dr. Rooney remains a staunch supporter of their cancer support programs. "I think women face extra challenges because most of the time they are the caregiver for the family and most of the time they also work outside the home."
Dr. Rooney recalls that in 2017, the first year the Wine, Women & Shoes event was held, about $200,000 was raised to benefit the hospital's cancer services for women. "We've sold out every year since then and our biggest problem is that we can't find a bigger venue in Canton," she says with a laugh.
Dr. Russ agrees. "The energy and the excitement in the room is palpable. And the really neat thing is it's a room full of women coming together and empowering other women to take care of their health."
However, the need for assistance during cancer treatment never ends, she acknowledges. "It's not just breast cancer, you know?" Dr. Russ says. "It's colon cancer, lung cancer – any cancer, you name it – that can use support. The sky's the limit as far as what we can do to help raise funds for women's healthcare in our community."
Learn more about how your gift to Cleveland Clinic Mercy Hospital makes a difference in the lives of our patients and their families.