Alzheimer's Disease in Women: How Our Understanding Continues to Evolve
Alzheimer's Disease in Women: How Our Understanding Continues to Evolve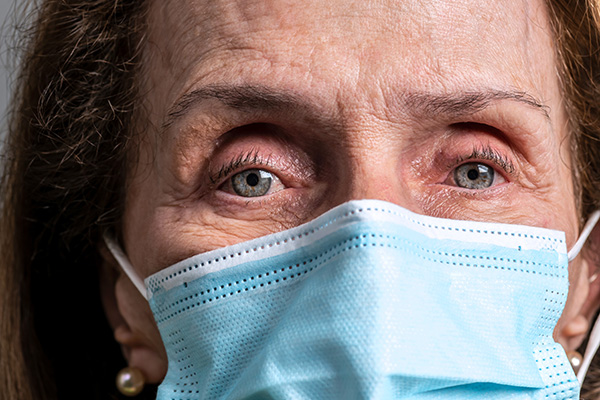 Although men and women have similar symptoms of Alzheimer's disease (AD), evidence is mounting that many aspects of the disease differ between the sexes in important ways. In June 2020, the Cleveland Clinic Lou Ruvo Center for Brain Health in Las Vegas collaborated with the Women's Alzheimer's Movement (WAM) — a nonprofit organization founded by philanthropist Maria Shriver — to create the WAM Prevention Center at Cleveland Clinic, the first medical clinic in the nation devoted to AD prevention, research and caregiving support expressly for women.
In the Q&A below, neuropsychologist Jessica Caldwell, PhD, Director of the WAM Prevention Center at Cleveland Clinic, discusses how knowledge about AD in women has grown — thanks in part to WAM-supported investigations — and where research and practice in this area is headed.
Q: Why focus on women in particular?
A: There are several important reasons. Sheer numbers, for one: two-thirds of AD cases are in women. This may be partially due to genetics, as the presence of the APOE e4 allele — the most common of the known risk genes for AD — is more predictive for developing the disease in women than in men.
Another factor is menopause, which involves the rapid loss of estrogen, a hormone that is very active in the brain and supports memory. Significant changes in the brain have been documented at menopause that may explain why many women experience cognitive decline at that time of life. For instance, our group at Cleveland Clinic has published on the relationship of memory, cortical thickness and sex differences and Lisa Mosconi, PhD, led a team at Weill Cornell Medicine that showed how menopause impacts brain structure and connectivity as well as amyloid-beta deposition. Men also have hormonal changes as they age, but the decline is more gradual, causing a less dramatic neurologic impact.
Interestingly, we're also finding that our methods of diagnosis put women at a disadvantage. Most diagnostic tests for AD rely heavily on verbal task performance. Since women tend to have a baseline advantage on verbal memory compared with men, disease diagnosis in women is frequently delayed. Cognitive testing in a man and a woman with similar brain pathology might indicate that the man has AD and the woman does not, as indicated by recent investigations by our group at Cleveland Clinic. And once AD is diagnosed in women, it tends to progress more rapidly than in men.
Q: What about therapeutics? Could there be something that might help women more?
A: Hormones — in a variety of forms — are a major area of interest. Although replacing estrogen at menopause might seem like an obvious way to stave off brain decline, evidence has been mixed. Some studies show that women who started taking estrogen therapy years after menopause actually had an uptick in dementia. Whether using hormone therapy around the time of menopause is cognitively beneficial is still an open question being actively investigated; a recent review by Roberta Brinton, PhD, at the University of Arizona, Tucson, describes the current state of knowledge. Of course, potential AD benefits must be balanced with the known cancer and cardiovascular risks of hormone therapy.
Estrogen is not the only hormone under investigation. Other research, including work led by Sarah Banks, PhD, at the University of California, San Diego, focuses on testosterone, which appears to reduce pathological tau biomarkers. Evidence indicates that supplementing testosterone may be more therapeutic in women than in men.
Q: What are your current research interests?
A: We are taking advantage of cutting-edge brain imaging technology combined with comprehensive neuropsychiatric testing to better understand the effects of AD. More-specific MRI biomarkers that correlate with memory impairment are needed to improve diagnostic certainty and help identify preclinical stages of the disease when intervention may be more effective.
We are also working under a $1.8 million grant from the National Institute on Aging to study stress in women and its impact on AD. We are looking at possible effects of inflammation — a common response to stress — on the brain, and we've found that women are especially vulnerable to memory decline with inflammation.
Q: Tell us about the WAM Prevention Center.
A: The center is a place where women can have their risks for AD assessed and then be directed toward lifestyle changes we hope will reduce their risk. To participate, women must have either a family history of AD or a known genetic risk and be between ages 30 and 60, as this may be the window of opportunity for primary prevention of AD. Symptoms most commonly start around age 75, but changes in the brain may begin 20 years before then.
We work with each woman to implement sustainable lifestyle changes. The Lancet Commission identified 12 potentially modifiable factors that account for about 40% of cases of dementia: less education, hypertension, hearing impairment, smoking, obesity, depression, physical inactivity, diabetes, low social contact, excessive alcohol consumption, traumatic brain injury and air pollution.
We also know about other behaviors that support brain health. Sleep is important for memory consolidation, with evidence indicating that amyloid is cleared from the brain during sleep. Unfortunately, menopause often disrupts sleep, so we try to help women optimize sleep-related habits. Good nutrition is another important preventive factor that we emphasize. Recent evidence from the group at Weill Cornell Medicine suggests that multipart clinical interventions may be particularly beneficial for women.
Q: What are your long-term goals for WAM?
A: In addition to conducting research, we would like to apply models of AD prevention practice throughout Cleveland Clinic and beyond. For some areas, we need to wait for more definitive research results, but we actually have enough data now to promote lifestyle changes that hopefully will reduce cognitive impairment 20 years in the future.
Unfortunately, such programs face limitations of insurance, which doesn't always adequately cover prevention activities. But that challenges us to be creative and consider lower-cost interventions, such as virtual education. We are extremely grateful to partner with WAM and receive other philanthropic and grant support for research and running our clinic.
How You Can Help
A gift to the WAM Prevention Center will help us do more for one of the greatest healthcare challenges of our time. Twice as many women as men have Alzheimer's disease, and they face different risk levels than men from factors such as diabetes, lower physical activity and estrogen effects. Sadly, most doctors and researchers still treat Alzheimer's the same in men and women.
The WAM Prevention Center at Cleveland Clinic is working to change this picture with innovative treatment and research. Please make a gift today.
Endowed Chair Supports Virus Research at Florida Facility
Endowed Chair Supports Virus Research at Florida Facility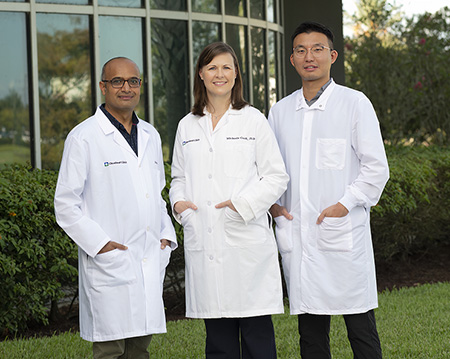 The thrill of the chase in pursuit of scientific knowledge is what fuels the determination of Michaela Gack, PhD, at the Florida Research & Innovation Center. She's been on a mission to investigate how specific types of viruses evade or suppress immune response, and her efforts have paid off.
Along with her team of researchers at Cleveland Clinic's Florida Research & Innovation Center (FRIC) in Port St. Lucie, Dr. Gack, the center's Scientific Director, has found that disruption of a cellular structure, known as the actin cytoskeleton, is a "priming signal" for the body to respond to a virus. These findings potentially lay the groundwork for development of new anti-viral vaccines and treatments.
Previously, viral genetic material such as RNA was considered the sole requirement for certain sensor molecules that live in cells to trigger an immune response – an "alarm system" for many types of cells. RNA also serves as a basis for vaccines through training a patient's immune system to recognize a virus. This new finding showed that the signaling process also requires disrupting the actin cytoskeleton inside cells, which occurs when a virus infects cells.
"It's a fundamental new way of considering how the immune system can be activated, and the implications are that this could lead to broad antiviral therapeutics," says Dr. Gack, inaugural holder of the Arthur and Marylin Levitt Endowed Chair for the FRIC. "Our data shows this process is common across different types of RNA viruses."
Philanthropy Propels Research Discoveries
Arthur Levitt, who along with his wife Marylin made a generous gift to establish the endowed chair for the FRIC, believes that without research, growth becomes imperiled. "Funding research is essential for the future of an enduring enterprise focused on innovation and improving medical outcomes," he says.
Endowed research positions are enduring gifts to the institution. Each position is permanently paid for with annual revenue generated from an interest-bearing fund in which the principal remains intact. Named chairs are long-standing tributes to the establishers and serve as ways to focus on issues of personal interest and spur advances in those areas.
Since Dr. Gack's appointment as the Arthur and Marylin Levitt Endowed Chair in July 2020, as well as being awarded a highly competitive Director's Pioneer Award from the National Institutes of Health, she has continued leading research on a variety of significant viral pathogens. Her ultimate goal is to define new molecular targets, either in the virus or the human immune system, and facilitate the development of new antiviral therapies, diagnostics, and preventative measures for viral infectious diseases.
"Philanthropic support continues to play an important role in promoting leading-edge research and training the next-generation of scientists," says Dr. Gack. "It also supports the establishment of new Core Facilities at FRIC, enabling groundbreaking discoveries in cancer, immunobiology and infection."
Provoking an Immune System Warning
Cytoskeletons, made up of the protein actin, serve as structural support for cells but are also key in processes like the cell's ability to grow, divide and internalize key substances. A virus disturbs the cytoskeleton, but so can vaccine components and certain therapeutics, explains Dr. Gack.
"Whether this process is sensed by our cellular immune surveillance system and can trigger an antiviral response has been unknown," says Dr. Gack. "Our work showed that specific immune receptors sense actin cytoskeleton rearrangements induced by viruses and then trigger alarm."
Despite being around for decades, interest in using RNA as the basis for vaccines and therapeutics grew exponentially during the COVID-19 pandemic. The research showed that the triggering system is similar across multiple viruses, including Zika, the flu or SARS-CoV-2, the virus that causes COVID-19.
Dr. Gack's team, including research associate Dhiraj Acharya, PhD, also discovered that lipid components or virus-like particles such as those used in vaccines or RNA-based therapeutics can cause the cytoskeletal disturbance necessary for prompting an immune response. These results could help developers "fine-tune" the immunostimulatory potencies of therapeutics or vaccines.
Dr. Gack's lab, operating under Cleveland Clinic's multi-site Global Center for Pathogen and Human Health Research, investigates virus-host interactions on a molecular level, identifying host responses that can play a key role in developing new treatments and vaccines. The center is a cornerstone of the Cleveland Innovation District.
How You Can Help
Your support is vital to our pursuit of excellence in research and innovation. Make a gift today to help us continue high-priority research and provide the best care for patients across the Florida region and beyond.