Celebrating a "Spunky, Saucy Zest" for Life
Celebrating a "Spunky, Saucy Zest" for Life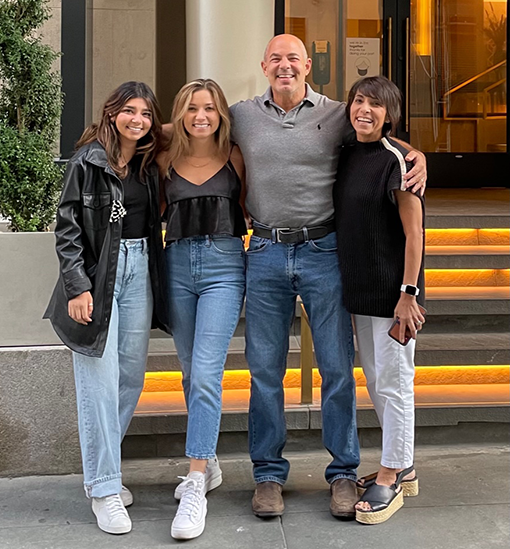 Sophie Herschman was bright in every way. She lit up a room with her larger-than-life laugh, her simultaneously witty yet silly jokes, her beauty and style. She was passionate and cared deeply about the world and her community.
There are infinite things you could say about Sophie, yet one of the most pressing rarely came up first. Sophie endured numerous diseases and ailments her entire life, later finding out she had Ehlers-Danlos Syndrome (EDS). She spent a good portion of her life in hospitals, experiencing debilitating pain of an unknown cause. After multiple misdiagnoses, she was correctly diagnosed with EDS when she was in high school.
Sophie passed away in May 2023, at age 26.
Understanding EDS
EDS is a group of genetic, connective tissue disorders. Patients with this condition may have skin hyperextensibility, tissue fragility and joint hypermobility. The disease can also impact the musculoskeletal and cardiovascular systems, muscles, eyes, teeth and more. EDS can lead to chronic pain, dangerous complications, a lifetime of juggling medical appointments and adhering to multiple treatment plans.
The logistical challenges alone of chronic care management are overwhelming to patients and their families. There is a pressing need for coordinated care, empathy, advocacy, and understanding for the life-threatening disease.
The Cleveland Clinic Coordinated Care Program for Patients with Ehlers-Danlos Syndrome
Sophie inspired the establishment of the Cleveland Clinic Coordinated Care Program for Patients with Ehlers-Danlos Syndrome in 2019. The program coordinates a clinical team that understands the complexities of the diagnosis, so patients no longer have to navigate the disease on their own. Already, the program has:
Completed a national analysis on other EDS programs to build Cleveland Clinic's central framework.
Hired nurses to coordinate each patient's care and manage communication with patients.
Built cross department partnerships, improving communication between specialists.
Established a multi-disciplinary team to educate clinicians and build a patient referral database.
Launched a specialized weekly clinic for EDS patients to manage their care and treatment at Cleveland Clinic.
Sophiepalooza
Sophie's family and friends gathered in New York City on Saturday, Oct. 21, to celebrate her passion for life and raise funds to help continue her vision for others with EDS, at an event dubbed "Sophiepalooza."
The evening of "Palooza-ing" included live music, dancing, food and drink, and a chance to bid on Sophie-inspired items from New York City and Cleveland. Proceeds from the event honored Sophie's legacy by contributing to Cleveland Clinic's Coordinated Care Program for Patients with EDS.
The Herschman family is grateful for all contributions to the program at Cleveland Clinic, which builds upon Sophie's vision, reaching more patients, collecting and analyzing data, and identifying trends and opportunities to improve medical interventions while ensuring the future of the program.
Addressing the crowd at the end of the event, her sister Lilly said, "Sophie was truly a warrior, and I was the luckiest to have her as my sister and best friend. When you leave today, you can honor Sophie by living the way she lived: with gratitude, with courage, with an unwavering desire to make the world a better place, and of course, with a little bit of spunky, saucy zest."
Interested in supporting Sophie's legacy? Learn more here and make a gift here.
Bridging the Gap with Community Health Workers
Bridging the Gap with Community Health Workers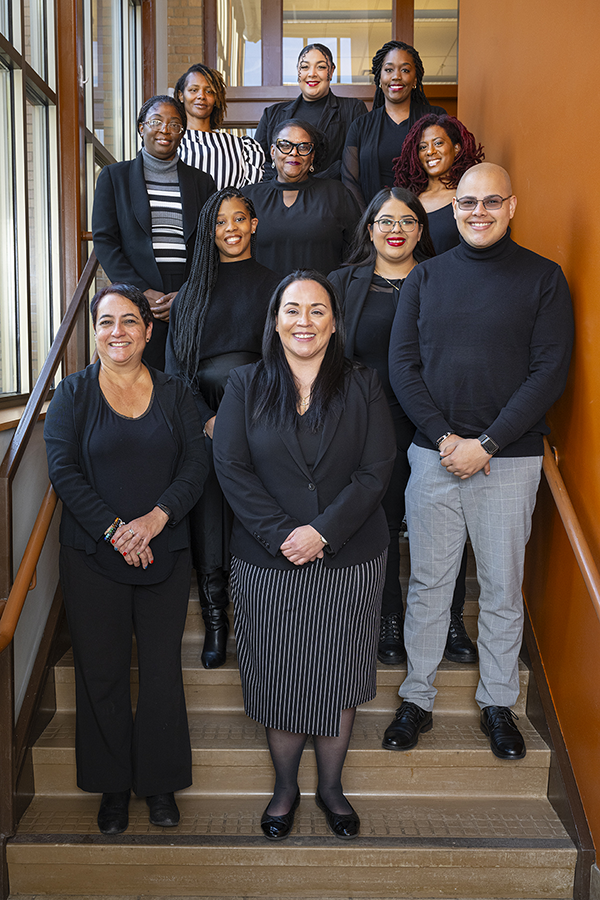 Imagine the heartache and frustration of losing a job or having your wages cut … of not having money for food or transportation or childcare … of routinely facing the threat of eviction, crime or violence … and then, perhaps discovering you are pregnant or seriously ill. Life can quickly get overwhelming in poverty-stricken communities. Even in the best of environments, managing serious medical conditions and navigating our growingly complex healthcare system can seem like impossible tasks.
Community health workers (CHWs) are helping. Research shows community health workers advance health equity, reduce healthcare costs and improve healthcare outcomes. CHWs have proven to be trusted messengers, translators, capacity builders and advocates for the vulnerable.
Just short of its two-year anniversary, the Center for Community Health Workers at Cleveland Clinic has grown tremendously, according to its medical director, Thao-Vi Dao, MD, a Cleveland Clinic internist and pediatric specialist. The program launched in November 2021, fueled by a multimillion-dollar gift from Jones Day and the Jones Day Foundation.
"We hired our first team of community health workers just a year ago. And that team has more than doubled in size since then," Dr. Dao shared. The program currently employs 10 CHWs and plans are in place for 10 additional hires.
"A community health worker is a trusted member of their community with lived experience similar to the patients they're serving, so they really understand the cultural and environmental context … and can act as a bridge between the patient, the healthcare system and community resources. Their training and certification is centered around health equity and that's what makes them so special. Their focus is always on how to help this person achieve their best life. It's neighbors helping neighbors."
"I'm able to connect with patients in a different way," offered Marilyn Alejandro Rodriguez, program director of the Center for Community Health Workers. Rodriguez lost her parents and sister to the AIDS epidemic, which motivated her to get involved in community health. "I know what it's like to grow up in the projects. I know what it's like to come to the United States not speaking English. I know what it's like to live in poverty. I know what it's like to be orphaned. I know what it's like to go through cancer and survive it. I know what it's like to go through intimate partner violence, which is something many of our patients face. For many years, I felt a lot of shame about my journey. ... What this role has allowed me to do is take ownership of my story and use it to help people."
One of the first CHW programs within an academic health system and the only one to be led by a certified community health worker, Cleveland Clinic's center has screened more than 1,000 patients for social and medical needs, made more than 500 referrals for community service, achieved a more than 40% gap closure rate for needs met, and launched pilot programs in its Department of Internal Medicine and the Center for Infant and Maternal Health. Plans for the center include expansion into the emergency department, pediatrics and inpatient admissions for chronic disease (hypertension, diabetes, kidney disease, etc.), as well as establishment of a presence in east, west and south satellite facilities. "Our longest-term goal is to see community health workers deployed across the Cleveland Clinic enterprise," said Dr. Dao.
The center's largest cohorts currently are infants and high-risk moms in Cuyahoga County. "We have a team of community health workers who follow moms throughout pregnancy and after delivery," said Rodriguez. "We want to make sure that those moms reach full term. ... We try to connect with them as early as possible at the beginning of their pregnancy … to figure out how we can support them."
"The biggest challenge that our CHWs face is lack of resources," Dr. Dao said. "CHWs want to help connect people to resources, but sometimes those resources don't exist or they're not as robust as we need them to be. Northeast Ohio faces a significant affordable housing shortage. There are significant food deserts that exist within Cuyahoga County and beyond. It's definitely a big challenge for us. But our CHWs are extremely resourceful and make such huge impacts on people's lives."
Recently, a patient was facing eviction from her Section 8 housing, according to Dr. Dao. But in talking further with the patient, the community health worker realized the reason she couldn't make her rent payment was because she had a change in her income. It simply required completion of a form in the property management office to resolve the situation. "The CHW saved that patient from being homeless in the middle of her pregnancy," Dr. Dao pointed out. "That's a huge win."
Sometimes it's small things. "They help arrange for transportation, which is the biggest barrier to completing prenatal care, which is hugely vital for a healthy pregnancy," said Dr. Dao. "They pick up food from the food bank and drop it off at (the patient's) home so they don't go hungry. They do so many amazing things to support moms through their pregnancies. Just knowing that you have somebody on your side who cares about you and wants you to do well … I think that's extremely powerful."
Vickie Eaton Johnson, who recently was appointed Cleveland Clinic's first Chief Community Officer, oversees the Center for CHW. She describes it as "integral to Cleveland Clinic's community-based care strategy." Training and certification take place through a partnership with Cleveland State University. Philanthropy supports salaries, training, onboarding and emergency funds for patient food, clothing, diapers and more.
"Many programs around the country are facing funding challenges," Dr. Dao noted. "There's currently no reimbursement from insurance payers for the role of community health worker," making donor and grant support critical. "We know that the role of the community health worker is key to patients' health and we want to make sure that once we build these trusting relationships, they're not taken away. Philanthropy will be key to sustaining the center."
Florida Caregiver Receives Special Recognition
Florida Caregiver Receives Special Recognition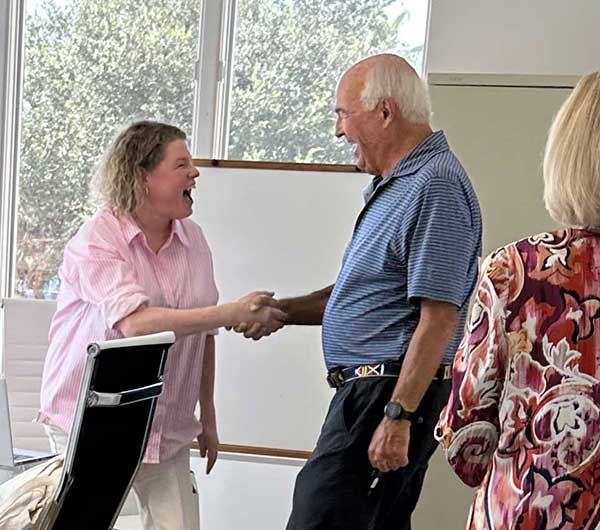 Making a difference, one patient at a time.
That's the goal of every Cleveland Clinic caregiver. But rarely does a caregiver receive the surprising recognition that was bestowed on Kishea Sciara, a Senior Patient Relations Specialist with Cleveland Clinic Indian River Foundation, by Vero Beach residents Bob and Pegeen Genader.
A Phone Call Away
Kishea first reached out to the Genaders, who are longtime supporters of the hospital, in the summer of 2022 to introduce herself as a donor liaison and check to see how they were doing following their recent medical appointments.
"We just clicked," recalls Kishea. "Bob is such a nice man, and so very kind. They are a really special couple."
That initial call led to many interactions over the past year, with Kishea providing guidance and facilitating services for the couple. "Kishea's follow-up is superb, and it is great to have someone we can call and get help when we need it," says Bob.
Between Pegeen's regular outpatient visits at Indian River Hospital and Bob's hernia surgery at Cleveland Clinic Weston Hospital, the couple have interacted with many Cleveland Clinic caregivers. But it was Kishea, just a phone call away, who made a lasting impression.
Because of their experiences with Kishea over the past year, the Genaders made an unusual decision when making their annual gift: They increased the amount of their gift and let Kishea decide how the gift would be used at the hospital.
From Technician to Advocate
Kishea first joined Indian River Hospital as a patient care technician in 2009. She served in this clinical capacity for seven years, including three years in the hospital's Emergency Department.
Over the years, Kishea observed and interacted with a team of patient advocates who provided non-clinical support to patients through funding provided by the Foundation. "It was another side of patient care that really interested me," she says.
In 2016, Kishea was recruited to join the team she admired as an Emergency Room Patient Advocate, a role she maintained until becoming a Donor Liaison in 2020. This past March she was promoted to Senior Patient Relations Specialist.
"All my roles with the Foundation have been to assist patients and enhance their experience at Indian River Hospital," explains Kishea. "It's a way to show our appreciation for all the patients who support our mission at Cleveland Clinic."
Caregiver Recognition
As a former CEO in the financial services industry, Bob knows how important it is to find and retain valuable employees. "When people excel, they deserve to be recognized," he says.
That's why Bob made it a priority to be present when Kishea received her Grateful Patient Caregiver Recognition and was told how she was being honored by the Genaders. It would be the first time they would meet in person.
"I was able to tell her thank you face-to-face," says Bob. "She was totally surprised and shocked."
Healthcare Is a Priority
To honor Kishea and express their appreciation for her commitment to providing excellent care, Pegeen and Bob doubled their annual gift to $40,000. The couple are now members of Cleveland Clinic's Cornerstone Society, having gifted more than $100,000 to the Cleveland Clinic Indian River Foundation through their annual giving over the years.
"Healthcare is our number one priority, and we prefer to donate locally," explains Bob. "Plus, it's fun to recognize individuals who have had a positive impact on our lives. This is the first time we chose to recognize a caregiver, and we have plans to do so again in the future."
How You Can Honor a Caregiver
It was an easy decision for Kishea to direct the Genader's gift to the Emergency Department at Indian River Hospital, which saw more than 56,000 visits in 2022.
"I've worked with the team in the ED for the past decade, and I know firsthand what an amazing job they do," says Kishea. "The ED is a vital part of the hospital and an important resource for the community."
You too can honor a skilled physician, compassionate nurse, or other caregiver at Cleveland Clinic Florida by making a gift today.