Virtual Reality Study Receives Funding from Michael J. Fox Foundation
Virtual Reality Study Receives Funding from Michael J. Fox Foundation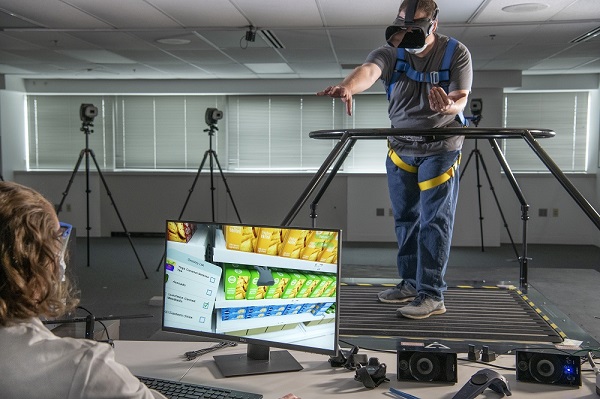 Freezing of gait (FOG) is precisely what it sounds like: Patients with Parkinson's disease (PD) are unable to initiate movement and are "frozen" in place. It's one of the leading cause of impairment in PD, and the main reason some patients cannot care for themselves and must transition to dependent care facilities. Since FOG usually occurs while individuals with PD are performing activities of daily living, it's rarely observed in a clinical environment.
Two Cleveland Clinic researchers recently were awarded a generous grant from The Michael J. Fox Foundation for Parkinson's Research to study FOG, which currently has no treatment. The $2 million grant will fund a three-year clinical study led by Jay Alberts, PhD, Department of Biomedical Engineering, and Kenneth Baker, PhD, Department of Neurosciences.
"One of the challenges of FOG is that patients will have an episode while they are multi-tasking or trying to negotiate a tight space," says Dr. Alberts, who holds the Edward F. & Barbara A. Bell Endowed Chair. "This has an obvious effect on their quality of life and activities of daily living. We designed a study environment in virtual reality to recreate these situations so that we can identify the brain activity leading up to FOG events and, ultimately, develop an effective treatment."
Navigating a "Virtual" World
As part of the study, the researchers will utilize a virtual reality system in combination with an omnidirectional treadmill, which allows users to walk in any direction and perform turns. Combining virtual reality and the omnidirectional treadmill fuses the real and virtual worlds, enabling participants to physically navigate through a virtual world.
The researchers developed a number of virtual environments, including a grocery store simulation. The shopping module places patients in a virtual grocery store and tests their ability to physically walk through the virtual aisles and select items on their list.
While patients are completing these tasks virtually, researchers will monitor the activity within the subthalamic nucleus, an area of the brain that is affected by Parkinson's disease and involved in skilled movements.
Drs. Alberts and Baker hope to identify an area within the subthalamic nucleus that will respond to deep brain stimulation, a leading treatment for PD. Deep brain stimulation (DBS) is a surgical procedure in which electrodes that deliver electrical impulses are implanted in the brain. The impulses block or change the abnormal activity in the brain that causes the movement symptoms.
Creating a New PD Treatment Paradigm
Fifteen PD patients between the ages of 40 and 80 who will be receiving DBS treatment will take part in the three-year study. Patients will complete the virtual reality modules while on and off their antiparkinsonian medications. After the study is completed, the researchers will create a deep brain stimulation approach specifically to treat FOG.
"Through this study we're hoping to create an entirely new paradigm for treating PD and FOG," says Dr. Baker, who is an expert in neuromodulation and involved in multiple DBS projects at Cleveland Clinic. "By learning what triggers FOG and identifying its neural signature, we will be able to better utilize deep brain stimulation to effectively treat it."
Both researchers are grateful for the support from the Michael J. Fox Foundation. "This project is transformational, not incremental," says Dr. Alberts. "The funding from The Michael J. Fox Foundation reflects their forward-looking perspective to fund early multi-disciplinary research endeavors that can transform the understanding of PD and advance its treatment."
Florida Research Aims to Improve Quality of Life for Breast Cancer Patients
Florida Research Aims to Improve Quality of Life for Breast Cancer Patients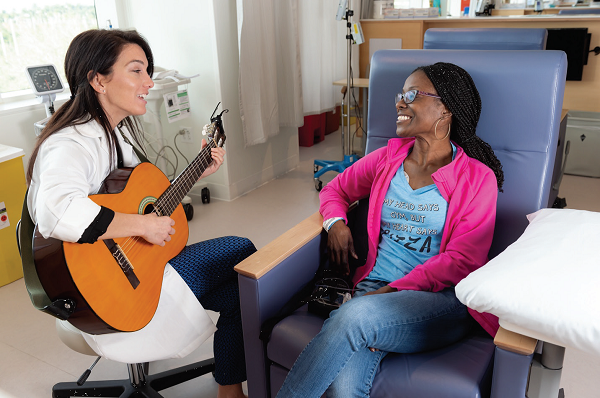 Breast cancer is the most common cancer in women worldwide, and often is associated with adverse psychosocial and mental health effects. Zeina Nahleh, MD, FACP, Regional Institute Chair for Cancer and Director of the Maroone Cancer Center, is studying the benefits of art & music therapy on quality of life in patients with breast cancer.
The Maroone Cancer Center, located within the Egil and Pauline Braathen Center in Weston, is dedicated to pursuing innovative protocols to support patients during their cancer journey. Significant psychological distress is experienced by patients at the time of a cancer diagnosis and continues to affect quality of life and well-being well into survivorship. Treating patients holistically may optimize psychosocial adjustment and quality of life for cancer patients and survivors.
Dr. Nahleh and her research team are investigating the use of art and music in healing patients both physically and emotionally. Integrative therapies are actively being investigated as non-invasive resources for helping to improve psychological and emotional distress among cancer patients and survivors. Current research suggests psychosocial interventions may modulate many physiologic processes, including immune system function. These interventions are still relatively poorly understood and underutilized in clinical practice despite recent attempts to integrate these modalities as part of cancer care.
A Promising Art and Music Therapy Study
"Previous work by our team has suggested a beneficial effect of art therapy on reducing pain and distress for patients with cancer," Dr. Nahleh says." Our goal is to build on this promising work by conducting a randomized controlled trial to study the effects of art therapy and music therapy on improving quality of life, cognitive brain function (chemo-brain), depression and anxiety using validated metrics."
The research program will assess patients with breast cancer in the early stages of treatment or after completing treatment. Patients will be randomly assigned to either art therapy, music therapy or standard care. While participating in art or music therapy, patients attend sessions (either in-person or virtually) every two weeks for 12 weeks, two of which are group sessions. The outcome of the research will be based on what patients report using scientifically validated questions, before and after the sessions.
"We hope that results from this trial will help focus efforts on evidence-based modalities that are proven to help patients reduce the burden of cancer and transition optimally to life after cancer," says Dr. Nahleh.
The Soothing Sounds of Music
Angie Burdine, MT-BC, is the Music Therapist at the Maroone Cancer Center. She uses evidenced-based, musical interventions to accomplish specific therapeutic goals.
"For this particular study, we are focusing on quality of life, anxiety, as well as memory and cognition," says Burdine. "Depending on interests and goals, patients may engage in active music making, music listening, songwriting, breathing and relaxation exercises, learning how to play an instrument and/or positive reminiscing. Through the use of these interventions, the aim is to address the following topics to support and assist in processing diagnosis, receiving treatment and/or living in survivorship: mindfulness, self-care/self-love, goal setting, support systems, practicing positivity & gratitude."
Burdine's goal as a music therapist is to provide a space of support that allows patients to feel secure in expressing themselves, a space that may decrease pain and anxiety for an allotted amount of time, a space for positive social interaction and honest discussions about what they may be going through.
"If I am able to provide relief for 60-90 minutes every two weeks, fantastic. If I am able to provide tools that empower the patient to find relief outside of our session and for years to come, even better," says Burdine.
How You Can Help
Cleveland Clinic Florida's Art and Music Therapy program is supported by our generous donors.
100% of your gift helps accelerate research, programs and services to benefit cancer patients' physical, mental and emotional well-being. Please make a gift today.
North Carolina Donors Launch Transformative Neurological Care
North Carolina Donors Launch Transformative Neurological Care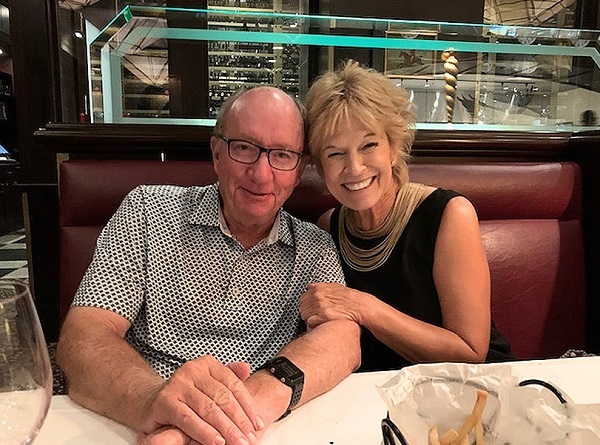 A Cleveland Clinic study, powered by ingenuity, expertise and philanthropy, has the potential to change the treatment of brain disorders.
Now in its initial stages, the Cleveland Clinic Brain Study promises to do for neurological health what the Framingham Heart Study, which began in the late 1940s, did for cardiovascular health.
Because of that earlier study, the relatively small city of Framingham, Mass., "became the main source of cardiovascular knowledge," says Andre Machado, MD, PhD, Chairman of the Neurological Institute. "Much of what we know today about what's good for the heart, what's bad for the heart, came from that study."
Dr. Machado envisions the Cleveland Clinic Brain Study making Cleveland, Ohio, the epicenter of neurological care.
"Just like in Framingham, where hundreds of patients were recruited and followed for a substantial amount of time to unveil what happens in the heart, we will follow a large cohort of individuals to unveil what happens in the brain in the very early phases of neurological disorder."
A Challenge to Overcome
A key problem in neuroscience is to know which individuals in the general population are likely to develop symptomatic neurodegeneration in the short-term and mid-term. This will be a key goal of the Cleveland Clinic Brain Study. "Today, nobody knows that," Dr. Machado says. "What we propose is a longitudinal study with frequent multi-modality measures to help figure that out. If we learn how to predict the occurrence of disease, we will be well positioned to investigate early therapeutics and bend the curve of neurodegeneration."
He calls this "a window of opportunity" of neuroscience. "It's going to be less difficult to develop treatments that prevent or slow down brain loss than to come up with a treatment that will regenerate the brain."
And, Dr. Machado emphasizes, "we can do this." The Neurological Institute already has put philanthropic dollars to work getting regulatory approval and other early stages of the study underway.
Dr. Machado, who holds the Charles and Christine Carroll Family Endowed Chair in Functional Neurosurgery, credits the Carroll family for launching the Brain Study with a $3 million gift last summer. The Carrolls are supporting the portion of the study focusing on Parkinson's characterization, which aims to achieve a more personalized treatment approach for each patient.
Commitment to Parkinson's Research
Former Ohioans, the Carrolls moved to Charlotte, N.C., three years ago. They frequently travel back to Mrs. Carroll's home state for Mr. Carroll's healthcare visits. He is treated at Cleveland Clinic for Parkinson's disease and sees other providers as well.
Mrs. Carroll says that she and her husband appreciate Dr. Machado's "enthusiasm and excitement" about his research into Parkinson's. "All you have to do is sit down with him to be quite impressed."
They gave to the Cleveland Clinic Brain Study, which Dr. Machado is leading, because of the potential for effective treatment that's adapted to each patient. "That's really what I liked when Dr. Machado presented it to us — that individual, one-size-does-not-fit-all approach," Mrs. Carroll says. "Just hearing Dr. Machado talk about it revs you up. It really is exciting research, and we're quite pleased to be able to contribute to that."
The Carrolls' support of the Neurological Institute, including their endowed chair and an earlier gift to the institute's Advanced Deep Brain Stimulation Research, stems from personal experience with neurodegenerative disease. "My mother died of ALS," Mrs. Carroll says. "And we have many, many, many friends with Parkinson's now, and it seems there hasn't been much change for neurological disorders in a lot of years."
Also, she says, "we strongly believe in the Cleveland Clinic and in Dr. Machado and his team."
Ambitious — and Doable
Dr. Machado says that the Brain Study will include measuring the cognitive and overall function of a thousand or more patients using sophisticated electronic tools that were developed by engineers within the Neurological Institute.
"It's a very ambitious study, and we understand the enormity of what we're proposing," he says. "On the other hand, we as a team think it's very doable."
He ticks off three reasons why, including Cleveland Clinic's enormous patient population and the Neurological Institute's in-house scientists who have the expertise to do this.
The third reason is the philanthropic support of individuals such as Mr. and Mrs. Carroll who provide the necessary resources for groundbreaking science.
Laughter Can Be the Best Medicine – Along with a Good Surgeon
Laughter Can Be the Best Medicine – Along with a Good Surgeon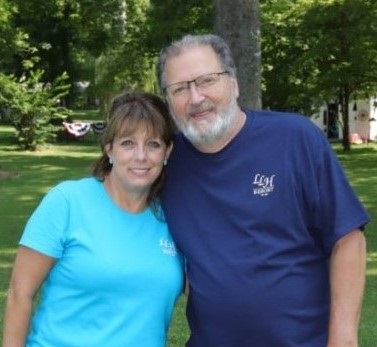 A horrific car accident in 1980 left then-25-year-old Bill Bryant with multiple broken bones and a life-threatening ruptured aorta.
"I went through the windshield and was in pretty bad shape," he recently recalled. "My family wasn't even sure I'd live."
Thanks to a quick-thinking surgeon in the emergency department – not a cardiac surgeon – Bryant's aorta was repaired with 12 staples, a fix that lasted him more than 30 years.
Bryant, a Nashville-area resident, was regularly monitored by a cardiologist for years. In 2013, when an aneurysm was noticed near the top of his aorta from the surgery decades ago, he knew it was time for a proper repair.
"My wife and I talked about it and decided to hunt down the best aortic surgeon in the country," Bryant says. A family member who's a cardiologist told them about Eric Roselli, MD, at Cleveland Clinic. After researching Dr. Roselli and Cleveland Clinic, they decided to make an appointment and discuss the possibility of surgery.
Bryant wasn't sure if Dr. Roselli, now Chief of Adult Cardiac Surgery and Director of the Aorta Center, would accept him as a patient. "There was a massive amount of debris still in my chest from that long-ago car accident," he explains. "I told Dr. Roselli about the crude work that was done to save my life in 1980, but he didn't have any hesitancy about doing the surgery. He just shook his head and smiled. I was stunned – there was a good possibility I wouldn't come out of it but he had no hesitation."
Bonding though a laugh
During that first meeting, Dr. Roselli mentioned the possibility of participating in a clinical trial for a certain part he would use in the surgery. "He didn't think I would be eligible because of the circumstances of the car accident but he told me not to worry, he knew what the part looked like and he'd just whittle one while I was on the table," says Bryant, still chuckling about it. "We all had a good laugh."
That sparked an idea in Bryant, who loves a good joke. "My wife cautioned me, saying surgeons don't have a sense of humor," he says. He ignored her advice and ordered several classic, high-quality pocket knives.
The day before his operation, Bryant had a final meeting with Dr. Roselli. "He explained everything that would happen in great detail and asked if I had any questions. I told him no, but here was something for him in case he ended up having to whittle that part while I was on the table, then presented him with the pocket knife. Dr. Roselli burst out laughing.
"Early the next morning they rolled me into the operating room, ready for anesthesia, and there's Dr. Roselli, holding up the pocket knife saying he's all ready for me," says Bryant, laughing again.
When Bryant next saw Dr. Roselli, it was early evening. "He showed up in the recovery room, and I was surprised he was still there," says Bryant. "He told me the operation was successful and joked that he'd used the pocket knife on me. That pocket knife sort of bonded our relationship."
A small leak necessitated a return visit to Cleveland Clinic for a minor procedure. Bryant learned that Dr. Roselli recently had been promoted ("Of course, he should be, the guy's a genius.") and brought a gift for him. "I pulled out a 5-inch hunting knife for him and again we had a good laugh. He's very serious about his work but he does have a sense of humor."
Thankful for Another Chance
Bryant knows all too well that he was a high-risk patient and believes many surgeons wouldn't have touched him. He's grateful to Dr. Roselli for the years that have been added to his life.
"When I chose to go to Cleveland Clinic in 2013, I was introduced to the best hospital I've ever seen in my life," he says. "It absolutely was stunning – how professional all the employees are and how focused they are on the patients. I was amazed and now I'll never go anywhere else for my heart care."
To show his appreciation, Bryant has made a generous planned gift in honor of Dr. Roselli to support the future of cardiothoracic surgery research.
"It's just refreshing to be able to go to a hospital and have so much confidence that everything, from admissions to when you leave, is exactly what you would hope for," says Bryant. "I do think it's the best hospital in the United States."
And, just in case he needs a third surgery from Dr. Roselli, he's ordered a machete.
DJ's Fundraiser Isn't Missing a Beat
DJ's Fundraiser Isn't Missing a Beat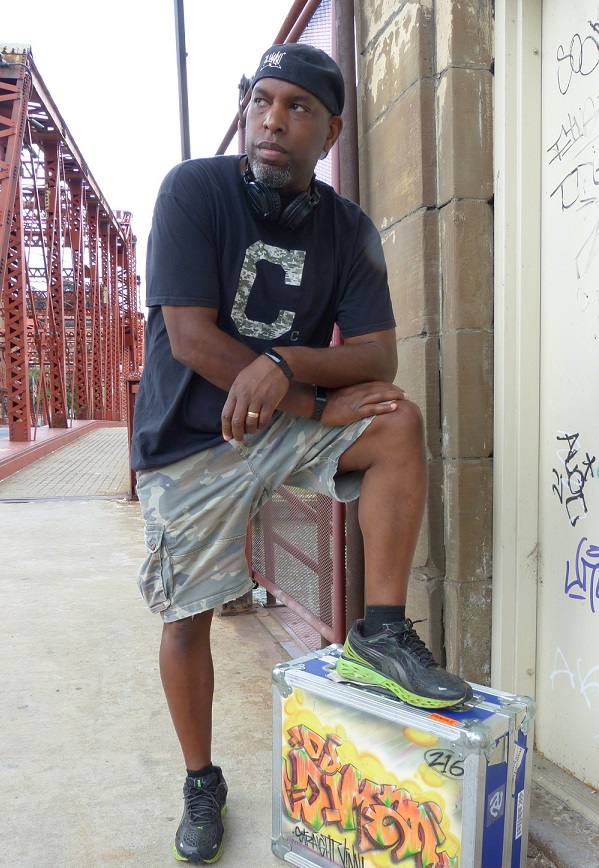 The beats are getting bigger for DJ Darryl East as his success rises.
"If I jump high enough, I can touch it," says East, defining his determination that he can do anything as long as he remains dedicated.
East is a Cleveland native and caregiver at Cleveland Clinic. By day, he works as a Senior Internet Marketing Web Designer and by night, entertains hundreds of online listeners under the alias DJ D-Man.
"I've always loved music, it was my first love as a kid," East says. Growing up, he and his mother lived with his grandparents, who sang in their church's gospel choir. His childhood was submerged in an eclectic 80s mix of hip hop, pop, punk, metal, R&B and electronic. "When I was in high school a friend of mine knew a local DJ in our neighborhood. I'm not great with names, but I will never forget Marcus, because he took the time to show me how to mix records and actually let me practice on his DJ equipment."
After his mother was diagnosed with breast cancer in 2001, East began using his DJ skills to fundraise and donate to charitable organizations dedicated to breast cancer care and research.
When his mother passed away in 2010, East was left feeling uninspired and took a ten-year hiatus from DJ-ing. "I stopped when I was 37 years old. I just was not liking the music that was coming out and playing the same stuff radio was playing didn't excite me. I started losing the passion," he explains.
Harnessing the Internet's Global Reach
His equipment didn't see the light of day until COVID-19 hit. During the lockdown of the pandemic in 2020, East began to take notice of DJs streaming their music live over the internet.
East saw another DJ do a charity event on Twitch, a website that livestreams a variety of content including video games, music, art and more. East was inspired to throw his own event – a four-hour livestream fundraiser for cancer, "Beats for a Cure." A DJ friend from Pittsburgh wanted to participate, too. As word spread about the fundraising event, 24 other DJs from North America and the UK joined the effort and East extended it to almost 50 hours.
In addition to music, "Beats for a Cure" included stories from listeners in the Twitch livestream chat about their experiences with cancer. "It was just so emotional hearing people's stories and the struggles they've gone through and how they've made it out," East remembers.
East was stunned when the virtual party raised $22,000. In fact, "Beats for a Cure" recently nabbed the 2020 Twitch TV Award for Best Philanthropic Stream. Each DJ donated to their charity of choice; East selected Cleveland Clinic's Breast Cancer Program, which encompasses 41 cancer centers around the nation that conduct clinical trials, screening, diagnosis, treatment, research and more.
Tune In, Listen Up and Raise Funds
Because of its success, East has committed to making "Beats for a Cure" an annual event. And this year, 100% of funds raised will directly benefit Cleveland Clinic's Breast Cancer Program, with a fundraising goal of $50,000.
The weeklong "Beats for a Cure" begins Oct. 25, 2021 at 9 a.m. EST. The final DJ will perform on Oct. 31 at 11 p.m. EST. A diverse music experience is planned – the playlist already includes hip-hop, salsa, house music and more. More than 80 DJs from as far away as the UK, Hungary, Japan, Sweden and Argentina are participating.
Halle Moore, MD, Director of Breast Medical Oncology in the Department of Hematology and Oncology at Cleveland Clinic, is grateful for East's unique event. "Funds raised from 'Beats for a Cure' will support our comprehensive breast cancer program," she says. "Philanthropy plays a vital role in getting research off the ground. It provides seed funding for early research that establishes preliminary data necessary for eligibility for federal grants that hopefully will lead to the discovery of more cures for breast cancer."
Learn more about "Beats for a Cure" or make a gift to support the event here. Plus, tune into "Beats for a Cure" here.
A Heart for Giving
A Heart for Giving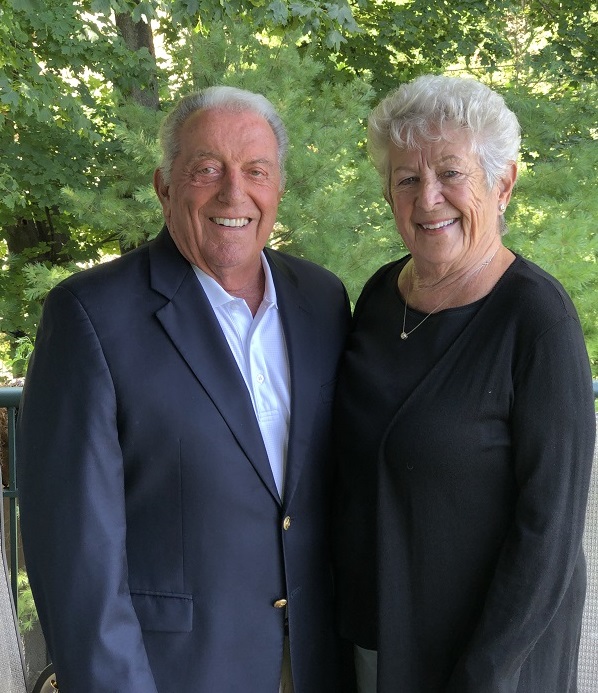 Thomas DeFazio has three children, four grandchildren, four great-grandchildren — and a pacemaker that resembles a miniature rocket ship in his right ventricle.
Two decades ago, while boating in the Florida Keys, DeFazio wasn't feeling quite right and visited an emergency room. During his examination, a doctor's concern about a possible cardiac event led to a referral to the head of cardiology at Cleveland Clinic Florida in Weston. It was determined to be a false alarm, but it began DeFazio's relationship with Cleveland Clinic facilities and staff.
"Over time, we learned much more about Cleveland Clinic's research and development programs and were very impressed," he says.
Several years after his introduction to Cleveland Clinic, DeFazio developed atrial fibrillation and subsequently bradycardia — a slow heart rate. The continuing care of his heart conditions over the years ultimately led him to getting a pacemaker at Martin Health in November 2020.
"You go into that kind of situation with a certain amount of trepidation about an object being implanted directly into your heart," DeFazio says. "But the technology of the pacemaker is so incredible — and the surgical procedure of launching it through a vein, implanting it directly in my right ventricle, was so impressive — it all just ended up being a nonevent. Today, I have absolutely zero sensation of having anything in my body anywhere, let alone my heart. I was extremely impressed with the whole experience."
Over the decades, DeFazio and his wife, Kathleen, have supported many healthcare organizations, and they have given to the annual fund at Martin Health for 20 years. When Martin Health System became part of Cleveland Clinic, the DeFazios consolidated their healthcare donations there and joined the Barstow-Reed Society at Martin Health. Together, the 400 Barstow-Reed members give more than $3 million every year, which helps purchase cutting-edge medical equipment, start new life-saving programs, build new facilities and educate the nursing team.
DeFazio's pacemaker surgery, combined with a sharpened awareness of the need to help others in light of the ongoing coronavirus pandemic, resulted in the family increasing their giving to several local organizations. "In the case of Martin Health, we were searching for a vehicle that would allow us to have greater and more immediate impact than the routine of making the normal annual contribution at the Barstow-Reed Society level," he says.
With the help of gift planning professionals at Cleveland Clinic, the DeFazio's started a Charitable Gift Annuity to support heart and cancer treatment at Martin Health, making a difference for patients for years to come.