Coronavirus (COVID-19)
Up-to-date testing, treatment, visiting hours + service changes
Find Out Your COVID-19 Risk
Find Out Your COVID-19 Risk
Concerned about whether you may have COVID-19, but not sure what's the first step?
Try our free screening tool to find out your risk level, based on your symptoms and travel, and get the most appropriate care recommendations.
Start Your Screening Now
If You Think You May Have Coronavirus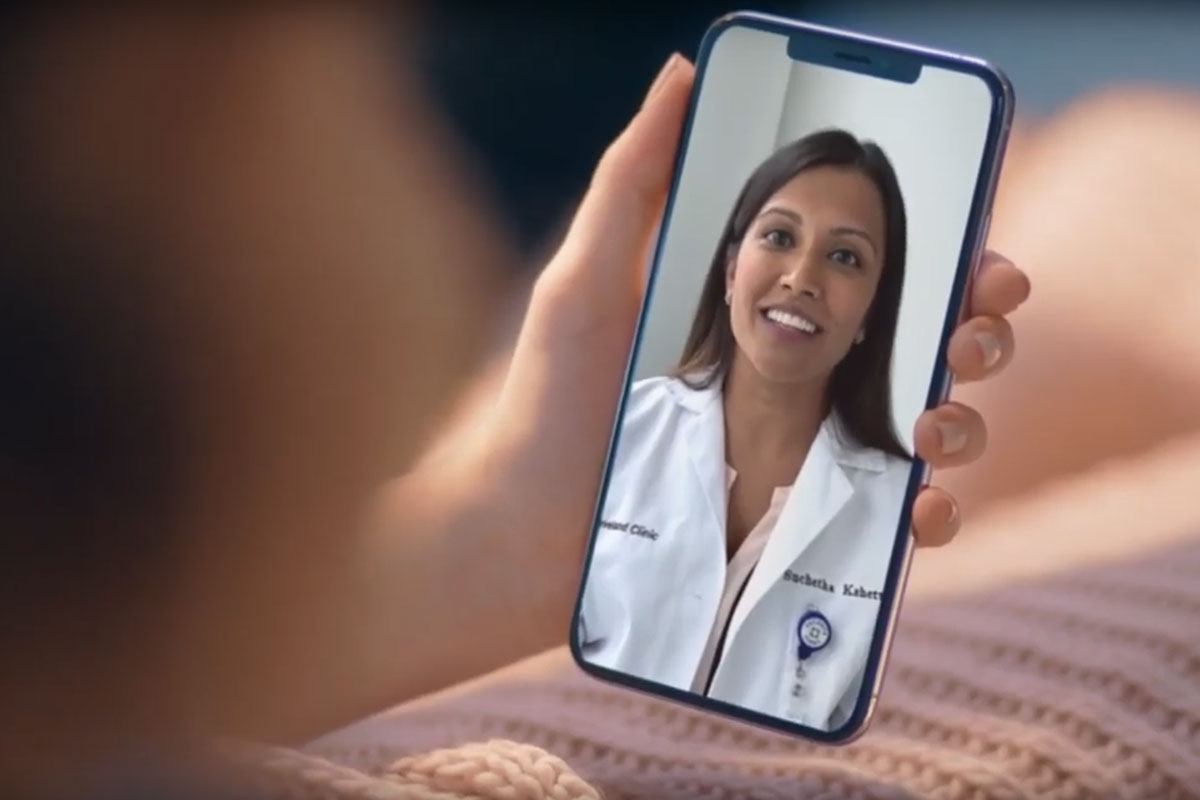 COVID-19 is an emerging, rapidly evolving situation. Cleveland Clinic is working with public health partners at all levels and will continue to provide updated information as it becomes available.
Do you think you may have Coronavirus (COVID-19)?
Take these steps:
Start with a virtual visit using Cleveland Clinic Express Care® Online, an eVisit questionnaire in MyChart* or call your primary care physician. You will be advised what to do next.
Call ahead before going in person to any Cleveland Clinic location.
Don't go to your local emergency department for COVID-19 testing. The emergency department is only for those who need the most critical care.**
* For eVisits: Patients must be a current MyChart user and in the state of Ohio. After completing a questionnaire, Cleveland Clinic providers will review your submitted answers and evaluate your illness. If the provider suspects you may be infected with COVID-19, they will determine the most appropriate place to send you for testing, ensure you get the right care and minimize spread.
** If you have chest pain, shortness of breath, dizziness, a severe headache or other potentially life-threatening problems, go to the nearest emergency department or call 911.
For questions, call the Ohio Department of Health's 24/7 hotline at 833.427.5634 (833.4.ASK.ODH) or the Florida Department of Health's 24/7 hotline at 866.779.6121.
Cleveland Clinic patients can also call 855.697.3750.
FAQs
FAQs
What is COVID-19?
COVID-19 is a virus strain, first identified in Wuhan, Hubei Province, China, that has only spread in people since December 2019.
Health experts are closely monitoring the situation because little is known about this new virus and it has the potential to cause severe illness and pneumonia in some people.
How does COVID-19 spread and what are the symptoms?
COVID-19 is primarily spread through respiratory droplets. That means to become infected, you generally must be within six feet of someone who is contagious and come into contact with these droplets. It may be possible to get COVID-19 by touching a surface or object that has the virus on it and then touching your mouth, nose, or possibly their eyes. Symptoms of COVID-19 appear within two to 14 days after exposure and include fever, cough, diarrhea and shortness of breath.
How long does it take for symptoms of the COVID-19 to appear?
The CDC believes that symptoms of COVID-19 may appear in as few as two days, or as long as 14 days after exposure.
How is COVID-19 treated?
There is currently no FDA approved medication for COVID-19. People infected with this virus should receive supportive care such as rest, fluids and fever control, to help relieve symptoms. For severe cases, treatment should include care to support vital organ functions.
How many confirmed cases of COVID-19 are being diagnosed across the country?
The map below shows national and state-by-state COVID-19 cases, per 100,000 inhabitants. This comparison takes into account variations in state population sizes but not differences in access and availability of testing. Researchers from Cleveland Clinic Lerner Research Institute measured the total number of cases using data from Johns Hopkins University Center for Systems Science and Engineering.
Prevention
Is there a vaccine?
Currently, there is no vaccine available.
How can I best protect myself?
Practice the following:
Wash your hands often with soap and water for at least 15-20 seconds. If soap and water are not available, use a hand sanitizer with at least 60% alcohol.
Avoid touching your eyes, nose and mouth with unwashed hands.
Avoid close contact (within 6 feet) with people who are sick.
Stay home when you are sick.
Cover your cough or sneeze with a tissue, then throw the tissue in the trash.
Standard household cleansers and wipes are effective in cleaning and disinfecting frequently touched objects and surfaces.
It's currently flu and respiratory disease season and CDC recommends getting vaccinated, taking everyday preventive actions to stop the spread of germs, and taking flu antivirals if prescribed.
Want to learn more about what you can do to protect you and your family from COVID-19?
Watch our interview with Cleveland Clinic infectious disease specialist Frank Esper, MD highlighting what you need to know about COVID-19 prevention.
Are pregnant women at higher risk of developing severe illness with COVID-19?
The Centers for Disease Control and Prevention says it's not yet known whether pregnant women are more susceptible to getting COVID-19 or are likely to have more severe symptoms, compared with individuals of a similar age and health status, who aren't pregnant. However, it's still important for pregnant women to protect themselves from illnesses. We recommend to:
Wash your hands frequently. You've heard this advice over and over, but for good reason. Cleaning your hands can really stop the virus in its track.
Practice social distancing. Maintain a 6-foot distance from other people, and avoid groups of individuals larger than 10.
Get the flu shot. It won't protect you against COVID-19, but it will lower your risk of catching influenza — another more common respiratory illness that can cause complications for expectant moms.
Go virtual. Whenever possible, consider virtual prenatal visits with your doctor instead of in-person appointments. Spending less time in the waiting room and doctor's office might reduce the risk of catching the virus. However, some important prenatal care visits will still need to be in-person, such as ultrasounds, fetal testing and some blood work.
Call your doctor if you're coughing. If you develop flu-like symptoms such as a cough, fever, runny nose or shortness of breath, contact your doctor via telephone or virtual visit. They'll determine if you should be tested for the coronavirus and what your next steps should be.
Can pregnant women with COVID-19 pass the virus to their fetus or newborn?
There are currently no studies that show evidence the virus can be passed from mother to fetus before delivery. A report in The Lancet medical journal looked at nine pregnant women in China in their third trimester with pneumonia caused by COVID-19. None of the mothers developed severe illness. Two babies did show some signs of distress, but all nine babies were born alive and fairly healthy. Additionally, they all tested negative for coronavirus.
Does COVID-19 have a different impact on women in their first trimester as opposed to their second or third trimester?
The Lancet study looked at nine pregnant women who had COVID-19 during their third trimester. Doctors still aren't sure how the disease might affect women and developing babies earlier in pregnancy, during the first trimester. High fevers in early pregnancy can increase the risk of some birth defects, however, little is known regarding how that affects pregnant women with COVID-19. That's something doctors and researchers will be watching for as the virus unfolds.
I have a chronic condition that puts me at high risk. How can I best protect myself?
Unfortunately, there is not yet a vaccine that can prevent COVID-19, so we cannot prevent the disease.
The coronavirus that causes COVID-19 is new, so we don't yet understand exactly how it impacts specific groups of high-risk people. But, those who are thought to be most susceptible to serious complications of COVID-19 include people who:
Are over age 65.
Have cancer.
Have hypertension.
Have lung disease.
Have diabetes.
Have heart disease.
Have another condition that compromises the immune system.
Are taking medications that suppress the immune system.
But there are things you can do to minimize your risk if you have a weakened immune system or are immunocompromised.
Should I wear a face mask? Will that help protect me?
If you are sick: You should wear a face mask when you are around other people (e.g., sharing a room or vehicle) and before you enter a healthcare provider's office. If you are not able to wear a face mask (for example, because it causes trouble breathing), then you should do your best to cover your coughs and sneezes, and people who are caring for you should wear a face mask if they enter your room. Learn what to do if you are sick.
If you are not sick: You do not need to wear a face mask unless you are caring for someone who is sick (and they are not able to wear a face mask). Face masks may be in short supply and they should be saved for caregivers.
Preparedness
How is Cleveland Clinic preparing for a surge of patients with COVID-19?
Currently, we are seeing a growing number of COVID-19 patients admitted throughout our health system. None of our hospitals are at or over capacity at this time.
However, in anticipation of an expected surge in patients, we are preparing to add thousands of beds across our Ohio locations to meet the potential need for patient care.
As part of this, Cleveland Clinic and Case Western Reserve University are collaborating to temporarily convert the main building on the Health Education Campus of Case Western Reserve University and Cleveland Clinic into a fully functioning surge hospital to treat COVID-19 patients not requiring high levels of care but who are in need of hospitalization.
We are adapting to the ever-changing COVID-19 situation in order to care for patients in the safest way possible and to protect our caregivers—this remains our top priority.
Is Cleveland Clinic concerned about shortages of any medical supplies or medications?
As of March 19 at 11 a.m., we have adequate Personal Protective Equipment (PPE).
We also have a supply of testing swabs on hand. However, we did not anticipate the impact of the COVID-19 outbreak on Italy, where the swabs are manufactured. We hope to continue to receive additional testing supplies, which will be a key part of our decision-making in the future.
Cleveland Clinic is following Ohio guidelines to postpone non-essential surgeries and procedures. This supports statewide efforts to conserve hospital beds, equipment and supplies.
How can members of the community in Ohio help with supplies?
In response to the Northeast Ohio community's generous requests to provide assistance during the ongoing novel coronavirus pandemic, Cleveland Clinic launched a COVID-19 Community Response Campaign.
Where can I find more information from Cleveland Clinic?
The latest information on COVID-19 can be found on the CDC's website and on this page.
Is there a hotline I can call for more information on COVID-19?
Cleveland Clinic has a dedicated, 24/7 COVID-19 hotline to answer your questions at 855.697.3750.
The Ohio Department of Health and Florida Department of Health have set up a 24/7 COVID-19 hotlines for those with questions or concerns as well:
Travel
For the latest information on travel information, alerts and warnings, please visit the CDC's Coronavirus Disease 2019 Information for Travel website.
What if my family member traveled from a country or had a layover in a country with widespread or sustained transmission in the last 14 days?
If your family member traveled from or had a layover in a CDC-designated high-risk country in the last 14 days and feels sick with fever, cough, diarrhea or has difficulty breathing, visit Cleveland Clinic Express Care® Online or call or message your primary care physician.
Your family member should:
Seek medical care right away. Before they go to a doctor's office or emergency room, call ahead and tell them about their recent travel and symptoms.
Avoid contact with others.
Not travel while sick.
They should cover their mouth and nose with a tissue or their sleeve (not their hands) when coughing or sneezing.
Wash hands often with soap and water for 15-20 seconds. Use an alcohol-based hand sanitizer with at least 60% alcohol if soap and water are not available.
Should I travel internationally?
CDC provides recommendations on postponing or canceling travel. These are called travel notices and are based on assessment of the potential health risks involved with traveling to a certain area.
What if I must travel for personal reasons?
If you must travel for person reasons, practice the following precautions:
Avoid contact with people who are sick.
Avoid animals (alive or dead), animal markets and products that come from animals (such as uncooked meat).
Wash hands often with soap and water for 15-20 seconds. Use a hand sanitizer with at least 60% alcohol if soap and water are not available.
Older adults and travelers with underlying health issues may be at risk for more severe disease.
Appointments & Access
Appointments & Access
I have an appointment at Cleveland Clinic and I am concerned about COVID-19. Should I cancel my appointment?
We are taking necessary precautions on behalf of our patients, visitors and caregivers.
At this time our primary care providers are reviewing patient records and encouraging all of our Ohio patients with non-essential primary care appointments scheduled to take place in the next few weeks to consider rescheduling for three months out.
For appointments that cannot be postponed, options will include Cleveland Clinic Express Care® Online, phone and MyChart visits, with in-person appointments being a back-up option.
For patients who require a physical exam, in-person appointments will remain as scheduled. We are closely monitoring this evolving situation and our clinicians are meeting regularly to continue to prepare.
If you have a fever, cough, diarrhea or shortness of breath, or are otherwise concerned you have COVID-19, we ask that you do not come to any Cleveland Clinic facility without calling your primary care physician or speaking to a provider using a virtual visit using Cleveland Clinic Express Care® Online. Patients will then be evaluated to determine if they require being seen in person or if they meet CDC guidelines for testing for COVID-19 based on symptoms, travel and exposures. If a patient meets criteria for testing, their Express Care Online provider or primary care physician will advise how to proceed with testing.
How are pediatric hospital services affected?
As we prepare for a potential surge of patients with COVID-19, Cleveland Clinic Children's is temporarily suspending pediatric inpatient services at both Fairview Hospital and Hillcrest Hospital. Beginning April 3, any pediatric patients who require inpatient services will be admitted at the Children's Inpatient Hospital at Cleveland Clinic's main campus. All caregivers working on these inpatient units will remain employed at their current locations.
The pediatric emergency departments, newborn nurseries and neonatal intensive care units (NICUs) at Fairview and Hillcrest hospitals will remain open, as will the pediatric psychiatry unit at Fairview. Full pediatric care will also continue at Cleveland Clinic Children's main campus and Cleveland Clinic Children's Hospital for Rehabilitation.
I have a surgery or procedure scheduled at Cleveland Clinic, will it be canceled?
Ohio: The Ohio Governor's office, in collaboration with the Ohio Hospital Association, announced new guidelines on postponing non-essential surgeries, a related procedures, for adult and pediatric patients.
Cleveland Clinic will use these guidelines to determine which procedures and surgeries should be postponed.
Patients who have non-essential procedures scheduled between Thursday, March 19 and Friday, March 27 will be contacted by Cleveland Clinic.
Florida: Cleveland Clinic Florida is using guidelines set by Centers for Medicare & Medicaid Services to determine which procedures are nonessential and should be postponed. Going forward, procedures must be lifesaving for the patient, preserving function of organs or limbs, reducing risk of metastasis or progression of disease, or reducing risk of severe symptoms.
Surgical cases, such as, urgent or emergent surgery, cancer surgery or cancer evaluation, infected joints, or other indications consistent with the government guidelines will continue.
The relationships between our physicians and patients is an essential part of the care we provide, and we are relying on our clinicians to follow these guidelines and exercise their best professional judgment. If a physician and patient determine a procedure cannot be postponed, it may be performed.
Cleveland Clinic Florida has already begun to contact patients who have nonessential procedures scheduled to discuss next steps.
What surgeries and procedures are "non-essential"?
Examples of non-essential surgeries and related procedures include deferrable bronchoscopy, deferrable upper and lower endoscopies, routine dental procedures, stable symptomatic problems, benign condition management, cosmetics, primary and revision joint therapy (non-infected), bariatric and elective hernia surgery and urogynecology.
Surgical cases such as urgent or emergency surgery, cancer surgery or cancer evaluation, infected joints, or other indications consistent with the department of health guidelines above will continue.
Visitor Restrictions
Visitor Restrictions

Inpatient Locations: For all hospital locations in Ohio and Florida, we are restricting all visitors.
Exceptions will be made for the following patients:
Pediatric patients (1 visitor).
Labor & Delivery patients (1 visitor).
End-of-life circumstances (patient's care team will discuss with their family).
All other visitors will be asked to leave the hospital. As we continue to navigate the best ways to contain the spread of COVID-19, we understand these changes are difficult and appreciate your patience and understanding.
Outpatient Locations: For all family health centers, medical office buildings and physician offices in Ohio and Florida, we are restricting visitors following these guidelines:
At this time, no guests or visitors are permitted to accompany adult patients, unless special assistance is required.
Pediatric patients, elderly patients and those with special needs are permitted to bring no more than 1 guest. No more than 2 guests will be permitted per family or group.
Visitors who are sick, have a fever, or a confirmed case of COVID-19 should not visit or accompany a patient.
Visitors must wash their hands (or use sanitizer) before and after entering clinical areas and waiting rooms.
These restrictions are being put in place for the safety of our patients, caregivers and community. Thank you for your understanding.
Testing
Testing
Ohio Testing
Cleveland Clinic is providing drive-through COVID-19 testing for patients in Ohio with a Cleveland Clinic electronic doctor's order.
What patients are being prioritized for testing?
COVID-19 testing will focus on high-risk patients. These are symptomatic patients who also have one of the following criteria:
61 & older.
Under 36 months.
On immunosuppressive therapy.
End-stage renal disease and are on dialysis.
Coronary artery disease.
Heart failure reduced ejection fraction.
Lung disease.
Contact with a known COVID-19 patient.
HIV/AIDS.
Solid organ transplants.
These patients will continue to be tested at the W.O. Walker testing facility with a Cleveland Clinic physician's order.
What if I am not a high-risk patient and need to receive testing?
For patients 60 and under who already have a Cleveland Clinic physician's order, we are re-evaluating our ability to provide COVID-19 testing and are asking they not report to the W.O. Walker testing facility until they are contacted by Cleveland Clinic with further instructions. We are advising patients with a fever higher than 100.4 degrees F and/or cough to please isolate themselves from others. If your medical condition worsens, please contact your primary care provider or go to the emergency department.
Testing Location
On-site testing is located in the garage of the W.O. Walker Building at Cleveland Clinic's main campus. Testing is open 11 a.m. - 5 p.m., seven days a week.
Please Note: A Cleveland Clinic electronic provider's order is required for COVID-19 testing.
Directions to Testing Location:
W.O. Walker Building
10524 Euclid Ave.
Cleveland, OH 44195
Patients should enter the garage from E. 105th St.
A Cleveland Clinic caregiver will ask you to roll down your window and tilt your head back slightly, so they can swab the back of your nose and throat.
Florida Testing
Cleveland Clinic is providing drive-through COVID-19 testing for patients in Florida. Individuals must have an appointment in order to be tested.
Testing Locations
On-site testing is located at the Krupa Center at Cleveland Clinic Florida's main campus in Weston, Martin North Hospital in Stuart, Tradition Hospital in Port St. Lucie and Indian River Hospital in Vero Beach.
Please Note: An appointment from Cleveland Clinic Florida is required for COVID-19 testing.
What is the process for getting tested?
Only patients with an appointment will be seen at the drive-through testing. Patients should start by calling to schedule their appointment for testing:
The caller will be screened by a nurse who will determine if they meet criteria for testing.
Patients who meet criteria for COVID-19 testing will be given an appointment and directed to the testing location. When patients arrive at the drive-through, they will first have their temperature taken. Patients who do not have a fever will NOT be tested.
Directions and Hours for Testing Locations:
Krupa Center
3250 Meridian Parkway
Weston, Florida 33331
Testing Hours: 8 a.m. - 5 p.m.
Monday – Friday
Martin North Hospital
200 SE Hospital Ave.
Stuart, Florida 34994
Testing Hours: 8 a.m. - 5 p.m.
Daily
Tradition Hospital
10000 SW Innovation Way
Port St. Lucie, Florida 34987
Testing Hours: 8 a.m. - 5 p.m.
Daily
Indian River Hospital
1000 36th Street
Vero Beach, Florida 32960
Testing Hours: 9 a.m. - 5 p.m.
Daily
Frequently Asked Questions About Testing
How long will results from a COVID-19 test take?
For patients in the hospital, and those tested in our Emergency Departments who are considered very ill or at risk, results are available within 24 hours (on average).
For patients being tested at our drive-thru facility, results are available on average within 5 to 10 days. Patients are asked to remain at home until their test results are released. Once processed, COVID-19 test results are now available immediately in a patient's MyChart, our secure online health management tool.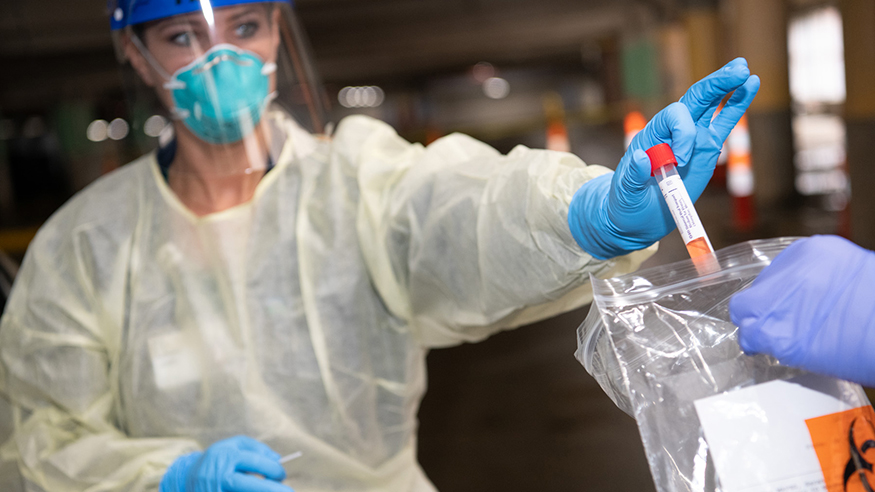 Your sample will be put into a sterile container and sent to the lab.
Who is screening patients?
We are following CDC and State Health Department recommendations on screening for patients who have traveled from high-risk countries. As part of the intake process, travel questions have been added to outpatient visits. Travel screenings are part of the standard process for inpatients.
Screening is occurring in the following ways:
Travel screening is now performed at check-in, registration and during scheduling.
It has also been added to the outpatient rooming and inpatient admissions workflows.
Clinicians in Emergency Departments, labor and delivery and surgical areas will continue to complete travel screenings as a part of their standard workflows.
These questions are also asked at check-in kiosks and through MyChart's pre-check-in feature.
In our intensive care units for patients with severe lower respiratory infections.
How do we know when a patient is potentially infected?
An interruptive alert will display to all caregivers in Epic when a patient meets the following criteria:
Documented fever.
Shortness of breath.
Cough symptoms.
and has relevant travel history with symptoms starting within 14 days of their return to the United States or close contact to a known or suspected patient with COVID-19.
Affected Services
Affected Services
Ohio
Services currently suspended until further notice:
Fertility Services
Opportunities to Volunteer or Donate
Walk-in Mammography
Events or classes cancelled or postponed:
Eatery and food service changes:
Florida
Services currently suspended until further notice:
Opportunities to Volunteer or Donate
Events or classes cancelled or postponed:
American Heart Association's Broward HeartWalk
Community Events
Patient Support Group Sessions
Eatery and food service changes:
Other Locations
Services currently suspended until further notice:
Events or classes cancelled or postponed:
For Cleveland Clinic Caregivers
For Cleveland Clinic Caregivers
As the COVID-19 pandemic rapidly evolves, it is critical that all caregivers are able to access the information being shared whether or not they are at work or have a Cleveland Clinic issued laptop or cell phone.
Visit our page for caregivers for up-to-date guidelines, resources, caregiver communications and more at clevelandclinic.org/covid19.
View All Caregiver Communications by Date