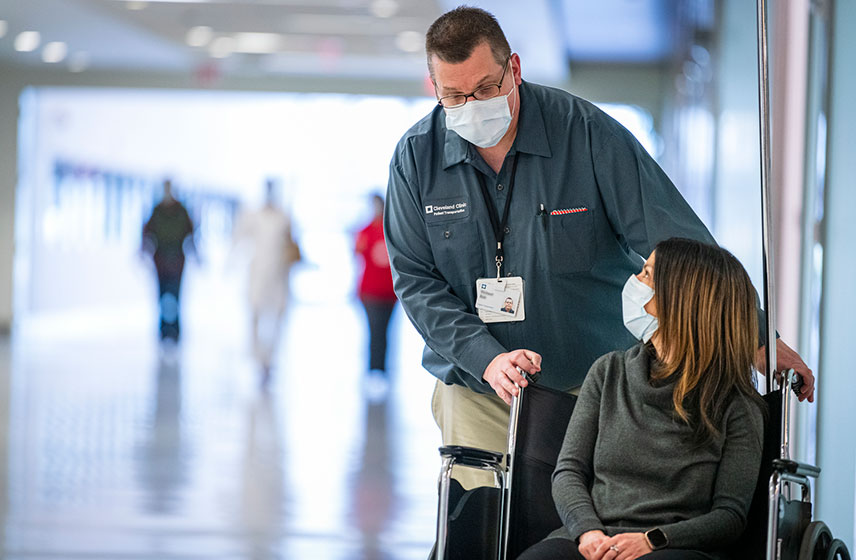 COVID-19: Learning to Live with It
Thankfully, COVID-19 is no longer the global emergency that once turned our lives upside down. But the virus is here to stay.
---
Now, it's up to us to stay on top of preventing the disease, when possible, and making sure those who do get it can get the care they need.
New, updated COVID vaccines are now available and the Centers for Disease Control (CDC) guidelines are ever evolving. That's why we've rounded up everything you need to know about how things are changing here at Cleveland Clinic.
What You Need to Know Before You Come In
Your health and safety will always be our No. 1 priority. But you'll find we're doing things a little differently now. From visiting loved ones to wearing masks to getting COVID testing, we have the information you need.
Visitation
While we tightened visitation at first, all of our U.S. locations have returned to open visitation. This is in line with the latest CDC guidance. Plus, studies show visitors to healthcare locations haven't contributed much to the spread.
What does this mean? We will no longer screen you for COVID symptoms when you come to a Cleveland Clinic location. And we'll no longer have set visiting hours or limit the number of visitors a patient can have — except in some ICU settings.
What do I need to know? We'll ask you to wear a mask when you're visiting anyone hospitalized on our floors. If you're sick, we ask that you don't come to visit until you're better. And if you've tested positive for COVID-19 or have been exposed to someone who tested positive, you'll need to wait at least 10 days before visiting anyone.
Mask Guidelines
We're now entering respiratory virus season — a time when we see increasing cases of not only COVID-19, but also the flu and RSV. For many, these viruses only cause mild sickness. But for others, they could lead to serious illness or even death.
Beginning Oct. 17, when you enter any hospital floors where patients stay overnight for care,* please:
Wear a mask.
Sanitize your hands.
Remember proper cough etiquette.
Don't visit if you're sick.
We're also recommending masking if you have an immune system that doesn't work the way it should, are at a high risk for complications from respiratory viruses, or if you're experiencing symptoms of a respiratory virus.
Forgot a mask? No problem. Masks are still available to you at the door, and you can also ask our caregivers for one at any time.
Masks are still required:
In hospital units caring for severely immunocompromised patients.
For caregivers who perform procedures in which there's an increased risk of airborne COVID-19 spread (they'll use a fitted N95 or another respirator).
*These guidelines do not apply at our Florida locations. View our Florida location masking policies.
COVID-19 Testing
COVID-19 is still here – and you can still get it. Thankfully, it's usually milder if you've been vaccinated. Whether you have non-urgent symptoms or were exposed to someone with COVID, it's important to take a test.
Schedule a testing appointment
If you have a MyChart account and a Cleveland Clinic primary care provider, you can schedule to get a PCR COVID-19 test online. If you need a provider and have non-urgent symptoms, you can schedule an online virtual visit to see a provider who can order the test. We test for COVID at multiple Cleveland Clinic locations.
Take a self-test
If you have private health insurance, Medicaid or Medicare, your insurer must pay for eight at-home tests each month for each person enrolled in your health plan. You can also get free self-tests at libraries, health clinics or order them through the USPS website. They're also now easy to find at many stores.
Getting an oral antiviral medication
If you've tested positive for COVID-19, your symptoms started less than 5 days ago and you'd like to receive an oral antiviral medication, please schedule a virtual visit with your primary care team or one of our providers through the MyClevelandClinic® app on your smartphone or computer. The general Nurse On Call line cannot prescribe oral antivirals. You may also call 866.320.4573 to schedule.