Resetting the Mind-Body Connection
Resetting the Mind-Body Connection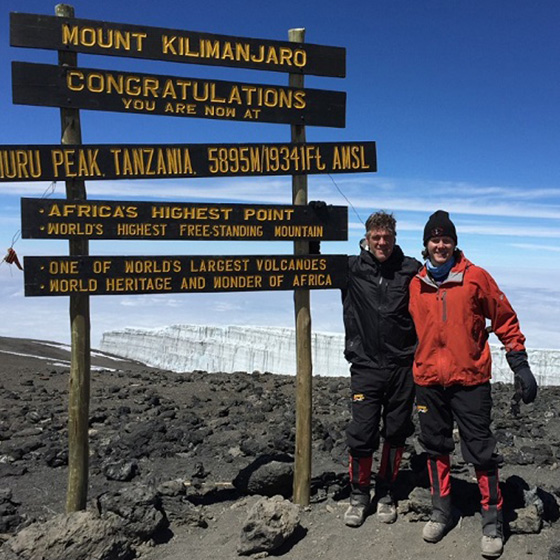 When Aaron Finch's tech startup company went public in 1997, it capped years of hard work. Feeling burned out, Aaron took a year off to recharge. He and his family—wife Catherine and their son and daughter—moved to Steamboat Springs, Colorado, to live a simpler outdoor lifestyle and enjoy skiing, mountain biking and running.
Yet a year later, back to a good level of fitness and working on another startup concept, Aaron still felt tired all the time.
While attending a board meeting at his children's school, a friend told him pointblank that he looked terrible. A recommended physician was unavailable, and Aaron ended up seeing a young internist. That doctor heard a faint heart murmur and eventually diagnosed a failing aortic valve and an aortic aneurysm.
"I was 41 years old and not expecting this," says Aaron. "I played college football and even had an in-depth executive physical. Everybody had missed it."
"How soon can you be in Cleveland?"
Aaron found himself at Cleveland Clinic through a chain of connections beginning with his son's godfather in Texas, who contacted a heart surgeon friend who knew of Cleveland Clinic's excellence in heart care. When Bruce Lytle, MD, a pioneering thoracic surgeon who would later become the first Chair of Cleveland Clinic's Sydell and Arnold Miller Family Heart, Vascular & Thoracic Institute, called and asked how soon he could be in Cleveland, Aaron jumped on a flight.
"It was quite scary for all of us," Aaron recalls. "But knowing which hospital I was going to and who was doing the surgery put all of our minds at ease. Clearly you wouldn't want to do this surgery any place else. I felt very blessed and lucky about how it all came to be."
His surgery in 2001 successfully replaced his aortic valve and ascending aorta.
Healthy Body, Healthy Mind
Aaron's biggest post-surgical adjustment was realizing he could now physically do whatever he wanted. "I wasn't damaged goods anymore," he says. "I have this scar on my chest, but I'm a healthy person now, and I can go do whatever I want—bike, ski, climb mountains." A self-professed workaholic, he also decided to take this opportunity to again step back from work to spend more time with his family.
Aaron served as president of the area's ice hockey association, then volunteered at the high school, coaching football. When the head coach retired, Aaron took that role for six years, leading the team to the state championships. "I got so much out of my own experience with athletics—setting goals, how to be humble in success and how to survive failure. This was a chance to help these young men learn how to be successful in life with the football field as a classroom."
Never one to languish, once his children were in college he returned to the corporate world as COO at Otterbox, a consumer electronics accessory company. He and Catherine also spent a year in West Africa as part of the Stanford Graduate School of Business Seed program, a group that partners with early-stage entrepreneurs in developing markets to build thriving enterprises that transform lives.
True to character, while they were there he set a goal to climb Mt. Kilimanjaro, Africa's highest mountain with a summit of nearly 20,000 feet. "That kept me focused on staying fit and working out," he says. "It was really encouraging to know that I could do that."
That was in 2015, 14 years after his first surgery. "When I came back, Dr. Griffin told me not to do that again until I had a new valve, because this one was wearing out," Aaron says. Dr. Griffin is Brian Griffin, MD, Aaron's cardiologist since he first came to Cleveland Clinic.
Aaron had been seeing Dr. Griffin every other year for a checkup since that first surgery. In 2016, Dr. Griffin began to monitor him more closely and recommended another surgery in 2017. Everything was replaced in a complex surgery, this time by Gosta Pettersson, MD, now retired. "Re-operations are known for being trickier than the first ones, so his depth of experience was worth a lot to me," says Aaron. This new valve will last about 20 years.
Aaron notes that the surgery has evolved since his first one. "The new procedures to avoid infections and the post-surgical care was much different—especially the pain management. I don't recall being uncomfortable at all through the recovery process."
The mental aspect of his recovery was easier after the second surgery, too. "I knew where I was headed, and I knew how to get there," he says.
Giving to Make a Personal Impact
Recently, Aaron and Catherine made a generous gift to support Dr. Griffin's cardiovascular imaging research at Cleveland Clinic. They are active philanthropists, supporting higher education and a small school in Africa. "We like to give when it's personal, where an organization has touched you personally and you know who's involved," Aaron says. "While talking about doing something, I realized the common thread through all of this has been Dr. Griffin. We've had an ongoing relationship for more than 20 years."
Aaron willingly shares his surgical experiences with others facing similar issues. "It's important to get yourself healthy physically and mentally," he says. "It's a scary time, and you wonder if your heart is ever going to work properly again. But you're at Cleveland Clinic. You ARE going to wake up. You ARE going to wake up healthier. And you're fixed. You can pursue all those things you want to do."
How You Can Help
Your gift to show gratitude to a caregiver can make a difference in research, specialized medical education or patient care programs. One hundred percent of your gift will benefit the program or initiative of your choice and is fully tax-deductible. Learn more here.
Family Ties Support Cleveland Clinic's Life-Saving Mission
Family Ties Support Cleveland Clinic's Life-Saving Mission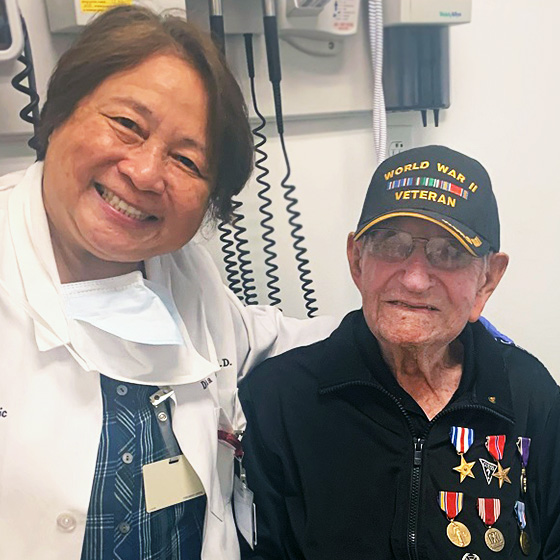 By all measures, centenarian Alvin Gregory "Greg" Ross has led an exceptional life. A member of the Greatest Generation, Greg is one of the most decorated World War II heroes alive today. He and his family credit his longevity to the excellent care he has received at Cleveland Clinic over many decades, and they are proud to support Cleveland Clinic's mission so that others may benefit as well.
Greg was born in Cleveland, Ohio, in 1921, the year the hospital was founded. He has been a Cleveland Clinic patient since 1948, when the medical campus consisted of just one building on Euclid Avenue. Like many of his Cleveland Clinic caregivers, Greg knows what it means to save a life.
Valorous Military Career
Greg was drafted into the Army in 1941 at the age of 20. Trained by Army rangers, he distinguished himself as an expert marksman and fought for three years across four countries in Europe, including during the final push between December 1944 and May 1945. Deployed with the 12th Armored Division and part of the 92nd Cavalry Reconnaissance Squadron, he was tasked with finding and reporting back enemy positions.
In one attack, while under enemy fire and disregarding his own safety, Greg crawled to his severely injured platoon sergeant, pulled him to safety and administered life-saving first aid. He sustained a gunshot wound to the leg in the process. Recognized for his "heroic achievement," he was awarded the Bronze Star and Purple Heart. Later, Greg and two fellow soldiers helped secure an entire German town, pushing back tank fire and capturing many enemy soldiers. For this "gallantry in action," he received the Silver Star.
Entrepreneurial Success
Following the war, while still in the Army, Greg formed a band, the 21 Clubbers, and traveled Europe as a bandleader and singer. He returned to Cleveland in 1949, where he met and fell in love with Connie, his wife of 70 years who passed away in 2019. The couple had a daughter, Cindy.
Infused with an entrepreneurial spirit, Greg formed Cleveland-based Ross Equipment Corp., which rented and sold aerial work platforms. He led the company through many successful years, eventually welcoming his daughter into the business. That father-daughter working relationship in a male-dominated industry earned them national attention, including a 20/20 interview with Barbara Walters.
After working side by side with his daughter for two decades, Greg retired in 1992, passing the leadership reins to Cindy. The company was sold to United Rental Aerials in 1998, the same year Greg faced a new challenge.
Surviving a Health Crisis
At 77, Greg was diagnosed with aplastic anemia, a rare and life-threatening bone marrow disorder that occurs when the body's stem cells fail to create enough blood cells. While severe cases may require a bone marrow transplant, Cleveland Clinic medical oncologist David Peereboom, MD, successfully treated Greg with immunosuppressive therapy.
"Dad credits Dr. Peereboom and his team with saving his life," Cindy says, noting the doctor is still a family friend. She also attributes her father's continued good health to nearly 25 years of care by his Cleveland Clinic Florida team led by Diana Galindo, MD, Department Chair for Geriatric Medicine.
At Home in Florida
Although the Ross family had maintained a winter home in South Florida since 1998, Greg and Connie made Florida their year-round home in 2016. They made supporting Cleveland Clinic, both in Ohio and Florida, a family tradition, as well.
Inductees in Cleveland Clinic's 1921 Society, Cindy and her husband, Larry Trotter, have held multiple philanthropic leadership roles at Cleveland Clinic. They served on the Florida Leadership Board for 15 years and co-chaired the 20th anniversary celebration of Cleveland Clinic Florida. Cindy also co-founded the Women's Health Leadership Board in Ohio, and the couple previously served on Cleveland Clinic's Brain Tumor Institute Board and Taussig Cancer Center Board.
"One thing I have to say about Cleveland Clinic is that they are exceedingly good at caring for patients with complex conditions, the more complex the better," notes Cindy, who had a liver transplant in 2019 at the Cleveland Clinic Florida Transplant Center.
"Cleveland Clinic saved my dad's life and mine," she says, "and for that we will always be grateful."
How you can help
Philanthropic support of Cleveland Clinic helps fund research and promotes the delivery of transformative patient care here and around the world. Please make a gift today.