Heart Disease: Adult Congenital Heart Disease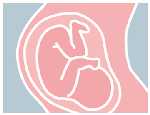 Congenital heart disease is a type of defect in one or more structures of the heart or blood vessels that occur before birth. The heart structures, or vessels, do not form as they should during pregnancy, while the fetus is developing in the uterus.
In the United States:
They affect about 8 to 10 out of every 1,000 children. Congenital heart defects may produce symptoms at birth, during childhood and sometimes not until adulthood.
800,000 adults in the United States have grown into adulthood with congenital heart disease. This number increases by about 20,000 each year.
Adult congenital heart disease is not uncommon. 1 in 150 adults are expected to have some form of congenital heart disease.
The most common congenital heart disorders affecting adults are:
Anomalous Pulmonary Veins
Transposition of the Great Arteries (TGA)
Symptoms of Congenital Heart Disease
Congenital heart defects may be diagnosed before birth, right after birth, during childhood or not until adulthood. It is possible to have a defect and no symptoms at all. In adults, if symptoms of congenital heart disease are present, they may include:
shortness of breath
poor exercise tolerance