Patent Foramen Ovale (PFO)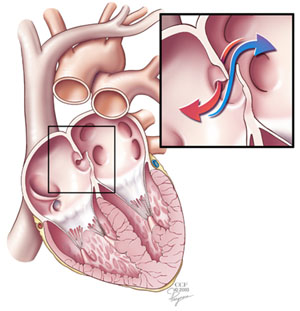 What is the Foramen Ovale?
The foramen ovale (foh-RAY-mun oh-VAY-lee) is a small hole located in the septum, which is the wall between the two upper chambers of the heart (atria).
Before a baby is born, it does not use its lungs to get blood rich in oxygen. Instead, this blood comes from the mother's placenta and is delivered through the umbilical cord. The foramen ovale makes it possible for the blood to go from the veins to the right side of the fetus' heart, and then directly to the left side of the heart.
The foramen ovale normally closes as blood pressure rises in the left side of the heart after birth. Once it is closed, the blood flows to the lungs to get oxygen before it enters the left side of the heart and gets pumped to the rest of the body.
What is a Patent Foramen Ovale?
A patent foramen ovale (PFO) means the foramen ovale did not close properly at birth, so there is still an opening in the septum. In most cases, the PFO does not stay open at all times. Instead, it's more like a flap that opens when there is higher pressure than normal in the chambers on the right side of the heart. Situations that can cause greater pressure include straining during bowel movements, coughing and sneezing. When the pressure gets high enough, blood may move from the right atrium to the left atrium.
The condition affects about 25% of Americans, but many do not know they have the condition.