Atrial Septal Defect (ASD)
Overview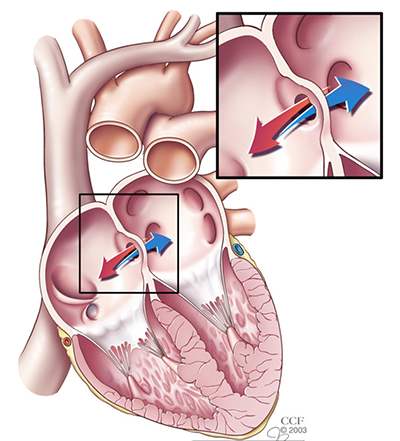 What is an atrial septal defect (ASD)?
An atrial septal defect (ASD) is a hole in the septum, which is the muscular wall that separates the heart's two upper chambers (atria). An ASD is a defect you are born with (congenital defect) that happens when the septum does not form properly. It is commonly called a "hole in the heart."
A secundum ASD is a hole in the middle of the septum. The hole lets blood flow from one side of the atria to the other. The direction depends on how much pressure is in the atria.
More complicated and rare types of ASDs involve different parts of the septum and abnormal blood return from the lungs (sinus venosus) or heart valve defects (primum ASDs).
What causes ASDs?
Most congenital heart defects are likely caused by a combination of genetics and factors involving the mother while she is pregnant, such as use of alcohol and street drugs, as well as diseases such as diabetes, lupus and rubella. About 10 percent of congenital heart problems are caused by specific genetic defects.
How common are ASDs?
Atrial septal defects are the third most common type of congenital heart defect, and among adults, they are the most common. The condition is more common in women than in men.
What are the long-term effects of atrial septal defects?
Normally, the right side of the heart pumps blood that is low in oxygen to the lungs, while the heart's left side pumps oxygen-rich blood to the body. When you have an ASD, blood from the left and right sides mix, and can keep your heart from working as well as it should.
If your ASD is larger than 2 cm, you have a greater risk of problems such as:
Right heart enlargement, which leads to heart failure.
Abnormal heart rhythms, including atrial fibrillation or atrial flutter, affect 50 to 60 percent of all patients over 40 with an ASD.
Stroke.
Pulmonary hypertension (high blood pressure in the arteries that supply blood to the lungs). Blood normally flows from the left side of the heart to the right, but having an ASD and severe pulmonary hypertension can cause the blood flow to be reversed. When this happens, oxygen levels in the blood drop, which leads to a condition called Eisenmenger syndrome.
Leaking tricuspid and mitral valves caused by an enlarged heart.
Symptoms and Causes
What are the symptoms of an ASD?
Many people have no idea they have an ASD because they do not have symptoms. Some patients find out about the defect when a chest X-ray for another problem shows that the right side of the heart is bigger than normal.
By age 50, an ASD can cause symptoms like shortness of breath, fainting, irregular heart rhythms or fatigue after mild activity or exercise.
Diagnosis and Tests
How is an ASD diagnosed?
Tests to check for an ASD include:
Management and Treatment
What are my treatment options?
Treatment for patients with an ASD depends on the type and size of the defect, its effect on the heart, and other health conditions you have, such as pulmonary hypertension, valve disease or coronary artery disease.
In general, treatment is recommended if you have a large ASD that causes significant shunting (flow of blood through the defect) and the right side of your heart is bigger than normal, or you have any of the symptoms described previously.
The bigger the defect is, the more shunting you have. And, the more shunting you have, the bigger your risk of problems like atrial fibrillation and pulmonary hypertension. Also, the amount of shunting you have usually relates to how enlarged the right side of your heart is.
The amount of shunting is measured using echocardiography, MRI or catheterization.
ASD repair
Nonsurgical treatment
Nonsurgical (percutaneous) repair is the preferred treatment for most patients with secundum ASDs. If you have a different type of ASD, or the anatomy of your secundum ASD is not amenable to percutaneous closure, you may need surgery. Your doctor will let you know which type of repair is best for you.
This type of repair uses a device to close the hole in the septum.
Two different brands of closure devices are approved by the U.S. Food and Drug Administration for percutaneous ASD closure — the Amplatzer® Septal Occluder and the GORE HELEX® Septal Occluder.
The designs of the devices are different, but they work in similar ways.
The device is put in place using a long, thin tube called a catheter. The device is attached to the catheter, which is guided to your heart through a vein in your groin. When the device is released from the catheter, it opens up and seals the hole. Over time, tissue grows over the implant and it becomes part of the heart.
If your doctor recommends this type of repair, you will have a cardiac catheterization to check the size and location of the defect and measure pressures in your heart.
After the procedure, you will need to take a blood-thinning medication to keep clots from forming on the device. Your doctor will talk to you about the right type of medication for you and how long you need to take it.
Percutaneous Closure Devices for ASD Repair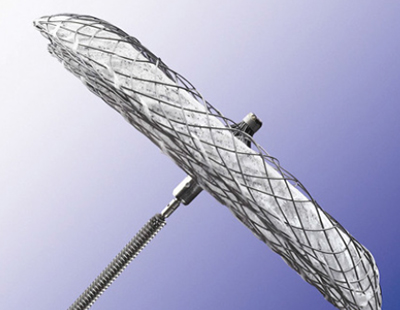 AMPLATZER® Septal Occluder
The AMPLATZER® Septal Occluder is a transcatheter closure device used to treat ASDs. It consists of two Nitinol wire mesh discs filled with polyester fabric. It is folded into a special delivery catheter, similar to the catheter used to cross the heart defect during catheterization.
The catheter is inserted into a vein in the leg, advanced into the atrial septum and through the defect. When the catheter is in the proper position, the device slowly is pushed out of the catheter until the discs of the device sit on each side of the defect, like a sandwich. The two discs are linked together by a short connecting waist that matches the size of the defect. The discs and the waist are filled with polyester fabric to increase the device's closing ability. Over time, heart tissue grows over the implant, and it becomes part of the heart, permanently correcting the defect.
AMPLATZER® device used for ASD repair (Photo used with permission from W.L. Gore & Associates, Inc.)
GORE HELEX® Septal Occluder
The GORE HELEX® Septal Occluder is a disc-like device that consists of ePTFE patch material supported by a single Nitinol wire frame. The device is put in place with a catheter and slowly pushed out until it covers the defect. The device bridges the septal defect.
GORE HELEX® Septal Occluder used for ASD repair (Photo used with permission from W.L. Gore & Associates, Inc.)
Surgical repair
Surgery may be needed to repair large secundum ASDs and other types of ASDs. In some cases, this can be done robotically or with a small incision.
Surgical repair usually involves using a tissue patch to close the ASD. The tissue often comes from your own pericardium (membrane around the heart). Some secundum ASDs can be surgically closed with sutures alone.
Follow-up care
Follow-up visits
Your doctor will let you know how often you need to be seen for follow-up visits. A typical schedule is 3, 6 and 12 months after your procedure and once a year after that.
Activity
Your doctor will talk to you about activity restrictions related to recovery from the procedure.
Medications
Expect to take blood thinners for 6 to 12 months after surgery.
If you had a stroke, you may need to take this medication indefinitely. If you have another heart condition, you may need to take other medications.
You may need to take antibiotics before certain medical procedures for at least 6 months after your procedure to prevent an infection of your heart's lining (endocarditis).
Resources
How to find a doctor if you have adult congenital heart disease
Doctors vary in quality due to differences in training and experience; hospitals differ in the number of services available. The more complex your medical problem, the greater these differences in quality become and the more they matter.
Clearly, the doctor and hospital that you choose for complex, specialized medical care will have a direct impact on how well you do. To help you make this choice, read more about our Sydell and Arnold Miller Family Heart & Vascular Institute outcomes.
The Center for Adult Congenital Heart Disease in the Sydell and Arnold Miller Family Heart & Vascular Institute is a specialized center involving a multi-disciplinary group of specialists, including cardiologists, cardiac surgeons and nurses from Cardiovascular Medicine, Pediatric Cardiology, Pediatric and Congenital Heart Surgery, Cardiothoracic Surgery, Diagnostic Radiology, Pulmonary, Allergy and Critical Care Medicine, and Transplantation Center, who provide a comprehensive approach to diagnosing and treating adult congenital heart disease.
Learn more about specialized teams of doctors who treat congenital heart disease.
You may also use our MyConsult second opinion consultation using the Internet.
For younger patients with congenital heart disease:
See: About Us to learn more about the Sydell and Arnold Miller Family Heart & Vascular Institute.
Contact
If you need more information, click here to contact us, chat online with a nurse or call the Miller Family Heart and Vascular Institute Resource & Information Nurse at 216.445.9288 or toll-free at 866.289.6911. We would be happy to help you.
Becoming a Patient
Treatment Options
Treatment Guides
Diagnostic Tests
Congenital heart disease is diagnosed by a murmur on a physical exam and several diagnostic tests:
Anatomy
Webchats
Our webchats and video chats give patients and visitors another opportunity to ask questions and interact with our physicians.
Videos
Interactive Tools
Resource Links
Why choose Cleveland Clinic for your care?
Our outcomes speak for themselves. Please review our facts and figures and if you have any questions don't hesitate to ask.
Cleveland Clinic is a non-profit academic medical center. Advertising on our site helps support our mission. We do not endorse non-Cleveland Clinic products or services. Policy