Patent Ductus Arteriosus (PDA)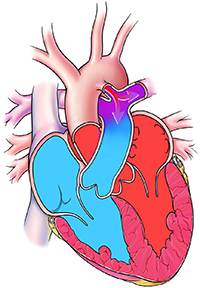 What is patent ductus arteriosus?
Patent ductus arteriosus (PDA) is a congenital heart defect – a structural heart problem that is present at birth.
Patent ductus arteriosus is an abnormal connection between the aorta and the pulmonary artery in the heart. The pulmonary artery carries blood from the heart's right lower chamber (ventricle) to the lungs, where it is loaded up with oxygen. From the lungs, the blood returns to the heart's left ventricle and is pumped out through the aorta to the body.
While the baby is in the womb, the aorta and the pulmonary artery are connected by a temporary blood vessel, the ductus arteriosus, as part of the normal fetal circulation. While in the womb, the baby receives oxygen from the mother's circulation, so blood does not need to flow through the lungs. The ductus arteriosus streamlines fetal circulation by flowing blood directly to the aorta, bypassing the lungs. After birth, the ductus arteriosus usually seals off so that blood from these two vessels does not mix. In patients with PDA, the ductus arteriosus stays open (patent), and blood can flow from the aorta into the pulmonary artery.
How common is PDA?
Patent ductus arteriosus is one of the most common congenital heart defects. About 3,000 newborns are diagnosed with PDA each year in the United States. Premature babies are more likely to have PDA, and the condition occurs twice as often in girls as in boys.
What problems does PDA cause in an adult?
Because most patients with PDA are diagnosed and treated when they are infants, this is a relatively rare congenital heart defect among adults. Most PDAs in adults are small to moderate; it is unusual to find a large PDA in an adult. Symptoms of untreated PDA in an adult include shortness of breath and heart palpitations. An adult with untreated PDA is at high risk for bacterial endocarditis, an infection of the lining of the heart, valves, or arteries; an enlarged heart (cardiomyopathy); pulmonary hypertension (high blood pressure in the lungs); congestive heart failure; and death.