Ventricular Septal Defects (VSD)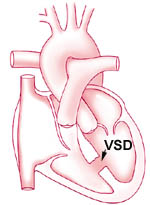 What is a ventricular septal defect?
A ventricular septal defect (VSD) is a hole in the wall (septum) that separates the heart's two lower chambers (ventricles). Ventricular septal defects usually occur by themselves, without other birth defects of any kind. Experts estimate that VSDs account for about 30 percent of all congenital heart defects, occurring in 1 out of every 500 babies.
What are the symptoms of VSD?
The symptoms and treatment for VSD depend on the size of the hole and where it is located. The size of the defect determines its effects on the heart's function. When the opening between the ventricles is large, oxygen-containing blood flows backwards into the right ventricle instead of out into the body. From the right ventricle, this oxygen-containing blood gets pumped back to the lungs, displacing blood in the lung circulation that needs oxygen. This inefficient blood flow causes the heart to pump harder, trying to compensate.
As a result, the heart may enlarge and high blood pressure may develop in the arteries of the lungs (pulmonary hypertension). A person with a large VSD may experience shortness of breath, fatigue and weakness.
If the defect is small, the only symptom abnormality is usually is a loud murmur, caused by the blood flowing backwards into the right ventricle.