What is a pacemaker?
A pacemaker is a device that sends small electrical impulses to the heart muscle to maintain a suitable heart rate or to stimulate the lower chambers of the heart (ventricles). A pacemaker may also be used to treat fainting spells (syncope), congestive heart failure and hypertrophic cardiomyopathy.
Types of pacemakers
The types of pacemakers are listed below. Your doctor will decide what type of pacemaker you need based on your heart condition. Your doctor also determines the minimum rate (lowest heart rate) to set your pacemaker. When your heart rate drops below the set rate, the pacemaker generates (fires) an impulse that passes through the lead to the heart muscle. This causes the heart muscle to contract, creating a heartbeat.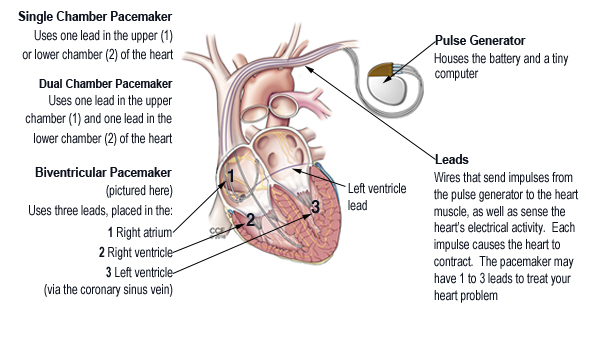 Learn more about these specialized pacemakers:
Electrical System of the Heart
The atria and ventricles work together, alternately contracting and relaxing to pump blood through the heart. The electrical system of the heart is the power source that makes this possible.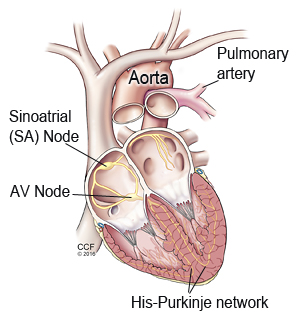 Normally, the electrical impulse begins at the sinoatrial (SA) node, located in the right atrium. The electrical activity spreads through the walls of the atria, causing them to contract.
Next, the electrical impulse travels through the AV node, located between the atria and ventricles. The AV node acts like a gate that slows the electrical signal before it enters the ventricles. This delay gives the atria time to contract before the ventricles do.
From the AV node, the electrical impulse travels through the His-Purkinje network, a pathway of specialized electricity-conducting fibers. Then the impulse travels into the muscular walls of the ventricles, causing them to contract. This sequence occurs with every heartbeat (usually 60-100 times per minute).
Why do I need a pacemaker?
If the electrical pathway described above is interrupted for any reason, changes in the heart rate and rhythm occur that make a pacemaker necessary.
Pacemakers are used to treat brady-arrythmias, slow heart rhythms that may occur as a result of disease in the heart's conduction system (such as the SA node, AV node or His-Purkinje network). Pacemakers are also used to treat syncope (unexplained fainting spells), heart failure and hypertrophic cardiomyopathy.