Cardiac Catheterization
Cardiac Catheterization
Overview
What is a cardiac catheterization?
Cardiac catheterization (also called cardiac cath or coronary angiogram) is an invasive imaging procedure that allows your doctor to evaluate your heart function. Cardiac catheterization is used to:
Evaluate or confirm the presence of coronary artery disease, valve disease or disease of the
aorta
Evaluate heart muscle function
Determine the need for further treatment (such as an interventional procedure or coronary
artery bypass graft, or CABG, surgery)
During a cardiac catheterization, a long, narrow tube called a catheter is inserted through a plastic introducer sheath (a short, hollow tube that is inserted into a blood vessel in your leg or arm). The catheter is guided through the blood vessel to the coronary arteries with the aid of a special x-ray machine.
Contrast material is injected through the catheter and x-ray movies are created as the contrast material moves through the heart's chambers, valves and major vessels. This part of the procedure is called a coronary angiogram (or coronary angiography).
Coronary artery disease is the narrowing or blockage of the coronary (heart) arteries. After an interventional procedure, the coronary artery is opened, increasing blood flow to the heart.
The digital photographs of the contrast material are used to identify the site of the narrowing or blockage in the coronary artery.
Additional imaging procedures, called intra-vascular ultrasound (IVUS) and fractional flow reserve (FFR), may be performed along with cardiac catheterization in some cases to obtain detailed images of the walls of the blood vessels. Both of these imaging procedures are currently only available in specialized hospitals and research centers.
With IVUS, a miniature sound-probe (transducer) is positioned on the tip of a coronary catheter. The catheter is threaded through the coronary arteries and, using high-frequency sound waves, produces detailed images of the inside walls of the arteries. IVUS produces an accurate picture of the location and extent of plaque.
With FFR, a special wire is threaded through the artery and a vasodilator medication is given. This test is functionally performing a very high quality stress test for a short segment of the artery.
What is an interventional procedure?
An interventional procedure (also called angioplasty) is a non-surgical treatment used to open narrowed coronary arteries to improve blood flow to the heart. An interventional procedure can be performed during a diagnostic cardiac catheterization when a blockage is identified, or it may be scheduled after a catheterization has confirmed the presence of coronary artery disease.
Interventional procedures include balloon angioplasty, stent placement, rotablation or cutting balloon.
Will I be awake during the procedure?
Yes. You will be given a mild sedative to relax you, but you will be awake and conscious during the entire procedure. The doctor will use a local anesthetic to numb the catheter insertion site.
Cardiac catheterization is not considered a surgical procedure because there is no large incision used to open the chest, and the recovery time is much shorter than that of surgery. In some cases, surgery may be recommended afterward, depending on the results of the procedure.
Where is the catheterization performed and who performs it?
Cardiac catheterizations are performed in the Cardiac Catheterization Laboratory. Catheterizations are performed by a specially-trained cardiovascular invasive physician and a cardiovascular team of cardiology fellows, nurses and technicians.
How long does the procedure last?
The cardiac catheterization procedure itself generally takes 30 minutes, but the preparation and recovery time add several hours to your appointment time (five to nine hours or longer). Please plan on staying at Cleveland Clinic all day for the procedure.
Test Details
What are the possible risks?
Your cardiologist will discuss the specific risks and potential benefits of the procedure with you.Some of the possible risks of cardiac cath include:
Allergic reaction to the medication or contrast material used during the procedure
Irregular heart rhythm
Infection
Bleeding at the catheter insertion site
Continued chest pain or angina
Mild to moderate skin reactions (like a sun-burn) from X-ray exposure
Kidney failure
Heart attack, blood clots, stroke or death
Acute closure of coronary artery
Emergency coronary artery bypass graft (CABG) surgery
There may be other possible risks. When you meet with your doctor, please ask questions to make sure you understand why the procedure is recommended and what all of the potential risks are.
Preparing for the Procedure
Allergies:
Please discuss all of your allergies with your doctor, especially those listed below.
IVP Dye/Contrast Agent Allergy, Iodine Allergy
Latex/Rubber Products Allergy
Medications:
Discuss your medications with your physician - he or she may want to stop or adjust the doses several days prior to or on the day of the procedure, especially those listed below.
Anticoagulant Medication
Aspirin
Diabetes Medications
Blood Work, EKG, Chest X-ray:
Ask your physician if all of the required pre-procedure tests have been completed or are scheduled before your cardiac catheterization procedure.
What to Bring
We recommend bringing a family member with you to wait with you before the procedure.
Please bring a robe with you to wear as you wait for the procedure.
We recommend that you wear comfortable, easy-to-fold clothing.
You may be admitted to the hospital after the procedure, so pack toiletries and any other items you would like to make your stay more comfortable. Your family member can retrieve these items from your car when you need them. Please leave all valuables at home or with a family member.
A responsible adult MUST drive you home after the procedure. You will not be discharged unless there is someone available to drive you home.
What to expect during a cardiac catheterization
Please bring a list of your medications (including over-the-counter) and dosages. When you arrive for your appointment, please tell your nurse if you are taking Coumadin (warfarin), Plavix (clopidogrel), diuretics (water pill) or insulin. Also remind the staff if you are allergic to anything, especially iodine, shellfish, x-ray dye, penicillin-type medications, latex or rubber products (such as rubber gloves or balloons).
You will be given a hospital gown to wear.
A nurse will start an intravenous (IV) line in your arm so that medications and fluids can be administered during the procedure.
The cardiac catheterization room is cool and dimly lit. The air must be kept cool to prevent damage to the x-ray machinery that is used during the procedure. You will be offered warm blankets to make you more comfortable.
You will lie on a special table. If you look above, you will see a large camera and several TV monitors. You can watch your cardiac cath on the monitors.
The nurse will clean your skin at the site where the catheter (narrow plastic tube) will be inserted (arm or groin). The catheter insertion site may be shaved.
Sterile drapes are used to cover the site and help prevent infection. It is important that you keep your arms and hands down at your sides, under the sterile drapes.
Electrodes (small, flat, sticky patches) will be placed on your chest. The electrodes are attached to an electrocardiograph monitor (ECG), which monitors your heart rate and rhythm.
You will be given a mild sedative to relax you, but you will be awake and conscious during the entire procedure.
In some cases, a urinary catheter may be needed during the procedure.
The doctor will use a local anesthetic to numb the site. A plastic introducer sheath (a short, hollow tube through which the catheter is placed) is inserted in a blood vessel in your arm or groin. A catheter will be inserted through the sheath and threaded to the arteries of your heart. You may feel pressure as the introducer sheath or catheter are inserted, but you should not feel pain. Tell the nurse or doctor if you feel any pain.
When the catheter is in place, the lights will be dimmed and a small amount of contrast material will be injected through the catheters into your arteries and heart chambers. The contrast material outlines the vessels, valves and chambers.
When the contrast material is injected into your heart, you may feel hot or flushed for several seconds. This is normal and will go away in a few seconds.
Please tell the doctor or nurses if you feel:

An allergic reaction (itching, tightness in the throat, shortness of breath)
Nausea
Chest discomfort
Any other symptoms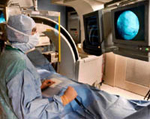 The x-ray camera will be used to take photographs of the arteries and heart chambers. You will be asked to hold your breath while the x-rays are taken. When all the photos have been taken, the catheter will be removed and the lights will be turned on.
You may have an interventional procedure combined with your cardiac catheterization.
The catheters and sheath are removed.

If the catheter was inserted in the arm: The puncture site will be bandaged. You will need to keep your arm straight for at least an hour. You will be able to walk around. You will be observed for a few hours to monitor any symptoms or side effects of the procedure. You will be given instructions regarding how to care for your arm when you return home. Tell your nurse if you think you are bleeding (wet, warm sensation) or feel any numbness or tingling in your fingers.
If the catheter was inserted at the groin: The puncture site will be closed with applied pressure, suture device or a "plug." A "plug" is a material which works with your body's natural healing processes to form a clot in the artery. You will need to lie flat and keep the leg straight for two to six hours to prevent bleeding (less time if a plug was used). Your head cannot be raised more than 30 degrees (two pillows high). Do not try to sit or stand. A sterile dressing will be placed on the groin area to protect it from infection. The nurse will check your bandage regularly, but call your nurse if you think you are bleeding (have a wet, warm sensation) or if your toes begin to tingle or feel numb.

You will need to drink plenty of liquids to clear the contrast material from your body. You may feel the need to urinate more frequently. This is normal. If you are on bed rest, you will need to use a bedpan or urinal.
Your doctor will tell you if you are able to return home or will need to stay overnight. In either case, you will be monitored for several hours after the procedure.
Treatment, including medications, diet and future procedures, will be discussed with you prior to going home. Care of the wound site, activity and follow-up care will also be discussed.
Instructions for going home after the procedure
Going Home
A responsible adult MUST drive you home. You will not be discharged unless there is someone available to drive you home.
If you have more than a two-hour drive home, we suggest that you stay overnight in a hotel for your comfort. The Medical Concierge can help you make arrangements. Then have your family member drive you home the next morning, after you have rested.
During your drive home, stop every hour and walk for five to 10 minutes. If you are traveling home by plane, stand up to stretch your legs and walk in the aisle at least every hour.
Please ask your doctor when you can resume driving.
Please ask your doctor if you have any questions about cardiac catheterization.
This information is about testing and procedures and may include instructions specific to Cleveland Clinic. Please consult your physician for information pertaining to your testing.
Cleveland Clinic is a non-profit academic medical center. Advertising on our site helps support our mission. We do not endorse non-Cleveland Clinic products or services. Policy