Cleveland Clinic announces new CEO: Tomislav Mihaljevic, MD
Cleveland Clinic announces new CEO: Tomislav Mihaljevic, MD
Cleveland Clinic has selected Tomislav "Tom" Mihaljevic, MD, as the hospital system's next CEO and president, succeeding Toby Cosgrove, M.D., effective Jan. 1, 2018.
Watch our announcement with former CEO and president of Cleveland Clinic, Toby Cosgrove, MD.
Hidden Heart Trouble: Stunned by a Rare Disease that Affects Young Women
Time Magazine: Woman can Move Again After a Breakthrough Stroke Treatment
Time Magazine: Woman can Move Again After a Breakthrough Stroke Treatment
The first person to receive deep brain stimulation (DBS) for stroke recovery is performing far better than her doctors anticipated.
Donor Spotlight: Family History is Incentive to Help Future Generations
Donor Spotlight: Family History is Incentive to Help Future Generations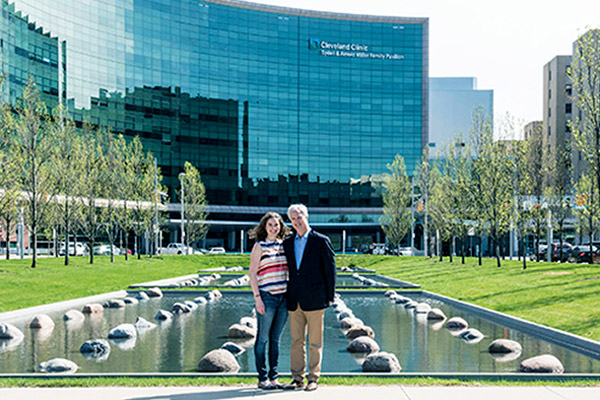 It's instinctive for parents to try to protect their children from illness and injury. And when a child's health risks are increased because of genetic factors, parents are faced with even more worries.
Roger Collins understands those worries better than most. The father of two girls, Lauren and Lindsey, he knew they were at risk for potentially fatal cardiovascular problems because of family history. Their mother, Marilyn, who passed away from cancer in 2011, was diagnosed in the 1980s with Long QT Syndrome, a genetic heart problem.
LQTS is an uncommon disorder of the heart's electrical system in which it takes longer than normal for the heart muscle to recover from a contraction. Then in the 1990s, Mrs. Collins also was diagnosed with hypertrophic cardiomyopathy, another genetic condition that weakens the heart muscle.
"She really wasn't going to live long," Mr. Collins says, recalling his wife's first visit in 1999 to Cleveland Clinic's heart center, where she eventually had two surgeries. "They saved her life. We both felt that she would have passed away 10 years earlier if weren't for the work being done at Cleveland Clinic."
A Family's Decision
As their daughters got older, the couple began hearing about young athletes collapsing due to undiagnosed congenital heart defects. Because of Mrs. Collins' heart problems, they knew it was time to have the girls tested.
Tests showed that Lauren didn't carry the defective gene that caused LQTS, but Lindsey did, just like her mother.
"Lindsey was a talented basketball star, playing on the ninth-grade team, even though she was in eighth grade," Mr. Collins says. "We were heartsick as parents. We had to tell her she couldn't play anymore, even though she felt fine. But she never looked at it as she couldn't do something. She found another way. As a sophomore, she started playing golf and was ranked third in the state by the time she was in her senior year."
Another Diagnosis
Then, in 2001, Mr. Collins also began experiencing heart-related symptoms, including fainting and an abnormally slow heart rhythm and ejection fraction. He came back to the Cleveland Clinic and saw Dr. James Young, who initiated life-saving medications. Dr. Bryan Baranowski also took care of him and performed an ablation and implanted a pacemaker, then a defibrillator.
At 51, he was considered quite young to be experiencing such heart problems. Dr. W.H. Wilson Tang, Director of Cleveland Clinic's Center for Clinical Genomics, suggested genetic testing, which revealed that Mr. Collins had a rare genetic heart defect of a specific protein within the cells called lamin.
Lamin A/C, or LMNA, is a gene that is responsible for laminopathies, a puzzling type of disease that leads to early aging and cell death as manifested by a variety of symptoms, including cardiomyopathies.
"My father died at age 49 and his father at age 42," Mr. Collins says. "They didn't have genetic testing back then, but doctors feel pretty sure that's their cause of death. Given their early deaths, I feel blessed that my life has been extended."
Further genetic testing at Cleveland Clinic showed that in addition to inheriting the LQTS gene from her mother, Lindsey also had inherited her father's lamin A/C genetic mutation. Lauren also learned that she carries the lamin A/C gene, although she is not experiencing any symptoms. A few years ago, Lindsey injured her ankle during exercise. Thanks to the knowledge of her genetic predisposition, Drs. Baranowski and Tang were concerned enough that after much deliberation, they ultimately diagnosed her with a suspected collapse rather than a simple sports injury.
"The doctors at Cleveland Clinic had taken wonderful care of my parents, so I knew I had the best-of-the-best for my care," Lindsey says. In December 2015, she had a defibrillator implanted to monitor and correct any abnormalities in her heart rhythm. "My prognosis is good."
Funding to Help the Next Generation
Mr. Collins strongly believes in medical research and, in 2014, established the Collins Family Research Fund to support the work of Dr. Tang. "Dr. Tang is one reason we wanted to give," he says. "We knew of his interest, his work and his reputation. Knowing that we had someone really great to do this work was an incentive."
The family's fund has received gifts from others who also are interested in supporting Dr. Tang's work. "It's been gratifying that people we don't even know – whose stories are different from ours – have given to this fund supporting Dr. Tang's genetic research," Mr. Collins says.
As Director of the Center for Clinical Genomics, Dr. Tang's specialty interests include cardiomyopathy, heart failure, heart transplantation, genetics and precision medicine. He is a practicing heart failure/transplant cardiologist, but also a clinician scientist who tries to find ways to help patients like the Collinses beat the odds that are against them with new ways to diagnose and treat these inherited heart diseases. It may be a surprise to many, but Dr. Tang came to Cleveland Clinic for his cardiology fellowship training without aspiring to be a researcher. Now he helps lead Cleveland Clinic's initiative to broaden the new world of genomic medicine to the bedside.
"Our patients always inspire us and we will always be grateful for their trust and faith in us," Dr. Tang says. "Finding new ways to help our patients give us hope and purpose as well, and today we have better tools to figure out the causes of their problems and to find out how to overcome them."
Because of the Collins Family Research Fund, Dr. Tang's research laboratory began to study LMNA cardiomyopathy. Recently, his team has identified early alterations of several novel pathways in heart muscles of mice with LMNA mutations. He now co-directs the Lerner Research Institute's Center for Cardiovascular Translation and Genomics with Dr. Mina Chung, with one of the projects investigating the feasibility of understanding disease mechanisms using inducible pluripotent stem cells derived from patients with LMNA cardiomyopathy.
"I think there are solutions out there to help with genetic problems," Mr. Collins says. "For me, I know Dr. Tang is brilliant, and helping him is very important and compelling because I think his work will impact many people. They're discovering things all the time.
"We hope the research will help people with genetic heart problems have better outcomes. It won't help me, but maybe it can help my daughters and, someday, their children."