Treasure Coast Philanthropy Expands Access to Breast Cancer Care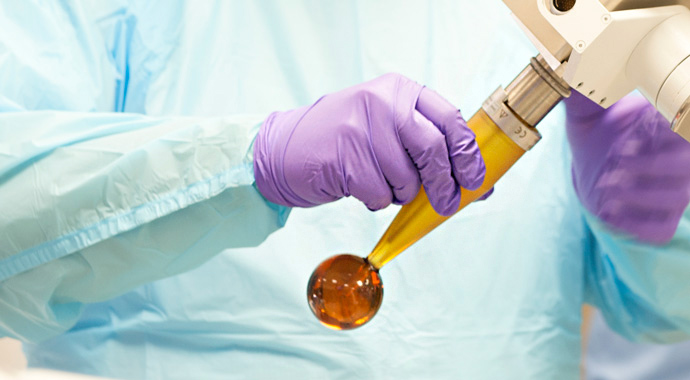 Barbara Weise was diagnosed with stage I breast cancer in March 2022. Because of her age and the small size of her tumor, the 55-year-old Vero Beach, Florida resident learned she was an ideal candidate for intraoperative radiation therapy (IORT), an advanced, single-dose radiation treatment option.
Thanks to generous philanthropic support from local donors, Cleveland Clinic Indian River Hospital has acquired the new radiation technology. A few weeks after her diagnosis, Barbara became the first patient at the Scully-Welsh Cancer Center to benefit from IORT.
Less Invasive, Faster Treatment
IORT uses a miniaturized linear accelerator to deliver a single dose of radiation directly to the tumor site immediately following lumpectomy surgery. "It is ideal for select breast cancer patients with small, hormone receptor-positive tumors," says breast surgeon Eleni Anastasia Tousimis, MD, Director of the Scully-Welsh Cancer Center at Cleveland Clinic Indian River Hospital.
Unlike traditional radiation therapy, which treats the whole breast and is delivered daily over the course of 4 to 6 weeks, single-dose IORT is very targeted, sparing healthy tissue and having fewer side effects. "The system results in localized precision, shorter treatment, and proven performance," adds Dr. Tousimis.
Convenience and Comfort
IORT was a convenient treatment option for Barbara, who is wheelchair-bound due to a car accident 30 years ago that broke her neck and damaged her spinal cord. She said it would have been very difficult to get to the cancer center for several weeks of daily radiation appointments.
"I'm very grateful for having had IORT; it's such as time saver," says Barbara. In addition, she likes that IORT only impacted the small area of the breast where the tumor was removed, so she didn't experience any of the skin irritation that can occur with traditional radiation.
As a German citizen, Barbara admits to being proud that the technology used to treat her cancer was developed by a German company. She is also grateful that so many local residents have supported Cleveland Clinic Indian River Hospital over the years, including her brother Peter and his wife Jill, allowing for this advanced treatment option to be available close to her home.
IORT at Cleveland Clinic Martin Health
Dr. Tousimis' colleague Craig Wengler, MD, Director of the Cleveland Clinic Martin Health Breast Center, notes that the Treasure Coast has an ideal population for IORT.
"Our patients are well screened, so when breast cancer is identified, it is usually in its earliest stage when IORT is a good option," explains Dr. Wengler. He first collaborated with radiation oncologists to offer IORT to patients during his breast surgical oncology fellowship at Cleveland Clinic in Ohio.
Karen Braid is one of 500 patients at Cleveland Clinic Martin Health who has received IORT since the treatment option was first offered in 2016, thanks in part to philanthropic support of the Robert and Carol Weissman Cancer Center.
When describing her care in the summer of 2021, Karen says, "I've never been to a doctor as kind, caring and professional as Dr. Wengler. He took what could've been the worst time in my life and turned it into something positive because I had confidence that I was going to be taken care of."
The Role of Philanthropy
Dr. Tousimis and Dr. Wengler agree that local donor support is instrumental in bringing advanced technologies like IORT to the communities Cleveland Clinic serves.
"Philanthropy also allows us to pursue our research mission while providing patients access to the latest FDA-approved, leading-edge cancer treatments," says Dr. Tousimis. "Most community programs do not have active research programs because usually research relies on government funding. That is why our partnership with philanthropy is so important, for our clinical trials and to provide the best care to our patients."
How You Can Help
Philanthropic support of Cleveland Clinic helps fund advanced care and research in the Treasure Coast and around the world. Please make a gift today.