Federal Grant to Fund Alzheimer's Disease Research in Rural Areas
Federal Grant to Fund Alzheimer's Disease Research in Rural Areas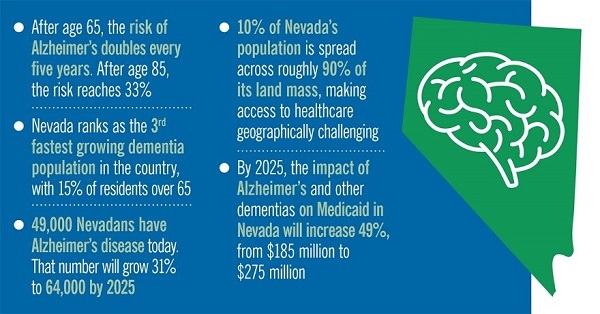 Cleveland Clinic Lou Ruvo Center for Brain Health recently received a grant to establish the Nevada exploratory Alzheimer's Disease Research Center (NVeADRC), the first and only center of its kind in Nevada.
The three-year grant, from the National Institute on Aging at the National Institutes of Health (NIH), is among the first to be presented as part of the NIH's Alzheimer's Disease Research Centers (ADRC) Program.
The funds, expected to total $3.3 million, will help build the infrastructure and introduce statewide collaborative activities needed to establish an ADRC focused on reducing disparities faced by individuals with dementia in rural settings.
The ADRC Program is a national network of researchers and clinicians at major medical institutions who work to translate research advances into improved diagnosis, treatment and possibly prevention for people with Alzheimer's disease and related dementias.
Marwan Sabbagh, MD, Director of the Lou Ruvo Center for Brain Health in Las Vegas and Elko, will serve as director of the NVeADRC. "As a state with historically low federal funding, the Nevada exploratory Alzheimer's Disease Research Center marks an important milestone for Nevada, allowing us to elevate the science we contribute to the NIH and effectively expand our research footprint," he says.
Tackling Rural Health Disparities
Health disparities in rural areas have long been recognized,and those living with Alzheimer's disease and Alzheimer's disease-related dementias often go undiagnosed or are misdiagnosed due to lack of access to dementia specialists. In addition, data in rural areas is scarce and usually confined to a small number of individuals with limited sets of biomedical data.
This gap in healthcare and lack of reliable data for rural patients are the driving motivators for the NVeADRC. Dr. Sabbagh says the grant will play an important role in advancing the science of neurodegenerative disease by contributing critical data from a massively understudied, underserved and under-supported rural population.
"Brains are as unique as the individuals who possess them," he says. "In our quest to diversify clinical research, the NVeADRC represents an opportunity to better understand how Alzheimer's and other dementias impact this population, while also providing excellent clinical care. Data shows people in research — even those on placebo— do better because of increased access to care associated with study participation."
Dr. Sabbagh acknowledges that one of the biggest challenges with this grant is identifying how to best reach out to this population and enroll them in clinical research. "It's increasingly more difficult with individuals who live in rural areas without access to healthcare and other resources," he says. "Over the next three years, we plan to develop novel methodologies and technology to enroll these patients in clinical research. A big part of that will be community outreach and education, which is one of the NVeADRC's three core areas of focus."
A Need for Additional Resources
The grant establishing the NVeADRC builds upon a successful collaboration between the Lou Ruvo Center for Brain Health and University of Nevada, Las Vegas, who share a five-year NIH Center of Biomedical Research Excellence (COBRE) grant – the first to be awarded in southern Nevada. This new exploratory grant funding is meant to provide the infrastructure needed to apply for a full-fledged NIH ADRC after three years.
The NVeADRC has three aims:
Expand infrastructure to support research in rural locales
Foster collaboration among a network of stakeholders spanning public and private entities
Earn full-fledged ADRC status
Dr. Sabbagh and his team will focus on these core areas: administrative, clinical care and outreach, recruitment and education. "This means we have three years to meet all of the criteria laid out in the NVeADRC application, including our three cores, while also laying the groundwork to meet the new requirements for an ADRC."
An ADRC will require a total of eight cores and a number of additional resources, he explains. "One of those needs is a pathology lab, which is not covered by the grant funds, so that we can collect brain tissue samples here onsite at the Lou Ruvo Center for Brain Health," Dr. Sabbagh says.
"It's a great example of how private philanthropic funding can support this project. Private funding would help to ensure that we are able to put the necessary resources in place to become an ADRC and continue our mission to improve diagnosis and care for people with Alzheimer's disease and other related dementias."
How You Can Help
As a nonprofit healthcare organization, Cleveland Clinic Lou Ruvo Center for Brain Health relies on philanthropic support to further critical research. Learn more and make a gift here.
Florida Couple Gives Back in More Ways than One
Florida Couple Gives Back in More Ways than One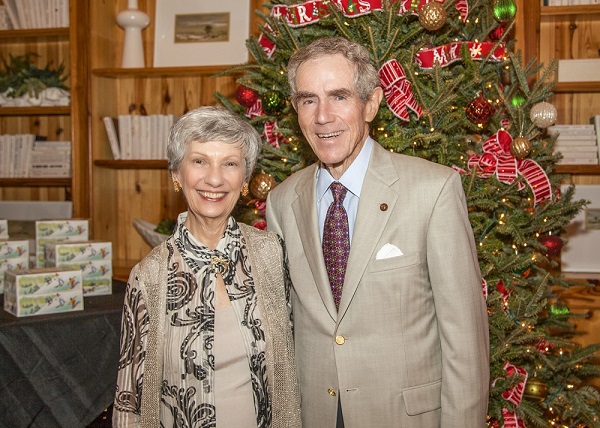 Former New York residents John and Emilie Brady have a long history of contributing to their community through volunteer work and philanthropic giving. Their support of Cleveland Clinic Indian River Hospital was inspired by a visit to the Emergency Department in 2002, and that visit continues to motivate their philanthropy today.
The Bradys get as much out of giving back as those who benefit from their efforts. Although both came from humble backgrounds, they achieved enough financial success to contribute to their community in multiple ways.
Mr. Brady worked in the property and casualty insurance industry until 1993. He owned and operated JP Brady Agency Inc. and was Vice President of an international brokerage firm until retiring to Vero Beach, Florida, in 2000. He has since enjoyed donating his time to several organizations, including the Indian River Shores Public Safety Department and Habitat for Humanity.
Mrs. Brady is passionate about doing hospital volunteer work. While she worked in the banking industry, she also volunteered at local hospitals in New York and in other cities as they relocated through the years. After retiring, she looked for an opportunity to volunteer in Vero Beach.
"While working in the yard one day, my husband developed an allergy to something that might have bitten him," Mrs. Brady says. "When his tongue started to swell, we quickly drove to the Emergency Department at what is now Cleveland Clinic Indian River Hospital. The caregivers took such fantastic care of him that I thought, I want to get involved with this hospital."
Mrs. Brady continues to volunteer at Indian River Hospital. She belongs to the Auxiliary of Indian River Hospital, the hospital's volunteer organization, serving as its membership chair. She manages the application process for new volunteers, which involves interviewing and matching them to positions in 35 different areas of the hospital. In December, she will be recognized for serving 9,000 hours with the Auxiliary.
"In the 18 years I've volunteered at Indian River Hospital , they built a new Emergency Department and opened the Welsh Heart Center, the Scully-Welsh Cancer Center and the Sheridan Intensive Care Unit. Much of this came into being through donor generosity," Mrs. Brady says.
Each year, the Auxiliary contributes approximately 77,000 hours of service to Indian River Hospital . Auxiliary members don't just share their time and talents. They've also raised more than $4 million through fundraisers and personal donations.
Continuing Support through Gift Planning
In addition to the Bradys' shared passion for volunteer work, they are committed to contributing financially to Indian River Hospital's mission. They support the hospital through charitable gift annuities.
A charitable gift annuity is a contract between a donor and a charity. A donor makes a sizable gift to the charity using cash, securities or possibly other assets. In return, the donor becomes eligible to take a partial tax deduction for the donation and receives a fixed stream of income from the charity for the rest of the donor's life.
Since 2012, the Bradys have given a total of four charitable gift annuities to the Indian River Hospital Foundation and are members of several giving societies, including Cleveland Clinic's Pyramid Legacy Society.
"We give from our heart," Mr. Brady says, explaining why he and his wife support Indian River Hospital. "It's important to support your local hospital because donations allow the hospital to grow and attract the best doctors. Best of all, the whole community can reap the benefits of receiving quality care."
Ways to Give
To learn more about supporting a Cleveland Clinic Florida hospital through charitable gift annuities or other gifts, please contact a philanthropy team member. And please advise us if you plan to include Cleveland Clinic in your estate plans. We would love to thank you for your commitment and welcome you to Cleveland Clinic's Pyramid Legacy Society.
Cleveland Clinic Indian River Hospital: 772.226.4960
Cleveland Clinic Martin Hospital: 772.223.5634
Cleveland Clinic Weston Hospital: 954.659.6238
Grateful Cleveland Clinic Alumnus Inspired by Family
Grateful Cleveland Clinic Alumnus Inspired by Family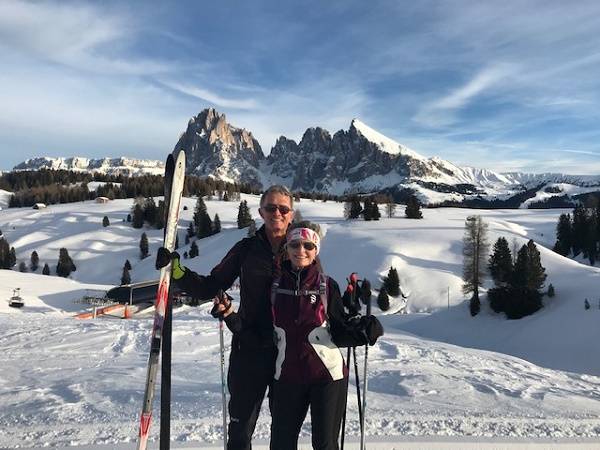 Stephen P. Young, DO, and his wife, Gail, enjoy their life in Big Sky, Montana, including a majestic mountain view from their living room. Since retiring in 2012 from his cardiology practice in Dayton, Ohio, Dr. Young has had time for hiking, skiing and exploring mountain paths, as well as reflecting on his own life path and those who guided him along the way.
Gratitude led him to make gifts supporting cardiology at Cleveland Clinic and the Alumni Association's Centennial Legacy Society project. In doing so, he says, he is honoring both his medical training and his love for his parents, Dr. Ralph and Kathryn Young. His father died in 2003 at the age of 89, and his mother in 2006 at the age of 91.
Dr. Young describes his cardiology training at Cleveland Clinic as "some of the greatest years of my life." He was recommended to the cardiology fellowship program by Cleveland Clinic alumnus Lee Adler, DO, who made a personal call to the program's director, Lon Castle, MD. Dr. Young lauds Dr. Castle as one of his role models of that time, as well as Cleveland Clinic cardiologists Dr. William Proudfit, Dr. Earl Shirey, Dr. Mehdi Razavi, Dr. Ernesto Salcedo and Dr. Daniel Phillips. "Of all the people there, the most unique was Dr. Mason Sones," he says. "He was one of those people in a league of their own who change things for the benefit of the world."
Dr. Young's father, also a DO with a passion for cardiology, was a general practitioner in the small town of Lebanon, Ohio, for 54 years. "He delivered over 2,500 babies and did the same number of tonsillectomies, was the Warren County coroner for 33 years, and was involved in the community, including as team doctor for football for over 20 years, attending every home game," Dr. Young says. "He received a lot of local awards, and in 2003, the Ohio State Medical Board identified a small number of physicians over 85 years old who had contributed a lot to healthcare. He was listed in that group."
Dr. Young and his two sisters grew up with parents who had "strong personalities and a dedication to each other and their family," he says. His father instilled in him an early love of medicine, taking him along on his medical rounds. His mother, a homemaker, was always there for her husband and children.
"I first heard about Cleveland Clinic from my father, when I was a teenager," he says. "He told me that if someone had a difficult health problem or wanted outstanding care, they should go there. We also visited a family friend, Edgar Wollam, who was training in nephrology in the early 1970s, so I saw a little of Cleveland Clinic then. It was ingrained in me that this was an outstanding place for healthcare. My father also relied on Cleveland Clinic for his own care. He had knee, ankle and heart surgery there. My mother had peripheral vascular angioplasty there in Cleveland, and pacemaker surgery at Cleveland Clinic Florida."
With an estate gift, Dr. Young has created the Dr. Ralph Young and Mrs. Kathryn Young Memorial Fund at Cleveland Clinic, supporting cardiac research at the Heart, Vascular & Thoracic Institute. Prior to that, he gave to the Alumni Association's Centennial Legacy Project. He also makes annual contributions from an IRA.
"Cleveland Clinic is a venerable institution, and my parents were venerable people," Dr. Young says. "Giving to Cleveland Clinic makes me feel like I am giving to my parents, like they are still alive in the spirit that I see there. When I come to Cleveland Clinic, I'll look up at that building full of healthcare workers, and I'll ask, 'Well, father, how was your work today?'"
How You Can Help
Gift planning is a creative process that allows you to express your personal values by integrating your charitable, family and financial goals. Learn more here.
New Program Addresses Care for Underserved in NEO
New Program Addresses Care for Underserved in NEO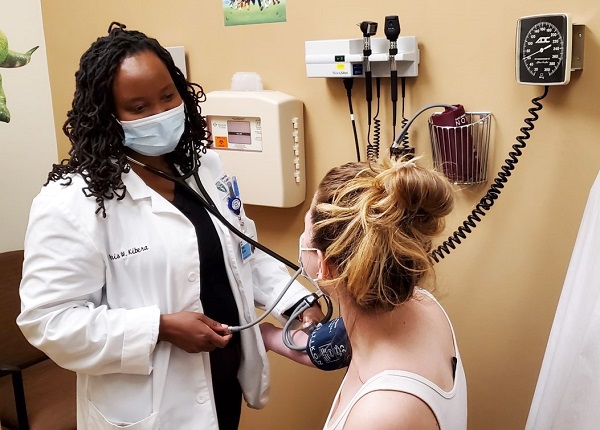 Urban areas in Northeast Ohio have long grappled with high infant mortality and poverty rates, too few primary care providers, and a high population of older adults.
In Summit County, Cleveland Clinic Akron General is located near many of the neighborhoods and communities that are most affected by these factors. Although Akron General has an esteemed track record of training family medicine physicians and nearly 70% of medical residents are successfully retained by Akron-area primary care practices, the need for more doctors continues to grow.
To address this and other disparities, Akron General recently launched its Neighbor-to-Neighbor campaign. One of the campaign's initiatives is the Transformative Care Continuum (TCC), in partnership with Ohio University Heritage College of Osteopathic Medicine. The goal of this program is to improve community health by building a pipeline of primary care physicians who are skilled at managing patient populations and addressing patients' social determinants of health.
"To really help our neighbors thrive, we must look beyond what we see on their health charts when they are in our exam rooms," says Deborah Plate, DO, Chair of the Center for Family Medicine. "We must work with them on daily issues of safe housing, transportation, education and employment."
A Commitment to Serve
TCC students commit to staying in the community after graduation to care for the underserved in Northeast Ohio. Cleveland Clinic Lakewood Family Medicine also participates in the program.
From day one, students begin their medical education in a clinical setting with patients and physicians, instead of in a classroom. The program offers a unique six-year format including undergraduate (medical school) and graduate (residency) training for four students each year at each location. The curriculum focuses on team-based problem-solving and embeds students in the local communities. As members of a designated healthcare team, students care for the same patient group throughout the duration of their education and residency.
During their training, students partner with local nonprofits to better understand the needs of the community and develop a plan to help mitigate them. Current projects include:
Partnering with Community AIDS Network Akron Pride Initiative (CANAPI) with the goal of using education and volunteering efforts to make Akron General Center for Family Medicine more inclusive and LGBTQ-friendly.
Addressing the area's housing insecurity due to mental health and addiction issues through collaboration with a community partner.
Partnering with the Akron-Canton Regional Food Bank, Akron General Food and Nutrition Services, and Perfectly Imperfect Produce to educate the community on healthy eating and its positive effects on prevention and management of chronic diseases.
Partnering with The Well Community Development Corporation to identify gaps in data and current processes used to address housing, community development and family medicine needs.
Third-year TCC student Peris Kibera, who has a Master of Public Health degree and a PhD in social work, says she appreciates the program because it includes a holistic focus on patients, which aligns with her education and interests.
"Not only is it an accelerated program, which saves money on tuition and living costs, but the heart of the program is training physicians who are acutely aware of the health beyond the walls of the health system in the community," she says. "Prevention, context and community life all matter for patients' health outcomes."
Investing in the Health of the Community
The Center for Family Medicine, located in the Akron General Ambulatory Care Center, annually serves 8,000 patients of all ages, with approximately 25,000 patient visits each year. The space recently had technology and cosmetic updates and, thanks to philanthropic support from a donor and the Akron General Women's Board, virtual classroom equipment was added for resident training. But the growing need for patient care, along with an increasing number of physicians, means the Center is bursting at the seams.
"We're outgrowing our space, which is a good thing," Dr. Plate says. "This program is such an investment in our community, and we're excited about its impact. It's a priority for Akron General and we hope it's a priority for the community. Contributions from our neighbors will only help further the success of the program."
How You Can Help
Gifts of all sizes to the Neighbor-to-Neighbor campaign can make a difference in supporting community healthcare in Northeast Ohio. 100% of contributions to Akron General or to your regional Cleveland Clinic hospital stay local to make a local impact.
VeloSano 2020: Going Virtual Didn't Slow Us Down
VeloSano 2020: Going Virtual Didn't Slow Us Down
Cancer doesn't stop and neither did we.
Even though the COVID-19 pandemic kept us from gathering in person for our annual VeloSano Bash – Revealing the Cash celebration, we still were able to share the amazing accomplishments of our community of riders, virtual fundraisers, volunteers, donors and sponsors with a special Virtual Bash video that launched Nov. 12.
The Virtual Bash revealed:
Thanks to 18,000+ donations, the total raised for VeloSano 2020: $3,002,768
A record number of VeloSano fundraisers participated: 2,900 (from 39 states and 6 countries)
Trike & Bike Junior Riders raised $115,668 (bringing the 2020 total raised for Pediatric Cancer Research to $264,984)
The Virtual Bash featured inspiring stories from our participants about how they were able to make the most of their Virtual VeloSano experience.
"We made the best of it because that's what we do - when you have cancer, you've just got to dig deep and fight the fight and these are the cards you're dealt, but you get on with it," says Claire Firell a Living Hope cancer survivor and VeloSano 3-year participant. "So, that's what we did - we just got on with it, but I can't wait for us all to be back together again, because that's so much more fun."
"I'm not a famous cancer researcher; I don't have that kind of ability to give in that way, but I can give of my body, I can give of my health and my strength and so if I can do that to better the cause through fundraising, why not?," says Ellen Rosenquist, MD, of Cleveland Clinic and a VeloSano 3-year participant.
Since the inaugural ride in 2014, more than $24 million has been raised and 1OO% of those funds are hard at work in the fight against cancer.
Through the Virtual Bash video, viewers get a look at how VeloSano dollars fund critical cancer research projects that are already underway including:
Driving treatment-resistant cancers back to a point where surgery, chemotherapy and radiation can be effective.
Studying colitis-associated colorectal cancers which affect people with inflammatory bowel disease.
A clinical trial that is looking at re-using a drug traditionally used to treat alcoholism to block an enzyme that cancer cells use to fight the effects of chemotherapy.
Investigating tumors on the cellular level to learn why they are treatment-resistant and tailor new drugs, personalized to a person's specific type of cancer.
Finding ways to make bone marrow transplants safer for patients.
VeloSano has supported 150 cancer research projects to date. The projects often go on to earn research grants from the National Institutes of Health and elsewhere. The total return from additional external funding now surpasses $22 million, making the impact of VeloSano more than $46 million.
"One word that describes VeloSano is inspirational – I think it's an inspirational event for those that participate, I think it's very inspirational for us in the cancer center at Cleveland Clinic and it's very inspirational to think about where we might be from both a research perspective and a treatment perspective just a few years down the road," says Brian Bolwell, MD, former chair of Cleveland Clinic's Taussig Cancer Institute.
A virtual experience in 2020 allowed people to participate in a variety of ways from anywhere in the world. And plans are already underway for VeloSano 2021, which will also include virtual ways to participate even if the Bike to Cure weekend is able to return to a traditional in-person ride.
"I think the Bash celebrates that a group of people from all over the world have come together for a common purpose," says Dr. Bolwell. "The ultimate goal is to cure cancer and we're very committed to that, and that is what every dollar goes to – it goes to trying to cure cancer."
If you missed the Virtual Bash, you can watch the video here.