Music Warms Hearts and Boosts Brain Health
Music Warms Hearts and Boosts Brain Health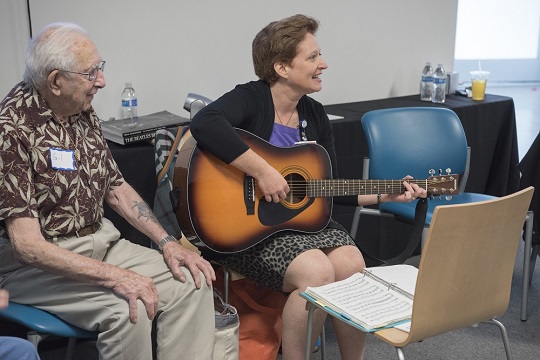 "Fly me to the moon,
And let me play among the stars,
Let me see what spring is like,
On Jupiter and Mars. …" *
No surprise, songs sung by Frank Sinatra and Elvis Presley are often requested in the music therapy program at Cleveland Clinic Lou Ruvo Center for Brain Health in Las Vegas. Who doesn't want to croon along with Ol' Blue Eyes and the King of Rock 'n' Roll?
"It's our music. It's music we love," says Robert Priddy, who has donated nearly $500,000 to the program since 2018 through the Priddy Family Foundation. This year, the family pledged another $1 million, which will fund general operations and allow for the purchase of new instruments and expansion of the program over the next five years.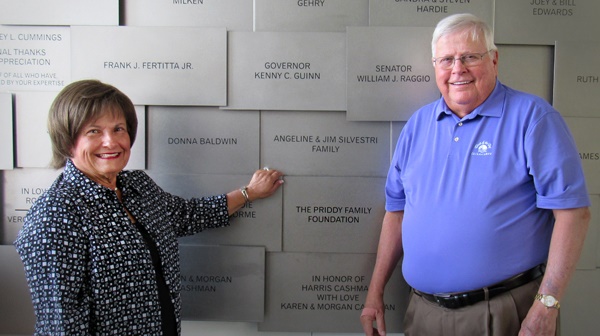 Kikie and Robert Priddy
"My wife, Kikie, and I are the products of '50s and '60s music. I can't remember names, but give me a '50s or '60s song and I'm there. We really enjoy singing and we thought for a person of our age, who may have Alzheimer's or another form of dementia, this type of therapy might really be something."
Becky Wellman, PhD, board-certified music therapist, leads the one-of-a-kind music therapy program, which is designed for patients with neurodegenerative disorders such as Alzheimer's, Lewy body dementia, Parkinson's, Huntington's disease, frontotemporal dementia, multiple system atrophy and progressive supranuclear palsy. Dr. Wellman explains that music therapy can help with memory, improve lung function, reduce blood pressure, increase self-esteem, lower anxiety and more.
Group and individual sessions are customized to patients' needs and also provide much-needed respite for caregivers.
"One of our techniques is called rhythmic auditory stimulation," she says. "We work with patients to find music at their individual pace, music they can walk to safely. We create a playlist on Spotify and teach them how to access the music at home." Dr. Wellman says she has observed significant improvement in balance with these patients.
"I work with a gentleman with multiple sclerosis who is learning to adapt his guitar playing. We're finding songs with fewer chords and working on his fine motor coordination," explains Dr. Wellman, who can play all the woodwind, brass, string, percussion and folk instruments. If an instrument isn't immediately available, she'll encourage patients to improvise.
"Quite a few patients write songs for their families," she says. "One patient wrote a song for his struggling grandson, which we put video to. Another has been writing a song for his wife to thank her for being there with him through his stroke and Parkinson's disease." Others are working on living legacy projects, she adds.
Dr. Wellman likes to say: "There are more people in the universe who don't like ice cream than don't like music."
Funded by Philanthropy, Program to Expand
Cleveland Clinic Lou Ruvo Center for Brain Health – dedicated to research, treatment development and exceptional patient care – has three additional centers in Ohio and Florida. The plan is to expand the innovative music therapy program to these other locations and beyond. Dr. Wellman says education will be a key component and she is "working on an app for that" with the innovation team. The pandemic also demonstrated how easy and effective virtual programming can be. Video meetings eliminate the hassles of travel for patients and their families.
The music therapy program at the Lou Ruvo Center is offered to Cleveland Clinic patients as well as community members at no cost (a concept initiated by the Ruvo family) and is funded solely through private donations and foundation grants.
"It's taken a while for people to see the full value of music as a therapeutic modality," says Dr. Wellman. "I'm excited that people are starting to see and support all that we can do to help people."
To Robert Priddy, "Giving back is just something that makes sense," he says. He enjoyed considerable success in the airline industry, starting three airlines from scratch, all of which were ultimately sold to larger airlines. He then moved into venture-capital investing and private equity fund management.
It also was important to him to involve his son and his wife, his daughter and her husband, and his seven grandchildren in philanthropy. "We've been happy to support the music therapy program at Lou Ruvo," he says. "Everyone we've met has been so enthusiastic. We've just been amazed by the impact it's had."
Music Therapy in Ohio and Florida
With the inception of the Arts & Medicine Institute in 2008, Cleveland Clinic's music therapy program expanded at main campus and is now offered at many Cleveland Clinic locations throughout Northeast Ohio, as well as in Florida, although not specifically to address neurodegenerative disorders.
The Arts & Medicine music therapy team in Northeast Ohio has 11 therapists who work with patients facing transplants, hospice and illnesses such as heart disease and cancer. Cleveland Clinic Children's offers music therapy to hospitalized patients as well as oncology outpatients.
In Florida, music therapy is offered to patients receiving treatment at the Maroone Cancer Center, located within the Egil and Pauline Braathen Center at Cleveland Clinic Weston Hospital.
* "Fly Me to the Moon"lyrics by Bart Howard, made popular by Frank Sinatra
National SANE Nurse Shortage Leads to Education Partnership
National SANE Nurse Shortage Leads to Education Partnership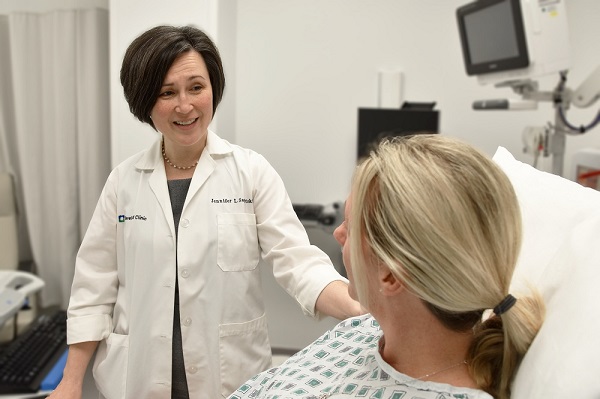 Sexual Assault Nurse Examiners are specially accredited nurses who work in hospital emergency departments and are vital to helping survivors of domestic abuse, rape and other violent crimes begin to heal.
The SANE certification requires rigorous training and continuing education courses to ensure appropriate care and proper evidence collection for survivors of sexual assault and domestic violence. SANE nurses are educated on the judicial aspects of sexual assault and may be called upon to actively participate in criminal trials.
Addressing the Need for Specialized Care
A national shortage of SANE-certified nurses has led Cleveland Clinic Akron General to partner with Kent State University to offer a certificate program through the university's School of Nursing. The three-semester program is open to registered nurses who have at least two years of experience. A maximum of eight students have one year to complete the program, after which they are eligible to sit for the SANE-A certification examination. Currently, Cleveland Clinic has SANE nurses working on call 24/7 at three trauma centers – Fairview Hospital, Hillcrest Hospital and Akron General.
Jennifer Savitski, MD, Department Chair of Obstetrics and Gynecology at Akron General, says that the healthcare community often partners with victim advocacy programs and the law enforcement and judicial systems. "Unfortunately, this has highlighted the lack of SANE certified nurses across the country," she says. "Akron General is the only forensic medical program that provides 24/7 SANE services for Summit, Portage, Medina and Wayne counties. As a result, some patients have to travel a great distance to receive this specialized care."
Lily Holderbaum, BSN, RN, SANE-A, manages PATH (Providing Access To Healing), the SANE program at Cleveland Clinic Akron General. She says many SANE nurses experience secondhand trauma when doing intake but the pace of the curriculum in KSU's program allows nurses to determine if this experience is right for them.
A Focus on Well-Being
Akron General's Emergency Department, a leading-edge facility that opened in 2018, includes a designated area for PATH patients. Ms. Holderbaum says this is critical, noting that while exams are time-sensitive for collecting specimens, it's important to focus on both the physical and psychological well-being of patients.
"First of all, we believe the patient," she says. "We're trained to be nonjudgmental. We screen patients compassionately in a private and secure environment for abuse, exploitation and any type of safety concerns. We meet any immediate medical needs. It's imperative to make sure we're giving that sense of control back to the patient. Community resources are carefully explained, to help with ongoing care or safety issues."
Dr. Savitski says the program has expanded its services to meet the needs of the area it serves. "The past couple of years we've been working hard to let people know our services are here for all types of victimization, and we're now treating more than 1,000 patients every year," she says. "Because we have the SANE-certified nurses, we're able to provide them with the trauma-informed care that is necessary. We know that when patients present to medical centers where there are individuals trained in trauma-informed care, it sets them up for a much better experience through their survivorship."
How You Can Help
Philanthropic support of the SANE nursing program and other specialized care makes a tremendous difference in communities. Your gift benefits caregivers, patients and their families. Please make a gift today.