'Do You Remember When We Met?'
'Do You Remember When We Met?'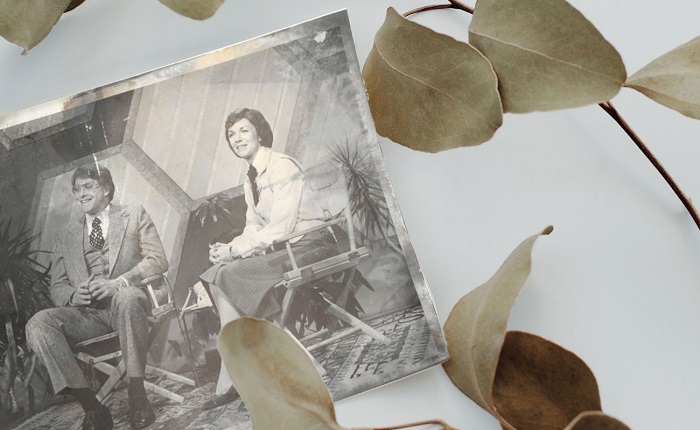 In 1977, Dr. Sheldon Artz was the new plastic surgeon in town, and Jan Jones was the on-air personality assigned to interview him for Noon Time on Cleveland's WJW Channel 8. The rest, as they say, is … a love story. A love story Jan Jones Artz intends to memorialize with a $1.6 million gift to Cleveland Clinic to support heart disease and transplantation research.
When Jan and Shelly first met, their relationship was professional (both were already married). Shelly became a returning guest of Jan's on Noon Time and later WEWS Channel 5's Morning Exchange. (Clevelanders also may remember Jan from her on-air television work with North Coast, PM Magazine and the Realty One Show.)
"Many years later, when we both were single, Shelly asked me out to dinner," Jan recalls. "I remember turning to him and saying, 'Dr. Artz, is this a date?'" By that time, Shelly also was Jan's physician. "It was really neat to know each other first on professional levels and have so much history together." The two were married in 1993, both fully embracing their blended family, each coming to the marriage with two children.
"Shelly would be the first to tell you he was a smoker all his life. And all those years of smoking did great damage to his heart," Jan discloses. "He also had a virus that attacked his heart. When we started dating, he'd already had a heart attack and at least one heart surgery." Eventually, Jan confronted him. "Even though I was crazy about him, I told him I had no interest in being in a serious relationship with a smoker."
That was in the early 1990s, and immediately after that, Shelly kicked the habit. He would still face serious health challenges. "He suffered a ruptured colon. He had a thyroidectomy. He had … oh, everything. Everything that could go wrong would go wrong, and he would battle right back," Jan shares.
"But Shelly Artz was a warrior. I used to say, 'Honey, I'm so happy we have the most marvelous second home in Cleveland Clinic.'" Jan adds: "Shelly was a great dresser, and we would put on cute outfits to go downtown for his doctor's appointments because those were our dates. 'Oh, Dr. Artz,' I'd tell him, 'you take me to the nicest places,' and I would wheel him around and we'd look at the artwork or listen to the pianist in the lobby…."
Eight years after his first triple bypass surgery, Shelly's heart trouble returned. "The left ventricle of Shelly's heart was shot. He began to feel weak and out of breath," Jan explains. Shelly encouraged his physicians to try anything and everything they could. The medical team inserted an experimental device into Shelly's left ventricle. "That gave him another two good years. But by November of 2002, he was struggling to walk upstairs." It was then that Shelly's cardiologist, Robert Hobbs, MD, evaluated him for a heart transplant.
"The first thing we asked the doctor was if we could first go on a ski trip we had planned," Jan says. "He looked at us like we were out of our minds. 'Gosh, no, you're staying here!' he told us. Our jaws dropped." But Shelly stayed in the hospital that night – and for the next four months. Shelly ultimately required a second heart transplant and five additional procedures – and went on life support twice during that stay.
"The surgeons, nurses, technicians, staff, everyone at Cleveland Clinic had such hope and professionalism," Jan says. "They wanted him to make it, and we felt that. The kitchen staff liked Shelly so much they would vie to see who could make him the best peanut butter and jelly sandwich – a small gesture that gave Shelly true joy. That's just Cleveland Clinic for you."
For her part, Jan did every outlandish thing she could think of to keep Shelly smiling. She'd bring elaborate picnics to the hospital with tablecloths and (artificial) candlelight. She surprised him with brilliant dyed-red hair and a sprayed-on tan. She would coax him to dance with her. ("Dr. Artz was the best jitterbugger I ever knew.") But mostly she sang to him. The couple considered Sea of Love by Phil Phillips their theme song.
At a point, "He couldn't lift his fingers … he had no strength at all." But "through love, prayer and the talented, hardworking medical team, Shelly's transplantation held," and the couple skied, traveled and enjoyed their families (including nine grandchildren), friends and each other for 15 more years. Shelly golfed and even competed in tennis, winning gold medals in the Transplant Games of America.
On the way home from his last hospital visit, Shelly held Jan's hand and "in his faltering voice started to sing our song. We both remembered the day we met. It was on my first talk show at TV 8, Noon Time. And I have a picture of that day." Shelly died in 2017.
Every night after visiting him at the hospital, Jan would exit the building and look up to see Shelly waving to her before she entered the garage. "The location of that garage is precisely where the Shelly Artz classroom is now," Jan says, smiling. "It's in the Sydell & Arnold Miller Family Pavilion, where Cleveland Clinical medical teams study heart transplant cases. It's that whole wonderful full circle of life."
Florida Family Grateful for Innovative Cardiac Care
Florida Family Grateful for Innovative Cardiac Care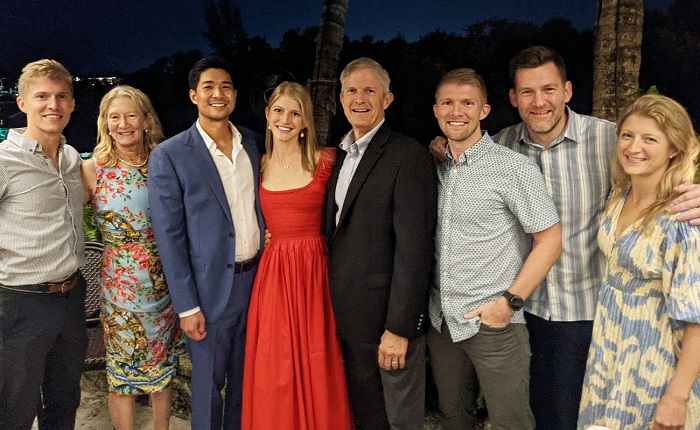 Last year, David Hayford was enjoying his retirement and looking forward to escorting his youngest daughter down the aisle at her wedding.
He and his wife, June, were making plans to celebrate his 65th birthday. The couple, who are originally from Alpharetta, Georgia, were building a home in the Hobe Sound area.
For months, David had been training for a triathlon, biking, swimming or running every day. On the morning of March 14, 2021, he went for his normal Sunday morning four-mile run by Jupiter Island. Later that day, he and June enjoyed a leisurely afternoon outing on their pontoon boat on the Intracoastal Waterway.
When the couple returned home, June began preparing dinner and asked David to take their dog outside. Suddenly she heard a strange sound.
"I looked over by the sliding glass door and saw my husband lying on the floor on his back," recounts June. "He was moving around, so at first I thought he had slipped on something. When I ran over to him, he had stopped moving completely. His eyes were wide open, but he was unconscious and his heart had stopped beating."
June couldn't believe what was happening. Two years earlier, when they lived in Georgia, David's best friend died of sudden cardiac arrest at their home. Devastated after the incident, June had researched the difference between responding to a heart attack and sudden cardiac arrest.
Response Time is Critical
One of the leading causes of death among American adults, sudden cardiac arrest has a 5% survival rate. Unlike a heart attack, where the heart may continue to beat and only the blood supply to the heart is compromised, sudden cardiac arrest is an electrical malfunction in the heart that causes it to stop beating entirely, causing a lack of blood flow to the brain and organs in the body.
June knew time was of the essence to save David.
"I usually don't know where my phone is, but by some miracle, I knew my phone was on the kitchen counter," says June. "I immediately called 9-1-1 and started pumping his heart rapidly."
When the paramedics arrived, they tried numerous procedures to stimulate his heart, but to no avail. After several minutes, they defibrillated his heart a second time and finally got a heartbeat, although he was still unconscious.
June followed the ambulance to Cleveland Clinic Martin North Hospital. When she arrived at the Emergency Department (ED), she was terrified and didn't know what to expect.
"When I walked into the ED, I heard them calling a code blue [indicating a medical emergency], which would be for him," says June. "He was alive, but still unconscious."
After June called their four children, who all live out of state, an ED physician doctor came to speak to her.
"Dr. Adams said to me, 'You know, we've got him,'" recalls June. "He was just very warm and caring. I felt a sense of relief because I knew David was being cared for as best as possible."
Therapeutic Hypothermia Treatment
That night, David was transferred to the cardiac ICU in very critical, unstable condition. Because he was still unconscious, the cardiac team used an innovative treatment called therapeutic hypothermia to increase the likelihood of him waking up.
Therapeutic hypothermia is used to lower the body temperature to between 89°F and 93°F in patients who remain unresponsive after cardiac arrest. It has been shown to reduce brain damage and lessen inflammation to the brain. After 24 hours, the patient is slowly brought back to normal body temperature. In some cases, it may take the patient as long as three days to regain consciousness.
"We're so fortunate that Cleveland Clinic Martin North is one of the few hospitals in the area that has the technology and training to use therapeutic hypothermia," says June. "Dr. Loflin, who oversees this treatment, was so compassionate. He explained the process and said David would also need surgery to check for blockages."
Twenty-four hours after the therapeutic hypothermia treatment, with all four children at home under one roof, June received a call from the ICU nurse: David had regained consciousness.
"Dave's whole care team was just amazing," says June. "Every single person helped save my husband's life. It's the competency, the equipment, the technical ability and their calmness that sets Cleveland Clinic apart."
Cleveland Clinic Martin Health Open Heart Fund
In March 2022, David and his family celebrated the one year anniversary of his recovery. They have an annual family tradition of making a charitable gift to a nonprofit organization. In gratitude for David's life-saving care, the Hayford Family Foundation selected Cleveland Clinic Martin Health's Open Heart fund as this year's beneficiary.
The Open Heart fund supports patient care, education and research at the Frances Langford Heart Center. The funds can be used in a broad manner to enhance and improve Cleveland Clinic Martin Health Systems' stroke and cardiovascular disease-related services and programs for the residents of the Treasure Coast.
"Thank you, Cleveland Clinic Martin Health. I have my husband back and my kids have their father," says June. "I'm especially grateful he was able to walk our youngest daughter down the aisle. He needed to be here for that."
How you can help
If you would like to support the Open Heart Fund at Cleveland Clinic Martin Health Foundation, please visit our website.
Gift Supports 'Future of Our Field'
Gift Supports 'Future of Our Field'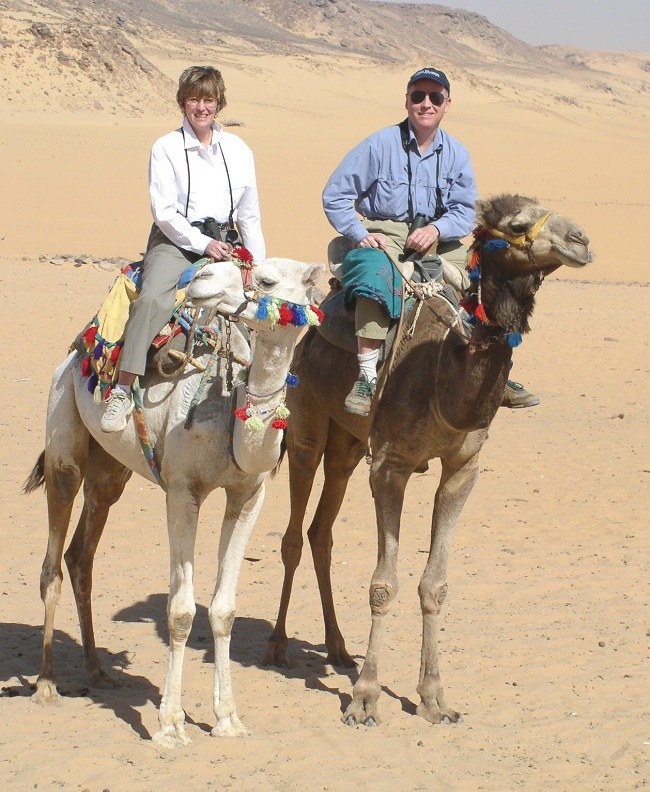 For Bill and Linda Macaulay, birding was more than a hobby. It was a passion that took them around the world to capture audio recordings of more than 2,800 species of winged wonders.
To hear Linda tell it, Bill was a rare bird himself. "He was incredibly smart, and his ability to look ahead and see possibilities was unique," she says of her husband of 52 years. "He was very generous, and he changed a lot of lives by supporting things with the potential to be transformative. He was especially interested in forward-thinking people who could make a difference in conservation, education and medical research."
Bill, the founder of First Reserve Corporation, died in 2019. He was 74.
In his memory, a $5 million gift from Linda and the Macaulay family will support the new Cardiovascular Genetics Section at Cleveland Clinic and establish the William E. Macaulay Chair for Cardiovascular Genetics.
Bill had a long history of heart trouble. A decade ago, he made the first of many visits from the Macaulays' home in Connecticut to Cleveland Clinic, where he became a patient of cardiologist Steven Nissen, MD, MACC.
Developing a program to study the genetics of heart disease will lead to new treatments for millions of patients, says Dr. Nissen, Chief Academic Officer of the Sydell and Arnold Miller Family Heart, Vascular & Thoracic Institute and the Lewis and Patricia Dickey Chair in Cardiovascular Medicine.
"Genetics truly represents the future of our field," Dr. Nissen says. "This is a terrific tribute to Bill Macaulay and his entire family."
In addition to Linda, Bill is survived by their daughters Anne and Lizzie. The Macaulays were impressed by the personalized care that Bill received at Cleveland Clinic. Its "team of teams" modus operandi stood out, too.
"Cleveland Clinic has a collaborative approach that allows it to make strides more quickly than other organizations," says Anne, who runs the Macaulay Family Foundation. "It has the tools, the resources and the drive to get further, faster."
Lars G. Svensson, MD, PhD, Chair of the Miller Family Heart, Vascular & Thoracic Institute, is grateful to the Macaulays for their vision and generosity. "It was my privilege to get to know Bill and Linda, sharing our mutual interest in photography and birds in the wild," Dr. Svensson says. "Philanthropy is the foundation of our research, and commitments like the Macaulays' fuel innovation and breakthroughs."
Ultimately, the hope is that the Macaulay gift will lead not only to improved care for those diagnosed with heart disease, but earlier detection. "If we can find the root causes of disease at the genetic level," Linda says, "there will be a real benefit for future generations."
A Return to Winning Form at the Derby Day Soirée
A Return to Winning Form at the Derby Day Soirée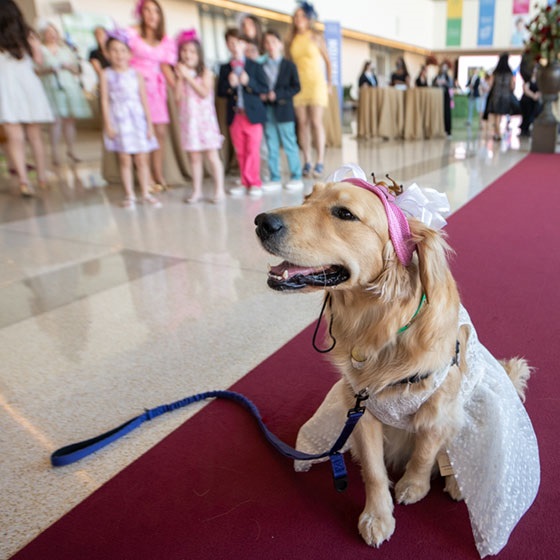 More than 550 people came to Cleveland Clinic Children's Derby Day Soirée dressed in bee hats, cranberry slacks or flamingo print suits and, in total, raised more than $2.1 million for life-saving pediatric programs and research.
The May 7 gathering in the Huntington Convention Center in Cleveland was an update to an event that began in 1990 as the Heart Throb Ball and was reimagined after a two year pause for the COVID-19 pandemic.
"Thanks to those of you who never left our side during these past two years," Cleveland Clinic Chief of Staff Beri Ridgeway, MD, told the crowd. "You proved that it is the mission that unites us, whether we are together or apart. This event is essential. Your giving this evening has the greatest impact for the best care for our youngest patients."
Guests cheered the stunning finish of the 148th Kentucky Derby, heard heartfelt patient stories and honored Umberto P. and Maryellen Fedeli for their decades of support of Cleveland Clinic Children's.
Fedeli is the Chair Emeritus of the fundraiser for Cleveland Clinic Children's and has been a member of the Cleveland Clinic Board of Directors since 2000. The Fedelis recently made their largest gift ever to the institute and the largest gift ever made by anyone to Cleveland Clinic's pediatric programs. The gift creates the Fedeli Family Accelerator for Children and Families to fund pediatric programs.
In recognition of their three decades of support, Ridgeway announced at the event that the Cleveland Clinic Children's outpatient building entrance is now named the Maryellen and Umberto Fedeli Family Lobby.
Fedeli says, "I support Cleveland Clinic Children's because I believe in the multiplier effect. When you help one child and that child's family, you can help hundreds or thousands of children and families. When you put your money into the Clinic to help find a treatment for a disease or to train a new specialist or to seed novel research, you get a tremendous return on your investment. You make a significant difference."
Umberto Fedeli is President and CEO of The Fedeli Group, a risk management, insurance and employee benefit consulting and brokerage firm. Generous contributors included the event's Presenting Partners—the Cleveland Cavaliers, Cleveland Superstars and Scala Family Foundation—and the event's Triple Crown Partners: Beardsley Family Trusts, the Fedeli Group and Mario and Dana Morino.
The Derby Day guests also heard from Allison Clarke about the exceptional care that her son, Quinn, received at Cleveland Clinic Children's. He endured three bouts of cancer by the time he was 22, before succumbing to the disease in late 2021.
"Quinn's team at Cleveland Clinic did an incredible job balancing treatments with Quinn's desire to make the most of his time," she told the crowd. "They spoke to researchers all over the country and considered every available trial and experimental drug available in the hopes of finding a cure—but they never made him feel like a science experiment. They arranged radiation around things he wanted to do, like the Browns home opener and a vacation with his cousins. They handled difficult conversations with such kindness and compassion.
"He knew he was at a great hospital and getting the best possible care in the world. It is thanks to generous donors that Cleveland Clinic Children's has the resources to research and treat every patient like Quinn and family like ours."
Volunteer Group Celebrates Milestone Anniversary
Volunteer Group Celebrates Milestone Anniversary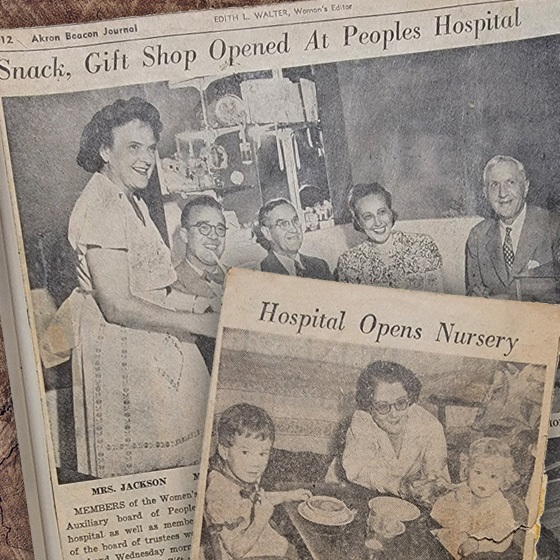 In 1932, despite – or perhaps because of – the bleak economy, a small group of Akron-area women formed the Women's Board at Peoples Hospital, as Cleveland Clinic Akron General was then called. Their purpose was to provide volunteers and raise funds for medical equipment and supplies.
This year, the Women's Board is celebrating 90 years of service to the hospital and its surrounding neighborhoods, and current members are continuing the tradition of helping to strengthen the hospital's commitment to its patients, the community and hospital caregivers.
"The Women's Board has contributed so much to our hospital and community," says Brian Harte, MD, President of Cleveland Clinic Akron General. "From the very beginning, Women's Board members have helped sustain the hospital during challenging times. The impact of their time and the support they've raised has benefited generations of patients and Akron residents."
Since its inception, the group has raised nearly $10 million, through formal balls and galas, proceeds from the hospital snack and gift shop, and other fundraisers. In addition to raising money, members of the Women's Board have volunteered thousands of hours of their time to support the hospital.
Over the decades, the Women's Board has funded capital expansions for the hospital, as well as providing support for community outreach programs such as the perinatal mobile health program, the Men's Minority Health Fair and Challenge Golf. The Women's Board even funded the first television contract for patient rooms in 1959.
Volunteers also have contributed countless hours of their time. In the early years, members provided clerical help to the staff, sewed surgical dressings and beautified the hospital grounds by planting flowers. Today, the group focuses on fundraising opportunities, caregiver appreciation events and community outreach support.
"It's an honor to lead this group during its 90th year," says Donna Donaldson, who currently serves as the Women's Board President. "Our focus on community service is always relevant. There seems to be a renewed interest in helping neighbors and cultivating a community spirit, which is what the Women's Board is really all about."
Learn more about the Akron General Women's Board and how to join.