New Peanut Allergy Study Shows Promise
New Peanut Allergy Study Shows Promise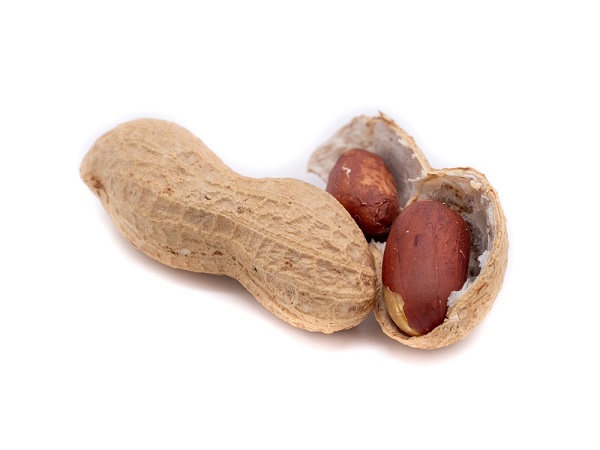 Imagine having to worry about peanuts.
For parents of children who are allergic to them, it's a constant fear. Eating lunch at school, celebrating at a friend's birthday party or even a trip to the ballpark can pose a deadly threat for children with peanut allergies. Families often feel anxious because of the need to be prepared for an allergic reaction to occur because of accidental ingestion at any time.
Peanut allergy is a potentially life-threatening condition for which the only approved management is strict avoidance – which can be tough for anyone but especially for children and their families.
New treatments for this increasingly prevalent condition are being studied. One of those treatments, oral immunotherapy (also known as desensitization), involves feeding a small, increasing dose of peanut to the allergic person in order to train the immune system to no longer overreact when peanut is eaten. However, due to the way the peanut products are produced, this type of therapy often comes with side effects such as abdominal pain or even anaphylaxis, which often leads to high subject drop-out rates in published studies.
An Idea Needs Funding
Jaclyn Bjelac, MD, Associate Director, Food Allergy Center of Excellence at Cleveland Clinic, wanted to study a different way to accomplish this therapy, by using a peanut product that is boiled, rather than roasted, to evaluate its effectiveness with treating peanut allergy with minimal side effects in children.
Published data has demonstrated boiling peanut results in changes in the proteins that should decrease side effects during oral immunotherapy. However, no published study has tested this theory in peanut allergic children.
Dr. Bjelac applied for a Caregiver Catalyst Grant to help fund her research. The Caregiver Catalyst Grants program pools the gifts of thousands of generous Cleveland Clinic donors — including caregivers — into a fund allocated to support caregivers' innovative ideas. It is a distinct way for philanthropic gifts of every size to make an immediate impact.
A $30,000 grant was awarded to enroll and monitor eight children in the year-long study.
Dr. Bjelac shares that the first child to participate in the study had a reaction requiring the use of epinephrine after receiving an amount of protein equivalent to 1/64 of a kernel of peanut. After finishing the study, the patient tolerated more than 40 times the amount of peanut protein with very mild symptoms during his exit challenge.
"Three of the eight patients have completed the entirety of their scheduled desensitization treatments with very exciting preliminary results, indicating response to treatment with a favorable safety profile compared to the commercially available desensitization treatment product," says Dr. Bjelac. "Should data indicate that we indeed have a product that can achieve peanut allergen desensitization with a favorable safety profile, the potential impact for peanut allergic patients would be immense."
Dr. Bjelac is grateful the philanthropic support from the Caregiver Catalyst Grant. "As a researcher, the funds from this grant have allowed me to initiate a long planned study that is already positively impacting patients and families," she says. "And on a personal level, this project has allowed me to develop skills in the area of clinical research that will hopefully allow for continued professional growth."
How You Can Help
Your gift to our Caregiver Catalyst Grant program sparks the vision of our caregivers, encouraging the bold steps forward that make a difference for our patients and their families. Learn more here.
Florida Transplant Patient Overcomes Family History
Florida Transplant Patient Overcomes Family History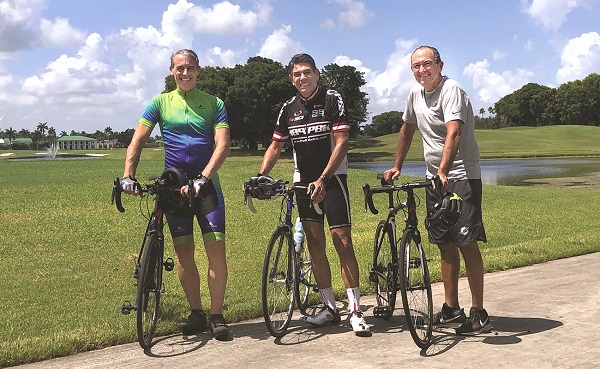 In 2007, Jaime Rodriguez, MD, a former competitive cyclist, was enjoying his regular early morning bike ride near Miami.
Dr. Rodriguez, who was 50 at the time, had been diagnosed with coronary artery disease when he was 43. His predisposition to heart disease was strong – both his father and his grandfather had died from it, at 52 and 53 years old, respectively. "I had gone back to cycling and riding my bike at a competitive level to improve my heart health," he says.
Suddenly, Dr. Rodriguez fell off his bike and collapsed on the road.
He required cardiac resuscitation on the scene and was taken to Cleveland Clinic Weston Hospital, where tests revealed that he'd had a massive heart attack, which severely damaged his heart. Howard Bush, MD, Dr. Rodriguez's cardiologist, rushed him to the operating room to perform quadruple coronary bypass surgery.
Dr. Bush says that after the heart attack, Dr. Rodriguez made it very clear that he was willing to do whatever was necessary to get back to the best health possible and return to all the things that were important to him.
Dr. Rodriguez's health remained stable for several years following his surgery. The damage to his heart, however, slowly progressed to heart failure and malignant arrhythmia, requiring the implantation of a cardioverter defibrillator and advanced heart failure management.
Enough Is Enough
By May of 2020, Dr. Rodriguez had been dealing with worsening episodes of arrhythmia and had been hospitalized frequently over six months. One night, which he described as a "nightmare," he had eight episodes of arrhythmia. He'd had enough. His wife called 911 and he was taken to Cleveland Clinic Florida in Weston. Dr. Rodriguez's heart muscle had deteriorated to the point where a transplant was the only solution.
"I had suffered so much that I was welcoming the idea by then," Dr. Rodriguez says of overcoming his fear of the transplant. "I knew I had no choice – it was this or I wouldn't make it."
A suitable donor heart become available 10 days after he was admitted to the ICU. "It's hard to describe how it felt to get that news," Dr. Rodriguez says. "I realized how lucky I was." Nicolas Brozzi, MD, and Cedric Sheffield, MD, performed a complex cardiac reoperation to replace his worn-out native heart with a healthy donor heart.
Celebrating Two Milestones
On May 23, 2021, Dr. Rodriguez celebrated his milestone one-year anniversary of the transplant. It was a year filled with medications, biopsies and follow-up visits with his care team, but he says it's all worth it. He is back to working full time and enjoying walking, running and cycling.
Cleveland Clinic Florida also celebrated a milestone anniversary in 2021, performing its 200th adult heart transplant since the program's inception in 2014. The Transplant Center at Cleveland Clinic Florida is a leader in heart, liver and kidney transplantation in South Florida. Led by world-renowned transplant surgeons, the team has transplanted over 1,000 life-saving organs, making it one of the fastest growing programs in the region.
Community and philanthropic support are vital to furthering the life-saving mission of the Transplant Program at Cleveland Clinic Florida. In addition to supporting patients and their families, philanthropy helps fuel the growth of technology, research and continuing medical education.
Dr. Rodriguez has become fond of his care team at Cleveland Clinic Florida in Weston and looks forward to seeing them at his follow-ups. "The cardiac transplant team provides very personalized care," he says. "They make you feel special. I am very grateful to the organization and the transplant care doctors – they have become my friends and partners in this ride of a lifetime."