From Ohio to Florida, Orthopaedic Surgeon Expands Focus on Patient Outcomes
From Ohio to Florida, Orthopaedic Surgeon Expands Focus on Patient Outcomes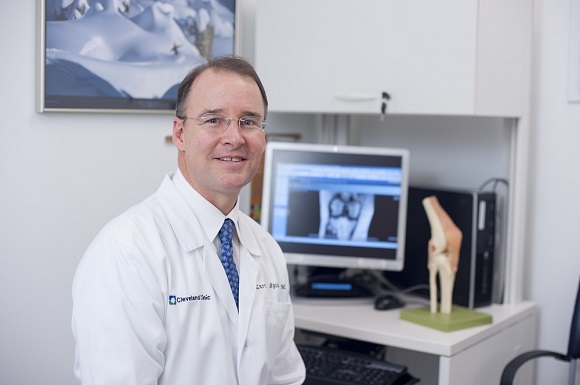 Cleveland Clinic Florida's new Director of Clinical Research and Outcomes wants to use data to help create better doctors and improve patient care.
As a board-certified orthopaedic surgeon, Kurt P. Spindler, MD, has spent more than 30 years caring for patients, researching new treatments and advancing standards of care. He was recently tapped to lead the new Center of Patient Reported Clinical Outcomes at Cleveland Clinic Florida.
Measuring Performance
Dr. Spindler specializes in sports medicine, knee ligament reconstruction and arthroscopic knee surgery, and has participated in several National Institutes of Health (NIH)-funded clinical studies throughout his career. He is renowned for his role as principal investigator of the game-changing MOON project (Multicenter Orthopaedics Outcomes Network), which made significant contributions to the advancement of care for patients having anterior cruciate ligament reconstruction.
Since joining Cleveland Clinic in 2014 as Vice Chairman of Research in the Orthopaedic & Rheumatologic Institute, Director of Orthopaedic Clinical Outcomes, and Academic Director of Cleveland Clinic Sports Health, Dr. Spindler has focused on combining patient-reported outcome measures (PROMs) with clinical data to improve patient care.
"Anytime we measure performance, we see improvement in outcomes, but for too long, patient feedback on their pain and function has been missing from the equation of what constitutes a good or successful outcome," says Dr. Spindler. "The Outcomes Center, which collects patient-reported clinical outcomes, will allow us to fill that knowledge gap and provide a means to systematically look at the impact our care has on the lives of patients and learn how we can improve that care."
Capturing Data
Dr. Spindler was instrumental in developing Cleveland Clinic's Outcomes Management and Evaluation (OME) platform, a comprehensive database that collects and tracks PROMs data, which will be combined in the future with imaging and tissue testing data. Since its launch in 2015, the database has amassed patient-reported outcomes from over 75,000 elective orthopaedic and spine surgeries performed by over 100 Cleveland Clinic surgeons in Ohio and Florida.
"Patient-reported outcomes focus on the impact of disease on a patient's quality of life and how care affects functions and limitations associated with a disease," Dr. Spindler explains. "By measuring a patient's symptoms before and after treatment and combining that data with the experience of thousands of patients, we can gauge the effectiveness of the care we provide, identify factors that influence outcomes, define best practices and, ultimately, improve care."
In just a few years, the OME platform has powered database-driven clinical research resulting in more than 70 active research projects and 32 manuscripts in peer-reviewed publications. "Access to this wealth of data also enabled three of our young investigators at Cleveland Clinic to secure $2 million in major grants from the NIH and Arthritis Foundation," adds Dr. Spindler.
Predicting Outcomes
In one application of the OME system, Cleveland Clinic researchers looked at PROMs data related to pain, function and quality of life for thousands of patients who had total knee replacement between July 2015 and June 2018. The team, which included Dr. Spindler, analyzed and modeled the data collected before treatment and again one year following surgery to build an outcomes calculator that can now be used to determine a patient's predicted surgery outcomes compared to a typical patient.
"Using this personalized calculator, we can have meaningful conversations with patients about how they may or may not benefit from knee replacement in terms of pain and function," says Dr. Spindler, noting the team has created outcome calculators for other knee, shoulder, hip and spine procedures. "We can also suggest specific changes to modifiable factors, like body mass index and smoking, and use the calculator to demonstrate the potential for improving surgery outcomes for the patient."
Expanding Research
As Director of Cleveland Clinic Florida's new research and outcomes center, Dr. Spindler is overseeing expansion of the OME platform beyond orthopaedics to other clinical areas – heart and vascular care, neurosciences, cancer care and digestive diseases – and its implementation across the Florida region.
"It took years to optimize the behind-the-scenes data collection and analytics needed to create the OME system," says Dr. Spindler. "We've proven it can work with joint replacement and spine surgery outcomes. Now we are taking what we learned and applying it to heart transplant, breast cancer treatments and many other procedures and therapies."
The philanthropically funded center includes a team of clinical experts, database experts and biostatisticians tasked with building upon the existing OME platform and broadening the scope of data-driven clinical research in the pursuit of new standards of care and improved patient outcomes.
How You Can Help
Philanthropic support is essential to Cleveland Clinic's research mission. Your gift to support the Center of Patient Reported Clinical Outcomes creates opportunities to improve care and the lives of patients everywhere. Please make a gift today.
A Second Chance for a Storied 'Country Boy'
A Second Chance for a Storied 'Country Boy'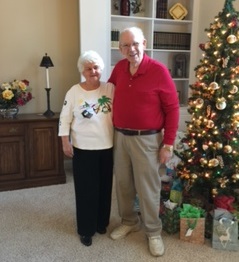 Who doesn't love a story about high school sweethearts who have not only gone the distance in their marriage, but also in their pursuit of lifesaving care?
Born in 1936 in rural Georgia, Don McMichen met his future wife, Jimmie, when his family moved to an Atlanta suburb in 1951. Don, a star athlete, and Jimmie, a cheerleader, were married in 1957. After a brief stint in civil engineering, Don was bit by the entrepreneurial bug. Self-employed since he was 19 years old, Don built several businesses from the ground up—starting with a service station he talked his father into helping him buy near the Atlanta International Airport.
Don went on to design and build his own golf course by hand, and spent 25 years as a commercial grating contractor. He partnered with a friend to start a freight forwarding business, restore classic cars and buy a full-service car wash.
In addition to raising their two children as a stay-at-home mom, Jimmie retired from 25 years of service that began as a secretary in the U.S. Army and ended as a program analyst in the Federal Aviation Administration.
Between their jovial spirits and Don's public-facing career, Don and Jimmie developed many lifelong friendships over the years—one of which would lead Don to Cleveland Clinic.
A Ringing Endorsement
At 16, during a routine school physical, Don discovered he had a heart murmur —a hereditary condition shared by his grandmother, mother and sister. In his 40s, when he began exhibiting heart-related symptoms, Don managed them with medication and echocardiograms. Routine testing later uncovered a bicuspid aortic valve, a birth defect where the aortic valve has only two leaflets instead of three. This diagnosis would prove lifesaving for his daughter, as well, when she began to experience similar symptoms as an adult.
By January 2015, Don and Jimmie were accustomed to making regular visits to their local hospital to treat Don's atrial fibrillation and tachycardia. His cardiologist referred him to a heart surgeon and, after test after test and a different doctor present for nearly every visit, Don and Jimmie ultimately were told that open heart surgery was not a possibility. Don's condition had worsened to where no artificial valve was large enough for a TAVR procedure. Nothing more could be done.
Unwilling to accept that assessment, Don and Jimmie doubled-down their efforts to get a better one. A longtime friend introduced them to Vincent Obsitnik, former U.S. Ambassador to The Slovak Republic. Ambassador Obsitnik, who had open heart surgery at Cleveland Clinic two decades prior, insisted that Don and Jimmie head to Cleveland Clinic as soon as possible. "He said in no uncertain terms, 'I refuse to let you go anywhere else,'" says Don. "He was instrumental in leading me to the second opinion I was given at Cleveland Clinic."
Meticulous Care
After the ambassador's resounding recommendation, Jimmie immediately connected online with a nurse in Cleveland Clinic's Heart, Vascular &Thoracic Institute. The nurse asked for Don's medical records to be sent with a tracking number to ensure receipt. Shortly afterward, the nurse contacted Don and Jimmie to let them know that open heart surgery not only was possible for Don, it was his best option for a longer life. In fact, his procedure had already been scheduled for the following week with Lars Svensson, MD, PhD, Chair of the Sydell and Arnold Miller Family Heart, Vascular and Thoracic Institute and holder of the Delos M. Cosgrove MD Chair for Heart Disease Research.
From the car service that transported them to and from the airport to the thoroughly detailed schedule of appointments, Don and Jimmie were touched by the comprehensive care and level of compassion they received before, during and after his surgery. Whereas previous providers hesitated to make definitive recommendations, Dr. Svensson explained that the risk of prolonging or declining surgery would give Don a life expectancy of six months.
"By helping Don, who had a complex case that others were reluctant to treat, we also were able to help his daughter and grandchildren know that this is something they needed to monitor," says Dr. Svensson.
"Dr. Svensson is the greatest heart surgeon there is," says Don. "Many people, including Jimmie, find it hard to believe that although he cracked open my sternum, I had no pain after the surgery. My worst complaint was a sore throat!" Don, Jimmie and their daughter, who traveled to join them, built friendships with many staff members as they were accompanied to and from each appointment.
"The nurses were always in and out of Don's room," says Jimmie. "There was usually someone within 10 feet who wanted to hear all the Georgia country boy's stories!"
Before he was discharged, Jimmie recalls his care team not only performing a wellness check for Don, but also scheduling follow-up appointments with his primary physician and local cardiologist.
"You only have to be a patient there to know why Cleveland Clinic has been number one in heart care for 26 years and counting," she says. "We give annually because we want to support their teaching enterprise and continue their legacy in heart care."
Six years after his procedure, Don's local cardiologist no longer can hear Don's heart murmur, and continues to marvel at the surgery's exceptional outcome.
Don and Jimmie will celebrate their 64th wedding anniversary this September. Thankful for the years the surgery has added to Don's life, they enjoy their retired lifestyle and look forward to spending every Friday evening with their teenage grandson. "What happens at grandma's stays at grandma's," Jimmie says with a smile.
How You Can Help
Annual gifts, like those from the McMichens, provide vital philanthropic support for the life-saving work being done every day by our physicians and researchers. Every gift, no matter the size, helps us to impact the lives of our patients. Please make a gift today.