My Father, 'Moy Geroy'
My Father, 'Moy Geroy'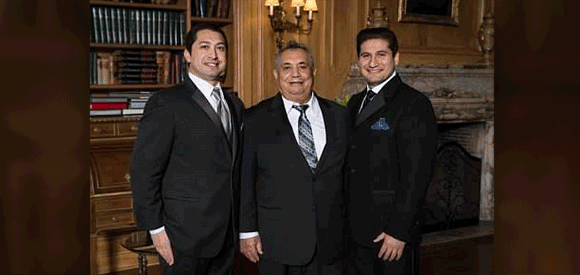 In the eulogy Felix Berensteyn delivered in remembrance of his father, he referred to his dad as 'moy geroy,' my hero. His father's glass, he says, wasn't just half full; it was "an overflowing waterfall."
Felix's brother, Len Bernstein (choosing the Americanized spelling of his surname), thought of his dad as a "gentle giant," and called him "Dee Dee," a nickname for grandpa started by his children. Above all else, Michael Berensteyn was a proud and loving father – and doting grandfather of five.
During this month of celebrating fathers, the family will honor Michael Berensteyn's memory with a $1 million gift for urological cancer research at Cleveland Clinic's Glickman Urological & Kidney Institute, where a lobby will bear his name. Michael's life inspired many and the stories of his kindness, integrity, humor and perseverance will endure.
Accomplishing the American Dream
When Michael, his wife Polina, and their two sons emigrated from Russia – via Israel and France – to the United States in the early 1970s, they arrived with abundant hope, albeit very modest means. On the first leg of the journey, their shipment – containing all their belongings – mistakenly sailed off to Italy (their initial destination) without them. While this predicament would have been paralyzing for most fathers, for Michael, it was simply a puzzle to solve.
As a boy, Michael (known as Misha in the former Soviet Union) had solved the problem he faced of walking around barefoot in his village; he crafted boots from old tires to protect his cold feet. Working at night after school from the age of 12 to help support his family, he'd cuddle up to steam pipes in the factory for short naps to warm up during the brutal Russian winters. After a few months of work, Michael saved enough money to buy himself a wristwatch. It was his first true possession and he cherished it. Len and Felix treasure these stories and have retold them to their children, so they can understand how fortunate they are to live in America.
During World War II, Michael's family had to flee their village near Odessa to escape the Nazi persecution. While at a train station in Stalingrad, German planes dropped bombs during a blitzkrieg. Michael escaped death, but the explosion killed his grandmother and left his grandfather disabled. He also lost two sisters and another grandparent before the end of the war. Despite the losses and hardships, he always chose to focus on the good in people, the joys in life and the possibilities that lay ahead for his family.
Upon their arrival in the States, both Michael and Polina immediately took on various types of employment, working 12-hour days, often seven days a week. Their work ethic, tenacity and inventiveness enabled them to eventually purchase and grow numerous businesses in the New York City textile industry, beginning in 1976 with a fabric store.
Today, two of those companies cofounded by Michael are thriving in Manhattan's garment center. Berenstein Textiles and Lino Textil are global companies with headquarters in New York. They boast the reputation of being the most comprehensive and diverse wholesale textile sources in the country, merchandising high fashion fabrics to the apparel and home furnishing trades.
A Lionheart in the Face of Cancer
For 25 years, Michael battled various forms of cancer, kidney disease and other illnesses. In 2010, he was diagnosed with renal cell carcinoma in his solitary kidney, which required a particularly high-risk surgery. The family researched and interviewed renowned surgeons at the world's top-ranked urological cancer institutions and personally visited four of these centers.
"The family brought Michael here because he had a tumor in the very middle of the remaining kidney," recalls Steven C. Campbell, MD, PhD, Vice Chair of the Glickman Urological & Kidney Institute's Department of Urology and the Eric A. Klein Endowed Chair in Urology, Oncology and Education. "We advised a partial nephrectomy – which is a procedure we perform more than any other hospital in the world. For Michael, we were able to remove the tumor and reconstruct the kidney."
The family fully credits Dr. Campbell and Cleveland Clinic with extending Michael's life – incredibly, without ever resorting to dialysis.
"We felt like we were Dr. Campbell's only patient," Felix emphasizes. " It goes beyond the talent; it's the way you're treated at Cleveland Clinic. You're not just a number on a spreadsheet. Our experience was encouraging and gave us hope."
"From the time I first visited Cleveland Clinic and consulted with Dr. Campbell regarding my father's cancer treatment, we felt right at home," Len recalls. "Dr. Campbell was truly a life saver who planned the best course of treatment for our father while providing our family the time and compassion needed to cope with the diagnosis."
"Michael did well until, sadly, about a year and a half ago when he developed a very unusual, rare tumor," explains Dr. Campbell. Yet, according to Felix, his dad went to chemotherapy and radiation sessions "with the same enthusiasm as a kid on a camping trip … always eager to hit cancer in the mouth."
"Michael always made us feel good about what we were doing as a medical team," says Dr. Campbell. Not everyone does this, he points out. "He worked so hard and always was so appreciative."
That's one way to describe that "something truly special" Felix and Len always saw in their dad. Mensch? Geroy? Whatever you want to call it, everyone Michael touched felt it.
Your Gift Makes a Difference
Learn about ways to give to Cleveland Clinic to honor a loved one, celebrate a caregiver or by including us in your estate plan. Your gift impacts patient care, groundbreaking research and medical education — helping us continue to lead the transformation of healthcare.
Make a gift to support cancer research in memory of Michael Berensteyn here.
Cleveland Clinic Children's Ranks Nationally in 10 Out of 10 Specialties
Cleveland Clinic Children's Ranks Nationally in 10 Out of 10 Specialties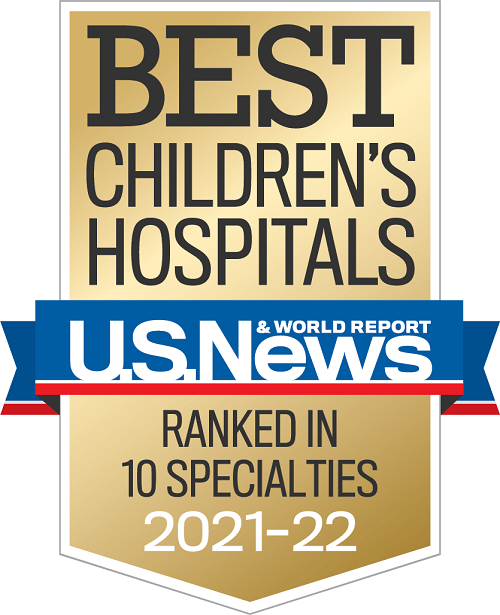 Cleveland Clinic Children's has been named a national leader in clinical care, according to U.S. News & World Report's 2021 - 2022 "Best Children's Hospitals" rankings.
Cleveland Clinic Children's, the pediatric institute of the nation's No. 2 ranked hospital, Cleveland Clinic, earned national recognition in all 10 specialties in this year's rankings: cancer, cardiology & heart surgery, diabetes & endocrinology, gastroenterology and GI surgery, neonatology, nephrology, neurology & neurosurgery, orthopedics, pulmonology, and urology.
For 13 consecutive years, Cleveland Clinic Children's has ranked among the nation's top 50 pediatric hospitals. Not only are all 10 of Cleveland Clinic Children's ranked specialties listed among the top 50 in the nation, but for the third consecutive year, four specialties have ranked in the top 20 in the nation (cancer, cardiology & heart surgery, gastroenterology & GI surgery and neonatology).
Regionally, Cleveland Clinic Children's has also been recognized as the No. 3 (tie) pediatric hospital in the Midwest, and No. 3 in Ohio. In Northeast Ohio, Cleveland Clinic Children's ranked as best in seven of the specialties (cancer, cardiology & heart surgery, gastroenterology & GI Surgery, neonatology, nephrology, neurology & neurosurgery, and urology). No children's hospital in Northeast Ohio ranked in more specialties than Cleveland Clinic Children's.
"Our Cleveland Clinic Children's caregivers are committed to a shared sense of purpose for our youngest patients," says Cleveland Clinic CEO, President and Morton L. Mandel CEO Chair Tom Mihaljevic, MD. "Year after year, our pediatric specialists yield patient outcomes that are among the best in the country. Even in the midst of a pandemic, they delivered high-quality, compassionate care."
"We are honored to once again be recognized by U.S. News & World Report, ranking among the top Children's Hospitals in the country and highest in Northeast Ohio in 7 of the 10 specialties," says Karen Murray, MD, Chair of Cleveland Clinic Children's. "This is a reflection of our dedicated caregivers who serve to improve the health of children, from routine care to the most specialized care for the child and their family. Our mission extends to include: research to advance available treatments, education of future healthcare providers, and advocacy for our community's children."
Over the past year, Cleveland Clinic Children's has been at the forefront of clinical innovation and research in pediatrics. Hospital highlights include:
A multidisciplinary team of specialist's removed a large, right-sided lung mass in a partially delivered fetus, enabling a safe birth.
As the only Ohio health system performing both adult and pediatric living-donor liver transplants; the living liver donor program offers a life-saving alternative when time matters the most.
Spine-straightening 'tethering' surgery helps improve outcomes and quality of life for young patients with scoliosis.
Researchers create a novel zebrafish model to study Ewing Sarcoma, a pediatric cancer with a five-year survival rate of less than 30% for patients with metastatic disease.
Pediatric orthopedic surgeons worked to reduce unnecessary opioid exposure by standardizing pain protocols.
The best surgical outcomes in the country for children with Congenital Heart Disease.
Dr. Murray says philanthropic support for Cleveland Clinic Children's is a vital part of the institution's success in advancing life-saving research and treatments, and helping to provide patient and family programs and services.
"Philanthropy plays such an important part in helping us consistently achieve this national recognition," she says. "The past year was filled with challenges for our patients and their families. As caregivers, we could remain focused on safely providing the best care and therapeutics for our patients, thanks to the generosity from our supporters."
Learn more about U.S. News & World Report's 2021-2022 "Best Children's Hospitals" rankings here.
Florida's Guardian Angel Program Honors Caregivers
Florida's Guardian Angel Program Honors Caregivers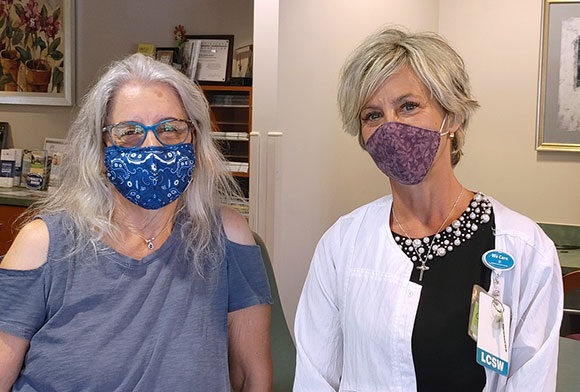 Peter and Anastasia Kouklamanis were married for 30 years and enjoyed traveling to picturesque destinations. After their last trip to Utah in 2019, Peter was diagnosed with stage four lung cancer. He fought cancer courageously until his battle ended this past February, one day before his 69th birthday. Grateful for the care he received at Cleveland Clinic Martin Health, his final wish was to honor a caregiver through the hospital's Guardian Angel Grateful Patient Program.
"Peter started having trouble breathing while we were visiting the canyons in Utah," says Anastasia. "At first we thought it was altitude sickness, since he hadn't shown any signs of illness prior to this."
When the shortness of breath and coughing didn't go away, they went to the hospital in town to have Peter evaluated. An x-ray to check for blood clots in his lungs came back negative, but a CAT scan showed a suspicious mass that required further investigation.
When the couple returned home to Florida, Peter immediately made an appointment at Cleveland Clinic Martin Health's Robert and Carol Weissman Cancer Center. His pulmonary medicine physician, Robert Dermarkarian, MD, ordered a PET scan which detected a tumor in his upper left lung. The prognosis was stage four lung cancer that spread to four lymph nodes and traveled to his brain.
"Peter went through all of his cancer treatments like a true warrior," says Anastasia. "His care team at Martin Health gave him so much support. I can't thank them enough for their exceptional level of care and attentiveness. There was always someone calling to check on him, especially his social worker, who he had a beautiful connection with from the very beginning. She supported him not only medically, but mentally and emotionally, too."
Recognizing a Compassionate Caregiver
One of Peter's final wishes was to recognize his social worker, Diane Benfield, LCSW, with a Guardian Angel gift in gratitude for the genuine compassion and support she provided during the course of his treatment. The gift will help fund the cancer programs that assisted him throughout his cancer journey.
When you make a gift to Cleveland Clinic Martin Health's Guardian Angel Grateful Patient Program, the caregiver whom you are honoring will be sent an acknowledgment letter along with a personalized note if you choose to include one. The caregiver also will receive a custom-crafted lapel pin to display proudly on their name badge.
"My husband is in paradise now," says Anastasia. "I will always keep him close to my heart, together with the memories from our special vacations."
How to Honor a Caregiver
You can make a tribute or gift on behalf of a physician, nurse or any member of the Cleveland Clinic Florida team who has made a positive impact on your healthcare. For more information, please contact your philanthropy team at a Florida regional hospital below.
Cleveland Clinic Martin Health Hospital Guardian Angel program: 772.223.5634
Cleveland Clinic Weston Hospital Caregiver Hero program: 954.659.6720
Cleveland Clinic Indian River Hospital Grateful Patient program: 772.226.4960