Influenza Expert Navigates the Long Road to a Universal Flu Vaccine
Is Robotics Becoming the Backbone of Spine Surgery?
Is Robotics Becoming the Backbone of Spine Surgery?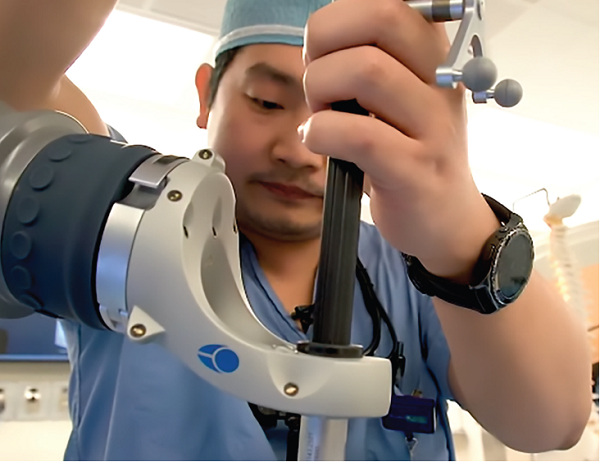 With a PhD in translational engineering and spine biomechanics, Hoon Choi, MD, PhD, offers a unique perspective on the rapid development of robotic technology that is advancing surgical spine care.
Dr. Choi is a board-certified, fellowship-trained spine neurosurgeon with Cleveland Clinic Florida's Medical, Interventional and Surgical Spine Care Center in Weston, Florida. He specializes in minimally invasive and complex spine surgery for degenerative disease, deformity, tumor, and trauma indications.
Dr. Choi is one of the original robotic spine surgeons to use the ExcelsiusGPS® system, a highly technical surgical instrument designed to improve accuracy and optimize patient care by using robotics and navigation. Dr. Choi has amassed a number of milestones as an early adapter of the technology, including having robotically placed over 1,000 pedicle screws without complications. He also has instructed dozens of other surgeons in its use.
In 2020, Dr. Choi was the first in the world to use the system to perform percutaneous minimally invasive robotic-assisted screw placement in the upper cervical spine and to perform robotic-assisted C1-C2 fusion through 1-inch incisions. He also applied his engineering background to develop a head-clamp reference frame attachment for robotic-assisted surgery.
We sat down with Dr. Choi to find out how robotic spine surgery has evolved and what the future holds for this emerging technology.
Q. What spine procedures utilize robotic technology today?
A. Currently, robotic spine systems support very precise implant placement in all regions of the spine from the cervical spine to the pelvis. Depending on the region, a posterior, lateral, or, in rare cases, an anterior approach can be used. Any fusion procedure may benefit from a robotic insertion of instrumentation, including revision surgery performed robotically with a minimally invasive approach. I've used robotic-assistance in cases involving degenerative disease, failed previous surgery, deformity, tumor, and trauma.
Robotic technology supports presurgical planning that allows us to anticipate hardware needs and perform more personalized surgical care. Navigation, intraoperative imaging and robotics are integrated, maximizing the precision and minimizing the invasiveness of surgery. This advanced visualization also can be used whether performing free-hand surgery or robotic-assisted techniques.
Q. What are the advantages and disadvantages of robotic spine surgery?
A. With robotic-assisted surgery, we can achieve very precise implant placement. Smaller incisions with smaller scars, reduced tissue trauma, reduced or no opioid usage, and minimal risk of infection are all benefits of these more minimally invasive procedures. So, too, are reduced length of stay, with some surgeries now converted to outpatient procedures, and quicker recoveries and return to work. The fact that the spine doesn't need to be fully exposed for surgery is a huge benefit for patients. There's also less radiation exposure for patients and staff, which is safer for everyone. The biggest disadvantages are the steep learning curve and high cost of the technology.
Q. What is on the horizon for robotic spine surgery?
A. Robotic spine surgery has advanced significantly over the past decade, but we've really only scratched the surface of what's to come. Today robots are primarily used to guide pedicle screw placement and retractor placement, but one day delicate decompressive maneuvers may be robotically assisted or even semi-automated. Eventually we will see neurosurgical master-slave robotic systems with multiple articulating arms and remote surgeon control, and the potential for tele-surgery. Augmented reality and digital stereoscopic vision also will become integrated, as will artificial intelligence to complement surgical decision making and operative robotics.
Q. How does your dual background in neurosurgery and engineering influence your practice?
A. Understanding biomaterials and biomechanics is extremely relevant to spine surgery, and I think all spine surgeons should have a basic understanding. That's why I pursued mechanical engineering during my medical training as a resident and completed a PhD in biomedical engineering as a practicing neurosurgeon. There is also increasing evidence that patient outcomes, in terms of function and pain, are related to sagittal balance and spine biomechanics. One of my research goals is to be able to use computational modeling to analyze biomechanics, plan surgery and anticipate surgical outcomes. Another goal is to advance minimally invasive robotic surgery by introducing novel instruments and techniques.
Support Dr. Choi's Research
With your support, we can shape the expansion of robotic technology to provide the most advanced surgical spine care to our patients. Your gift will enable Dr. Choi to continue advancing his work so Cleveland Clinic can create the only personalized spine surgery institute in the world based on translational engineering research. Please visit our website to make a gift.