Second Transformational Gift Secures Legacy of Cole Eye Institute
Second Transformational Gift Secures Legacy of Cole Eye Institute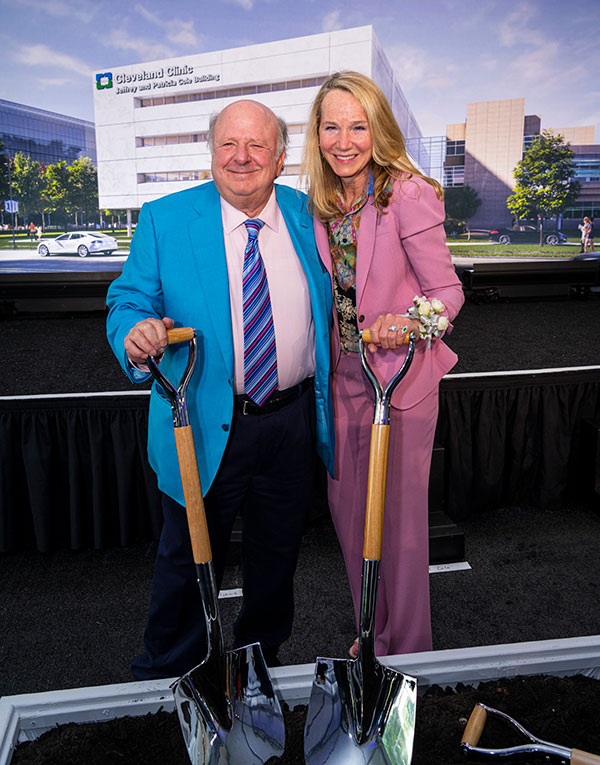 "I like doing things that people say can't be done or are hard to do," admits Jeffrey A. Cole, recalling the decision to philanthropically fund the establishment of Cleveland Clinic's Cole Eye Institute in 1999. "I'm not a doctor but I recognized the need."
You see, Mr. Cole was a successful entrepreneur in businesses ranging from magazine publishing to insurance to financial institutions before taking the reins of the family business, Cole National Corporation, in the early 1980s. A graduate of Harvard College and Harvard Business School, Mr. Cole grew the business into one of the world's largest optical companies with brands like Pearle Vision, Sears Optical and Target Optical, as well as Things Remembered gift stores. Also, in Europe, Mr. Cole co-founded Amsterdam- based Grandvision. Combined, the two companies had more than 10,000 optical shops in 50 countries. Today, he remains involved in the iconic American sunglass brand REVO, as well as the Italian eyeglass frame manufacturer SAFILO.
A Relationship of Forty Years and Counting
Mr. Cole, a Cleveland native who now lives in Palm Beach, Florida, first became familiar with Cleveland Clinic in the late 1970s, when his father needed open-heart surgery. The Cole family met pioneering heart surgeon Floyd Loop, MD, who performed the operation. A friendship quickly developed, and when Mr. Cole's mother also needed open-heart surgery, the relationship between the two families was cemented.
In the 1980s, following a recommendation from Dr. Loop, Mr. Cole began visiting his personal physician, Richard Lang, MD, MPH, Chair of Cleveland Clinic's Executive Health Program.
"In fact," Mr. Cole says, "I was there for a physical one day when Dr. Lang asked if I had heard about the plans to build an eye institute. He told me that Dr. Loop [by then the CEO and President of Cleveland Clinic] had recruited a great doctor to lead it but was having trouble raising the money for it. I went home that night and thought to myself, maybe I could figure out a way to do this."
He called Dr. Loop and requested a meeting. "I went to his office and explained my idea about how we could become the lead donor for creating the Cole Eye Institute," Mr. Cole recalls. "Within 24 hours, we had an understanding that my company and my family together would provide the funds for the Cole Eye Institute."
Rapid Growth Demonstrates Need
The establishment of the Cole Eye Institute ushered in a new era of vision care and research at Cleveland Clinic. It's one of the leading eye care facilities in the United States, consistently ranked among the top 10 ophthalmology programs in the nation by U.S. News & World Report.
As a comprehensive eye institute, it has more than 140 professional staff physicians and researchers who diagnose, treat and investigate the entire spectrum of conditions of the eye, including complex problems such as diabetic retinopathy, retinal detachments, macular degeneration, glaucoma, cataracts, uveitis, strabismus and pediatric eye disorders. The institute also includes advanced research laboratories and a leading-edge training facility on Cleveland Clinic's main campus.
Cole Eye Institute has experienced phenomenal growth: Since 2008, patient visits have tripled and surgical procedures have nearly quadrupled. It was clear that the institute needed to expand.
An Eye on the Future
Mr. Cole's conviction in maintaining Cole Eye Institute's premier national position led him and his wife, jazz singer Patricia O'Brien Cole, to make another transformational donation in 2016. Their lead gift of $31.5 million is enabling the expansion of the building, securing the future of providing innovative research and eye care at Cleveland Clinic.
A ceremonial groundbreaking was recently held to celebrate the construction of the new 150,000-square-foot Jeffrey and Patricia Cole Building at Cole Eye Institute, and renovation of the existing 130,000-square-foot Cole Eye Institute building that was constructed in 1999. The two structures will be connected to create an integrated eye center designed to deliver an outstanding patient experience, as well as leading edge eye care, research and education.
Design plans for the $177 million renovation and four-story new building, located on Euclid Avenue between East 100th Street and East 105th Street, are centered on a team-based operating model to improve access for patients, increase capabilities and enhance patient experience. The new facility will feature an ophthalmic surgical center that will include 12 operating rooms, three refractive surgery procedure rooms and 50 eye exam rooms.
Renovation plans include the expansion of the Louise Timken Ophthalmic Education Center, the Cole Eye Institute's premier education and training simulation center, as well as centralization and expansion of multiple ophthalmology research labs. The space also will feature a new Center of Excellence in Ophthalmic Imaging.
Next-Level Vision Care
"The expansion of Cole Eye Institute has been fueled by our exponential growth over the past decade," says Daniel F. Martin, MD, Chair of Cole Eye Institute and the Barbara and A. Malachi Mixon III Institute Chair of Ophthalmology. "Thanks to the continued generosity of the Coles, this new leading-edge facility will allow our caregivers to continue providing exceptional clinical care and to facilitate innovative breakthroughs in research."
Mr. Cole says that when he saw the need for expansion, coupled with Dr. Martin's strong leadership, he knew he wanted the legacy of the Cole Eye Institute to continue.
"It's really simple," he says. "It became clear to me that it was the best place. It had the best doctors, the best caregivers and the best healthcare outcomes. And it's right there in my hometown. If you can get the best, why not get it? Helping to make it happen has been a privilege for my wife and me."
Trike & Bike Kickoff Has Special Meaning for Local Family
Trike & Bike Kickoff Has Special Meaning for Local Family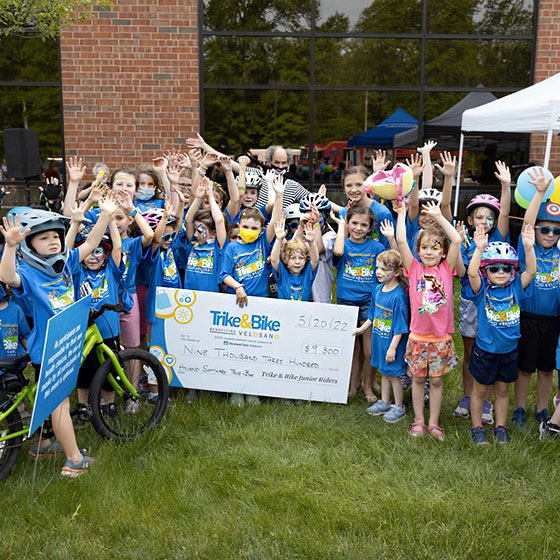 A windy Friday evening at Hyland Software's offices in Westlake was filled with princesses, hula-hoops and balloon animals. An excited crowd of children and their families were there to participate in Trike & Bike benefiting VeloSano and rally for a cause: pediatric cancer research.
VeloSano is a year-round community driven fundraising initiative to support lifesaving cancer research at Cleveland Clinic. Community-focused Trike & Bike events provide children ages 3-12 the chance to learn about philanthropy while aiding pediatric cancer research at Cleveland Clinic Children's.
But this Trike & Bike was different for the software company.
Audrey Heath, the six-year-old daughter of Hyland Software employee Nicole Heath, was diagnosed with acute lymphoblastic leukemia in May 2021. The event marks one year into her treatment at Cleveland Clinic Children's.
Hyland employee, Kristin Kavanaugh, who organized the event, explains her personal passion for the event. "This year, for Hyland Software, it is extra special and hits close to home with Audrey's diagnosis. Family is one of our core values at Hyland Software, so it made sense to pull the community together," she says.
Audrey's dedicated care team at Cleveland Clinic Children's, Seth Rotz, MD, and nurse practitioner Kathy Bielek, kicked off the ride. "It's a tremendous crowd out here today," says Dr. Rotz. "It's great to see a carefree atmosphere. And it's great to see Audrey here today just being a kid."
The Hyland Software Trike & Bike hosted 78 riders, with the top fundraising team bringing in $1,645. The grand total raised from the ride was $9,620, with 100% of all donations supporting pediatric research at Cleveland Clinic Children's. Dr. Rotz further explains the impact of fundraising for research stating, "Research does not happen for free, everything needs support. VeloSano and Trike & Bike has been huge for us. A lot of projects have gotten off the ground because of this. It has enabled us to further our research efforts."
Other community members and families also attended the ride to support Audrey and raise funds for pediatric cancer research. Jenna and Randy Karim of Rocky River brought their children to participate in the ride. The Karims emphasized the importance of spending time as a family outdoors, while also being philanthropic. "It is a goal of ours as parents to increase empathy, love and care in our children. To teach them to give back to others, especially children who aren't as fortunate, is very important to us," says Jenna.
For the Heath family, the event inspired feelings of gratitude. "It's nice to see the community out in support of our family and this cause," says Bill Heath, Audrey's father. As for having the support of Cleveland Clinic Children's, he adds, "There is no better care in the world. We are glad that we are here. We are glad that we are so close."
Fundraising for pediatric cancer research continues, one pedal at a time. The 2022 Trike & Bike season is now underway, with seven additional rides currently planned across Northeast Ohio and more to be added. Learn how you can participate in a Trike & Bike ride here.