Breaking Ground on a Transformative Cancer Care Experience
Breaking Ground on a Transformative Cancer Care Experience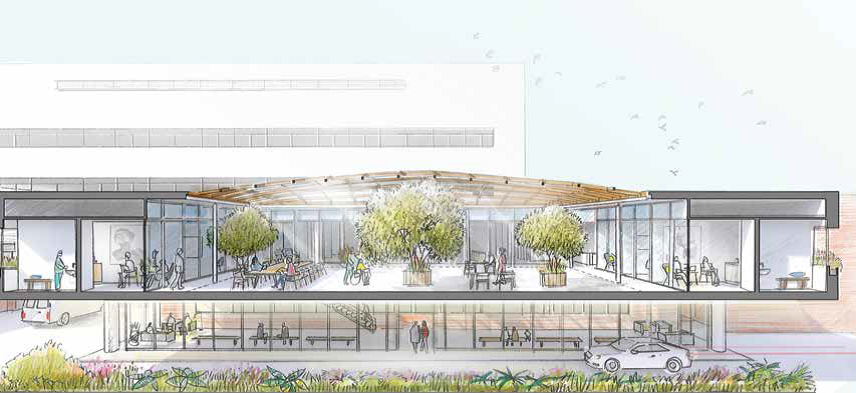 Shovels went in the ground on June 30 to mark the official groundbreaking for the Lozick Cancer Pavilion at Cleveland Clinic Hillcrest Hospital.
Funded by a generous lead gift from The Lozick Family Foundation, a longtime supporter of Cleveland Clinic, the new state-of-the-art facility will incorporate the healing environments and patient-centric approaches found at the pioneering Taussig Cancer Center on Cleveland Clinic's main campus.
Building on Cleveland Clinic's commitment to world-class care, the 10,600-square-foot addition to the existing Hillcrest Hospital Cancer Center will focus on the patient experience. A unique partnership with Cleveland Clinic's Office of Patient Experience during the building's design phase has led to transformative solutions and innovative physical spaces that patients intuitively will understand and find comforting. The new structure also will include elements such as abundant daylight and views of greenspace, natural elements and specially selected artwork.
"The Lozick Cancer Pavilion will be transformative in many ways," says Richard Parker, MD, President of Hillcrest Hospital. "As we serve more and more cancer patients, there is a need to integrate our outstanding, compassionate clinical care with a leading-edge facility. This approach benefits patients, caregivers and the community alike."
The gift also allows for interior renovations to the existing structure, which, along with the new construction, will include an entrance leading to a central patient check-in, as well as dedicated valet parking and convenient patient drop-off. A direct connection between the building's lower level radiation therapy services and the second floor oncology spaces will be created. Donor support also will provide funding for a complimentary patient liaison for each cancer patient and other support services.
Inspired by the generosity of the lead gift, other donors have contributed to the project, including the Schwebel Family Foundation and Rose and Steven Viny.
Hillcrest Hospital is ranked as the No. 3 hospital in the Cleveland area and the No. 4 hospital in Ohio, according to U.S. News & World Report's "2020-21 Best Hospitals." Cleveland Clinic's cancer program is also ranked No. 5 in the country according to the same survey. In addition, the hospital's Cancer Center has been awarded the designation of Comprehensive Community Cancer Program by the American College of Surgeons Commission on Cancer.
Driving For Success: Challenge Golf Program Tees It Up
Driving For Success: Challenge Golf Program Tees It Up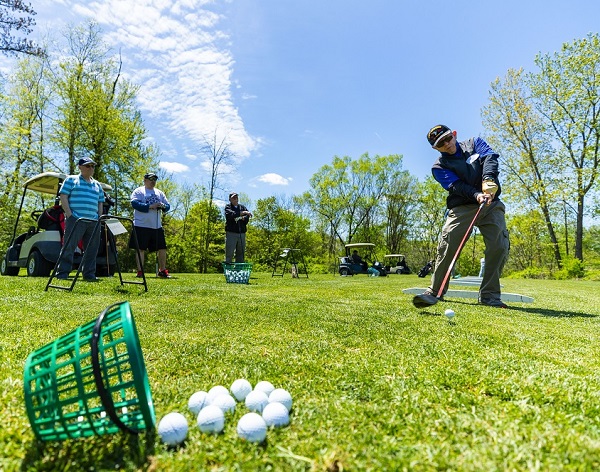 "Our biggest job is to help people set goals that are realistic for themselves," says PGA Professional Ron Tristano, who leads the Cleveland Clinic Akron General Challenge Golf program. "We're helping them focus on their ability, not their disability."
Ron began volunteering with the Challenge Golf program soon after its humble beginnings inside a gymnasium in 1989, where participants used plastic golf balls and clubs.
"This place just clicked for me," says Ron, a member of the Northern Ohio PGA Hall of Fame. "Not only do I work as a golf instructor, which I've always loved. But I get to make a difference in people's lives. I couldn't get this satisfaction doing anything else."
Ron joined Challenge Golf full-time in 1991. He oversaw the development of its pristine, three-green golf course, which features wheelchair-accessible cart paths, handrails and gentle slopes to ensure safe access. The course is a welcoming oasis for golfers who may struggle to navigate a conventional course.
Innovation Funded by Philanthropy
The Challenge Golf Course was the first of its kind in the United States specifically designed for persons with disabilities. With three sets of tees and three flags on each green, the course can be played as a nine-hole, par 3 three-hole course – with distances ranging from 60 to 150 yards. This allows participants with a variety of skills sets to play from whatever distance they feel comfortable.
The players, many referred from rehab facilities, often are former golfers looking to return to the game they love. Others are new to golf but eager to find a physical outlet.
The course is open to golfers of all abilities and ages in Northeast Ohio – regardless of ability to pay. The program is entirely supported by philanthropy, including an annual golf fundraiser, to eliminate any financial barriers. Akron General's Women's Board, a volunteer organization established in 1932, recently hosted an online auction, raising $23,000 to benefit the program. Enjoying the game of golf regardless of skill set, abilities, demographics or financial status makes the Challenge Golf program a valuable asset to the Akron community in its continued effort to promote health, wellness and access.
Expanding Access
The innovation continued when the program, which originally focused on those living with a chronic, mobility-limiting disease (stroke, spinal cord injury, traumatic brain injury, amputation and neuromuscular disorders), expanded its services. Golf is not often an option to those with visual impairments; however, the program is now equipped to serve those individuals. Participants are assisted by a sighted coach who describes the distance, direction, and characteristics of the hole. Many of these golfers find the training so successful that over time they graduate to playing on a regulation course with family and friends.
The program also offers a league that pairs golfers of different abilities, with the goal of creating more acceptance and understanding around those with disabilities. The program has served as a model for other facilities and is used to pair Challenge Golf participants with sponsors at Akron General's annual golf fundraiser.
In addition to the outdoor range, a state-of-the-art indoor learning center allows golfers to work on their swing year-round using video equipment to improve their techniques. The program continues to innovate, including adding the latest equipment such as new light weight clubs that are easier for participants to use. During the COVID-19 pandemic, the programming continued virtually and remains accessible, free of charge.
Focusing on the Positive
The Challenge Golf Program has a goal of creating a healthy positive outlet for all participants. Creative and forward thinking has allowed the program to exceed their goal to increase participation every year. In 2019, the course had over 5,000 visits thanks to these innovative strategies, its collaborative approach and the mission-driven program team.
"It gives people an opportunity to refocus on the positive, to relearn a game they've played before or to learn a game for the first time," says Ron. "To have a physical activity and a sport to play is important. It lets you get out in the fresh air with your family and friends in a social setting and not worry about what you can't do, but to start focusing on what you can do."
How You Can Help
Akron General's Challenge Golf program is supported entirely by the generosity of our donors. 100% of your gift helps fund special equipment, course upkeep and more. Make a gift today or join us on August 30 for the annual Akron General Golf Invitational.