Centennial Legacy Society Gift Is Tribute to Cleveland Clinic
Centennial Legacy Society Gift Is Tribute to Cleveland Clinic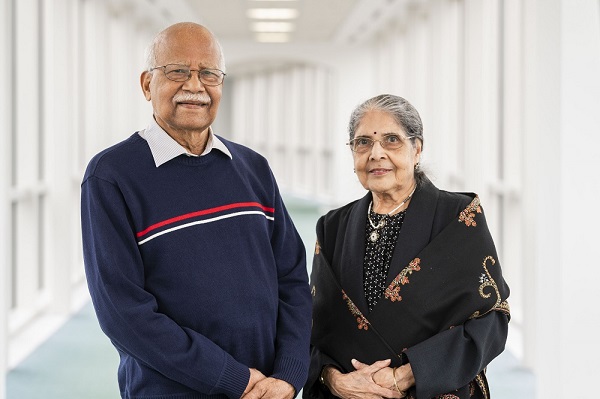 With their $100,000 gift to Cleveland Clinic Alumni Association's Centennial Legacy Society, Gopal Saha, PhD, and his wife, Sipra, have become founding members of the society's prestigious Centennial Circle.
Dr. Saha, Emeritus Staff, is the former Director of Nuclear Chemistry and Pharmacy at Cleveland Clinic and was on the staff of Nuclear Medicine for nearly 27 years. Mrs. Saha was an assistant professor of mathematics at Lake Erie College, Ohio, for 20 years.
The couple's gift is a tribute to Cleveland Clinic, Dr. Saha says. "Even now, I still have an office there as an Emeritus staff member. And I have published four textbooks – the first book with seven editions, the second one with four editions, the third book with three editions, and the fourth book with one edition. Some of them are translated into Chinese and Japanese. This is because Cleveland Clinic has given me ample opportunity to pursue my endeavor of writing textbooks, over and above the scope of carrying out my routine clinical duties."
Dr. Saha was awarded the prestigious Vikram Sarabhai Award by the Society of Nuclear Medicine, India, in 2008 for his contributions to nuclear medicine.
A Lifetime of Philanthropy
Dr. and Mrs. Saha also support causes that assist cancer patients and the underprivileged. This includes establishing The Sipra and Gopal Saha Fund with the Cleveland Foundation, which has partnered with the Hunger Network of Greater Cleveland to help prevent hunger in the community. "Living modestly over the years, we have saved some money. Now that our son and daughter are grown and established, we are better able to help others," Dr. Saha says.
His philanthropic interests arose from his own experience.
Dr. Saha emigrated to Canada from Bangladesh in 1961. "When I went to Montreal to get my PhD, I had only $50," he says. Raised in a village in Chittagong in Bangladesh, "I know what being poor means. My mother and I used to secretly take rice and lentils from the storage of our joint family to give to the poor people next door. I grew up with a passion for helping the poor and have supported many charitable organizations for many years."
In 1976, he became a staff member at the University of Arkansas for Medical Sciences in Little Rock, and in 1982, a professor at the University of New Mexico in Albuquerque. That's where he was working when, in 1984, he met the Chairman of Nuclear Medicine at Cleveland Clinic, who was seeking a chemist to run the nuclear pharmacy lab. After interviewing in Cleveland, he was offered and accepted the position.
As Director of Nuclear Chemistry and Pharmacy, he helped design and establish nuclear pharmacy labs in Cleveland Clinic's nuclear medicine departments throughout the region, including the one at the Sydell and Arnold Miller Family Pavilion. "These labs were designed and operated to comply with strict rules and regulations of the Nuclear Regulatory Commission and the Joint Commission on Accreditation of Healthcare Organizations, which inspected every two to three years and rated my lab No. 1 in the country," Dr. Saha says.
He taught nuclear medicine and radiology residents who were preparing for their board exams. "I introduced new techniques to prepare radioactive drugs for the diagnosis and treatment of different diseases," he says.
Grateful for the Investment
Dr. and Mrs. Saha have been married over 55 years and reside in Beachwood, Ohio. "It's an excellent community for family living, and we are enjoying it," Dr. Saha says.
"Cleveland Clinic invested in me, for which I am ever grateful, and now, I'm giving back to them," he says. "I have a sense of gratitude toward people who help me, and my wife feels the same way."
Sipra Saha agrees. "In my opinion, you should help other people and give the way you want to give, according to your capacity," she says. "It's in our blood. Before our marriage, I saw this in our family, especially with my mother, who would help other people and teach poor children. It's what she enjoyed throughout her life. My husband and I have the same outlook. My mother always said, 'If I have 10 cents, I can give other people 5 cents.' It's written inside my mind."
Your Support Makes a Difference
Because we're a nonprofit healthcare organizations, your gift to Cleveland Clinic will help transform healthcare for our patients, our communities and our world. Please make a gift today.
Rallying an Industry Around the Promise of a Breast Cancer Vaccine
Rallying an Industry Around the Promise of a Breast Cancer Vaccine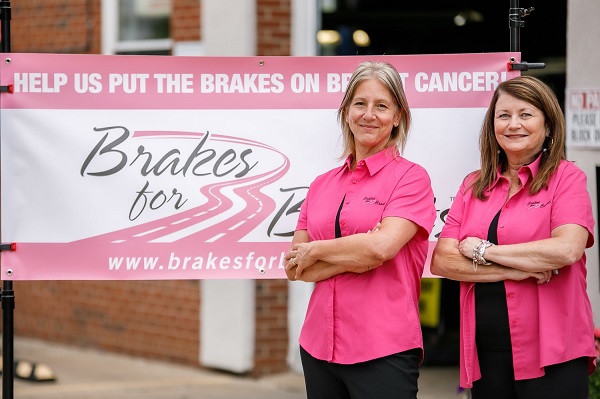 Sometimes a story is about more than one thing. This one is about scientific discovery. But it's also about two friends' impassioned resolve to make a difference in the world.
Laura Frank and Leigh Anne Best are hard-driving, successful business executives in the male-dominated automotive repair industry. Both have experienced the pain of losing loved ones to cancer. And both are devoted to each other and to the idea that the best way to cure cancer is to prevent it altogether.
In 2011, Laura and Leigh Anne started Brakes for Breasts, which in one year became a hugely successful North American-wide fundraising campaign to support a novel, multi-year research project at Cleveland Clinic – a project that is on track to develop the world's first vaccine for preventing breast cancer. The research, being led by Vincent K. Tuohy, Ph.D., immunologist at the Lerner Research Institute, also may help with innovations related to ovarian, prostate, and other cancers. The Tuohy Lab vision is to ignite a 21st century vaccine program. Its motto: Prevention is the cure.
Revving up a Movement
It all began in northeast Ohio. Well, sort of. Laura and Leigh Anne work within about 20 miles of each other, but they met 2,000 miles from home at an industry event in Arizona. Their ensuing friendship felt a little like destiny – as did the serendipitous events that led them to Dr. Tuohy in nearby Cleveland, after a lengthy, sometimes disheartening, national search for a cancer charity they could get behind.
Leigh Anne – who works with her significant other, Bill Hill, at his shop, Mighty Auto Pro in Medina – lost her dad to testicular cancer. And Laura – who owns Auto Repair Technology in Brook Park with her husband, Gerry Frank – lost her brother and mother to cancer. As her mom's primary caregiver, Laura had a front row view of what a cancer patient endures. It's Laura's mom, her lifelong commitment to philanthropy and volunteerism, and her courageous eight-year fight against ovarian cancer that inspired Brakes for Breasts.
"I went down for every treatment with her and sat in the chemo room," Laura says. "In the end, you know, my mother didn't die of cancer; she died from the treatment. I know the treatment kept her alive longer, but the suffering is hard to watch. … My children saw all of it and that was important to me, that they saw there's more than just getting up and going to work … You can make a difference."
Firing on All Cylinders
Can you imagine a vaccine that would create a world free of breast cancer? This is the question Laura and Leigh Anne boldly pose on their Brakes for Breasts homepage, and the question they have asked their industry peers, coast to coast, year after year. It also is what drives the two women to selflessly invest time and money to the cause, day after day. From the start, they agreed every cent they raised would go directly to research. All the administrative time and expense would be on them – though with a generous amount of help and fandom from family members, friends and colleagues.
Most of the Brakes for Breasts' fundraising occurs during the month of October when participating shops offer customers free brake pads and shoes, generally donated from participating vendors who are incentivized by the shops in some way. The customer typically pays for labor, but the shop donates 10 percent of the month's sales to the Cleveland Clinic Breast Cancer Vaccine Research Fund. Laura and Leigh Anne provide guidance, cheerleading and templates for marketing materials.
"But people don't have to donate only in October," Laura is quick to point out. "Our website is open to all, 24-7-365." In year one, the campaign raised $10,000 with five Ohio shops participating. In year two, it raised nearly $33,000 from 27 shops in 17 states.
Miles to Go Before They Sleep
This year, more than 200 shops from 36 states and Canada participated, enabling Brakes for Breasts to surpass its 10-year $1 million goal. "It was like we were watching election results the night we hit a million," Leigh Anne recalls. Each shop brings its own personality and creativity to the effort, she adds. In West Melbourne, Florida, the team at Rich's Auto Technology Service went so far as to engage the Brevard County sheriff and his dog – donning pink, of course. The shop also got a surprise visit from Dr. Tuohy's sister who lives nearby – which really pumped up the team.
There are countless other examples, Laura says. "We haven't met a lot of the people in person," she acknowledges. "But they call … they tell us their stories … and sometimes we cry with them."
The U.S. Food and Drug Administration recently approved an investigational new drug application for the vaccine, which permits Cleveland Clinic and partner Anixa Biosciences, Inc. to start Phase I human trials in the spring of 2021. The application alone was three years in the making, says Dr. Tuohy.
"Laura and Leigh Anne inspire me. They have taught me a lot about breast cancer and about marketing … and they literally saved the program at one point," Dr. Tuohy says. "This has become a community effort and they made it that way."
Visit the Brakes for Breasts website to learn more and make a gift.