To the Heart Center, With Love
To the Heart Center, With Love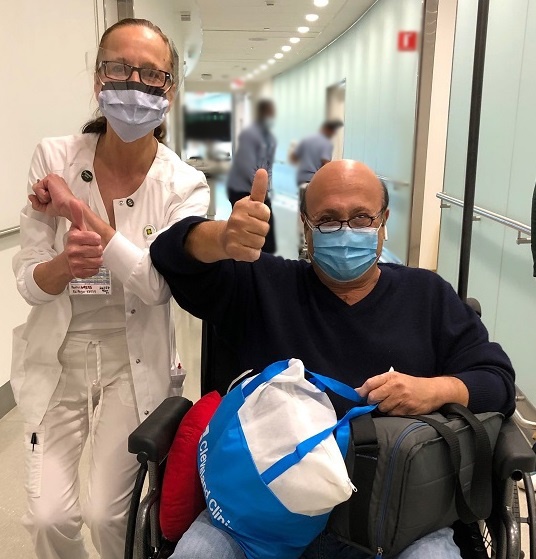 The first time Henry Sasson visited Cleveland Clinic, in November 2015, he received a speedy resolution to a worrisome health issue. He also fell in love with the place.
"What really hit me when I first came to Cleveland Clinic, I was so impressed," Henry says. "The system is tight and it works so well. It's an amazing, well-oiled machine. It caught my eye and my heart."
His affection for Cleveland Clinic contrasted sharply with the way he felt at another hospital close to his home in Michigan. He went there after two frightening dizzy spells, in which he perceived the ceiling and walls waving like water. His father had died of heart disease, and Henry thought he was facing a serious heart issue himself.
He describes entering the Sydell and Arnold Miller Family Pavilion for the very first time: "When I was walking into the hospital, I felt like I was walking into the future," he says.
The Future, Today
Henry's physicians at Cleveland Clinic quickly figured out that his dizziness arose not from a vascular problem but from a common and often temporary inner ear condition called benign paroxysmal positional vertigo.
They concluded that it developed after Henry became dehydrated while on a recent vacation. "These guys are smart," he says. "When they do something, they do it right. It took them two days to come up with conclusions. They didn't waste time."
Since then, Henry has received all his care at Cleveland Clinic, traveling to main campus for cardiology appointments, tests and physicals, and then establishing a care team at Cleveland Clinic Weston Hospital after he and his wife, Monica, moved to Bal Harbour, Fla., in 2017.
Henry says he appreciates the seamless communication between his Weston physicians and those in Cleveland. And when it came time to have a major operation, he had no qualms about leaving his home in Florida to have open heart surgery in Ohio.
"Someone asked me if I was scared," he relates. He told them: "No. 1, I've got to do it. No. 2, I feel pretty strong health-wise. And No. 3 is most important: I really trust the place, and I think the people are the best you can ever imagine. I feel very secure and very relaxed."
In the Land Across the Sea
Enriko (Henry) Sasson was born in Israel. After serving in the Israeli army, he followed his dream to visit the United States. "You can feel the air in America as soon as you land," he says. "It's a great country."
That was about 47 years ago, he says. He started out in New York City before moving to the Midwest and then, in the mid-'70s, to the Southwest. He and Monica met in Houston. She was from the Detroit area, so they settled there after they married. By then, Henry had become a real estate developer.
For decades, he's had regular cardiology checkups. "When I was a kid, 6 or 7 years old, I had rheumatic fever," Henry says. "I knew that I could have an issue down the road. I was fine all those years, but rheumatic fever creates some kind of scar in your valve, which weakens it."
When his doctor said two valves had to be replaced, he scheduled the open heart surgery at the Sydell and Arnold Miller Family Heart, Vascular & Thoracic Institute. Gosta Pettersson, MD, PhD, did the procedure in September 2020. "He's amazing," Henry says. "I could not have asked for a better surgeon."
Henry, who turns 68 this year, returned to Florida, where he continued post-surgery rehab. "I'm doing very well," he says. "Everything is really great and my family and I am very appreciative of the care that I received."
He's given a generous donation in support of two programs at the heart institute. And, he says, he wants the world to know how he feels about Cleveland Clinic.
"It's not just because my procedure was successful," he says. "The culture there, from the heart department to the drivers who take you from the hotel to the hospital, is absolutely amazing. They're very professional, very compassionate, very good at what they do, but you don't even feel you're in a hospital. It is just an extraordinary place."
Caregiver Collects Chargers for Patients
Caregiver Collects Chargers for Patients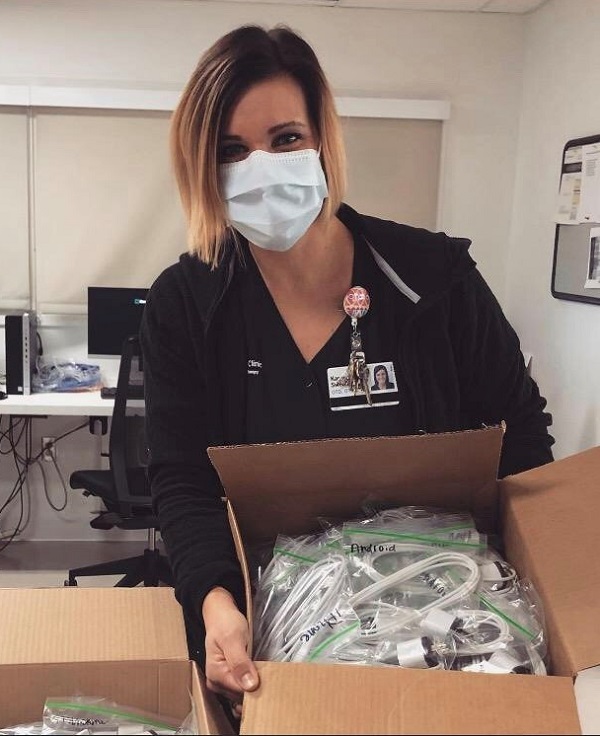 Many COVID-19 patients are admitted to the hospital quickly and unexpectedly, without time to prepare for a hospital stay. Often, a simple device taken for granted is forgotten: a cell phone charger.
When Senior Occupational Therapist Karrie Sweeney, OTD, OTR/L, began caring for patients with COVID-19, she realized that visitor restrictions made it nearly impossible for a number of patients to obtain their chargers from home. "For some patients, using their personal phone is the only way they can stay in touch with family and friends while recovering in the hospital," Sweeney says.
Sweeney empathized with her patients' feelings of isolation. "I felt like there was a need for these patients to help keep them connected to their loved ones during these hard and scary times," she says.
So Sweeney reached out to other caregivers in the therapy department to ask if they would donate old phone chargers, and she also posted a request on her personal social media account.
The response was overwhelming. In just two weeks, Sweeney collected more than 150 phone chargers for patients to use, as well as money to purchase chargers.
She tells of one patient who had not spoken to family members since Thanksgiving and finally was able to connect with them once her phone's battery was charged. "Her family kept saying it was so good to hear her voice, and it definitely brought a smile to the patient's face," Sweeney says.
"This has been a hard year for so many people on so many levels, and it can be especially isolating for those who are recovering from COVID," Sweeney says. "I wanted to do what I could to help our patients during these difficult times."
How You Can Help
A gift to Cleveland Clinic's COVID-19 Response fund supports our frontline caregivers and urgent pandemic research. In this hour of greatest need, your generosity is more important – and more impactful – than ever. Please make a gift today.
Transplant Programs Reach Milestone
Transplant Programs Reach Milestone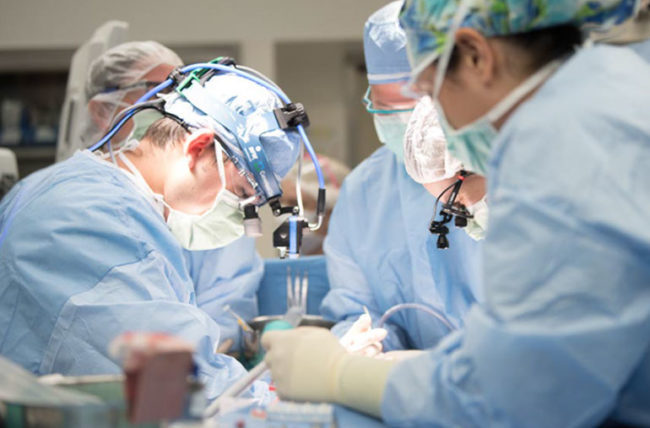 In 1968, not long after the world's first heart transplant in December 1967, Cleveland Clinic performed its first heart transplant. In 1990, it began its lung transplantation program. Recently, Cleveland Clinic became just the third hospital in the country to complete 2,000 heart and 2,000 lung transplantation surgeries – an astounding milestone.
Heart Transplant
The heart transplant program was officially established in 1984. Today, Cleveland Clinic is one of the largest heart transplant programs in the country with survival outcomes higher than the national average. Cleveland Clinic performs an average of 50 to 60 transplants each year, including as many as eight pediatric transplant surgeries. In 1998, a record 113 patients received heart transplants.
"There are only a few programs in the world that have continued to have a long-term commitment to doing a large volume of heart transplants," says Lars Svensson, MD, Chair of the Sydell and Arnold Miller Family Heart, Vascular & Thoracic Institute (HVTI). "Even more remarkable is the excellent survival that is achieved in the modern era with heart transplants, and indeed, the Cleveland Clinic Team's long-term outcomes exceed those of other programs in the USA."
Retired pediatrician Jennifer Allen received a heart transplant in December 2008 following a diagnosis of cardiac sarcoidosis from cardiologist W.H. Wilson Tang, MD. Grateful for her care, she and her husband, Alan Davis, now support HVTI.
"We think so highly of Dr. Tang and Cleveland Clinic," she says. "Alan was a CFO of a hospital but knows nothing about medicine. Dr. Tang was always so good about explaining what was happening without being condescending. So we give $100 every month and have made a planned gift in our will."
Gerard Boyle, MD, Medical Director of Pediatric Heart Failure/Transplant Services, says Cleveland Clinic and Cleveland Clinic Children's provide vital heart transplant care for patients in Northeast Ohio and far beyond. "For adult patients, a heart transplant is a second chance at life, but for pediatric patients, it can truly help give them a chance to begin theirs," he says. "In coordination with our world-renowned adult program, our patients have access to the latest innovative treatments."
Cleveland Clinic also has performed several dual organ transplants, including heart-liver, heart-lung and heart-kidney transplants on adult and pediatric patients.
Lung Transplant
In the last five years, Cleveland Clinic has proved to be a national leader in lung transplant, both in patient volumes and successful outcomes. The lung transplant program has established a reputation for accepting patients with challenging, complex conditions. In 2009, Cleveland Clinic performed a record-breaking 157 lung transplants, compared to the average annual of 100 lung transplants.
"Lung transplantation was one of the last hurdles to overcome in successful transplantation in humans to improve long-term survival in patients with end-stage organ failure," says Dr. Svensson. "The progressive success achieved by surgeons, pulmonologists and immunologists in the last few decades has been an extraordinary success in medicine. We are very proud of our Lung Transplant Team having done the most lung transplants by any center in the USA."
Ex-vivo lung perfusion, a procedure which reevaluates and optimizes the organ prior to transplantation, has further advanced the field so that more lungs are available for saving patients' lives.
Kenneth McCurry, MD, Surgical Director of the Lung and Heart-Lung Transplant Program, says the team is proud to be a leader in lung transplantation. "Lungs are a very difficult organ to transplant, but with steady improvements in surgical techniques, postoperative care, and innovative strategies that allow transplantation of more lungs, we have been able to provide this life-saving therapy to many more patients, and the success rate for patients is quite high."
Leading the Nation
"Cleveland Clinic is a national leader in lung transplant due to the talent and dedication of our caregivers, who guide patients and their loved ones through the lung transplant process and help them to be successful after their surgery," says Marie Budev, DO, Medical Director of the Lung and Heart-Lung Transplant Program. "The 2,000th lung transplant is an important milestone – and we all feel very fortunate to work in this field because we recognize that every time a patient receives a lung transplant, they are receiving a special gift – a second chance at life."
How You Can Help
Philanthropic support of Cleveland Clinic's organ transplant programs funds research that saves lives. Your gift has the power to help today and tomorrow. Please make a gift today.