Couple Commemorates Their Biggest Adventure Yet – Times Two!
Couple Commemorates Their Biggest Adventure Yet – Times Two!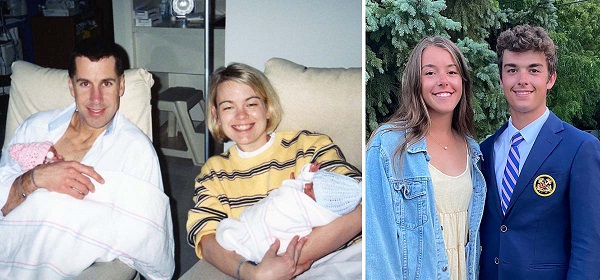 Colleen and Chris Carroll are self-proclaimed "adventurers." The Rocky River, Ohio couple loves to hike, ski, sail and travel to exotic locations … anything to challenge their minds and get their hearts racing. The two were married in 1999 and Colleen joined Chris's newly formed business soon afterward. The young entrepreneurs led Avon-based Flavorseal to become a successful specialty food packaging company. While having children was important to Colleen and Chris, their business and adventures occupied their time and energy. Starting a family could wait.
Four years later, demonstrating slightly less patience, Will and Allison were born – 10 weeks before their due date. Will arrived first at just three pounds, one ounce. Allison came five minutes later, a mere two pounds, 14 ounces. "There was no medical reason for them being born premature." Colleen says. "They just would not be denied entry into the world." Colleen delivered the twins at Cleveland Clinic Fairview Hospital on February 20, 2003, with the help of Ob/Gyn Jean Reinhold, MD, who remains Colleen's doctor and friend today.
Will and Allison spent their first 50 days of life in the Neonatal Intensive Care Unit (NICU). Chris and Colleen felt fortunate to have their babies cared for by an exceptionally caring NICU staff. "It almost felt like we had gained an extended family there," Colleen says. "The nursing staff and everybody … were there to support us."
When Will and Allison came home, they weighed four pounds and wore heart monitors. Chris could push his wedding ring up Allison's arm to her shoulder with ease. "Their stomachs were so tiny that it took an hour to feed them an ounce of milk," Colleen says. The two new parents quickly adopted several "survival strategies," including taking turns pulling all-nighters or each being responsible for a specific child during the night.
One early morning, Chris was getting ready for work and heard the heart monitor blaring. "I had one of the babies on the bed with me and fell asleep," shares Colleen. "I was out cold. Chris almost broke his neck getting out of the shower to make sure everything was okay. He got me up and I blurted out, 'I have a roast in the oven, it will be ready to eat in 15 minutes.'" It's fair to say, parenting has been the two's biggest adventure yet.
Today, Will and Allison are in their first year of college at The Ohio State University, majoring in finance and business, respectively. Will already has been running his own boat washing business since high school. And, not to be outdone, Allison, as a freshman in high school, started a company she called Pillow Pride. "I made little pillows with the logo of my school on it with the idea of giving the profits back to the NICU," she says. Their parents likely had something to do with their career choices, their interest in philanthropy and even their "leisure" activities. Will and Allison participate in skiing, sailing, cross-country running, rowing and hiking. Will has competed in sailing at the national championship level three times. Allison was recruited and now rows for the OSU varsity team.
A Different NICU Experience 18 Years Later
Since the twins' birth, the Carroll family has stayed close to Cleveland Clinic through volunteer support and philanthropy. Chris is on the board for Cleveland Clinic Avon Hospital at Richard E. Jacobs Campus and the family also started a president's fund there, among their involvement in other projects. When COVID-19 hit, the family noticed that the NICU fundraisers stopped. "When we learned there was an opportunity to support a capital project at Fairview's NICU, we met as a family and decided we wanted to move forward with it."
After making the decision, the family visited the NICU. "We sort of had a reunion," says Colleen. "The kids got to see where their beds were and talk to one of the nurses who was there when they were born."
The family's gift will benefit the staff as well as current and future NICU families, the Carrolls said. "It ultimately made sense to us from the respect that the team, the doctors and the nurses, are in that space all day, every day," says Chris. And then, of course, the families and future families …. If better flow, better technology helps reduce the strains and stresses … and if we can give back in that small way to help others … Why not?"
"Our gift is intended to be a thank you to everyone who helped our children thrive," says Colleen. "We're fortunate to be in a position to help. It's just gratitude."
Discovering a Need for Research at 90
Discovering a Need for Research at 90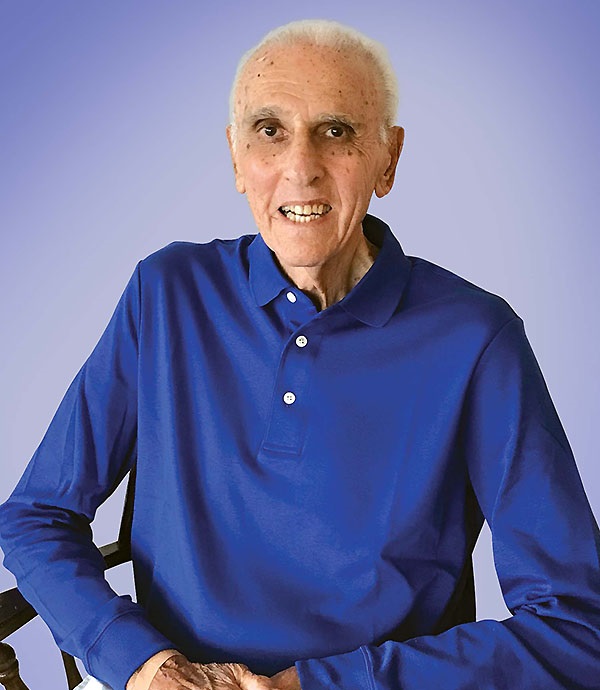 Robert Lifton always expected he would live a long, healthy life. His father had lived to be 100 and his mother to 94.
"For my age, I still live a pretty full life," says Robert, who has had a varied and successful career as an entrepreneur, community leader and international diplomat, with a broad range of books and articles to his credit.
However, he was startled to be diagnosed with heart failure at age 90.
Grateful for Excellent Care
Three years ago, Robert and his wife, Loretta, were enjoying the last days of a European cruise when he began feeling ill and had a high fever. The ship's doctor urged him to go to the emergency department at a hospital in Stockholm, where the ship was docked. After four days of tests and treatment, he was well enough to return home to South Florida.
A friend who is a cardiologist was concerned about Robert's condition and suggested he make an appointment with David Wolinsky, MD, Director of the Amyloidosis Center of Excellence at Cleveland Clinic Florida. After a nuclear test and further evaluation, Dr. Wolinsky informed him that he had non-hereditary ATTR, the most common form of cardiac amyloidosis.
Amyloidosis is a progressive disease in which abnormal proteins are deposited into the body's tissues and organs. The buildup of protein causes the tissues and organs to thicken and lose function. Once thought to be rare, ATTR amyloid is being more frequently recognized as a cause of heart failure. Early diagnosis and treatment are crucial for optimal care.
"I was in shock because I had never heard of amyloidosis and no one I knew had ever heard of it," Robert says.
Dr. Wolinsky recommended changing Robert's blood pressure medication and encouraged him to keep exercising regularly, despite his heart condition. Robert also began taking a new drug to prevent further progression of amyloidosis.
"I feel very fortunate to have learned about my heart condition early and to have a doctor as knowledgeable as Dr. Wolinsky, a leader in his field, provide my care," says Robert. "He is always responsive and helpful."
A Need for Research
While learning about the disease, Robert realized there was much more to be discovered about cardiac amyloidosis. He and Loretta recruited friends to join them in providing critical funding to help support Dr. Wolinsky's research and improve the diagnosis and management of cardiac amyloidosis.
As a result of the Lifton's generous commitment to the research and education inherent in Cleveland Clinic's mission, Dr. Wolinsky and his team can continue to impact patient outcomes and provide a better quality of life for cardiology patients.
Though he now walks more slowly and often with a cane, Robert still golfs occasionally. He and Loretta spend the summer months in New York visiting their two daughters and four grandchildren.
"Dr. Wolinsky's regimen is helping me hold my own. Recent tests indicate that there has been no further deterioration," Robert notes. "And for that I am grateful."