Endowed Chair Honors Family Ties to Cleveland
Endowed Chair Honors Family Ties to Cleveland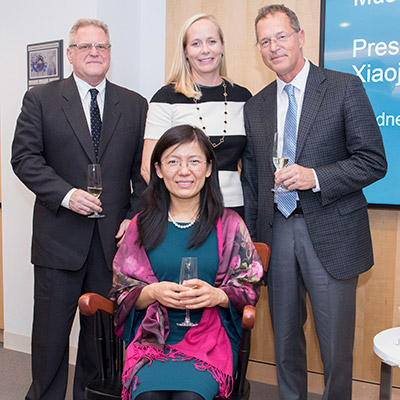 "Challenge accepted."
Those words inspired Peter Bonutti, MD, as he was completing his orthopaedic surgical training and fellowship programs at Cleveland Clinic in the late 1980s. His inquisitive nature and left-handedness, considered obstacles during his training, became key parts of his success.
"I was the only left-hander in the ortho program," Dr. Bonutti says. "Back then, everything in an operating room was laid out for right-handed people. I ended up becoming ambidextrous because of it. And I think I've become a better surgeon because of it."
Dr. Bonutti recently established the Cleveland Clinic Bonutti Family Endowed Chair for Musculoskeletal Research in honor of his father, Karl Bonutti, now 91 and living in Slovenia.
Dr. Bonutti's parents emigrated to Cleveland from Slovenia in the 1950s, overcoming many of their own challenges – in fact, his father also was left-handed and taught himself to be ambidextrous. Although none of them are current residents, Dr. Bonutti says he and his five siblings still feel deeply connected to the city where they grew up.
Today, Dr. Bonutti is a highly skilled orthopaedic surgeon at the Bonutti Clinic in Effingham, Illinois. In addition to providing innovative musculoskeletal care for national and international patients, he patented a number of commercial products and led new, minimally invasive surgical techniques.
"It's been a great honor to be involved with Cleveland Clinic," he says. "I wouldn't trade my education for anything. My mentors were tough, but they offered me some great opportunities."
The Inaugural Chair Holder
Xiaojuan Li, PhD, on the staff of Lerner Research Institute's Department of Biomedical Engineering, is the first to hold the Bonutti Family Endowed Chair.
Dr. Li's research focuses on the use of biomedical imaging to diagnose disease and study treatment approaches, with a particular interest in osteoarthritis, rheumatoid arthritis and osteoporosis. She also is the founding Director of the Program of Musculoskeletal Imaging and holds joint appointments in the Imaging and Orthopaedics & Rheumatology Institutes.
Support from Dr. Bonutti's endowment over the next few years will allow Dr. Li to foster multidisciplinary and inter-institutional collaborations between researchers and clinicians. She'll also work to develop the Program for Advanced Medical Imaging as a significant and unique resource for musculoskeletal imaging-based research.
"Dr. Bonutti's passion for innovation in medicine and desire to make a clinical impact really resonated with me," Dr. Li says, adding that she's very grateful for his support. "Philanthropy is so empowering for researchers—it gives us the freedom to explore unconventional, high-risk, high-reward innovations that we wouldn't otherwise be able to pursue."
Her previous research was well-funded by the National Institutes of Health, private foundations and industry organizations. She has co-authored more than 140 publications and several book chapters. Dr. Li has been honored with numerous awards for her work, including the 2015 Distinguished Investigator Award from the Academy of Radiology Research. She recently was elected to the 2019 American Institute for Medical and Biological Engineering College of Fellows, which represents the top 2 percent of researchers in the field.
Dr. Bonutti is impressed with Dr. Li's research and says their work shares synergies. "Her expertise is MRI and cartilage research and being an orthopaedic surgeon. Cartilage is obviously a huge issue for degenerative joint disease. Her ability to view this in an imaging space is very important."
Philanthropic support like Dr. Bonutti's is essential to accelerating discoveries that can be translated into new treatment options. Such gifts provide investigators with the necessary support to test and validate research projects in the lab before larger external grant support can be secured.
How You Can Help
Seed Funding Furthers IBD and Cancer Research
Seed Funding Furthers IBD and Cancer Research
In 2016, Emina Huang, MD, received funding from two Cleveland Clinic philanthropic initiatives, the Research Centers of Excellence program, and VeloSano, the Bike to cure fundraiser for cancer research.
This funding allowed Dr. Huang to establish the Center of Excellence in Colon Cancer Metastasis Research, which she co-directs. It also supported preliminary research that led to a multimillion-dollar grant, awarded in 2017 by the National Cancer Institute (NCI).
"The seed funding from these programs is essential to advance early stage research that leads to new discoveries and attracts large, external grants," Dr. Huang says.
Advancing Innovative Research
Less than a year later, her research team has harnessed the NCI support into new discoveries that will enhance the understanding of colorectal cancer.
In a paper published in June 2018 in Oncotarget, Dr. Huang and her collaborators describe how they developed a special disease model, called an organotypic model, of ulcerative colitis (UC), an inflammatory bowel condition that can lead to colorectal cancer. Organotypic models such as organoids are groups of human cells engineered in the laboratory to mimic the biological qualities of the larger organ on a much smaller scale.
In this case, team members created a "mini-colon" from cells that were removed from the biopsied colons of healthy patients and those with UC. Their research showed that the structural and cellular elements of the organoid matched those observed in patient colons and that the gene expression pattern of the UC organoid differed from the healthy organoid, namely among genes related to inflammation, metabolism, cell adhesion and cancer.
The researchers validated their model and demonstrated that it can reliably be used to study processes related to UC and colorectal cancer. They also identified new genes suspected to be involved in the disease process.
Dr. Huang is hopeful that continued funding will offer the potential to improve future therapies. "Ultimately," she says, "this work offers new targets for therapeutic intervention, and brings us closer to delivering precision medicine for patients with UC and colorectal cancer."
How You Can Help
Your support benefits medical research like Dr. Huang's, which helps save lives.
Grant-funded Diabetes Center Helps Patients Thrive
Grant-funded Diabetes Center Helps Patients Thrive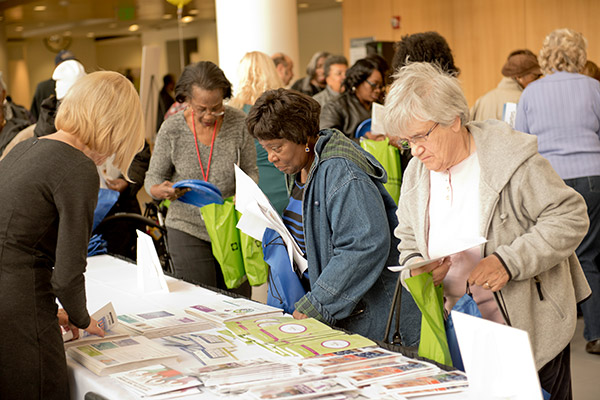 When Elmer Graham first learned he had diabetes, his blood glucose reading was 377. "Now, I'm running into the 80s and 90s," he says.
For patients like Mr. Graham, it's critical to have access to the care and resources needed to manage diabetes. He found the help he needed at Cleveland Clinic's Lennon Regional Diabetes Center. "They explain everything to you," he says. "They have free classes, and you feel like you're getting educated to what your problem really is."
Patient Education is Vital
The center was created by a grant from the Fred A. Lennon Charitable Trust, which supports specific initiatives that include enhanced care coordination for patients; enterprise-wide diabetes education and outreach through classes and self-care guides; and education and training for the next generation of endocrinologists.
"The Lennon Charitable Trust is an unbelievable partner that allows us to provide care to a large population of people with diabetes," says Bartolome Burguera, MD, PhD, Chair of the Endocrinology & Metabolism Institute.
The free patient education is particularly important, Dr. Burguera says. "Research repeatedly demonstrates that improvement of nutrition, a more active lifestyle and self-managed control of blood sugar, in addition to medication when indicated, drastically reduces the incidence of severe and costly complications."
Coordinated Care Makes a Difference
Located at the Stephanie Tubbs Jones Health Center in East Cleveland, the center is well-situated for those who need it most. "There's a higher prevalence of diabetes in our service area," says Sue Cotey, a diabetes educator. "It's very important that this facility is where it is. It's very important to this neighborhood."
Noting that patients with diabetes have to get their eyes and feet checked regularly, Ms. Cotey says that the center has an eye clinic and a podiatry clinic, along with one-on-one diabetes education.
The grant also supports weekly tai chi classes, which helps people with neuropathy, she says. "It's a thriving program. And we wouldn't have it without these funds."
The center and "all its wonderful people" have made a huge difference to Mr. Graham. "I'm doing really well," he says. "Between the doctor, the nurse, the dietitian and the pharmacy, they all work together. My blood pressure is down, my weight is down, my sugar readings are down. I'm a much healthier person."