Rapid COVID-19 Breath Test a Game-Changer
Rapid COVID-19 Breath Test a Game-Changer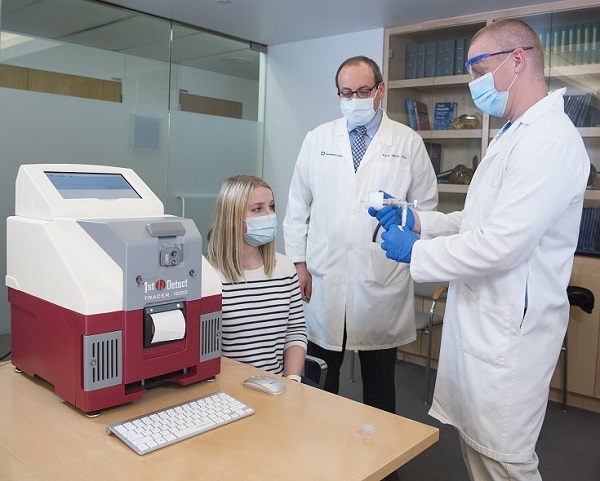 Distribution of the first COVID-19 vaccine in the United States may begin this month, nearly a year into the COVID-19 pandemic, and other vaccine candidates are soon to follow. By spring 2021, vaccination of the general population will get underway, a process expected to take several months. What does that mean for coronavirus testing?
"Having a COVID-19 vaccine does not end the need for reliable, rapid testing," says Raed Dweik, MD, Chair of Cleveland Clinic's Respiratory Institute. "Widespread testing will be needed for the long-term, even after a significant portion of the population is vaccinated."
That's why Cleveland Clinic has partnered with BreathTech Corporation, a subsidiary of Texas-based Astrotech Corporation, to develop a noninvasive device that will use breath samples to identify COVID-19 strains. The goal is to provide a low-cost, self-service screening option that could be deployed on a large scale, including in hospitals, nursing homes, schools and airports.
What's in a Breath?
The connection between breath and disease has been known for centuries, from the fruity breath long associated with uncontrolled diabetes to the fishy-breath odor linked to kidney failure. Today, there are breath tests to determine if someone is lactose or fructose intolerant. Another can identify the presence of Helicobacter pylori, a bacterium found in the digestive tract associated with peptic ulcers and gastric cancer.
"Each person has a unique 'breathprint' made up of a vast array of molecules that hold great promise for monitoring our health and for the diagnosis and management of various diseases," explains Dr. Dweik, the inaugural holder of the E. Tom and Erika Meyer Chair in Pulmonary Medicine and a founding member of the International Association for Breath Research. "Essentially anything in the blood that is potentially volatile or has a volatile metabolite can be measured in exhaled breath. The challenge is to identify the compounds linked to specific diseases."
Dr. Dweik and his research team at Cleveland Clinic were among the first to identify that unique volatile organic compound metabolites in the breath can be used to detect asthma, heart failure, pulmonary arterial hypertension and liver disease.
Evolving Technology
Alcohol breath analyzers have been widely used since the 1940s. These devices estimate blood alcohol content by measuring the ratio of alcohol and carbon dioxide in a person's breath. With modern technology, including mass spectrometry and gas chromatography-mass spectrometry instruments, more than 1,000 unique substances now can be identified in exhaled breath, including a multitude of volatile organic compounds.
"Breath testing is noninvasive, non-intrusive, and can be performed repeatedly as needed," Dr. Dweik notes. "It does not have a dose limitation like x-rays, an amount limitation like blood or saliva tests, or a timing limitation like PCR [nasal swab], blood and urine tests."
Cleveland Clinic researchers, led by Dr. Dweik, will work with the BreathTech team to further develop the company's BreathTest-1000™ mass spectrometer, which is based on the company's core mass spectrometry technology currently used for explosives trace detection. It will be developed to detect metabolites associated with respiratory disease, including COVID-19, and potentially screen patients within as little as 60 seconds.
The partnership brings together the breath analysis expertise and clinical resources of the Cleveland Clinic team with the scalable technology and deployment experience of the BreathTech team. The joint team plans to open a clinical trial with the technology in the coming months, starting with a Phase 1 open study to verify detection sensitivity in hospitalized patients with COVID-19.
"Creating a COVID-19 breath test addresses an urgent unmet clinical need today while also setting us up for a better response to the next global pathogen threat," adds Dr. Dweik.
How You Can Help
Philanthropic support has been critical to the foundational work that positioned Dr. Dweik and his team on the cusp of a game-changing testing option for COVID-19. Your support will help accelerate this vital research. Please make a gift today.
Fund Eases Stress for Patients' Families
Fund Eases Stress for Patients' Families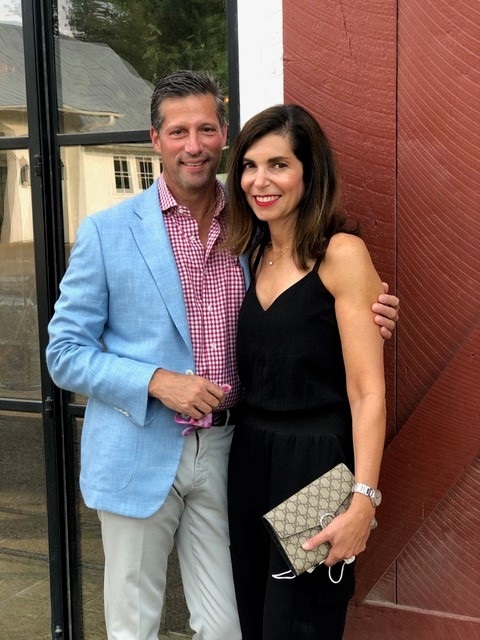 A young patient suddenly passes away from an acute illness, and the teen's impoverished family is unable to afford the funeral expenses.
A newborn is in the Neonatal Intensive Care Unit, but the parents' only means of transportation broke down and now they can't get to the hospital to see their child.
A patient with cystic fibrosis needs IV medication, but the family is not remotely able to cover the $1,800 co-pay.
For these families — and many others who struggle to make their rent or put groceries on the table, especially during the COVID-19 pandemic — financial burdens exacerbate the stress and heartbreak of serious illness.
Thanks to a philanthropically minded couple, however, family members in these situations have found respite so that they can focus on their hospitalized children.
Chip and Karen Chaikin established the Chaikin Patient Assistance Fund at Cleveland Clinic Children's in the spring of 2020, just as "the world imploded" from the pandemic. "We were thinking about ways we could give back that would feel impactful and make a difference," Karen says.
"People were worried, and still are, about getting kicked out of their homes and losing their jobs," Chip adds. "The families of seriously ill children are under an insane amount of stress and anxiety and sadness. And if we can do anything around the periphery to make that easier for them, at least to take away some of those pressures so that they can focus on the crisis, we're thrilled to be able to do it."
Filling a Crucial Need
Families can apply to the fund to cover non-medical costs. "When you think about someone with a critically ill child who doesn't have enough money for groceries or can't pay their electric bill, it takes so little to make such a big difference in their day. It's painful to think about, but that's a huge reality right now," Karen says.
The Chaikins chose Cleveland Clinic for their philanthropy because "it's a great institution," Chip says. "It's such a professional, well-run organization. That gives you a lot of comfort to partner with them."
Their involvement with Cleveland Clinic Children's came about when Karen helped bring to the pediatric hospital an organization called The Hope for Henry Foundation, which partners with Cleveland Clinic Children's Child Life program to enhance the experience for young patients.
"We've had such an amazing experience with the Clinic and seeing the difference it's making in all of these children's lives," Karen says. "That was sort of a good segue. It felt really good to us to do more and do it at the Clinic."
Chip agrees that they wanted to build on that partnership with Child Life to benefit even more patients and their families. "If Hope for Henry can help them in the hospital, let's figure out how we can help them outside of the hospital."
Deep Roots in Northeast Ohio
The Cleveland natives — he's a partner in the private equity firm Blue Point Capital and she's a partner in District Gallery at the Van Aken shopping district in Shaker Heights — lived in China for several years because of Chip's work.
"We saw so much poverty and so many people who didn't have access to healthcare," Karen says of their time in Shanghai. "We just know how lucky we are in Cleveland to get the healthcare we need."
Karen and Chip met in fourth grade at Belvoir Elementary School on Cleveland's East Side. "I had a crush on him," she says, and Chip happily shows off their class picture. They reconnected a decade and a half later when a mutual friend fixed them up on a date. Both were working in D.C. at the time. Married in 1995, they have four children including daughter Lila, adopted while they lived in China.
The Chaikins are grateful that everyone in the family has enjoyed good health. "Unfortunately, we have several sets of friends who have had to deal with kids with chronic, long-term, very serious illnesses," Chip says. "We've watched what those families had to deal with over the years and have seen how great the care is at Cleveland Clinic Children's. So setting up this fund was really a natural extension of that."
They encourage others to support it too. "We'll clearly support it on a long-term basis," Chip says, "but we want it to become big enough and self-sustaining enough that help is not rationed in any way. If a family has a great need like paying rent or getting bus tickets, there's always an answer for them."
As he sees it, the fund provides an opportunity to help people who need assistance, and that feels good, he says. "If you give to a family that needs whatever, you're walking on air all day."
And, Karen says, "It's such a direct way to make an impact. The money directly benefits people who need it. There's so much need, and people can do a little to make a big impact in someone's life."
How You Can Help
A donation in any amount to Cleveland Clinic Children's will help ease the stress of families of seriously ill children. We hope you will join the Chaikins and give what you can.
Generous Gift Supports Discovery at Florida Research and Innovation Center
Generous Gift Supports Discovery at Florida Research and Innovation Center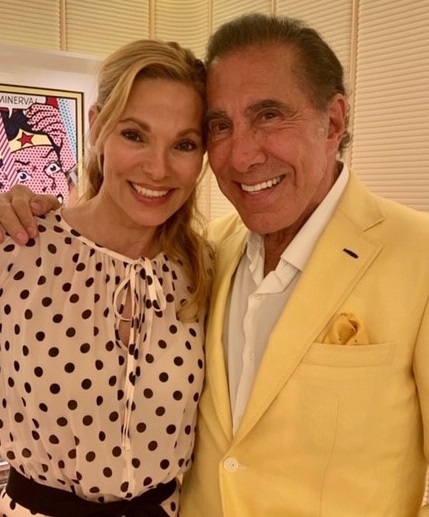 As new Florida residents, Steve Wynn and his wife, Andrea, felt it was important to understand the exciting growth and potential of Cleveland Clinic's expansion in the state.
A Cleveland Clinic donor since 2002, Mr. Wynn has long provided generous support to Cleveland Clinic Lou Ruvo Center for Brain Health in Las Vegas. Mr. Wynn is well-known for his pivotal role in reviving and expanding the Las Vegas Strip.
The couple learned about the plans for increasing access to care, recruiting and retaining top physicians, and improving the lives of those in the communities served by Cleveland Clinic Florida. One project that caught their attention is the expansion of research, led by Conor Delaney, MD, PhD, CEO and President of Cleveland Clinic Florida.
Inspired by the future and the vision of Cleveland Clinic's research efforts in Florida, the Wynns made a transformational gift of $1 million to support critical research and develop next generation treatments for a broad scope of diseases – from common allergies to life-threatening illnesses like the coronavirus – to improve healthcare around the world.
Their gift will benefit scientific exploration and discovery at the recently established Florida Research and Innovation Center, a 107,000-square-foot, leading-edge research facility located in Port St. Lucie, Florida. The center's team of renowned scientists has launched scientific investigations to address both local and international health challenges, including cancer and emerging pathogens. Additionally, the facility is providing an exceptional training environment for researchers.
The Florida Research and Innovation Center is closely integrated with Cleveland Clinic's Global Center for Pathogen Research and Human Health, established in April 2020, which brings together some of the world's top research experts in virology, immunology, genomics and population health to broaden understanding of emerging pathogens – ranging from the Zika virus to SARS-CoV-2 (which causes COVID-19) – and to expedite critically needed treatments and vaccines. The researchers also collaborate with drug developers at Lerner Research Institute's Center for Therapeutics Discovery to more rapidly move discoveries out of the laboratory and into the clinic for patient care.
In addition, the Florida Research and Innovation Center complements and expands research underway at the Florida health system's five hospitals and the Lerner Research Institute, which is home to 190 laboratories on Cleveland Clinic's main campus in Cleveland. The scientific teams are closely collaborating, tapping into resources at all facilities to develop new treatments for patients around the globe.
"Cleveland Clinic is an organization that I'm proud to support," Mr. Wynn says. "The groundbreaking work that happens at all of their locations from Ohio to Las Vegas, and from Florida to Abu Dhabi, is influencing the future of medicine as we know it. When I learned about the urgent need to support the Florida Research and Innovation Center, I saw the importance of getting involved because they have recruited the best and brightest scientists to make an impact on infectious diseases on a global scale."
How You Can Help
Your support is critical to medical research. Gifts of all sizes bring us closer to new treatments and therapies — and the promise of saving countless lives. Your donation is put to use immediately to help accelerate high-priority research at the Florida Research and Innovation Center and provide the best care for our patients.