VeloSano Raises Record Amount
VeloSano Raises Record Amount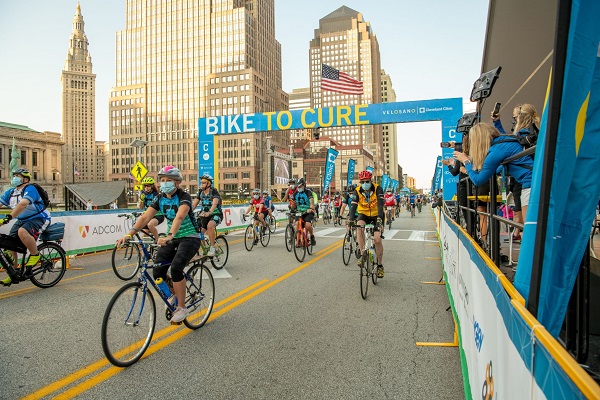 A record-high $5.1 million was raised for VeloSano in 2021, 100% of which will support lifesaving cancer research at Cleveland Clinic. The year-round fundraising initiative has raised a cumulative total of more than $29 million since its inception in 2014.
The total amount raised in 2021 was announced in a special video featuring the many ways over 4,000 participants from near and far contributed to setting this year's record. This includes participating in the annual Bike to Cure fundraising event in Cleveland as a rider or volunteer, raising funds from locations across the globe as a virtual fundraiser, supporting our littlest heroes and raising funds for pediatric cancer research as a Trike & Bike junior rider, or simply making a donation to support the cause.
"We are so grateful to everyone involved in making this a record-breaking fundraising year for VeloSano," says Jame Abraham, MD, interim chair of Taussig Cancer Institute, Cleveland Clinic Cancer Center. "The support, passion and energy is contagious, and helps us to continue to advance cancer research to the next level."
VeloSano, Latin for "swift cure," has gained significant fundraising momentum over the past eight years. Generous support from its 52 partners, including but not limited to, the Kohl Fund, the Cleveland Guardians, Adcom, Jones Day, Lexus, Zack Bruell Events, Advance Ohio, Amgen, Hileman Group, House of LaRose / Michelob Ultra, KeyBank, The Lerner Foundation, Oscar Health and Ranpak, allows 1OO% of every dollar raised to fund cancer research at Cleveland Clinic.
Cleveland Clinic cancer researchers compete for funds raised by VeloSano, with the money being awarded to research proposals with the greatest promise. To date, VeloSano has supported 170 cancer research projects. Those projects often go on to earn significant research grants from the National Institutes of Health and elsewhere. Currently, an additional $22 million in funding has been received thanks to the promise shown by VeloSano-funded projects.
Philanthropically Funded COVID-19 Research Registry has Global Impact
Philanthropically Funded COVID-19 Research Registry has Global Impact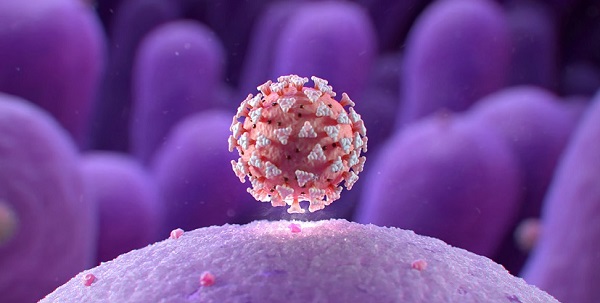 Early on in the pandemic, Cleveland Clinic researchers developed a COVID-19 Research Registry, which now has data from 360,000 patients tested for COVID-19. The registry was created to develop analytic tools for individualized prediction of who would test positive, who would have poor outcomes and to identify potential treatments.
Funded by generous individual, corporate and foundation donations to Cleveland Clinic's COVID-19 Response Campaign, the registry incorporates several hundred data points from each patient, including demographics, age, comorbidities, COVID-19 symptoms and risk factors. The tool, which can help healthcare providers efficiently allocate resources, is now available to millions of patients around the world who have a healthcare record in Epic, an electronic medical record software system.
The dynamic registry is now used in more than 250 COVID-19 related research projects in areas such as cancer, asthma, pediatrics and intensive care. Other healthcare systems are collaborating with Cleveland Clinic to use the established registry to gain important insights into COVID-19.
Since its development, researchers have used it in several hundred peer-reviewed publications. A few examples:
Registry data was used to find that patients who use steroid nasal sprays are less likely to develop severe COVID-19-related disease, including a 20-25% lower risk of hospitalization, ICU admission and mortality. Study published in Journal of Allergy and Clinical Immunology – In Practice.
Researchers used the registry to determine potential medications, such as melatonin, that could reduce risk for developing COVID-19. Findings published in PLOS Biology.
Cleveland Clinic collaborated with Brigham and Women's Hospital to use the registry in a study that showed that prior vaccination with MMR or Tdap was associated with decreased disease severity. Their results published in Med.
It's Not Too Late to Make an Impact
It's Not Too Late to Make an Impact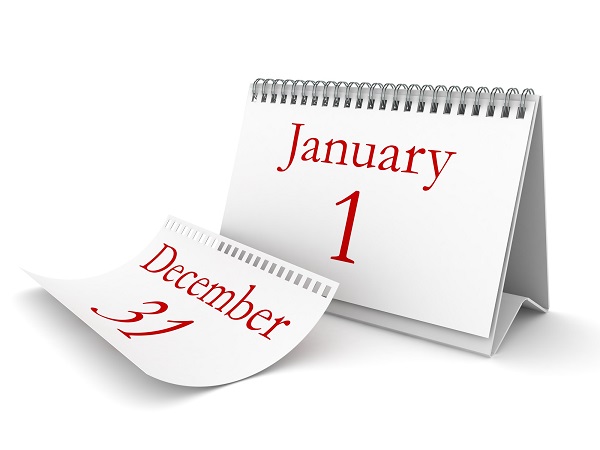 Even though there are only days left in 2021, it's not too late to make a meaningful impact for our patients and caregivers at Cleveland Clinic.
Between now and Dec. 31, there are a number of charitable gift opportunities to consider that may help you and your family achieve your charitable goals and maximize income tax savings.
Cash Gifts
Due to provisions under the CARES Act, until Dec. 31, 2021, you can take an income tax deduction for cash gifts to Cleveland Clinic up to 100% of your adjusted gross income (AGI). (The deduction limit is expected to return to the regular 60% of AGI limitation in 2022.) This incentive allows you to completely offset income tax liability for 2021 by making cash gifts equal to your AGI.
If you have a multi-year pledge, you can even accelerate payments to take advantage of this opportunity before it expires.
Under these provisions, corporate donors can deduct cash donations up to 25% of modified taxable income (previously a 10% limit).
Gifts of Appreciated Securities
2021 has been an extraordinary year for investment markets, which makes now an ideal time to consider making a gift of appreciated securities.
A gift of appreciated securities provides you with a double benefit as a donor: you would not be charged a capital gains tax (that would otherwise be due upon the sale of the assets) and you would earn a 2021 income tax charitable deduction for the fair market value of the securities.
It's important to keep in mind that securities must be transferred by Dec. 31, 2021, to qualify for 2021 tax benefits.
Qualified Charitable Distributions
For individuals age 70 ½ or older, a Qualified Charitable Distribution (QCD) from an IRA is another tax-efficient way to make a year-end gift to Cleveland Clinic.
A direct transfer from an IRA to Cleveland Clinic can provide you with double the benefits as the amount of the transfer is not included in your taxable income. Also, if you are 72 or older, the gift counts towards your required minimal distribution (RMD), a taxable withdrawal.
While there is no charitable deduction for a QCD gift, the exclusion of the gift amount from your taxable income provides a larger tax benefit, particularly if you take the standard deduction.
It's important to remember that the QCD must be paid directly from the IRA administrator to Cleveland Clinic (or a check issued to Cleveland Clinic from the IRA owner for transmittal to Cleveland Clinic). Because this process can take weeks to finalize with the IRA administrator, be sure to allow plenty of time to have the funds sent to Cleveland Clinic by Dec. 31, 2021.
Start Planning for 2022
Even if your charitable giving plan is already set for this year, it's never too early to start planning for next year. There are many ways to incorporate a charitable gift to Cleveland Clinic into your financial planning to help you achieve your personal, financial and philanthropic goals.
Cleveland Clinic's Gift Planning advisors are available to discuss how these options may benefit you and your loved ones. Email Gift Planning at giftplanning@ccf.org to learn how you can make an impact that will benefit the patients we serve worldwide.
Cervical Cancer Research Funded by VeloSano Award
Cervical Cancer Research Funded by VeloSano Award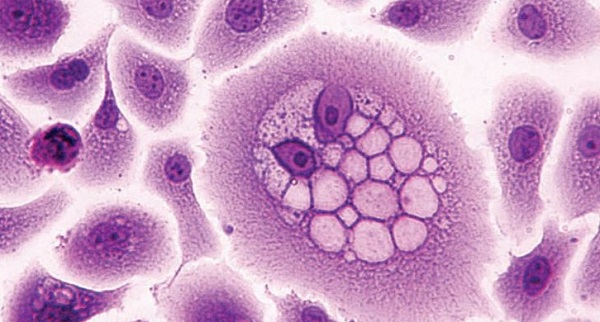 In the United States in 2018, the latest year for which incidence data are available, 12,733 new cases of cervical cancer were reported among women, and 4,138 women died of this cancer. With routine screening, cervical cancer is preventable. But women who are uninsured or don't have access to regular medical care often miss out on lifesaving testing.
Obstetrician and gynecologist Miriam Cremer, MD, MPH, is out to change that. The gold standard of cervical cancer screening is a Pap test coupled with a test for human papillomavirus, or HPV, a common, sexually transmitted infection and the primary cause of cervical cancer. While a Pap test must be performed by a doctor, a HOME HPV TEST could soon be on pharmacy shelves. But is HPV screening alone as good at detecting potential cancer? How risky is it?
Dr. Cremer will use a $125,000 award from VeloSano, the fundraising initiative where 100% of every dollar raised worldwide supports cancer research at Cleveland Clinic, to study those questions, opening the door to easier and more widespread testing—and fewer deaths. "I'm incredibly optimistic that we'll be able to reach the most vulnerable people in our community by allowing them to do a home test which could prevent cervical cancer," she says.
Weston Cancer Patient Navigator Program Elevates Hope and Healing