A Tribute to the Legacy of Dr. Toby Cosgrove
A Tribute to the Legacy of Dr. Toby Cosgrove
In his nearly 13 years as CEO and President, Toby Cosgrove, MD, put patients at the center of the healthcare experience. He emphasized "well care," not just "sick care," and fostered a culture of innovation that increased Cleveland Clinic's presence locally, nationally and internationally.
In short, Dr. Cosgrove helped make Cleveland Clinic what it is today: a world leader in patient experience, clinical outcomes, research and education.
Learn more about the man behind the legacy in the video.
How You Can Help
Dr. Cosgrove's visionary leadership has revolutionized healthcare around the world. Help us continue to inspire innovation at Cleveland Clinic through a gift to the Cosgrove Transformation Fund. Your support impacts groundbreaking research, advances medical education and furthers our commitment to patient-centered care. Make a gift here.
Cleveland Clinic Unveils Top 10 Medical Innovations for 2018
Cleveland Clinic Unveils Top 10 Medical Innovations for 2018
A panel of top doctors and researchers presents the advancements with the power to transform healthcare in 2018
OCTOBER 25, 2017 / NEWS RELEASES
An artificial pancreas to help diabetics. A pacemaker for sleep apnea. Gene therapy for blindness. These are some of the innovations that will enhance healing and change healthcare in the coming year, according to a distinguished panel of doctors and researchers.
Cleveland Clinic today announced the Top 10 Medical Innovations of 2018 at a multi-media presentation that capped off the 2017 Medical Innovation Summit. Now in its 15th year, the annual Medical Innovation Summit is organized by Cleveland Clinic Innovations, the development and commercialization arm of Cleveland Clinic
Building Begins for New Children's Hospital
Building Begins for New Children's Hospital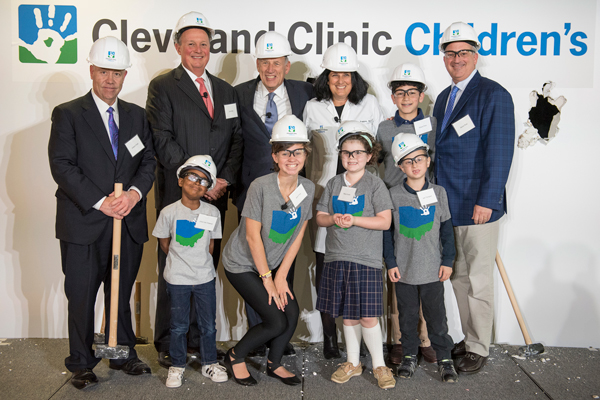 Building a One-Stop Shop for First-Class Pediatric Care
New building will coordinate care teams and enhance the patient experience.
Scheduled to open in fall 2018, the new Cleveland Clinic Children's facility will serve as the principal location for all primary and specialty outpatient pediatric services, uniting hundreds of doctors, nurses, therapists and caregivers and fostering collaboration between teams.
Currently, Cleveland Clinic Children's services are scattered across five different locations throughout the hospital's main campus. With the goal of creating the best possible patient experience, the 120,000-square-foot renovation will consolidate all outpatient services in one location to accommodate the unique needs of our youngest patients and their families.
Additionally, the new facility will serve as a training ground for medical students, residents and fellows as they prepare to treat tomorrow's children.
Desired features include:
Over 50 exam rooms
20 private infusion rooms
4 procedure rooms
A robotic infusion and retail pharmacy
Convenient radiology and laboratory services
Technology bars for patients and siblings
Family resource center and play area for patients and siblings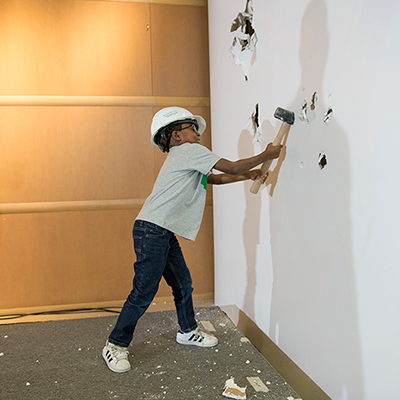 On November 6, the site's "wall-breaking" event celebrated the launch of construction and recognized early philanthropic contributors to the project. At the time of the event, leadership-level commitments of $1 million or more were made by Jones Day Foundation; Umberto Fedeli, CEO of The Fedeli Group and co-chair of Cleveland Clinic Children's Gala; and an anonymous donor.
How You Can Help
Physician leaders, philanthropic supporters and Cleveland Clinic Children's patients joined in the fun with sledgehammers to start the project with a bang!
Philanthropic support will allow us to fulfill our vision to create a healing environment that facilitates compassionate care for our youngest patients and their families. To join these efforts and make an indelible impact on children's healthcare, please contact Lauren Maguire at MAGUIRL@ccf.org.
Preschooler Meets Life-Saving Donor from World Away
Preschooler Meets Life-Saving Donor from World Away
Two families from opposite sides of the world are celebrating their new relationship this season.
Watch the touching moment when a four-year-old from Dubai first meets the liver donor from New York who saved his life.
This month we celebrate YOU! Thanks for being part of #GivingTuesday
This month we celebrate YOU! Thanks for being part of #GivingTuesday
The Power of Every One has never been more apparent!

This year's response to #GivingTuesday at Cleveland Clinic was monumental. In total, our generous donors gave over $230,000 as we turned #GivingTuesday into #Givingx2sday.
This year, gifts were multiplied by four matching gifts throughout the day: a $15,000 gift from Staples for the Area of Greatest Need; a $10,000 gift from American Greetings for Cleveland Clinic Children's; a $10,000 gift from Velosano's "Team Make it Rain" to support cancer research; and a $50,000 gift from Kathleen and Ken Kies for the Cosgrove Transformation Fund.
The words "thank you" seem too small for our appreciation, but they represent our deep and genuine gratefulness to everyone who joined our campaign.
This one day will have a lasting impact on patient care and innovative medical treatments for years to come.
#GivingTuesday was launched in 2012 in response to the commercialization of the holiday season, epitomized by the post-Thanksgiving "holidays" of Black Friday and Cyber Monday. Instead of buying things we don't really need, on #GivingTuesday, we support causes that are truly important – like improving the health of individuals and communities now and for years to come.
A Commitment to Community Benefit
A Commitment to Community Benefit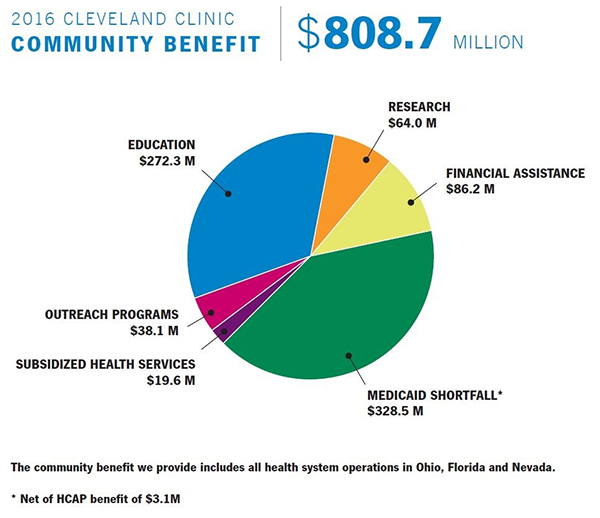 When Cleveland Clinic was founded in 1921, nonprofit hospitals were not required to provide charitable care. Yet, founding physicians Frank Bunts, MD, George Crile, MD, William Lower, MD, and John Phillips, MD, knew they had a responsibility to the community they served.
Early on, they took the risk of personally underwriting Cleveland Clinic's debts in order to establish a nonprofit foundation dedicated to research, medical education and community service.
Their commitment resonates today. Cleveland Clinic remains a community asset without owners, investors or stockholders. Any and all extra funds from operations are invested back into the health system to support new research and education initiatives and to continue the organization's long-standing charitable efforts.
In 2009, annual community benefit reporting for nonprofit hospitals became mandatory. In addition, the Affordable Care Act of 2012 requires nonprofit hospitals to provide a community health needs assessment (CHNA) process that must include planning, prioritization and implementation strategies to guide hospital investment. View Cleveland Clinic's 2016 CHNA here.
A Record Amount
In 2016, Cleveland Clinic provided $809 million in community benefit in Ohio, Nevada and Florida, a 17 percent increase over 2015 and the highest level of community benefit in its reporting history. Read the full Community Benefit Report here.
Cleveland Clinic calculates community benefit conforming to the IRS Form 990 guidelines. Community benefit includes activities or programs that improve access to health services, enhance public health, advance generalizable knowledge and relieve government burden.
The primary categories for assessing community benefit include financial assistance, Medicaid shortfall, subsidized health services, outreach programs, education and research:
Financial assistance — $86.2 million
Financial assistance is the amount of free or discounted medically necessary care provided to those patients unable to pay some or all of their bills. Cleveland Clinic's financial assistance policy provides free or discounted care to patients with incomes up to 400 percent of the federal poverty level and covers both hospital care and our employed physician services.
Medicaid shortfall — $328.5 million
The Medicaid program, which provides healthcare coverage for low-income families and individuals, is funded by state and federal governments. In many states, including Ohio, Medicaid payments have not been sufficient to cover the costs of treating Medicaid beneficiaries. In 2016, Cleveland Clinic experienced a 35 percent increase in Medicaid shortfall compared to 2015.
Subsidized health services — $19.6 million
Subsidized health services are clinical services provided to meet the needs of the community despite creating a financial loss. Subsidized health services within Cleveland Clinic include pediatric programs, psychiatric/behavioral health programs, obstetrics services, chronic disease management and outpatient clinics.
Outreach programs — $38.1 million
Cleveland Clinic's outreach programs are designed to serve the most vulnerable and at-risk populations as identified in our comprehensive Community Health Needs Assessments.
Programs range from free wellness initiatives, health screenings, clinical services and education to enrollment assistance for government-funded health programs.
In 2016, highlights included:
Wellness initiatives in the areas of disease/injury prevention and behavioral change, including tobacco cessation, nutrition improvement, exercise, substance abuse, child safety, teen parenting and domestic violence. Programs were provided to schools, faith-based organizations, community centers, and collaborating cities and counties.
Health fairs provided thousands of people with free health screenings, including the Cleveland Clinic Minority Men's Health Fair, Celebrating Sisterhood, Tu Familia and neighborhood preventive health fairs.
Cleveland Clinic provided no-cost clinical and wellness services to under- and uninsured families at community sites, including Langston Hughes Health & Education Center and our pediatric mobile unit. Laboratory and vision services were donated to Cleveland-area organizations.
Collaborative initiatives with community nonprofit organizations and local governments addressed critical population health issues, including the opioid epidemic and infant mortality.
Education — $272.3 million
Cleveland Clinic takes pride in a wide range of high-quality medical education that includes accredited training programs for residents, physicians, nurses and allied health professionals. By educating medical professionals, we ensure that the public is receiving the highest standard of medical care and will have highly trained health professionals to care for them in the future.
Research — $64 million
Research into diseases and their cures is an investment in people's long-term health. From a community benefit standpoint, research includes basic, clinical and community health research, as well as studies on healthcare delivery. Cleveland Clinic's Lerner Research Institute is continually bringing medical advances into patient care and to the medical world through the development of new techniques, devices and treatment protocols. Over 1,900 scientists and support personnel, including 179 principal investigators, are providing research at Cleveland Clinic.
Honor a Loved One and 'Light Up a Life'
Honor a Loved One and 'Light Up a Life'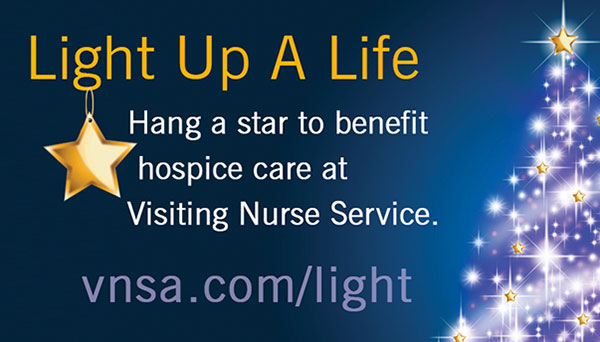 This holiday season, the "Light Up a Life" program lets you honor the memory of a loved one while helping hospice patients and those who care for them.
For a donation in any amount, you can hang a gold star on a "Light Up a Life" Hospice Memory Tree, which supports hospice care provided by Cleveland Clinic Akron General Visiting Nurse Service. You also can write a tribute to your loved one in the online memory book.
The heartfelt tributes include this one from a wife to her late husband: "I love and miss you every day," she writes. "Thirty-eight years together was not enough."
And a daughter writes this to her late father: "You remain a guiding force in our family's journey. The stories we tell and your example of hard-working determination have impacted the generations to come."
You can access the tributes at any time; the stars will be placed on Memory Trees, which will be displayed until the end of December at these locations:
Akron General Health & Wellness Centers in Bath, Green, and Stow
Justin T. Rogers Hospice Care Center, including a special Veterans Tree with patriotic stars
Akron General main lobby
Belgrade Gardens in Barberton
Hartville Kitchen
Summit Mall
Proceeds will be used to help Cleveland Clinic Akron General Visiting Nurse Service provide comfort care for hospice patients at the end of life and bereavement support for their loved ones.
How You Can Help
To support the "Light Up a Life" program, visit our website. For more information, call Cleveland Clinic Akron General Foundation at 330-344-6888 or email foundation@akrongeneral.org.
10-year-old brain tumor survivor gives back
10-year-old brain tumor survivor gives back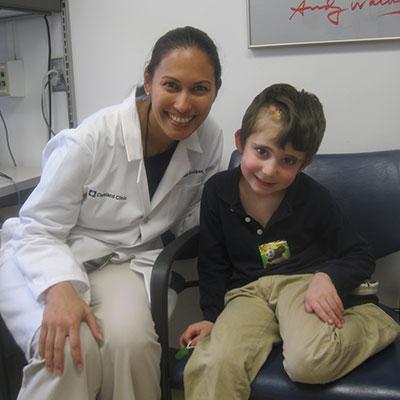 On a warm, sunny day this past October, a young boy named Daniel had a party with his friends at his favorite restaurant. There were treats, balloons and games – but no presents, cards or candles. It wasn't Daniel's birthday. The checks his adult guests brought were not addressed to him, but made in his honor, for a cause close to his 10-year old heart.
Daniel Melaragno was celebrating five years since the removal of his brain tumor by donating the gifts at his party to Cleveland Clinic, where he was treated and still receives follow-up care.
"He told me, 'I know where I want the money to go,'" says his mother, Erin Melaragno. "I'm going to give all of the money to Dr. Recinos."
Violette Recinos, MD, is Daniel's brain surgeon and a regular hero in the Melaragno household. "Daniel has said to me, 'She's the closest thing to a superhero ever!'"
Laughing, Erin concedes, "I can't disagree."
She tells Daniel's story, which begins in the winter of 2012.
"He had a headache, he was dizzy; he fell one day at school pretty hard. We had a CAT scan, and he was diagnosed then with a brain tumor."
That was December 13, and on the 17th he had surgery to remove the tumor. It was benign.
The family was able to go home for Christmas, but on the 27th (Daniel's sister's birthday), they had to go back because Daniel had developed a leak.
"He had hydrocephalus, which is a buildup of fluid in the brain, that caused a leak from his incision and led to meningitis," says Erin. "Dr. Recinos performed a second surgery, called an endoscopic third ventriculostomy (ETV), to divert the fluid and ward off future leaks."
Since his surgeries, Daniel has had no significant symptoms.
The extra mile
Erin says all of the staff at Cleveland Clinic, from the nurses to the MRI technicians to the Child Life Specialists, went above and beyond expectations.
"We'd ask for Cathy Young (a Child Life Specialist) by name, and Eric the MRI tech always calmed Daniel down. The anesthesiologist let me lay with him as we wheeled into surgery and she sang to him, 'You are my sunshine.'"
"Daniel's a very curious kid by nature. Even at 5 years old, he was asking questions of the doctors nonstop. They were so kind and would pull up a chair next to his bed to talk with him."
Before he went into his final procedure, Erin says, Dr. Recinos asked Daniel a question: "If there is one thing I could have for you when you wake up, what would it be?"
"He said something about Star Wars, and she went out and found a Millennium Falcon™ for him. I couldn't believe it!"
Paying it forward
"We still don't know the root cause of this," Erin says. "It's unknown whether you're born with it, or if there is a genetic component, or if it's environmental. It's also something that many people just aren't aware of. I wanted to take this experience and pay it forward – I thought, how can I make a difference with this?"
Erin and her husband, Dan, took Daniel's idea for a "giving-back" party to the next level.
They organized raffles, a silent auction, a clambake and a bocce tournament at their local Panini's restaurant in Mayfield Heights. Over 100 kids and more than 300 adults joined the festivities, and all told, the family raised $25,000 from the event.
"Daniel was proud, but he really can't comprehend that kind of money," Erin says. "Someday he will understand!"
Daniel typically doesn't talk about the brain tumor, but when he feels comfortable sharing his story, he does so with clarity and confidence.
"With this party, he would explain to the kids in his class what it was for, and he's going to be featured in the school announcements channel next week on video, talking about how everything went," Erin says.
"I give him credit for being so open about it. I know what he's been through, and I am so proud of his strength."
How You Can Help
Cleveland Cavaliers Spread Holiday Cheer
Cleveland Cavaliers Spread Holiday Cheer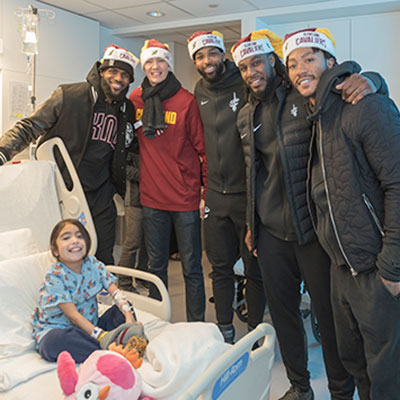 Eight-year-old Alexandra was beaming as she sat cross-legged on her hospital bed, clutching a grey knit Cleveland Cavaliers hat. Five Cleveland Cavaliers, including LeBron James, had just left her room at Cleveland Clinic Children's.
"LeBron is my favorite," she confessed in a loud whisper.
The team, coaches and mascots Moondog and Sir C.C., recently made a surprise visit to Cleveland Clinic Children's patients, casually strolling into hospital rooms to the delighted gasps of children and their parents. Sharing high-fives and fist-bumps, the players graciously posed for photographs, signed autographs and gave out logoed hats, water bottles and fleece blankets.
"[This] puts everything in perspective," LeBron said. "Especially with me having kids of my own. It's always tough coming here because you know what they're going through."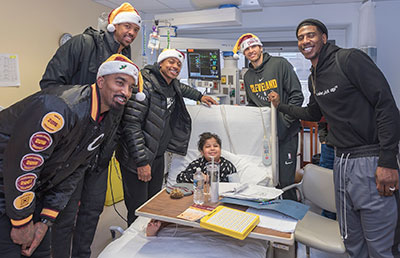 Cleveland Cavs players smile during a visit with Abdulaziz
After the team left his room, Abdulaziz's eyes shone as he chattered excitedly with his family, oblivious to the tubes in his arms and the medical equipment around his bed. "I've never seen him smile so much in my life," says Stephanie Davies, MD, one of Abdul's caregivers.
How You Can Help
You, too, can help make the season brighter for our littlest patients at Cleveland Clinic Children's. Make a gift today.
Income, Wealth Affect Heart Disease Risk
Income, Wealth Affect Heart Disease Risk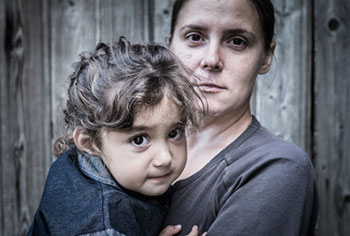 Local Study has Large-scale Implications
A team of Lerner researchers led by Jarrod Dalton, PhD, assistant staff in the Department of Quantitative Health Sciences, have shown that current cardiovascular risk prediction models systematically underestimate risk in individuals from low income and disadvantaged neighborhoods.
With a newly awarded four-year, $2.2 million grant from the National Institute on Aging, part of the National Institutes of Health, the team will develop a more sophisticated model—one that incorporates both clinical and socioeconomic factors—to better predict risk for major cardiovascular disease-related health events such as stroke and heart attack. In addition to helping clinicians provide more targeted prevention and treatment options for patients, the team hopes that better understanding the underlying neighborhood-level risks associated with these events might ultimately inform community development initiatives to create healthier environments.
Current cardiovascular risk assessment tools, including the Pooled Cohort Equations Risk Model (PCERM) developed jointly by the American College of Cardiology and the American Heart Association, rely solely on clinical indicators of risk such as weight, age, blood pressure and health behaviors like smoking. But research suggests that socioeconomic status—which can be an indicator of things like environmental exposure to toxins and access to healthy food options and safe places to exercise—also play a role in risk for cardiovascular disease. In fact, Dr. Dalton's team found that patients from disadvantaged Cleveland neighborhoods had 2-3 times the rate of heart attacks and stroke as those from more affluent neighborhoods, even after controlling for differences in standard clinical risk factors.
In order to compare PCERM-predicted versus actual incidence of cardiovascular disease-related events, and thereby determine model accuracy, the team developed a neighborhood disadvantage index (NDI). The NDI is a single-factor representation of neighborhood socioeconomic position that takes several factors including race, educational attainment, insurance status, income and marital status into account.
After analyzing the electronic health records of over 100,000 Cleveland Clinic patients and classifying them using the NDI, Dr. Dalton discovered that PCERM significantly underestimates risk in people at the top of the NDI—those from the most disadvantaged neighborhoods—with major cardiovascular events sometimes occurring at 2-3 times the rates predicted. This work was recently published in the Annals of Internal Medicine.
To develop their new statistical model, the team will establish a geography-coded registry using electronic health records from 200,000 Cleveland Clinic and Metro Health patients. They will supplement that data with neighborhood-level information from U.S. Census and other government organizations. Using principles from weather forecasting science, they will overlay this data to build a new comprehensive, systems-based tool for risk prediction.
At a time when cardiovascular disease continues to top the charts of all-cause mortality in the United States, it is imperative that clinicians have a complete and comprehensive understanding of risk. Dr. Dalton and his team hope that this more sensitive and accurate model will help deliver personalized cardiovascular care for all patient populations.