The Cleveland Innovation District: Jobs, Research and Education
The Cleveland Innovation District: Jobs, Research and Education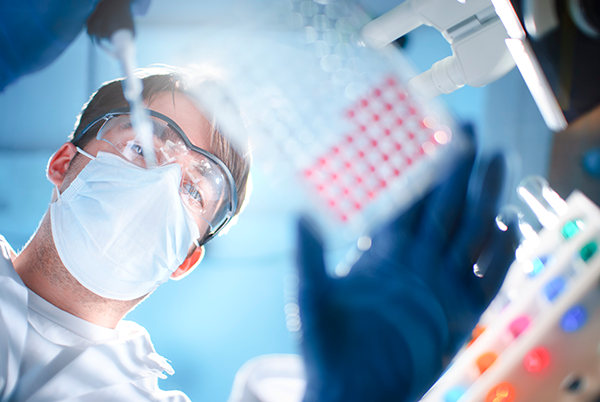 Cleveland Clinic is no stranger to creating breakthroughs in medical care. Our name is synonymous with exceptional care and groundbreaking research. With an eye to the future, our researchers, physicians and scientists are eager to tackle the toughest challenges and collaborate with partners around the world to find the answers that will save more lives. How? The Cleveland Innovation District.
First announced in January 2021, the Cleveland Innovation District was created with a $500 million investment from the State of Ohio, JobsOhio and Cleveland Clinic. The goal of the Cleveland Innovation District is to create jobs, accelerate research and educate the workforce of the future.
Job Creation
By the end of 2021, more than 300 people already were hired toward the seven-year commitment of 1,000 new jobs to be created related to the Cleveland Innovation District, including positions in research, education, information technology and supply chain. Long-term economic goals include:
By 2028, the 1,000 new jobs will add $100 million to our payroll.
By 2033, 2,000 more physician-scientists will have graduated from Cleveland Clinic Lerner College of Medicine and increased our research spending by $200 million annually.
By 2033, the Cleveland Innovation District as a whole will employ 7,500 across Cleveland Clinic and all of the partner institutions.
Research
Since our founding in 1921, Cleveland Clinic has been a leader in medical research. Our discoveries have changed the course of human health, saving millions of lives and becoming standard medical practice around the world. Cleveland Clinic now spends about $330 million a year on biomedical research; our goal in constructing the Cleveland Innovation District is to reach $500 million a year in research spending. The Cleveland Innovative District will focus on:
Launching the Discovery Accelerator, the first quantum computer used in healthcare. It will speed the pace of research, drastically cut the cost of clinical trials and enhance the development of personalized care, in addition to training the next generation of physician-scientists to take full advantage of this powerful new analytical tool.
Developing immune-based therapies that offer new hope to patients with cancer and other diseases. In addition, teams at the Center for Immunotherapy and Precision Immuno-Oncology are piloting new cancer diagnosis tools, such as a liquid biopsy that eliminates the need for invasive surgical biopsies and provides hope for more precise and less physically taxing diagnosis.
Expanding the vital work by the recently created Global Center for Pathogen & Human Health Research to eradicate threats from pathogens such as Zika, HIV/AIDS and COVID-19, as well as the next viral invaders before they spark pandemics. The Center's teams are actively developing effective vaccines that do not require refrigeration to improve the lives of people around the world.
Expanding the Genomic Medicine Institute, where today 12 lab teams are pursuing innovations to personalize treatments of cancer, brain diseases, heart disease and others to significantly improve patient outcomes.
Education
Education has long been a vital component of Cleveland Clinic. Today, our vision remains unchanged: teaching those who serve. The Cleveland Innovative District will provide:
Hands-on learning for research fellows from our top leaders in cancer, virology, genomics and drug development—building knowledge they will translate to clinical care around the globe.
Mastery of working with highly infectious contagions through cross-training at our Florida Research and Innovation Center's biosafety level 3 labs.
Collaboration with our academic partner institutions for broad workforce development outcomes in medicine and technology.
Capital Infrastructure
The Cleveland Innovation District will foster an environment for scientists and clinicians to ask the most pressing questions of our time and pursue the answers. It will be a place where breakthroughs in the lab can quickly be translated to diagnostics and therapeutics for patients globally, in collaboration with partner institutions.
The addition of two research towers will house the majority of laboratories on our 173-acre main campus near downtown Cleveland. This is where the people and ideas will come together to solve the toughest challenges of our time.
Renovation and expansion of the Lerner Research Institute (LRI) also is planned. LRI opened in 1999 and now houses 1,500 scientists and supports personnel working in 200 labs. The renovation and expansion will add nearly 45,000 square feet to the core LRI building over the next four years.
Partnering to Care for the World
The Cleveland Innovation District will deliver this promise of what's next. As a global system with a model of integrated care, our size and geographic reach allow us to have an immediate impact as we accelerate groundbreaking research to improve lives across our nation and the world.
Gifts of all sizes will help in the success of the Cleveland Innovation District. Become our partner and help us explore the next frontier of medical science and research by making a gift today.
Florida Caregiver Ideas Brought to Life by Catalyst Grants
Florida Caregiver Ideas Brought to Life by Catalyst Grants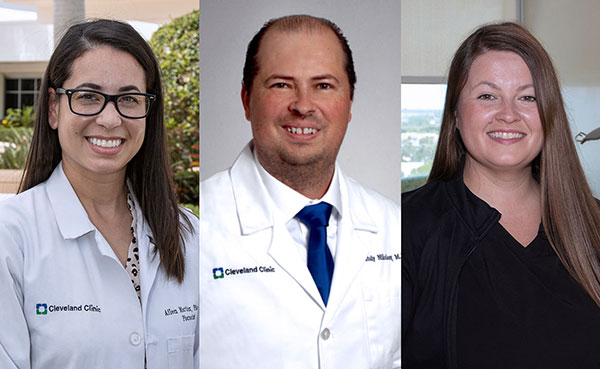 An idea to identify a less invasive test for ovarian cancer.
An idea to create a stroke recovery clinic to address hidden symptoms and improve care for stroke patients.
These ideas were sparked by Cleveland Clinic caregivers, who are in the best position to ignite innovation and transformation in patient care.
Cleveland Clinic is built on a culture that embraces research and innovation and has pioneered many medical breakthroughs over the years.
The Cleveland Clinic Florida Research and Innovation Center conducts ground-breaking research dedicated to advancing medicine and saving lives.
Cleveland Clinic also looks to its caregivers for novel concepts and ideas that expand patient services, improve wellness programs, or lay the groundwork for medical research. Their ideas can come to life through the support of Caregiver Catalyst Grants.
The Caregiver Catalyst Grants program pools the gifts from thousands of generous Cleveland Clinic donors, including caregivers, into a fund allocated to support caregivers' innovative ideas. It is a distinct way for philanthropic gifts of every size to make an immediate impact, as the funded projects must demonstrate outcomes within 12 months after the caregivers receive the grants.
All caregivers—doctors, nurses, social workers, researchers and other employees—are eligible to apply for funding to bring their projects to fruition.
The most recent round of grants will support three caregiver ideas from the Florida region:
Aileen Martinez, PharmD; Pharmacy Department, Martin North Hospital
Idea: An effort to create antimicrobial stewardship champions by offering Cleveland Clinic Martin Health pharmacists and infectious diseases providers self-guided, advanced antimicrobial stewardship training modules.
"It's wonderful to see that our idea was supported and we will now be able to provide antimicrobial stewardship resources and education across Cleveland Clinic Florida to safely care for our patients," says Aileen Martinez. "Funding from the grant will provide caregivers with the resources to learn more about antibiotic use and resistance and apply their knowledge to our patients. We are extremely grateful for this opportunity."
Anatoly Nikolaev, MD, PhD; Researcher, Cleveland Clinic Florida
Idea: The development of novel molecular targeting agents that enhance radiation sensitivities of p53 mutant high-risk cancer cell lines.
"This opportunity to advance my research may ultimately help improve clinical outcomes, such as overall survival for patients with high-risk head and neck cancer, says Dr. Nikolaev. "It may also help patients with other high-risk malignancies with mutations in TP53 gene, such as triple negative breast cancer, colon cancer, and high-grade gliomas."
Rochelle Thibodeau, MS; Rehabilitation and Sports Therapy, Tradition Hospital
Idea: The design of a small bulletin board to be displayed in patients' rooms that would provide therapists names, therapy plan of care, ambulation requirements and other important information relevant to patient care.
"My goal was to create a Therapy Passport to facilitate better and fluid communication between multidisciplinary teams aiming to optimize patient care," says Rochelle Thibodeau. "This allows for a universal communication system that allows everyone access to patient's ambulation, diet recommendations, level of independence, daily therapy team, and much more to ensure patient safety and care. "I am thankful for the opportunity to receive funding to bring this project to life."
The Caregiver Catalyst Grants program has awarded more than $8.1 million for 178 ideas since its inception in 2018. There have been a total of nine awardees from the Cleveland Clinic Florida region.
Support the Caregiver Catalyst Grants Program
100% of your gift to the Caregiver Catalyst Grant program will advance projects that transform patient care programs at Cleveland Clinic locations around the world. Together, we can support the vision of our caregivers and help them take the bold steps forward that make a difference for our patients and their families. To support the next round of grants, please make a gift here.