A Proactive Approach to Brain Health As We Age
A Proactive Approach to Brain Health As We Age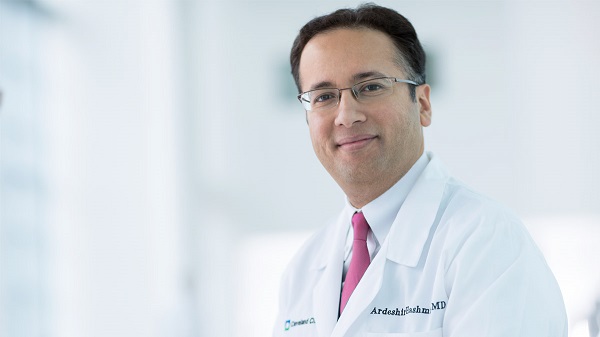 Waiting for a patient to report concerns about memory loss may not be the best protocol for cognitive screening. But indiscriminate use of objective paper and pen screening tools may not be effective either.
"To get an accurate picture of a patient's cognitive health, we need a combination of subjective and objective measures," says Ardeshir Hashmi, MD, Director of Cleveland Clinic's Center for Geriatric Medicine. "Patients may underreport concerns or not be aware of them. And common screening tools can under report cognitive losses in higher functioning patients, potentially causing physicians to disregard patients' legitimate concerns."
Reliable, early detection is important because behavioral and lifestyle interventions can slow cognitive decline and reduce dementia risk. Moreover, all current FDA-approved medications for Alzheimer's dementia are designed to slow down progression so early commencement may be beneficial.
Next Generation Screening Tools
A recent study in Journal of the American Board of Family Medicine, coauthored by Dr. Hashmi, explored the interaction of subjective and objective cognitive screening tools. The authors also designed and developed a specific computerized machine learning/artificial intelligence (AI) -based screening tests that may be more sensitive than currently used paper and pen screening tools at detecting patient-reported decline.
The study included 121 participants age 65 and older with Montreal Cognitive Assessment (MoCA) scores of 21-30 (mild cognitive impairment to no impairment). MoCA is a widely used paper and pen cognitive screening tool which, through a series of brief tasks, assesses a patient's language, visuospatial, memory and abstract thinking skills.
The study participants completed an objective three-part computerized test to measure fine-motor speed, visual-processing speed and cognitive/executive control. Faster completion of these tasks indicated better cognitive performance. Participants then completed a subjective self-assessment, where they rated their memory function on a scale of 0 (poor) to 3 (excellent) and how it compared to 10 years ago on a scale of 0 (much worse) to 3 (about the same).
Of the 20 patients categorized as impaired according to MoCA score, only three reported a high level of subjective concern. However, of the 24 patients categorized as impaired according to the computerized test, nine reported a high level of subjective concern.
"It seems like the computerized test may be better than MoCA at detecting deficits reported by patients," says Dr. Hashmi. "However, the more important finding is that objective testing – by either method – detected deficits that patients weren't aware of. If we're waiting for patients to report a concern before we conduct cognitive screening, we're likely waiting too long. We need to be more proactive so we can address cognitive decline earlier and try to minimize it."
Additional research is needed, but Dr. Hashmi emphasizes that physicians need more sensitive tools to effectively screen patients who report early symptoms of cognitive decline. "Patients may sense decline even before traditional screening tools detect mild cognitive impairment," he says.
Successful Aging Program at Cleveland Clinic
To help adults age 50 and over take a proactive approach to their cognitive and physical health, Dr. Hashmi and his team at Cleveland Clinic launched the Successful Aging Program. This innovative program includes a comprehensive and personalized annual visit with a board-certified Successful Aging specialist for health screenings and assessments, a discussion of personal goals and preferences, and access to additional support and resources.
The Successful Aging Program is now offered at 10 locations. With greater philanthropic support, Dr. Hashmi says the program would expand to other locations, utilizing leading-edge technology, such as AI-based cognitive and frailty assessments, and pharmacogenomics precision medicine, while making access as easy as possible. Additional funding also would enable dedicated patient navigators and care coordinators for the program, and add nutritionists and physical therapists to the care team. "It would further strengthen our community coalition of social determinants and partners in aging," Dr. Hashmi says. "The emphasis would be to serve underserved communities with world class care in every neighborhood."
The Center for Geriatric Medicine is nationally recognized as one of the best in the country, according to U.S. News & World Report. Dr. Hashmi, who holds the inaugural Endowed Chair for Geriatric Innovation, says philanthropic support of the Center's research and programs are "an investment that goes a long way."
"Support for healthy aging is a grassroots investment in our community," he says. "By helping people proactively make lifestyle changes and thrive as they age, donors are making a tremendous difference in the health of so many people."
How You Can Help
Your gift to the Center for Geriatric Medicine can help fund research and programs designed help older adults preserve independence and quality of life as they age.
Grateful Grandparents Give to Help Other Families
Grateful Grandparents Give to Help Other Families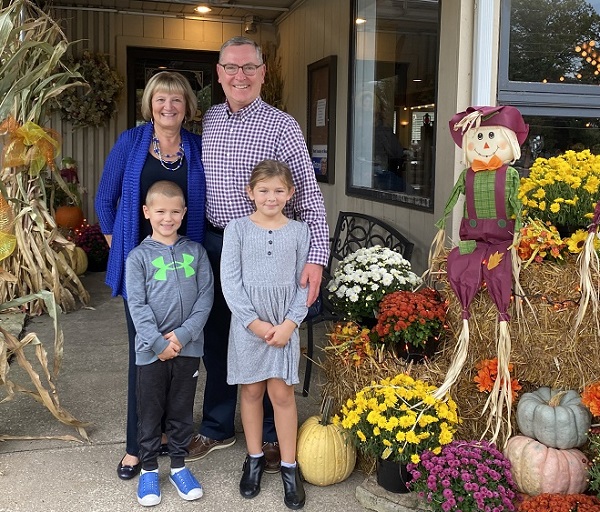 To look at 5-year-old Joshua today, you'd never guess that he was born 10 weeks premature.
"He is just the most wonderful boy," says his grandmother, Rita Kiser, with pride in her voice. "He's so kind and sweet, yet he's a typical healthy child who loves to run around. So often, we'll look at each other and say, 'What a miracle. Think of where he was just a short time ago.'"
Rita and her husband, Dave, vividly remember the events of 2015. Their daughter, Julie, and her husband, Jeff, Northeast Ohio residents, were expecting their second child and everyone was excited, including 3-year-old Olivia, the soon-to-be big sister. Olivia had arrived right on schedule in 2011, weighing in at a healthy 9 pounds.
But when Julie went into labor 10 weeks early, everyone was caught off guard. Rita was spending a month in Detroit caring for her mother, who was having cataract surgery, and Dave was at their home in Tennessee, working. "We just weren't able to drop everything and be with her," says Rita. "It was awful."
Josh came into the world weighing 3 pounds, 15 ounces, and was placed in the neonatal intensive care unit (NICU) at Cleveland Clinic Fairview Hospital. Breathing problems are common in babies born at 30 weeks because their lungs aren't fully developed. Other developmental issues may include neurological, heart, gastrointestinal and metabolic functions.
"It was such a difficult, stressful time for everyone," Dave says.
"As each day went by, they learned so much from the wonderful nurses," says Rita. "Our daughter especially loved a nurse, Sue, who explained everything so well – what was happening, and what would need to happen in the days coming up."
Although the NICU was full when Josh was born, Rita says Julie told her that whenever she needed help, someone was immediately there. "They learned quickly to trust their doctors, nurses and all of the specialists who came in to do testing on Josh. The nurses were patient, they took their time and Julie never felt rushed."
Josh was about a month old by the time Rita and Dave were able to visit. "I'd seen photos, but it hurt my heart to see him connected to all the machines," Rita recalls. "When Julie and Jeff held him, he was so tiny. By then, the worst part was over – wondering if he'd survive – and we knew that he would be OK. He was breathing, he was eating, and his temperature was good. I could see how wonderful and caring the nurses were despite all the machines and everything they had to do for him."
Josh spent six and a half weeks in the NICU, then received therapy at home and at Cleveland Clinic Therapy Services Westlake to help with his development. Before they knew it, their grandson celebrated his first birthday, and Dave and Rita decided to move to Northeast Ohio to be closer to the family.
Celebrating by Giving Back
Today, Josh is in the 95th percentile for his height and weight, is developmentally right on track and just started kindergarten.
"Looking back on that experience, you appreciate how much was done by others," Dave muses. "How important all of that was, because he's turned out to be very healthy and a wonderful little boy."
In honor of Josh's 5th birthday, Dave and Rita made a generous donation to Cleveland Clinic Children's NICU, which is recognized as a Level III neonatal unit—capable of healing the sickest and smallest newborns—and one of the best neonatology programs in the country, according to U.S. News & World Report.
"We firmly believe in research," Dave says. "We hope that other people will give because the more resources Cleveland Clinic Children's has, the more they'll be able to do to help children in the future. That's what you want for all these young parents, to experience the joy, or if their child needs special care when they're first born, to know that they don't have to worry. There's so much research that needs funding."
Philanthropic gifts also provide much-needed support of new technology, including the installation of NicView® cameras, an online streaming service that lets parents and family members see live video images of their babies around the clock. Telemedicine is another way technology is being used to ease the transition of the infant into the home after discharge from the NICU.
"We feel bad for so many young parents who have to go through this," Rita says. "My husband and I didn't go through it. But there are things that can be done and, of course, it takes money. We're happy to help."
How You Can Help
Gifts from grateful grandparents like the Kisers help fund research and patient care for our youngest patients and their families during stressful times. Please make a gift today to support Cleveland Clinic Children's.
Inspiration for Giving: Good Care in Florida and 'the American Dream'
Inspiration for Giving: Good Care in Florida and 'the American Dream'
Over the years, gratitude for care received at Cleveland Clinic Martin Health motivated Bob and Alice Massey to give back to their community.
Alice Massey, known affectionately as "Ralf," generously supported local charities until passing of cancer in September 2020, in the arms of her husband of 56 years.
Mr. Massey started calling Alice "Ralf" because she cut her hair, which she used to wear in a fancy style, to eliminate frizz on the many occasions they went fishing. That was more than 50 years ago, when they had little more than each other, but that was enough. The nickname stuck, and they built a life together on the Jersey Shore, along with their successful business, Bob Massey Yacht Sales.
In 1995, the couple retired and moved to Stuart, Florida, with a sense of accomplishment and obligation. Mr. Massey says that he and his wife "had lived the American dream" and felt compelled to give back to their local community.
"We were fortunate. We made some money and we wanted to give back what we could," he says, crediting thoughtful estate planning for their ability to give to benefit others.
Longtime members of the Barstow-Reed Society, a legacy society for donors who give $10,000 or more annually to Cleveland Clinic Martin Health, the Masseys donated $1.5 million to the hospital last fall. The generous gift is in recognition of their good experiences at Cleveland Clinic Martin North Hospital, particularly when Mrs. Massey was diagnosed and treated for lung cancer.
Recalling that difficult time, Mr. Massey says, "When you go to the emergency department, it's scary, but we received such good service and care. It was still scary because of what we were going through, what Ralf went through, but they made us as comfortable as they could."
Those experiences also prompted the Masseys to donate $100,000 toward the renovation and expansion of the Cleveland Clinic Martin North Emergency Department, which will be unveiled this fall.
The Masseys' appreciation for Cleveland Clinic Martin Health extends beyond their personal experiences. Mr. Massey says they were continually impressed with how the healthcare system takes care of people who don't have insurance or the money to pay for what is needed. "When we found out about all the hospital does, we thought we should support this hospital the best way we can," he says.
A similar community-based philosophy fueled their generosity. "If you are successful in your business, then I really feel it's an obligation to give back and find charities that are giving back.
Leaving a Legacy
Gift planning can help you achieve your personal, family and philanthropic goals. Your gift makes a difference at Cleveland Clinic Florida and also has the ability to translate into life-saving impact across the world. Please advise us if you plan to leave Cleveland Clinic in your estate plans, so we can thank you for your commitment.