Donor-Supported Breast Cancer Vaccine Begins Clinical Trials
Donor-Supported Breast Cancer Vaccine Begins Clinical Trials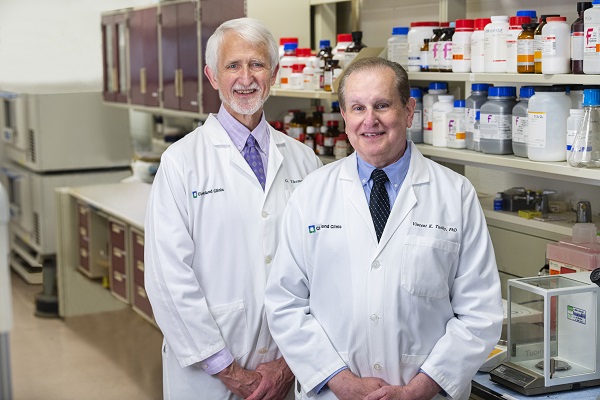 Cleveland Clinic researchers have opened a novel study for a vaccine aimed at eventually preventing triple-negative breast cancer, the most aggressive and lethal form of the disease.
"This vaccine approach represents a potential new way to control breast cancer," says Vincent Tuohy, PhD, the primary inventor of the vaccine and staff immunologist at Cleveland Clinic's Lerner Research Institute. "The long-term objective of this research is to determine if this vaccine can prevent breast cancer before it occurs, particularly the more aggressive forms of this disease that predominate in high-risk women."
The study is based on pre-clinical research led by Dr. Tuohy that showed that activating the immune system against the α-lactalbumin protein was safe and effective in preventing breast tumors. The research also found that a single vaccination could prevent breast tumors from occurring, while also inhibiting the growth of already existing breast tumors. Originally published in Nature Medicine, Dr. Tuohy's research was funded in part by philanthropic gifts from more than 20,000 people over the last 12 years.
The Power of Philanthropy
Dr. Tuohy is tremendously grateful for the philanthropic support. "I think it's sometimes hard for donors to understand the true impact of their contributions to medical research," he says. "The results typically are not immediate and sometimes take decades. But the funding can end up changing healthcare around the world. I'm excited to continue working on the next steps of the breast cancer vaccine."
There is a great need for improved treatments for triple-negative breast cancer, which does not have biological characteristics that typically respond to hormonal or targeted therapies. Despite representing only about 12-15% of all breast cancers, triple-negative breast cancer accounts for a disproportionately higher percentage of breast cancer deaths and has a higher rate of recurrence. This form of breast cancer is twice as likely to occur in African American women, and approximately 70% to 80% of the breast tumors that occur in women with mutations in the BRCA1 genes are triple-negative breast cancer.
Funded by the U.S. Department of Defense, the new study at Cleveland Clinic will include 18 to 24 patients who have completed treatment for early-stage triple-negative breast cancer within the past three years and are currently tumor-free but at high risk for recurrence. During the course of the study, participants will receive three vaccinations, each two weeks apart and will be closely monitored for side effects and immune response. The study is estimated to be completed in September 2022.
A Potential Game-Changer
"We are hopeful that this research will lead to more advanced trials to determine the effectiveness of the vaccine against this highly aggressive type of breast cancer," says G. Thomas Budd, MD, of Cleveland Clinic's Taussig Cancer Institute and principal investigator of the study. "Long term, we are hoping that this can be a true preventive vaccine that would be administered to healthy women to prevent them from developing triple-negative breast cancer, the form of breast cancer for which we have the least effective treatments."
"This vaccine strategy has the potential to be applied to other tumor types," adds Dr. Tuohy. "Our translational research program focuses on developing vaccines that prevent diseases we confront with age, like breast, ovarian and endometrial cancers. If successful, these vaccines have the potential to transform the way we control adult-onset cancers and enhance life expectancy in a manner similar to the impact that the childhood vaccination program has had."
4 Reasons Why You Should Make a Charitable Donation Now
4 Reasons Why You Should Make a Charitable Donation Now
The Coronavirus Aid, Relief, and Economic Security (CARES) Act was originally implemented in March 2020 as a way to provide economic assistance to U.S. families, workers, small businesses and industries impacted by the COVID-19 pandemic.
In December 2020, Congress enacted a second stimulus bill (The Consolidated Appropriations Act or CAA) that extended and modified charitable provisions of the CARES Act through 2021.
As with the CARES Act in 2020, the new provisions of the CAA continue to make 2021 an excellent opportunity for charitable giving.
Here are four of the key reasons you should consider making a charitable contribution before the end of the year:
Individual donors can deduct cash donations up to 100% of adjusted gross income (AGI) (previously a 60% limit). For example, a donor with taxable AGI of $100,000 who makes a $100,000 cash gift will have no federal income tax liability for 2021. Donors with multiyear pledges may want to consider accelerating payments to take advantage of this opportunity.
Individual taxpayers who take the standard deduction can claim a $300 "above-the-line" deduction for cash gifts to public charities. For 2021, this "above-the-line" deduction has been increased to $600 for married couples filing jointly.
Individual donors must resume taking required minimum distributions from their IRAs or other retirement accounts in 2021 (the suspension of this requirement under the CARES Act has not been renewed). Donors age 70 1/2 and older can make a charitable IRA rollover or other qualified charitable distribution to Cleveland Clinic to avoid the tax consequences of required distributions. Tax-free distributions can be made up to $100,000 per individual.
Corporate donors can deduct cash donations up to 25% of modified taxable income (previously a 10% limit). This deduction rate also applies to donations of food inventory.
It's important to know these provisions only apply to cash gifts made to public charities such as Cleveland Clinic. Stock gifts remain deductible for up to 30% of AGI. Also, these provisions do not apply to gifts made to donor-advised funds, supporting organizations, or private foundations.
If you have questions about end-of-year charitable giving to Cleveland Clinic, the Gift Planning team can help. You can call the Gift Planning office at 216.444.1245 or send an email to giftplanning@ccf.org.
Brain Cancer Diagnosis Leads to Unexpected Journey of Love, Gratitude and Art
Brain Cancer Diagnosis Leads to Unexpected Journey of Love, Gratitude and Art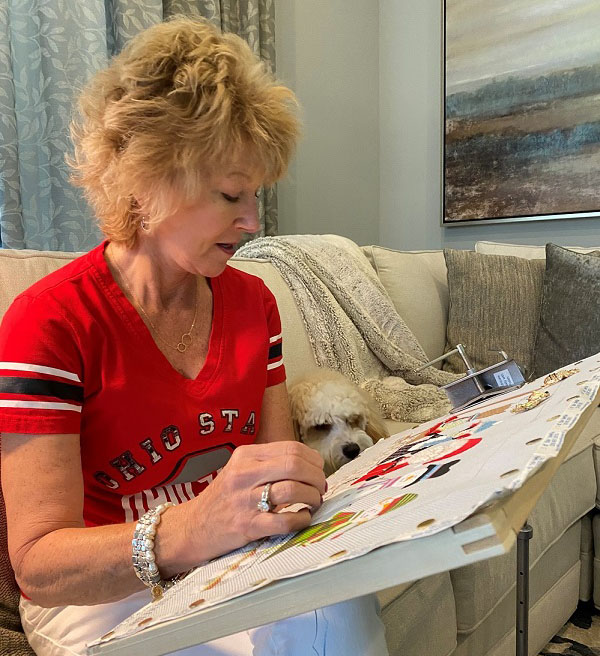 Anita Byrd learned she had brain cancer last year. "Your life changes in an instant," she says. That realization helped lead to the $1 million contribution she and her husband, Vince, made to the Rose Ella Burkhardt Brain Tumor & Neuro-Oncology Center at Cleveland Clinic Neurological Institute. The couple agreed to share their story "in hope of encouraging others to support brain cancer research."
The Byrds are high school sweethearts. Married 45 years, they now live the majority of the year at The Club of Mediterra in Naples, Florida, and spend the balance of their time in Northeast Ohio where they've lived most of their lives. Vince spent his entire career with The J.M. Smucker Co., in Orrville, Ohio, where his last two positions were the company's president and chief operating officer and vice chairman. He served the company for 39 years – including assignments in Salinas, California, and Melbourne, Australia – before retiring in June 2016.
Anita and Vince have always been active, especially enjoying travel and golfing together – until Anita was diagnosed just over a year ago with Level 4 glioblastoma (GBM). She and her family are continuing to live their lives as fully as possible. Anita put her Orangetheory workouts on hold, but she does weight training, walks, enjoys book club and an occasional glass of wine, and produces her artwork – stunning dimensional needlepoint that is sometimes whimsical, sometimes sublime.
"Needlepoint is my mental therapy," says Anita, adding she used to own a yarn shop on the square in Medina. "I've done all kinds of needlework and crafts. I've always worked with my hands … so when I woke up from surgery, the first thing I did was move my right hand to make sure it was working." She gets a lot of support from her daughter, Whitney Mazzenga ("my best friend"), and her husband, Alex. The couple also recently acquired a pet Cavachon, Leo, who makes them laugh every day. Friends and family have overwhelmed them with cards of encouragement – to the point of grateful tears….and many wear their "Anita's Army" bracelet every day.
Anita's first noticeable symptoms presented suddenly on July 27, 2020. "I started to say something, and the words wouldn't come out … and then they did … and then it happened again … the words wouldn't come out. And I began trembling." Vince took her to the closest emergency room – Cleveland Clinic Akron General Health and Wellness Center in Bath, Ohio – where she experienced a second seizure. A CT scan showed a spot on her brain, so she was taken to Cleveland Clinic Akron General. After a series of tests, the medical team recommended surgery, though they were hopeful the tumor was benign.
The Byrds were referred by a friend, Gus Khayyat, MD, Cleveland Clinic Akron General Neurosurgery, to Gene Barnett, MD, neurosurgeon, at Cleveland Clinic main campus. Anita had surgery on August 25 and, while most of the tumor was successfully removed, it was then believed to be cancerous. Less than a week later, the pathology lab confirmed it was glioblastoma.
Four weeks after surgery, under the care of Yasmeen Rauf, MD, Anita was to begin the standard care, which included 6 weeks of radiation and 12 months of chemotherapy, as well as a clinical trial drug, ruxolitinib, which was approved for other types of cancer. In January 2021, the Byrds elected to transfer Anita to the direction of David Peereboom, MD. The radiation was under the care of John Suh, MD, who Anita always trusted and enjoyed his very sincere and caring approach.
"Although the trial is written as a phase one study, we are looking for a favorable response in every patient," says Dr. Peereboom, "and in our hearts we believe this treatment, regardless of doses, is going to be better than standard treatment alone." Dr. Peereboom, who leads clinical research in the Rose Ella Burkhardt Brain Tumor and Neuro-Oncology Center, says there are 15 active clinical trials for patients with various types of brain cancers. "Our goal is to be able to offer a clinical trial to every patient.
"Glioblastoma is the most aggressive brain cancer and the most common … so there's a huge unmet need for improvements in the treatment of patients," he adds. Of the Byrds' gift, he says, "Gifts like this are very encouraging to us as a research team."
It was Vince who approached Anita with the idea of supporting Dr. Peereboom's research, she recalls. "I just thought if there's any way that I can keep someone from getting this diagnosis or making it a less life-threatening prognosis, then we'd do whatever we could do. After an event like this, you look at things differently. …. And we've been so blessed."
"Anita has always been the person who would volunteer to do things," says Vince. "And we've supported many charities, but this is obviously the largest gift we've made to date. We thought it was important and the right thing to do."
In addition to being so appreciative of Dr. Peereboom's care, Vince says they also are "very thankful for Dr. Gus Khayyat for his initial counsel and ongoing guidance as a friend; Dr. Barnett for his leadership and expertise; Dr. Barnett's assistant, Diane Kompan, who was very caring and sympathetic; Dr. John Suh (radiation oncologist), who had such a caring demeanor; the team in the radiation department that makes everyone feel special; Dr. Rauf for explaining in such detail the diagnosis and treatment process; the valets at the Taussig Cancer Center; and all the therapists at the Edwin Shaw Wellness Center (where Anita rehabbed after surgery) … just everyone throughout the whole process, including our family and friends."
"I am grateful every day," Anita adds. "I trust my doctors and I know my family and friends are looking out for me. I feel for them. I never thought I would have this attitude. …You know, it always happens to somebody else. I know God is with me and I just thank him for it."
Breast Cancer Surgeon Joins Cleveland Clinic Indian River Hospital
Breast Cancer Surgeon Joins Cleveland Clinic Indian River Hospital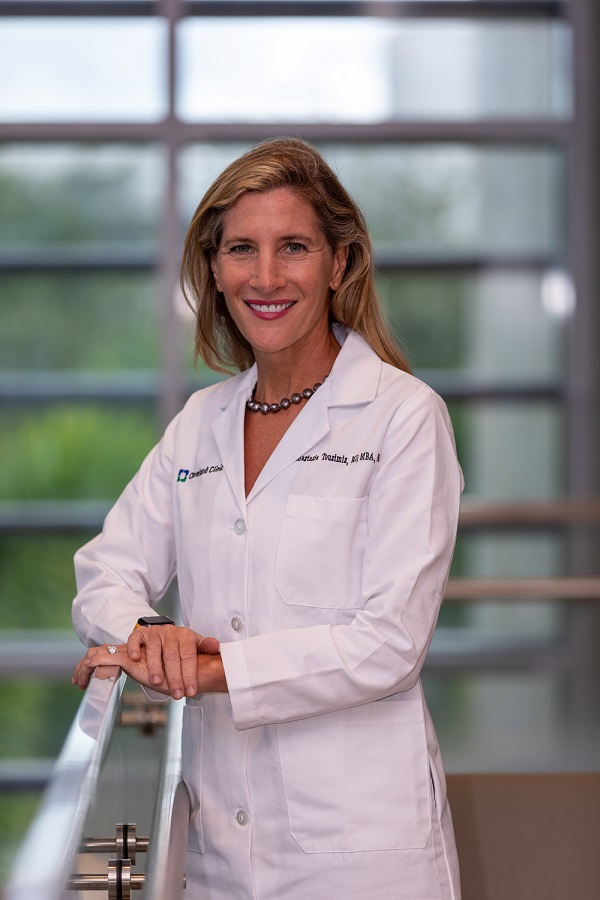 Nearly everyone knows someone touched by breast cancer, whether it's a loved one, friend or even yourself. Cleveland Clinic Indian River Hospital is committed to elevating the level of cancer care available in the community by welcoming board-certified and fellowship-trained breast cancer surgeon, Eleni Tousimis, MD, MBA.
Dr. Tousimis also will serve as the Medical Director of the Scully-Welsh Cancer Center. In this role, she will lead a team of caregivers dedicated to providing high-quality, compassionate care for people facing a cancer diagnosis, as well as their families.
"At the Scully-Welsh Cancer Center, we are able to provide our patients with the highest level of care, with innovative treatments that have a significant impact on both their quality of life, as well as potential for cure," says Dr. Tousimis.
Dr. Tousimis earned her medical degree from Albany Medical College in New York. She completed a General Surgery Residency Program at Guthrie Clinic in Pennsylvania, a Breast Oncology Surgery Fellowship at Memorial Sloan Kettering Cancer Center in New York, and a Surgical Oncology Fellowship in minimally invasive techniques at the European Institute of Oncology in Italy. She also completed an MBA at MIT in Boston.
Dr. Tousimis has been a practicing breast surgeon for the past 20 years. She was initially an associate Professor of Surgery at Weill Cornell New York Presbyterian Hospital, then a Professor of Surgery and Director of the Breast Cancer Center at Georgetown University hospital. She was the former President of the American Medical Women's Association.
Expanding technology and quality of life for patients
"The future is bright for cancer care in the community," says Greg Rosencrance, MD, President of Indian River Hospital. "We are incredibly excited to have Dr. Tousimis join us. Her talents and expertise will continue to make Cleveland Clinic the premier destination for cancer care."
Dr. Tousimis' vision is to expand technology and cancer services at the Scully-Welsh Cancer Center. The recent acquisition of the LINAC is improving efficacy of therapy and quality of life for cancer patients. The LINAC is a medical linear accelerator (used for external beam radiation treatments) that delivers high-energy electrons to destroy cancer cells while sparing the surrounding normal tissue. With its power and flexibility, clinicians can tailor treatments to best suit a patients' individual diagnosis.
Generosity from philanthropic supporters is critical to continue elevating cancer care at Indian River County, which includes:
Expanding our medical oncology program, including more infusion bays, inclusion of acute infusion services, and expansion of medical and surgical-oncology programs
Increasing radiation oncology services such as the addition of brachytherapy, intraoperative radiation therapy, and leading-edge equipment for breast cancer patients with left-sided tumors to prevent cardiac side effects.
Streamlining services in surgical oncology to expedite care and expanding staff to include an oncology nutritionist, oncology physical medicine and rehabilitation physician, and an oncology geneticist.
"I have taught my children the value of philanthropy," says Dr. Tousimis. "It's my favorite word in the Greek language because it means, 'lover of human kind.' I have seen firsthand the power of philanthropy to support facility transformations, new technologies and research that can dramatically impact survival and quality of life for our patients. Philanthropic support from the community is instrumental in accelerating this transformation to bring world class care to our backyards."
How you can help
The generosity of our donors serves as the crucial link between our current success and a future of medical breakthroughs. Please make a gift to support the next generation of technology and cancer services at Indian River County, while caring for patients and their families today.
Support for Homegrown Talent Earns Couple Heartfelt Thanks
Support for Homegrown Talent Earns Couple Heartfelt Thanks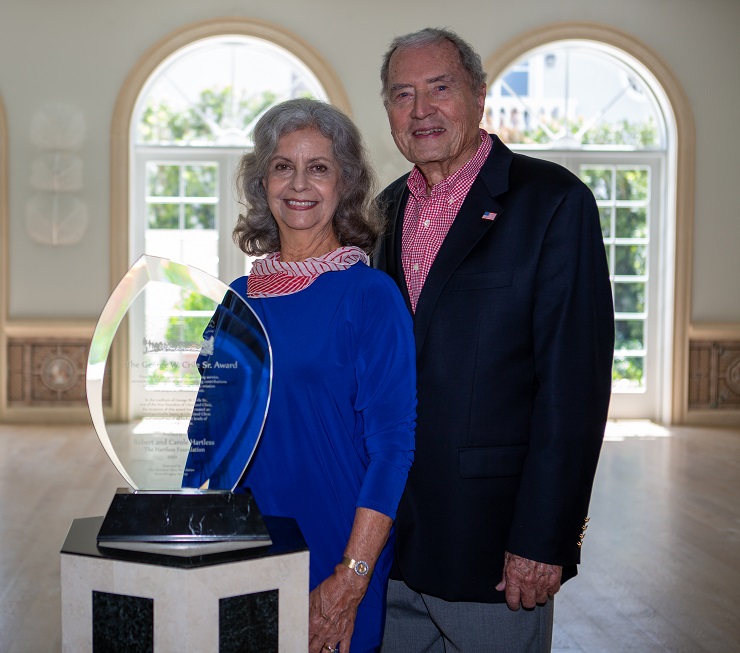 Some worked as nursing assistants, dressing wounds and changing bedpans at Cleveland Clinic. Others held down the night shift in the telemetry unit, watching screens that monitored patients' heart rate, breathing, and other vital signs. Many were single moms trying to support their kids. All shared a passion to do more — to advance their careers by becoming registered nurses. But so many things stood in the way, not the least of which was the cost of nursing school tuition.
Carole and Robert Hartless — already generous supporters of research, medical education and patient care within Cleveland Clinic's Sydell and Arnold Miller Family Heart & Vascular Institute — wanted to help.
The Florida couple was aware of the troubling shortage of nurses across the country. They knew that hospitals with more well-educated nurses on the floor could provide patients with better care, leading to fewer complications, early recognition of problems, shorter hospital stays and fewer deaths.
And Robert knew something else: From his time in the hotel and resort business, he'd learned that the smart move was to foster the talent right in front of you and promote from within. Why not apply the same idea to address the dearth of nurses at Cleveland Clinic?
In 2008, Robert wrote the first check to establish the Hartless Foundation Endowment for Nursing. The endowment provides scholarships to current Cleveland Clinic employees to attend nursing classes. Today, 13 have received scholarships from the Hartless fund to pursue their dreams of becoming RNs.
"We wanted to encourage people who have always done an exceptional job for Cleveland Clinic but never had the means to pursue a nursing degree or never imagined they could become a nurse," says Robert — someone, for example, who watches nurses all day at work, aching to join them, then "goes home at night and says, 'I could never do that; I could never be that for 50 reasons.'
"We've been amazed at the hurdles that some of these nurses have gone through to be able to take the scholarship and move up in the organization," he says.
The scholarship recipients share their gratitude and hardships with the couple in "very wonderful letters each year," says Carole. And sometimes, they even say "thank you" in person.
A few years ago, Robert went to Cleveland Clinic Florida's Weston Hospital for knee replacement surgery and was surprised when one of his visitors was a Hartless scholarship winner. Carole remembers learning how much of an impact the scholarship made for this nurse.
"There was cancer in her family and her husband passed and she had a child. It was just so sweet of her to come in and see us right after his surgery."
In 2021, it was Cleveland Clinic's turn to thank the Hartlesses. In gratitude for their creativity, their compassion and their legacy of giving, Cleveland Clinic selected them for the 2021 George W. Crile Sr. Award. Named for one of Cleveland Clinic's four visionary founders, the Crile Award recognizes Pyramid Legacy Society members who have made outstanding contributions of time, talent and resources to Cleveland Clinic.
"We're both very humbled by receiving this award," Carole says, adding that receiving it in Cleveland Clinic's centennial year was an additional honor.
"The word is 'dumbfounded,'" Robert says. "Never, never expected it."