Florida Patient Takes Good Advice to Heart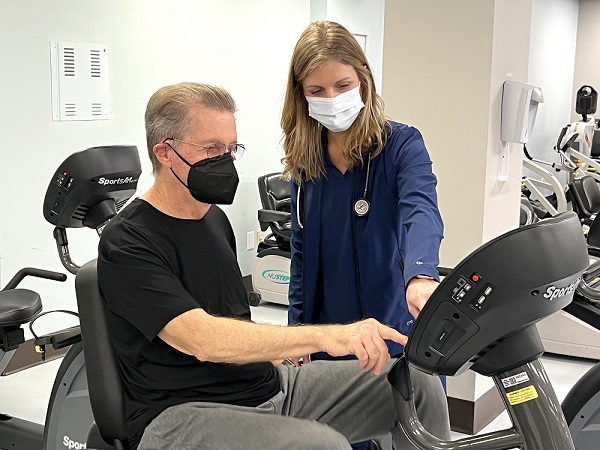 Joseph Bitter, 69, considers himself a lucky man. He was born despite his mother being told the pregnancy would end in miscarriage; he defied the odds by overcoming a birth defect; and in 2016, not only did he survive a heart attack after being pronounced clinically dead for 38 minutes, he made a full recovery although doctors predicted he would have neurological impairments.
Not wanting to leave his heart health to chance in the future, Joe decided to relocate to an area with a hospital highly ranked in cardiac care. His research led him to Vero Beach, Florida to be close to the water and Cleveland Clinic Indian River Hospital.
In November 2018, the same month he moved to Vero Beach, Joe required a heart procedure and went to Indian River Hospital. His surgery was successful, but he still wasn't following his exercise regimen for heart care. While he enjoyed hobbies such as boating, hunting and couples line-dancing, he had no interest in activities like exercising on an elliptical—he couldn't seem to find the time or motivation to add it to his schedule.
However, when he needed open heart surgery two years later, he began to take his cardiac rehab more seriously.
Expert Advice
"My good fortune continued when I met Morgan, my cardiac rehab therapist," Joe says. "I was never a person to exercise on any equipment. It was always too boring for me. My attitude on this has changed drastically because of Morgan's expertise. Not only does she give 100% dedication to her job, but she shows real concern for her patients."
Morgan Ball, MS, ATC, EP-C, is a certified exercise physiologist in the Cardiac Rehabilitation Department at Indian River Hospital. She has more than four years of experience in the field and is proud to take part in her patients' journey to recovery.
"Seeing patients improve after completing cardiac rehab is one of the most rewarding aspects of my job," says Morgan. "Joe is a great example of someone who learned the benefits of exercise by attending cardiac rehab and has maintained his exercise routine and continues to reap those benefits. Joe made a lifestyle change and I am proud that he views me as part of his story."
On days when Joe is not involved in much activity for his heart health, he makes sure to spend 30 minutes or more on his recumbent bike that he purchased based on Morgan's recommendation.
"Every time l think about skipping my exercise, I think about what Morgan told me of the importance of continuing my exercise program for the rest of my life," Joe says. "Especially with her education and knowledge in this field, I know it is in my best interest to take her advice."
Gift Honors Excellent Care
While reading a letter about Cleveland Clinic's Caregiver Catalyst Grants program, Joe began reminiscing about his extraordinary recovery after open heart surgery.
"I was unable to put the letter down as I thought about the excellent care I received from the wonderful team in cardiac rehab," Joe says. "When I read that my donation would be doubled by a match incentive, I felt even more compelled to offer my support."
Launched in 2018, the Caregiver Catalyst Grants program was created to help Cleveland Clinic caregivers implement their best and brightest ideas to positively impact patients and the community. The program enables philanthropic gifts of every size to make an immediate impact, since funds are pooled toadvance projects that expand patient support services, lay the groundwork for medical breakthroughs, and support community health and wellness programs.
Joe feels that his recovery was nothing short of miraculous. He's been able to return to his outdoor hobbies and stop taking his heart medication.
"I made my donation to the Caregiver Catalyst Grants program in honor of Morgan," says Joe. "I know a good part of my improvement is due to continuous exercise."
Your Gift Makes a Difference
Gift to our Caregiver Catalyst Grants fund are combined to support innovative projects from Cleveland Clinic caregivers that serve our patients and local communities. Learn more and make a gift here.