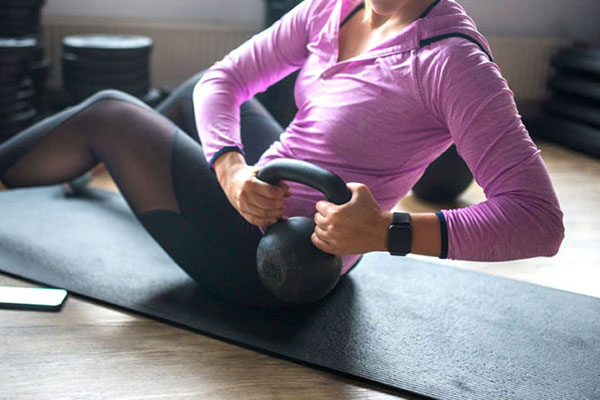 Personal Training at Our Downtown Location
Clinical Personal Training (CPT) is a new standard in personal training, marrying clinical rehab expertise with advanced corrective exercise prescription. Our purpose is simple – to provide an industry leading, clinically supervised approach to post-rehabilitative training as well as performance training.
We recognize a gap in educating individuals about their unique physiology and designing training programs that result in effective, goal-oriented exercise. Whether it's regaining a level of function, getting back to a sport or activity, or moving into a new level of fitness – our team of experts will get you there.
Virtual Personal Training
Virtual training is convenient and customized to you.
Purchase Today
Core Tenets of CPT:
Progress Reviews
We believe that a multi-disciplinary approach to care and exercise provides the greatest benefit for the patient. If you opt in to a package of sessions, you will have the opportunity to review your progress with the trainer, plus a sports medicine physician and your rehabilitation provider or exercise physiologist. These case conferences maximize the collaboration between all care providers to ensure the best client care, with measurable results.
Injury Rehabilitation
Getting back to an activity, sport or general fitness regimen after an injury can be frustrating. Understanding where to begin, how quickly to progress and what has to be done to decrease the chances of re-injury is often unclear. There are often biomechanical and musculoskeletal issues that either led to the injury or develop as a result of the injury. Assessing and correcting these deficits is often missed in the traditional training program. These corrective measures must be reinforced in order to allow the patient to move in an optimal manner, instinctively. Once achieved, the patient can get back to a normal routine with confidence in their abilities.
Collaborative Strength and Conditioning
Providing personal training in a clinical setting allows us to enhance your fitness experience by integrating additional clinical experts and technologies at Cleveland Clinic Canada.
For example:
The distance athlete: Enhance movements through various corrective strategies and reinforce them through precise strength training.
Optimizing an aging body: One of the best indicators of quality of life as we age is strength and muscle mass. The combination of medical diagnostics and resistance training can go a long way in slowing down the aging process and maintaining cognitive function.
Improving body composition: We combine the expertise of a dietitian and a progressive strength and conditioning program to achieve results that can be sustained.
Training for sport: Become stronger and healthier in a way that directly impacts your sports performance. Improve weak areas by assessing all aspects of development, from strength, body composition, nagging injuries or sport-based endurance/work capacity.
V02 max testing: A treadmill-based exercise test that provides an enhanced assessment of your cardiorespiratory function and your fitness level.
Resting (Basal) Metabolic Rate Testing (RMR): A 15-minute non-invasive assessment uses diagnostic technology to determine how many calories your body burns while at rest. The results of this test are fundamental for estimating how many calories you should be eating and helpful for those trying to manage their weight. This test is also valuable for active individuals who want to know how to effectively eat for their sport.
Personal Training at our Midtown Location
Resistance training, flexibility training, and cardiovascular exercise are important for improving your health, fitness, body composition, and physical performance. However, if performed incorrectly and without proper supervision and effective program design, these forms of exercise will deliver minimal results and can even lead to injury. Our certified personal trainers can help you reach your goals safely, effectively, and more quickly. Schedule your complimentary consultation and learn more about how our fitness experts can help you.
Dynamic Functional Training
DFT is a specialized adjunct to traditional manual therapy.
Progressive
Early and progressive functional strength training allows faster and more complete recovery from injury. Our patients are better prepared to return to their active lifestyle.
Sub-Acute
Once the acute phase of injury is over, our patients are introduced to our specially trained DFT therapists. In conjunction to their continued physio or athletic therapy, a specific exercise program is started. Care is taken to maintain a patient's fitness level while they are recovering from injury. This ensures no time is lost between when the injury is healed and when they return to activity.
Who Will Benefit From Personal Training?
Individuals who are:
New to exercise
Recovering from an injury or from surgery
Struggling to manage their weight
Struggling with health issues that require exercise as a prescription for better health
Interested in improving their workout effectiveness
Interested in building muscle, improving cardiovascular capacity and/or flexibility
Aging athletes
Conditioning to train for a new challenge- a run, a hike, etc.
Staff
Downtown
Midtown (Sports Medicine Specialists)
View Other Sports Health Services:
Locations
Cleveland Clinic Canada Downtown
181 Bay Street
Brookfield Place: 30th Floor
Toronto, Ontario M5J 2T3
Cleveland Clinic Canada Midtown (Formerly Sports Medicine Specialists)
150 Eglinton Ave East
5th Floor
Toronto, Ontario M4P 1E8