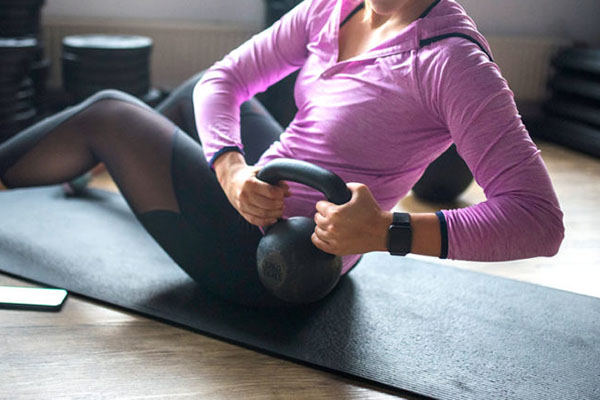 Personal Training at Cleveland Clinic Canada (Downtown and Midtown)
Our multi-disciplinary approach to care and exercise is designed to provide the greatest benefit for each patient.

To improve performance, we assess, identify and correct movement deficiencies. Through the processes of diagnostic testing, advanced assessments, evidence-based strategies and condition-specific exercise-based personal training, we strive to improve overall wellness.

By identifying biomechanical and musculoskeletal issues, we can address, alleviate, and prevent pain and/or injury. Once proper movement patterns are established, improvements to other metrics such as balance, coordination, exercise capacity, strength, muscular endurance and power can begin. This will result in a greater chance of success and a reduced risk of injury.

These corrective measures must be reinforced to allow the patient to instinctively move in a more optimal manner.
Virtual Personal Training
Virtual training is convenient and customized to you.
Purchase Today
Resistance training, flexibility training, and cardiovascular exercise are important for improving your health, fitness, body composition, and physical performance. However, if performed incorrectly, without proper supervision or effective program design, these forms of exercise will deliver minimal results and can even lead to injury. Our certified personal trainers can help you reach your goals safely, effectively, and quickly.
Schedule your complimentary consultation and learn more about how our fitness experts can help you.
Advanced Stage Rehab Program

Early and progressive functional strength training allows faster and more complete recovery from injury. Our patients are better prepared to return to their active lifestyle
Once the acute phase of injury is over, our patients are introduced to our specialized personal trainers who work collaboratively with a rehab provider to begin a specific exercise program.
Care is taken to maintain a patient's fitness level while they are recovering from an injury
Who Will Benefit From Personal Training?
Individuals who are:
New to exercise
Recovering from an injury or from surgery
Struggling to manage their weight
Struggling with health issues that require exercise as a prescription for better health
Interested in improving the effectiveness of their workouts
Interested in building muscle, improving cardiovascular capacity and/or flexibility
Aging athletes
Conditioning to train for a new challenge- a run, a hike, etc.
Staff
Downtown
Midtown (Sports Medicine Specialists)
View Other Sports Health Services:
Locations
Cleveland Clinic Canada Downtown
181 Bay Street
Brookfield Place: 30th Floor
Toronto, Ontario M5J 2T3
Cleveland Clinic Canada Midtown (Formerly Sports Medicine Specialists)
150 Eglinton Ave East
5th Floor
Toronto, Ontario M4P 1E8