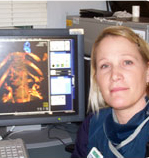 I was a single mother of three children when I decided to return to school in search of a profession that would allow me to raise a family alone. I was a person with a positive attitude who had time, was willing to commit, and was focused. I became a registered technologist and settled in angios.

I liked the team atmosphere and realized that I had a crucial part in patient satisfaction and care.
Get the Picture?
Angiography is a great profession for those who can embrace variety and adapt to change. As a licensed skilled technologist I operate sophisticated equipment that rotates and spins to capture all angles of a diseased vessel. I actively assist the physician during procedures as they navigate wires and catheters in a three-dimensional plane within a patient's body, while we are watching a two-dimensional image on a screen. I find this most fascinating, just as it fascinates those watching us. (If you're quiet enough you'll be able to hear some ooohs and aaahs in the spectator control room. It's pretty cool!)

Additional knowledge of other ancillary equipment and supplies is a must to be a competent technologist.
Satisfaction Guaranteed
I like that Cleveland Clinic is a highly energetic workplace. The work is stimulating and adventurous leaving no room for boredom. We are all working together as a team of professionals in a cooperative effort towards a desired outcome. We continually do our best to make patients better. I'm always motivated to move on to the next task with an open mind and positive attitude. I really have a lot of fun here.