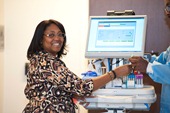 What interested you in becoming a Phlebotomist?
I started working at the Cleveland Clinic in 1980 while going to college at Case Western Reserve. My major was Psychology with a background in Biology and English. I was always interested in science and math. I applied for any laboratory job within the Cleveland Clinic and was called to Phlebotomy. I love patient care.
What physical and/or soft skills do you need to have to succeed?
Phlebotomy requires you to do physical work, so you must be in good shape. An average phlebotomist will draw between 300-350 samples per shift. Good communication between staffing, nurses, clinicians and the patient is key. Customer service, excellent interaction skills and a passion for patient care are also very important. Soft skills are equally important as technique because it is necessary to make the patient feel at ease while drawing blood.
What advice would you give to interested high school students?
Make sure you really want to be a Phlebotomist. Health care involves empathy for the patient. A great work ethic with dedication to the job and excellent customer service should be your top priorities.
What interested you in working at Cleveland Clinic?
My sister and I were patients at Cleveland Clinic as children and my mother approved of the care we received. Years later, after graduating from college, I needed a job and Cleveland Clinic had a great reputation and treated me well as a patient so I had a strong interest in working here.
What excites you about being a Phlebotomist?
Working as a Phlebotomist motivates me to help patients and make their days a little brighter.
What career options do you have in this field?
Phlebotomy provides preparation and can be used as stepping stone to other careers such as a nurse or dietitian. Hard work and desire can also lead to management positions.
Learn More