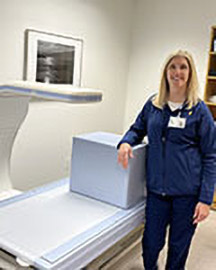 What interested you in becoming a Bone Density Technologist?
The desire to help people is what got me into the imaging profession. I wanted to learn more about how diseases and medications affect the skeleton. We do a lot of internal and external research studies in regard to how diseases affect the skeleton and how different medications can help or hinder skeletal growth.
What physical and/or soft skills do you need to have to succeed?
One needs computer and analytical skills in order to succeed in Bone Density. In addition, we are constantly communicating with patients in order for the patient to have a complete and accurate exam.
What advice would you give to interested students?
If one is interested in Bone Density, my advice would be to spend a day or a few hours in the department to see the different patients we scan and exactly what is expected from a Bone Density technologist.
What interested you in working at Cleveland Clinic?
The Cleveland Clinic name is what interested me in working here. I have been here for over twenty-five years, always in Imaging. The Cleveland Clinic sees a wide range of patients. Those patients are expecting only the best from everyone they meet. Regardless of the patient's condition, I want them to know they received the best care.
What excites you about working as a Bone Density Technologist?
I like the technicality and precision of being a Bone Density Technologist. The patient's results are reliant upon how precise and accurate the technologist positioned and analyzed their scans.
What has been your most gratifying experience as a Bone Density Technologist?
I have multiple gratifying experiences as a Bone Density technologist. I was asked early on in my career to present at an annual ISCD conference in Los Angeles. Another was when I discovered an Atypical Femur Fracture and brought it to the radiologist's attention. These patients are on a medication that can cause the femur fracture and they need follow up care with an orthopedist. This generally results in a pinning of the affected hip.
What career options do you have as a Bone Density Technologist?
The career options in this field are dependent on the individual. One has the opportunity to be the coordinator for research studies, be a trainer for new hires (it is a yearlong training for a new employee), be a committee member for ISCD and other opportunities.
What is something others may not know about this career field? What are some common misconceptions?
Some people may not realize that at the Cleveland Clinic, we require the Bone Density technologist to be registered in Radiology as well as Bone Density. They also need to be licensed with the ISCD. This requires the technologist to take two additional exams. At the clinic, we perform and analyze the exam as well as enter the report for the doctors to sign off on. One common misconception for Bone Density is that it is an easy field. One has to be organized, precise in their scanning and have the ability to educate the patient on bone health. I like to say our department makes it look easy because we are all well educated in what we do.
One common misconception for bone density is that it is an easy field. Technologists need to be organized, precise, and able to educate patients on their bone health.
How has the career field changed since you have started? What does the future look like?
The career field has changed in that scanning has gotten quicker. There are more information experts are finding in results. We now have the ability to figure a fracture risk and trabecular bone score as well as diagnose the patient with their Bone Mineral Density score. While the principal physics may not change, the software we use and its results are constantly changing.