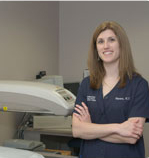 What interested you in becoming a Technologist?
The reasons I became a Bone Density Technologist were, first, as an opportunity to advance in Radiology. Second, I enjoy working on research projects. Third, while I love to be busy, I like to work off of a schedule and know what the day will have in store. I like to be prepared for any challenges.
What physical and/or soft skills do you need to have to succeed?
To succeed in Bone Density, you need to be able to speak to patients in a way that they understand, be professional and courteous, and computer skills are recommended. We provide a service to patients as well as teach them how to keep their bones healthy and answer any questions they have concerning bone related medications, Calcium, and Vitamin D.
What advice would you give to interested high school students?
The advice I would give to interested students would be to shadow an area for a day to see a glimpse of the day to day activities. Biology and anatomy are recommended areas of study.
What interested you in working at Cleveland Clinic?
I love working at Cleveland Clinic. We see such a variety of patients and conditions, from postmenopausal females, to children with intestinal disorders, to organ transplant patients. Patients come to Cleveland Clinic to receive the best care from the most informed and educated people.
What excites you about working as a Technologist?
Bone Density is a constantly evolving field. The equipment is becoming faster, medications are being discovered that can help or hinder bone growth and quality, and we are able to see firsthand how patients are responding.
What has been your most gratifying experience as a Technologist?
The most gratifying experience as a technologist occurs almost daily. I enjoy the opportunity to teach others, be it patients or fellow technologists. I love it when I see someone have that "Aha!" moment.
What career options do you have as a Technologist?
The career options I have are plenty. We have opportunities in Bone Density to work on bone density research studies. We compile patient information, and work with study facilitators. Because Bone Density Technologists are also Radiologic Technologists, we have the same opportunities, from becoming supervisors to specializing in other radiology fields such as CT, Radiation Therapy, dosimetry, Quality Assurance, and many more!

Whatever field you choose, try to learn the most you can about that field. The more educated you are, the more confidant you become. You have the ability to pass on that education to patients and technologists.