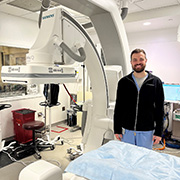 What interested you in becoming an Interventional Technologist?
Actually helping to treat the patient's disease. In most Imaging, we are "looking" for the problem. In interventional radiology, we are trying to solve the problem.
What physical and/or soft skills do you need to have to succeed?
Some basic physical skills would include possibly standing for long periods of time during long cases, constantly wearing lead aprons, and the ability to slide patients on and off of the exam table. Other skills would include being able to work independently, such as being on-call, being able to work as a team alongside many other nurses and physicians, and an understanding of operating the imaging equipment alongside all of the other ancillary equipment that may be needed.
What advice would you give to interested students?
I would invite any interested students to come shadow and spend a day with us. We work around the clock. At any given time, there can be several different cases going on ranging from routine catheter exchanges, to urgent pulmonary embolism thrombectomies or gastrointestinal bleeds. By shadowing the department, seeing how we rely on imaging and advanced applications to perform these procedures, and asking questions to any of the technologists here will give the student a great understanding of what our role is as technologists in interventional radiology.
What interested you in working at Cleveland Clinic?
I trained in a smaller hospital. When the opportunity came to work at Cleveland Clinic, I was excited to be a part of a bigger team that is a leader in education, research, new technology, and more opportunities to learn and grow. The name "Cleveland Clinic" carries a lot of weight. Sometimes I think we, as Clevelanders, are spoiled and easily forget about the reputation that Cleveland Clinic has in the healthcare community.
What excites you about being an Interventional Technologist?
I enjoy being an integral part of the patient's journey, and sometimes treatment. I value the relationships I've built with certain patients who have been coming for routine care for months or even years at a time. During certain emergent cases, such as pulmonary embolism thrombectomies, you can see the results of your work right on the table as the patient's vitals stabilize, you successfully aspirate blood clots or coil-embolize a bleed, and the patient tells you how much better they feel when they leave the room. Those procedures and images speak a thousand words.
What has been your most gratifying experience as a Radiologic Technologist?
I have several experiences that patients have made memorable for me, but I cannot pick just one. All of the experiences of being in emergent situations or procedures involving several teams, and the relationships that I have built within this department are what I value the most.
What career options do you have in this field?
Similar to radiologic technologists, you have the option to cross-train into other modalities such as computed tomography (CT), magnetic resonance imaging (MRI), etc. Due to us working closely with multiple different medical device companies, we have had several previous technologists go on to become clinical reps for those companies. We also have the option to become a radiologist assistant (RA), similar to a physician assistant. This is a master's degree program that allows you to be the performing proceduralist, while under the supervision of an interventional radiologist.
What is something others may not know about this career field? What are some common misconceptions?
We do not simply "step on a pedal." We prep and drape the patient, we remain scrubbed in during the procedure as the assistant to the performing physician, we also have a supply room of hundreds of catheters and wires. The biggest misconception is that we are "just" X-ray techs.
How has the career field changed since you started? What does the future look like?
We have grown in several ways. We have branched out and now perform newer procedures such as balloon pulmonary angioplasty (BPA) and pulmonary embolism thrombectomies. We have newer C-Arms that are capable of producing higher diagnostic image quality while reducing radiation. We have also almost doubled in size as a department. In the last few years, we have grown in size as a department of technologists in correlation to our case load. We now are able to staff two technologists per procedural room which allows the room to operate more efficiently. The future of interventional radiology is bright. Not only does medicine bring about constant change, but so does technology. Interventional radiology is a combination of the two. There are constantly new products and supplies, image-guided advanced applications, and new studies being published in the Society of Interventional Radiology.