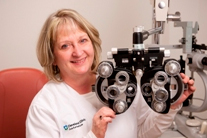 What interested you in becoming an ophthalmic technician?
After 10 years of raising a family I was ready to further my education and career. I decided to enroll at Lakeland Community College for nursing when a new ophthalmic program was introduced. I found the curriculum intriguing and the work hours suited my family life more than nursing.
What physical and soft skill do you need to succeed?
A person needs to be understanding, caring, and sensitive to their patients' needs. We work all day with a variety of patients, so it is important that an ophthalmic assistant enjoy this type of work. We do a lot of measuring and testing, so it is necessary to be thorough and very accurate with our results. A desire to keep learning is also essential. There is always something new to learn with changes and advances in the field of ophthalmology.
I love learning more and perfecting my skills. I also get to teach students who come to the Cole Eye Institute for training. Teaching students is both challenging and rewarding. At the end of the day, you get a great feeling from knowing that you provided good quality patient care, and did your best.
What advice would you give to interested high school students?
I would suggest that a high school student enroll in a shadowing program and then look into their local community colleges. Ophthalmic technology requires an understanding of science and math. Those high school courses are important if you are thinking about going into any medical field.
What interested you in working at Cleveland Clinic?
I was in school when Cleveland Clinic was opening the Cole Eye Institute. I decided this was the place for me because I could utilize my skills to their fullest as well as further my education. Cleveland Clinic is ranked as one of the best health care systems in the world.
What excites you about working as an ophthalmic technician?
I really enjoy the variety, I work with patients from different states and sometimes countries, and I enjoy learning.
What career options do you have as an ophthalmic technician?
You begin your career as an ophthalmic assistant and through experience, education and testing advance to two more levels of certification. The beginning level would be a certified ophthalmic assistant, then a certified ophthalmic technician, and the last level being a certified ophthalmic medical technologist. Certification is recommended, but not mandatory in Ohio. An individual could also choose a subspecialty, which provides additional career options such as ophthalmic photography or ultrasound.
Learn More