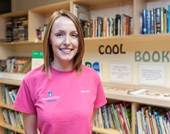 What interested you in becoming a Child Life Specialist?
I went to a career fair while in college, and expressed my interest in becoming a 'non-traditional' teacher, as well as my interest in the hospital setting. It was then that I was introduced to the Child Life Specialist career, which allows me to teach in a hospital setting.
What physical and/or soft skills do you need to have to succeed?
You need to be physically able to be on your feet all day in a fast paced environment. It is also important to remain flexible in your position, and be able to adapt to change on a daily basis. Since we are working with children, it is crucial to have compassion for your job, and excellent communication skills.
What advice would you give to interested high school students?
This is a small field, and very competitive so I would recommend getting as much experience as possible. You should volunteer to work in hospitals with children to gain more experience.
What interested you in working at Cleveland Clinic?
I was already aware of Cleveland Clinic's excellent reputation, and I was impressed with their Child Life program. After working here I can say that this is a great place to work, and I appreciate the opportunities for continuing education.
What excites you about being a Child Life Specialist?
I love that every day is different. I also really enjoy interacting with patients and their families on a daily basis; it is really rewarding to see a patient complete their medical goals.
What has been your most gratifying experience as a Child Life Specialist?
I remember an 8 year old diabetic patient who was learning about his diabetes with his family, and after two short days he had learned how to successfully give himself injections. This patient was also eager to learn about diabetes and his new lifestyle.
What career options do you have in this field?
You can start your career as a Child Life Assistant, and move your way up to a Child Life Specialist. From this position there are advancement opportunities in management and supervisory roles. You could also be a Child Life Specialists in different settings like a dentist office or hospice, and there are also opportunities at nonprofit organizations, such as the Ronald McDonald House.
Learn More