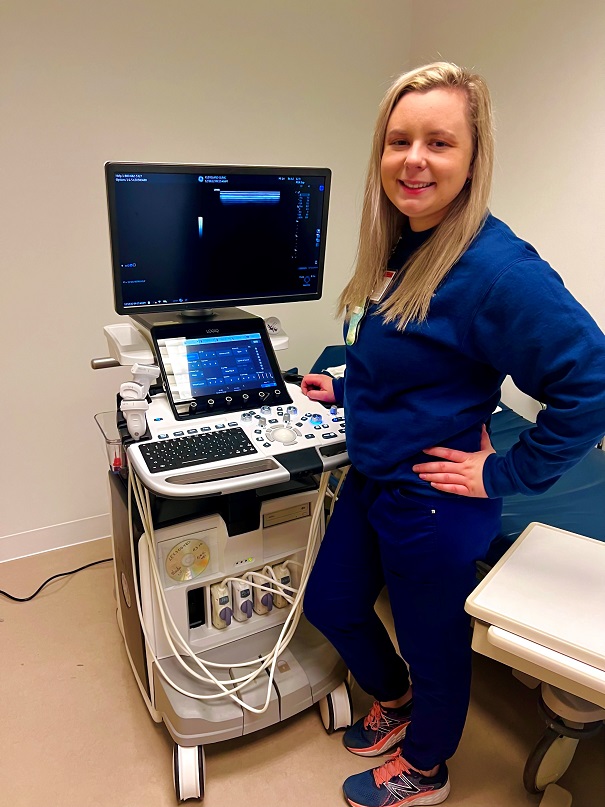 What interested you in becoming a diagnostic medical sonographer?
When choosing my career path, I explored many different Allied Health professions. I ultimately chose ultrasound because I am not exposed to radiation in this field. I was also interested in helping care for patients in a way that combines both imaging and basic patient care.
What physical and/or soft skills do you need to have to succeed?
To succeed in ultrasound, you will need to be ergonomically healthy and have no severe injuries preventing you from standing for long periods of time and the moving of patients. Having a good bedside manner is also an excellent skill to have in any healthcare profession.
What advice would you give to interested students?
The best advice I have for students is to explore all the different avenues of ultrasound. There is a vast array of exams sonographers can learn to perform. Students should not limit themselves to one specialty.
What interested you in working at Cleveland Clinic?
I was interested in the Cleveland Clinic due to its world renowned reputation for patient care. I thoroughly enjoy working for an organization that thrives on its excellent healthcare, compassion for patients, and serving its community.
What excites you about working as a diagnostic medical sonographer?
Being a sonographer is an accomplishment I am extremely proud of. I love being able to care for patients as well as help detect the pathology during exams. Sonographers are responsible for taking the images that are shown to the radiologist. Imaging modality is very dependent on the sonographer relaying all proper images and showing the anatomy thoroughly.
What has been your most gratifying experience as a diagnostic medical sonographer?
One of the most gratifying aspects of my job is the assisting in the operating room and scanning liver transplant patients. I personally find the topic of transplantation fascinating, and it is gratifying to be a part of the process.
What career options do you have as a diagnostic medical sonographer?
There are several different options in this field. Most tend to gravitate towards being a part of a specific department. Sonographers also can take on a role of teaching future sonographers.
What is something others may not know about this career field? What are common misconceptions?
Something others may not know about sonography is that it is not limited to prenatal ultrasounds. Although it is a major sector of ultrasound, there are many other instances where ultrasound would be needed. Ultrasound is often a go-to option for imaging to avoid radiation as much as possible.
How has this career field changed since you started? What does the future look like?
Over the last five years of being a sonographer, the demand has grown immensely. Physicians are often ordering ultrasounds for routine care as well as emergent situations. The technology is enhancing the quality of our work, and we are able to scan more patients than ever. The machines are forever evolving, becoming more detailed to provide the best imaging possible. There are many job opportunities for sonographers throughout the Cleveland Clinic enterprise.
Learn More