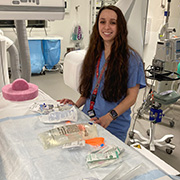 What interested you in becoming an Interventional Technologist?
I enjoyed working in a surgery setting as a student and an X-Ray technologist. I know that Interventional cases can be similar to those that take place in the OR's but more hands on which I was more than eager to experience.
What physical and/or soft skills do you need to have to succeed?
Interventional Radiologists possess the body mechanics for moving and helping patients, good dexterity, as well as knowledge of anatomy and the products being used. The soft skills needed are flexibility, good communication, and motivation.
What advice would you give to interested students?
Interested students should ask for a rotation or extended rotation in Neuro Interventional/Interventional Radiology. I would also urge students to pay attention to the cases happening in IR because they are unlike any other rotation you will have during Diagnostic Imaging schooling.
What interested you in working at the Cleveland Clinic?
I attended the Cleveland Clinic School of Diagnostic Imaging and all my clinicals were done at the Main Campus and regional/outpatient locations. Participating as a student at the Cleveland Clinic was a great experience and I wanted to continue that as a caregiver.
What excites you about being an Interventional Technologist?
The most exciting part about being an Interventional Technologist is working side-by-side with Staff, Fellows and Coworkers, as well as learning, adapting and being an integral part of each case.
What has been your most gratifying experience as a Radiologic Technologist?
The most gratifying experience as a Radiologic Technologist is watching a patient improve through their care. I have experienced patients improve both quickly and progressively during treatments and it is the most rewarding part of my job.
What career options do you have in this field?
The field provides many career options like becoming an Imaging Specialist or Lead Technologist in a specific department as well as moving into upper Management.
What is something others may not know about this career field? What are some common misconceptions?
Many are not aware that the technologist is responsible for not only the X-Ray equipment but all the products that are used in each procedure. There are a variety of products used for each different case and its important to be educated on all of them.
How has the career field changed since you started? What does the future look like?
The career field is ever-changing due to the continual advancements in product design performance. The future looks very impressive in terms of being able to help more patients in Interventional Radiology.